Coconut Cream Marshmallow Eggs
These delicious Coconut Cream Marshmallow Eggs are the perfect homemade candy for Easter. Filled with marshmallow creme, coconut flakes and covered in chocolate, these candy eggs are so good you won't be able to eat just one!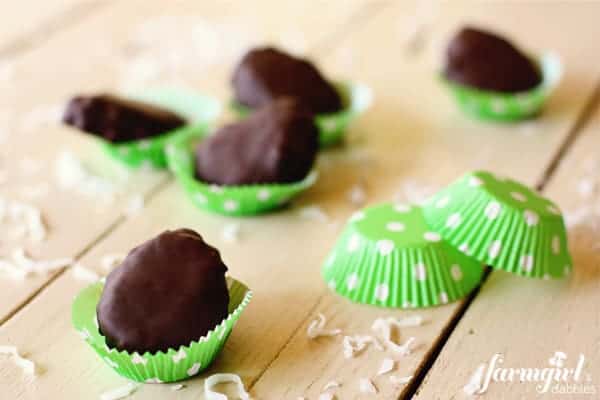 My Kids Loved These Homemade Marshmallow Cream Eggs
When our oldest daughter took her first bite of these Coconut Cream Marshmallow Eggs dipped in chocolate, she almost couldn't say fast enough that "these taste just like an Almond Joy, Mom…but without the almonds!"
So that would make them similar to a Mounds bar, right? I hope so, because that was my goal. But Hatti did get me thinking. Next time I'm going to make half of the eggs with an almond in the center. Because it's true. Sometimes you feel like a nut. Sometimes you don't. :)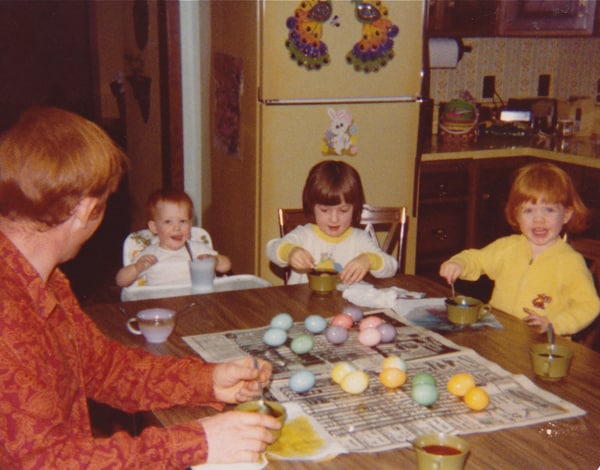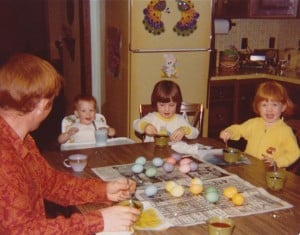 This old photo of my family coloring Easter eggs is a favorite of mine. From the newspaper lined dry racks to the avocado green cups we always used for dipping our eggs…it still feels like only yesterday. (And I'm thinking our parents must have been CrAzY to give a 1-year-old a cup of dye!)
While Tessa and I were at Target this week, we picked up the same cheap Easter egg dye kit that we use every year. That little box has triggered a world of excitement for her. She's just giddy to line up the cups filled with all the colors of the rainbow and start dipping. I've heard "how many days until we color eggs, Mom?" ALOT this week.
When I was a kid, we often colored eggs on Good Friday, a tradition I am planning to incorporate this year as well. With both sets of our girls' grandparents staying with us that weekend, I thought it just the perfect timing.
How about you?
Do you have any Easter egg coloring traditions?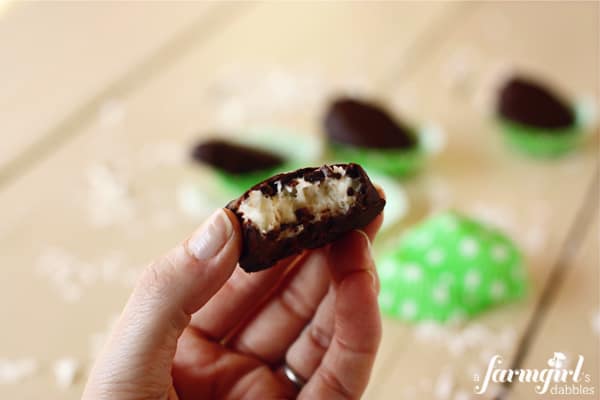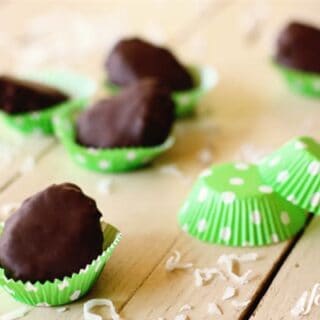 Coconut Cream Marshmallow Eggs
Yield: 26 to 30 eggs
Prep Time: 25 minutes
Total Time: 25 minutes
These delicious Coconut Cream Marshmallow Eggs are the perfect homemade candy for Easter.
Ingredients
8 oz. cream cheese, at room temperature
1 T. butter, at room temperature
1 c. powdered sugar
1 c. marshmallow creme
3 c. flake coconut
2 c. semi-sweet chocolate chips
1 T. shortening
Instructions
In a medium bowl, beat cream cheese and butter until smooth. Add powdered sugar, marshmallow creme, and coconut, stirring to blend completely. Refrigerate mixture for 1 hour.
Then use your hands to mold the coconut mixture into egg shapes. I rolled about a tablespoon of coconut mixture into a ball, laid it on a baking sheet lined with wax paper, and then flattened the ball a bit and shaped it into an egg.
Once your pan is full, place it in the freezer or refrigerator for an hour or two to firm up.
Melt chocolate chips and shortening over very low heat. Place melted chocolate in a small but deep bowl. Remove a few coconut eggs at a time from the freezer and dip them into the chocolate mixture. I like to use a fork to remove them from the chocolate...just pick up the egg on top of the fork's tines, gently tap any excess chocolate off, and then slide the bottom of the fork out over the edge of your bowl to remove excess chocolate underneath the egg.
Return the chocolate coated egg to the wax paper. Refrigerate again to set. Store in the refrigerator.
Nutrition Information:
Yield: 26
Serving Size: 1
Amount Per Serving:
Calories: 177
Total Fat: 11g
Saturated Fat: 7g
Trans Fat: 0g
Unsaturated Fat: 3g
Cholesterol: 10mg
Sodium: 63mg
Carbohydrates: 22g
Fiber: 2g
Sugar: 18g
Protein: 1g
Nutrition information is automatically calculated by Nutritionix. I am not a nutritionist and cannot guarantee accuracy. If your health depends on nutrition information, please calculate again with your own favorite calculator.