Bing Cherry Clafouti with Sweet Almond Cream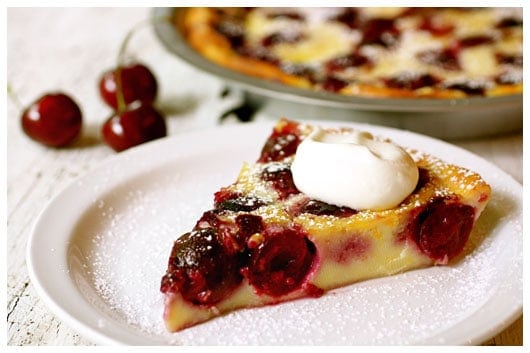 Let's start right away with the pronunciation of this beautiful French dessert, Clafouti. Because, let's face it, I'm not fluent in French. Not even close. And I don't expect you to be, either.
So repeat after me:
"klah – foo – TEE"
Then say it one more time.
Very good. Now let's move on.
I've been noticing this rustic looking sweet for a couple years now, in magazines and on the web, and have tucked away a few recipes that looked especially enticing. But when I came across the gorgeous photo of Cherry Clafouti in the book, Canning For a New Generation, I could take it no longer. It was destined to grace my kitchen counter. And my wide open mouth.
This Bing Cherry Clafouti with Sweet Almond Cream could not be simpler. Pitted sweet cherries are placed in the bottom of a buttered dish and then drowned in a milk and egg mixture. It rises up puffy like a souffle while baking in the oven, and then falls slightly as it cools on the counter. Right before serving, it gets a little dusting of powdered sugar.
This French dish proved fascinating to me. I found it stunning, yet humble, with the deep color of the cherries beautifully offset by the much paler golden batter. The clafouti was heavenly to eat, too, with its soft custard-like texture and luscious bites of whole sweet cherries. I preferred eating it warm and could be found eating it for breakfast, even though clafouti IS considered dessert. And I didn't feel one bit guilty about it.
Traditionally, Clafouti is made with unpitted cherries. Baking purists insist on the delicate almond-like flavor that the pits impart. But I didn't feel like fishing cherry pits out of my mouth while eating this, as was the consensus with most other recipes I found. Instead, I opted to add a touch of almond flavoring to some sweetened whipped cream and I topped off my piece of cherry deliciousness with that.
It was ohhhhh, so very lovely.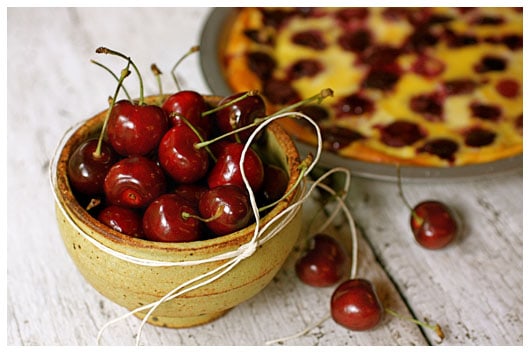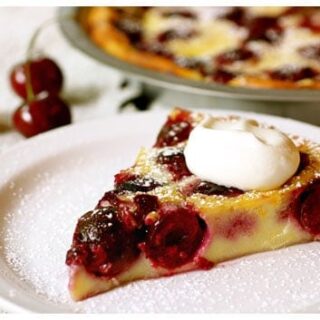 Bing Cherry Clafouti with Sweet Almond Cream
Yield: 8-10 servings
Prep Time: 20 minutes
Cook Time: 40 minutes
Total Time: 1 hour
Bing Cherry Clafouti with Sweet Almond Cream is a French dessert recipe made with fresh cherries. And, with almond-flavored homemade whipped cream on top, you don't want to skip treating yourself to this rustic dessert!
Ingredients
FOR THE CHERRY CLAFOUTI:
2 T. unsalted butter, at room temperature, divided
1/4 c. plus 2 T. sugar, divided
3 c. fresh pitted sweet Bing cherries* (about 1 lb. large unpitted cherries)
1/2 c. all-purpose flour
pinch of kosher salt
3 large eggs
1/4 c. plain or vanilla yogurt
1 tsp. vanilla extract
1 tsp. grated orange zest
1 c. milk
FOR THE SWEET ALMOND CREAM:
1 c. heavy whipping cream
1/4 c. powdered sugar
1 tsp. almond extract
Instructions
Preheat the oven to 375°. Butter a 10″ pie pan with 1 tablespoon of the butter and sprinkle it with 1 tablespoon of the sugar. Put the cherries in the pan, arranging them in a single layer.
Sift the 1/4 cup of sugar, flour, and salt into a medium bowl. In a separate bowl, whisk together the eggs, yogurt, vanilla, and orange zest until very smooth. Then whisk in the milk. Pour this egg mixture into the dry flour mixture, whisk to combine, and then pour over the cherries. Dot the surface with the remaining tablespoon of butter, and then sprinkle with the remaining tablespoon of sugar. Bake until puffy and golden brown, about 40 to 45 minutes. Let rest for 20 to 30 minutes before serving.
Prepare your sweet almond cream by whipping it to a softly firm consistency. Add the powdered sugar and almond extract and whip for a few more seconds to combine.
This clafouti really is best served warm and fresh, on the day it's made. After the clafouti has had a chance to cool a bit, cut into pie-shaped wedges and add a dollop of soft and sweet almond cream to each slice.
Notes
*Note: This really does look and taste best the day it's made. It isn't a dessert to make the day prior to serving to guests. The fresher, the better!
*Note: The recipe author uses frozen pitted sweet cherries, thawed and drained. She says they will collapse to about 1-1/2 cups as they thaw.
*Note: The recipe author uses frozen pitted sweet cherries, thawed and drained. She says they will collapse to about 1-1/2 cups as they thaw.
adapted from Canning For a New Generation by Liana Krissoff – one of my latest favorite cookbooks!
Nutrition Information:
Yield: 8
Serving Size: 1
Amount Per Serving:
Calories: 270
Total Fat: 16g
Saturated Fat: 10g
Trans Fat: 0g
Unsaturated Fat: 6g
Cholesterol: 114mg
Sodium: 73mg
Carbohydrates: 25g
Fiber: 1g
Sugar: 16g
Protein: 6g
Nutrition information is automatically calculated by Nutritionix. I am not a nutritionist and cannot guarantee accuracy. If your health depends on nutrition information, please calculate again with your own favorite calculator.
I'm linking up with the following:
Cheryl at TidyMom for I'm Lovin' It (Watermelon)
Allison at Alli 'n Son for Sweet Tooth Friday (Blueberry Cream Cheese Ice Cream)
Robyn at Add a Pinch for Mingle Monday
Rachel at A Southern Fairytale for Mouthwatering Monday (Cranberry Orange Limeade)