Toffee Cheesecake with Chocolate Polka Dots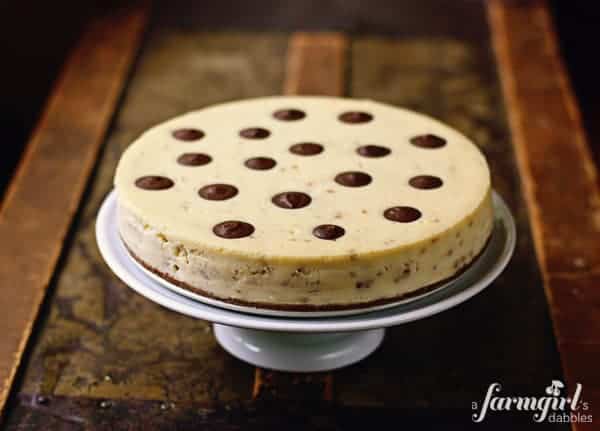 I turned 40 one year ago today. So, yes, that would make today my birthday. And this birthday girl loves, loves, LOVES a good cheesecake recipe!
Only this here Toffee Cheesecake with Chocolate Polka Dots is way more than just "good". I made three of them over the past couple of weeks in my trials, yet I still wasn't sick of it when the last piece disappeared. In fact, I was sad to see it go.
To celebrate my Big 4-0 last year, Blake and I went out to dinner with another couple, our very dear friends Duane and Angela. Upon finishing our meal, Angela suggested we make a stop at Cafe Latté on the way home for dessert. I'll rarely pass up a grand idea such as that! Especially since I know the reputation of this cafe's display case of sweet eats.
But I will admit when I'm too full to eat a whole piece of dessert myself. So Blake and I settled on a lofty piece of cheesecake to share. Cafe Latté called it Chips & Chunks Cheesecake, as it was chock-full of toffee chips and chocolate chunks. Heaven on my fork, I tell you! So as my birthday neared this year, and I was reminiscing about the last, I found myself dreaming about that same piece of cheesecake. And that led me straight to the kitchen to come up with my own version. The recipe is now destined to make an appearance in our kitchen for many years to come.
This toffee cheesecake recipe is perfectly thick and creamy, upheld by just the right amount of cocoa crumb crust tinged with espresso. That toffee and coffee were meant to be together. Add to that the cuteness of chocolate polka dots, and you've got yourself a fabulous tasting dessert that's one looker of a cheesecake!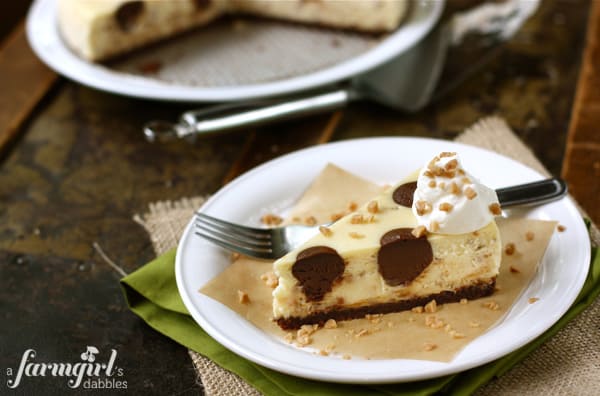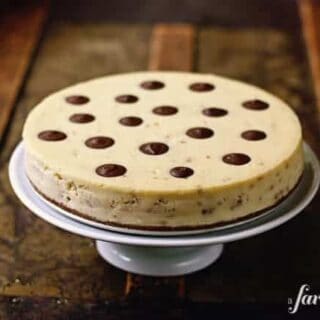 Toffee Cheesecake with Chocolate Polka Dots
Yield: 12
Prep Time: 30 minutes
Cook Time: 1 hour 50 minutes
Total Time: 2 hours 20 minutes
This toffee cheesecake is perfectly thick and creamy, upheld by just the right amount of cocoa crumb crust tinged with espresso.
Ingredients
For the Crust:
1 cup finely ground graham cracker crumbs
1/4 cup cocoa
1/2 teaspoon espresso powder
2 tablespoons sugar
big pinch of salt
4 tablespoons unsalted butter, melted
For the Cream Cheese Filling:
2 ounces dark chocolate
24 ounces cream cheese, at room temperature
1.25 cups sugar
1/2 cup sour cream
2 tablespoons cornstarch
pinch of salt
2 teaspoons pure vanilla extract
3 large eggs, at room temperature
1 cup toffee bits
Optional Toppings:
just barely sweetened whipped cream
additional toffee bits
Instructions
Preheat oven to 350° F.
Prepare for a hot water bath (to reduce chances of the cheesecake cracking) by setting a large tea kettle of water on to boil. Then wrap the exterior of a 9" springform pan, including the base, with a double layer of heavy duty foil. Have a large, shallow roasting pan available, too.
For the Crust:
In a medium bowl, stir together the cracker crumbs, cocoa, espresso powder, sugar, and salt. Add melted butter and stir until combined. Press crumb mixture onto the bottom of the pan, with a gently firm touch.
Bake until set, about 10 minutes. Remove from oven and let cool on a wire rack.
Reduce oven temperature to 325° F.
For the Cream Cheese Filling:
Melt the chocolate in a small bowl in the microwave, taking care to not let it scorch. Set aside to cool while mixing the rest of the cream cheese filling.
Place cream cheese in the bowl of an electric mixer fitted with a paddle attachment and mix on medium speed until fluffy. This should take about 3 minutes. Then with the mixer on low speed, add sugar in a slow, steady stream. Add the sour cream, cornstarch, salt, and vanilla. Mix until combined. Add the eggs, one at a time, mixing each until just combined, taking care to not overmix. Remove 1/2 cup of the cream cheese mixture and stir it into the melted and cooled small bowl of chocolate.
Then add the toffee bits to the remaining larger portion of the cream cheese mixture, folding to incorporate evenly. Pour toffee cream cheese mixture into cooled crust.
Spoon the small bowl of chocolate cream cheese mixture into a pasty bag fitted with a medium plain round tip. Press the tip just barely into the top of the toffee cream cheese mixture and squeeze a polka dot of chocolate. Repeat until the chocolate mixture is used up.
Set the foil wrapped springform pan inside the large roasting pan. Carefully pour the hot water from the tea kettle into the roasting pan to reach halfway up sides of the springform pan. Very carefully transfer the roasting pan to the oven. Bake until cheesecake is mostly set in the center, about 70 minutes. Then turn the oven off, open the oven door just a crack (I stick a big wooden spoon in the door to hold it open) and let the cheesecake sit in the oven for another 30 minutes. Remove from oven to a wire rack to cool completely.
Transfer uncovered cheesecake to the refrigerator to chill for 6 hours or overnight before serving. Before unmolding the springform pan, run a knife around the edge of the cheesecake.
It works best to pop the cheesecake into the freezer for 30 minutes before slicing. Dipping your knife blade into a tall glass of very hot water before each slice helps, too. Serve with a dollop of freshly whipped cream and a sprinkling of additional toffee bits, if desired.
Notes
Inspired by a great piece of cheesecake called "Chips & Chunks" that I shared with my husband at Cafe Latté in St. Paul, MN. I incorporated the chocolate polka dots after running across an irresistibly cute cheesecake at The Baker's Daughter.
Makes 12-16 servings
Nutrition Information:
Yield: 16
Serving Size: 1
Amount Per Serving:
Calories: 419
Total Fat: 27g
Saturated Fat: 16g
Trans Fat: 0g
Unsaturated Fat: 9g
Cholesterol: 108mg
Sodium: 221mg
Carbohydrates: 39g
Fiber: 1g
Sugar: 32g
Protein: 5g
Nutrition information is automatically calculated by Nutritionix. I am not a nutritionist and cannot guarantee accuracy. If your health depends on nutrition information, please calculate again with your own favorite calculator.