Sno Ball Chocolate Cake Cups
These Sno Ball Chocolate Cake Cups are a sweet little rendition on the classic Sno Balls treat. The fudgy cake is topped with marshmallow and coconut, pretty in pink!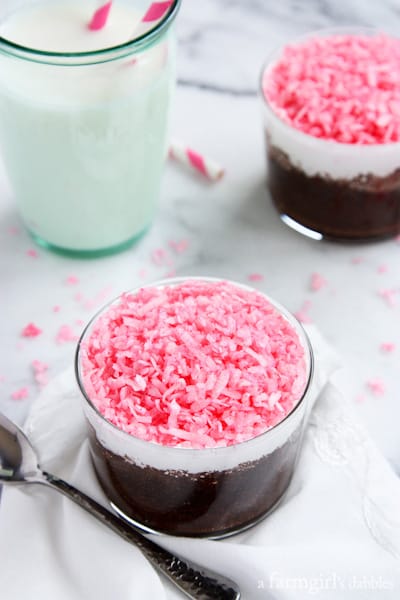 I can't look at a package of Hostess Sno Balls® without thinking of Mom. With soft and tender chocolate cake, marshmallow, and coconut, I knew from a very early age that these little treats tested her willpower. But she must have had pretty good self-control, as I honestly don't recall her eating them very often. She probably hid them in the freezer and ate them after us kids went to bed. Because moms do stuff like that. Right?!
These Sno Ball Chocolate Cake Cups are a sweet little rendition on the classic Sno Balls treat. I'm positive that Mom would approve of my tinkering in the kitchen.
[rss-cut]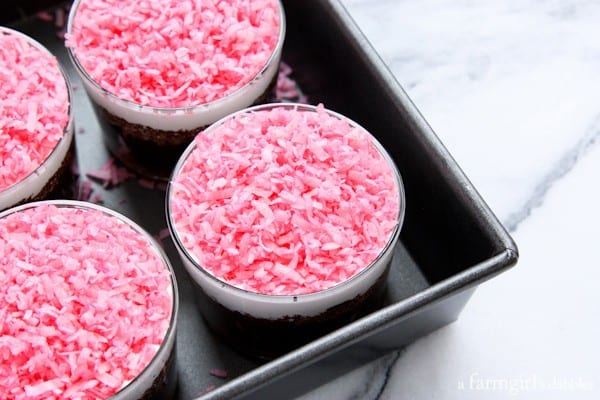 I was curious to know the history behind the Hostess Sno Balls and found a great video from Food Network's show Unwrapped. This show always captures my attention, allowing me behind the scenes to witness the making of so many food products. I learned that Sno Balls were first introduced in 1947. They gained quick popularity with Americans who were being released from the flour and sugar rationing during World War II. For more fun facts, and to see how a Sno Ball is made, click here for the short video.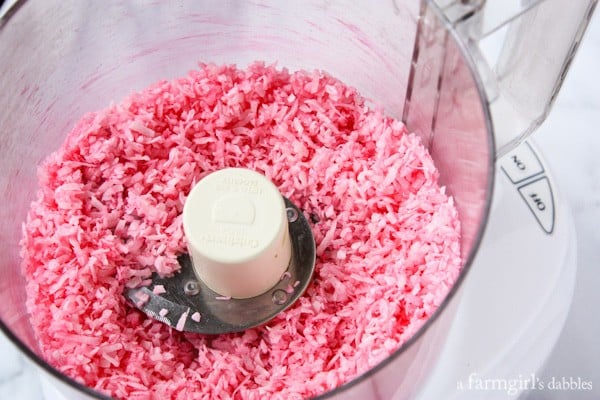 If you've ever eaten a Sno Ball, you know that its pink tinted coconut is shredded finer than the coconut in my cake cups. As I was tinting the coconut with electric pink gel, with a super simple blitzing of the food processor, I contemplated breaking it down into small bits like Hostess does. But I liked the look of the bigger shreds, and left it at that. This was my cake, after all.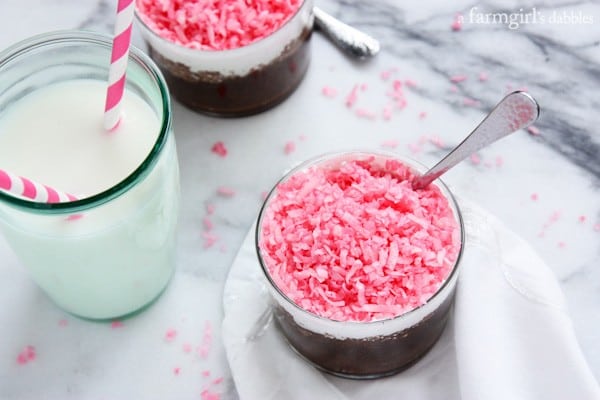 My family loved the fudgy chocolate cake cups that I shared with you last week so much, that I decided to play with that recipe further. To sweet-talk my husband, I used milk chocolate this time, his chocolate of choice. When the marshmallow creme is left to mingle with the gooey, warm chocolate cake, it's one decadent spoonful after another. I'm not gonna lie. These cake cups are sweet. Pour a tall glass of milk!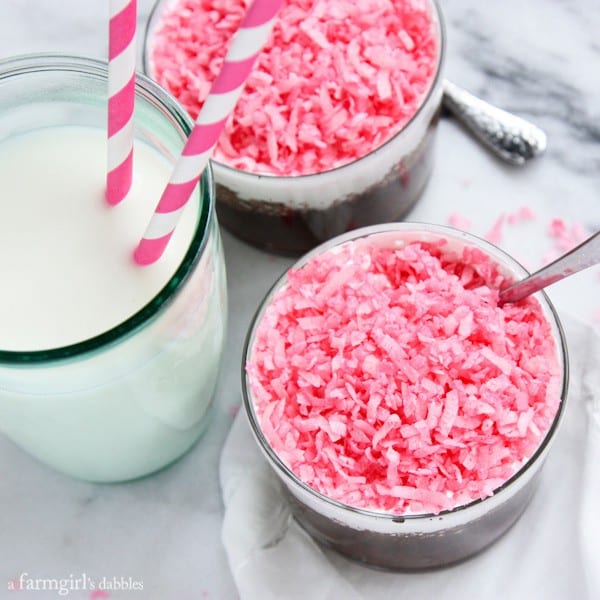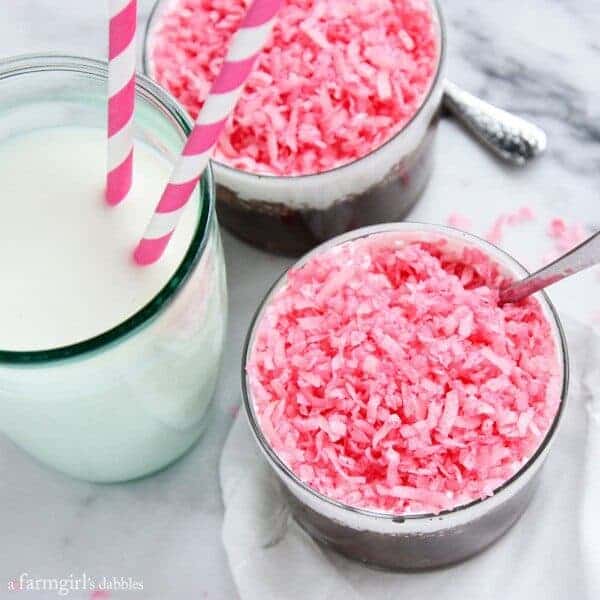 These Sno Ball chocolate cake cups are so fun and delicious; they'd be welcome at a variety of celebrations worthy of pink. Think Valentine's Day, Easter, baby and bridal showers, and Sweet Sixteen birthday parties. Have fun with these!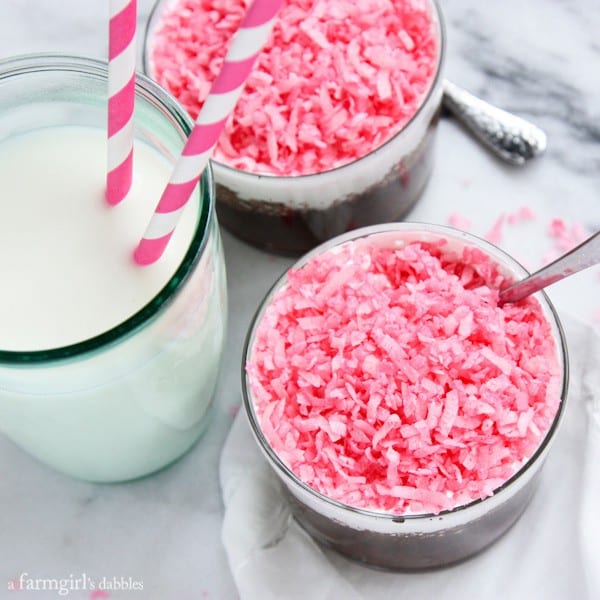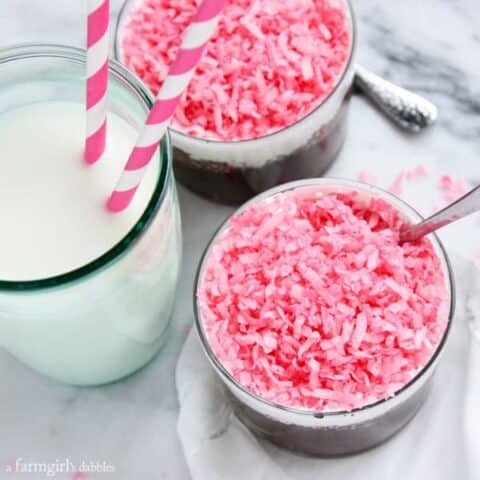 Sno Ball Chocolate Cake Cups
Yield: 4 cake cups
Prep Time: 15 minutes
Cook Time: 24 minutes
Additional Time: 4 hours
Total Time: 4 hours 39 minutes
These Sno Ball Chocolate Cake Cups are a sweet little rendition on the classic Sno Balls treat. The fudgy cake is topped with marshmallow and coconut, pretty in pink!
Ingredients
1/3 c. all-purpose flour
1/3 c. unsweetened cocoa
1 tsp. instant espresso powder
3/4 tsp. baking powder
1/8 tsp. kosher salt
2 T. unsalted butter, softened
1/3 c. granulated sugar
1/3 c. packed brown sugar
2 large eggs
1 tsp. pure vanilla extract
2 oz. good milk chocolate, finely chopped
1 7-oz. container marshmallow creme, or almost 2 cups homemade marshmallow cream
1.5 c. shredded sweetened coconut
pink food coloring (I used Americolor gel paste "Electric Pink".)
Instructions
In a small bowl, whisk together flour, cocoa, espresso powder, baking powder, and salt.
In a medium bowl, beat butter with a mixer at medium speed for 1 minute. Add both sugars and beat until very well blended, about 5 minutes. Add eggs and vanilla, and beat until fully incorporated. Fold flour mixture into sugar mixture with a spatula. Then fold in chocolate. Divide batter evenly among four ramekins (my ramekins hold approximately 7 ounces each) and then place ramekins in a 9" x 9" pan. Cover and refrigerate 4 hours or up to 2 days.
Preheat oven to 350° F.
Let ramekins stand at room temperature 10 minutes. Uncover pan and bake for 24 to 26 minutes, or until center of cakes puff and are slightly crusty on top. If you want an extra gooey center, start checking the cakes after 20 minutes of baking time, removing the cakes from the oven before they are fully puffed in the center - take care to not over bake. A longer baking time will ensure a more baked center crumb.
Remove from oven and let cool for about 5 minutes. Then divide marshmallow creme amongst the cake cups, spreading evenly. This much marshmallow creme will give you a very, very sweet tasting cake cup - if you desire less sweetness, reduce the amount of marshmallow creme.
Finish by sprinkling the pink tinted coconut onto the marshmallow layer, dividing the coconut evenly amongst the four cake cups. Serve immediately for the most gooey, fudgy texture.
Note: If the warm sno ball chocolate cake cups are allowed to sit for awhile, the marshmallow creme will start to soften and mingle with the gooey chocolate cake. If you wish to make these cake cups ahead of time, to serve later in the day or the following day, I would recommend not adding the marshmallow creme and coconut layers until the chocolate cake has completely cooled.
Nutrition Information:
Yield: 6
Serving Size: 1
Amount Per Serving:
Calories: 488
Total Fat: 15g
Saturated Fat: 10g
Trans Fat: 0g
Unsaturated Fat: 3g
Cholesterol: 74mg
Sodium: 243mg
Carbohydrates: 86g
Fiber: 4g
Sugar: 62g
Protein: 6g
Nutrition information is automatically calculated by Nutritionix. I am not a nutritionist and cannot guarantee accuracy. If your health depends on nutrition information, please calculate again with your own favorite calculator.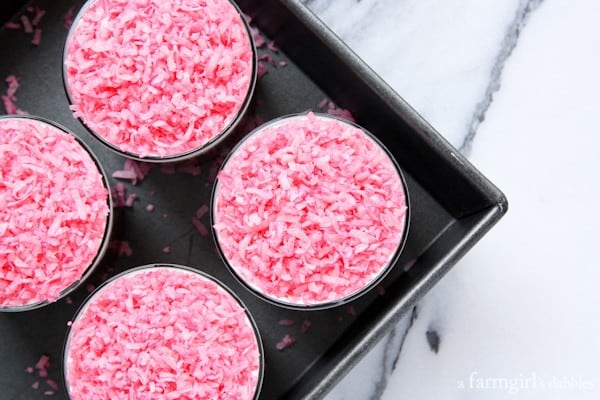 Disclaimer: This post contains affiliate links.