Eggs Benedict with BBQ Hollandaise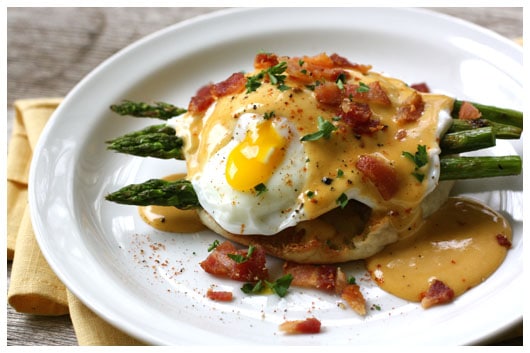 I have been working my confidence up to making eggs benedict, always having put it off, thinking it was too difficult to accomplish properly at home. But I had so dang much fun creating this Eggs Benedict with BBQ Hollandaise, it is now written in permanent ink in our recipe archives!
If you want to know who to thank for finally pushing me to take The Eggs Benedict Plunge, it's my friend Stephanie. She writes at Fresh Tart, and her friendship and laugh-out-loud hilarious wit have been a huge blessing to me as a newbie Minnesota food blogger. Check out her enticing poached eggs here, here, AND here! Also be sure to oogle over Stephanie's latest adventure she shares with Susan Powers, a highly skilled woman of both camera and pen, called Shooting the Kitchen. It's an amazing site with beautiful photos and writing, showcasing restaurant experiences like no other. Grab a napkin and prepare to drool!
None of this eggs benedict creation is difficult. It simply requires some thoughtful orchestration, which I've laid out for you in the recipe. It's perfect for a relaxed weekend morning.
For those of you skilled in making hollandaise, go ahead with your traditional method on the stovetop, and just add in the BBQ flavorings listed. And I have the perfect solution for the rest of you who are just a bit intimidated by the process. It's called hollandaise in a blender! Yes, it's made in a blender. And it's wonderfully easy and delicious. Here is a short video from Bon Appetit that shows you just how simple it is to make blender hollandaise and poached eggs. My husband even dug right in and was making his own poached eggs, right alongside me. We just kept the pan of water on the stove at a steady little simmer and popped in an egg whenever we were ready for another.
Blake and I literally devoured this Eggs Benedict with BBQ Hollandaise, a concoction that I came up with quite accidentally, after trying a method for microwave poached eggs. (Which is quick and fool-proof, by the way!) I was craving something a bit smoky flavored and found myself slathering some leftover creamy BBQ dip – from the prior evening's vegetable platter – onto my microwave poached eggs. That flavor combo was all I could think about the rest of the week. I knew I HAD to create a BBQ hollandaise. And now I'm so happy to share it with you! Please let me know if you give it a try.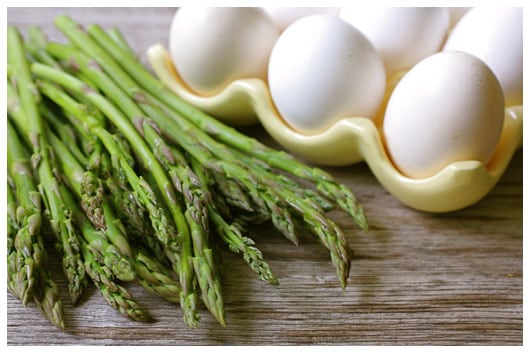 There are a few different steps/recipes that make up this dish, but none of it is difficult. Just follow my directions and you'll be fine!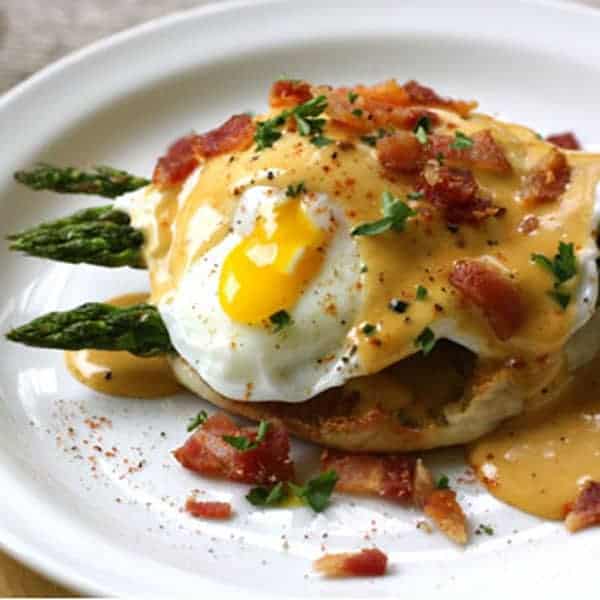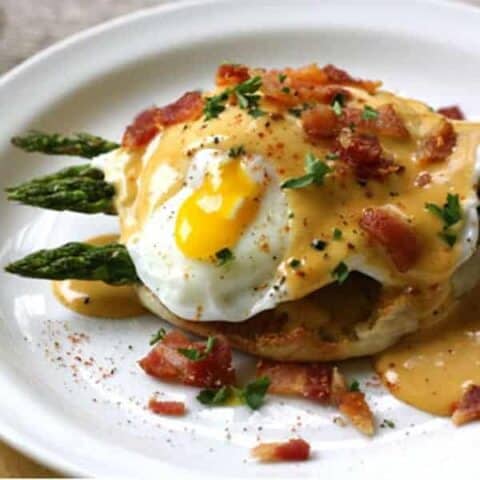 Eggs Benedict with BBQ Hollandaise
Yield: 4 servings of 2 eggs each
Prep Time: 30 minutes
Cook Time: 5 minutes
Total Time: 35 minutes
Eggs Benedict with BBQ Hollandaise is the ultimate Sunday morning breakfast - and it's so easy too! Grab some barbecue sauce and get ready for a tasty twist on hollandaise sauce.
Ingredients
8 strips thick-sliced bacon
32 thin spears of asparagus, trimming to about 5″ to 6″ long
2 T. olive oil
kosher salt
freshly ground black pepper
4 whole English muffins, halved
small bunch fresh parsley or chives, finely chopped, for garnish
for the BBQ Hollandaise in a blender:
1-1/4 c. unsalted butter, cubed
2 large egg yolks
2 T. fresh lemon juice
2 T. barbeque sauce (I used Daddy Sam's brand, which I adored on some ribs Stephanie made)
1/2 tsp. powdered mustard
1/2 tsp. cumin
1/2 tsp. ancho chili powder, plus more for garnish
kosher salt
freshly ground black pepper
to poach some eggs:
8 large eggs (2 per person)
2 tsp. kosher salt
Instructions
First, fry your bacon and let cool a bit. Roughly chop and set aside.
Then prepare your grilled asparagus. I used a grill pan on the stove, but you could also grill outdoors. Heat pan to medium high. Place asparagus on pan and drizzle with olive oil. Stir a bit to coat, then sprinkle with salt and pepper. Grill for a few minutes, until you see some charred marks on the asparagus. Then flip and grill a few minutes longer, until asparagus is tender and has some char marks. Remove to a plate to cool.
Set your English muffin halves by the toaster, ready to be toasted.
Chop the parsley or chives and set aside.
for the BBQ Hollandaise in a blender:
Check out this video if you're unsure of creating the hollandaise in a blender – it should set your mind at ease. Fill a blender with hot water and set aside while you gather your hollandaise ingredients. Melt butter in a small saucepan over medium heat until foaming. Remove pan from heat. Drain blender and dry well. Put egg yolks and lemon juice in the blender and cover. Blend to combine. Working quickly and with blender running, remove lid insert (use a towel to help shield your hand and the insert opening) and slowly pour hot butter into blender in a thin stream of droplets. Blend until a creamy sauce forms, about one minute. Add the barbeque sauce, mustard, cumin, and ancho chili powder. Blend just to combine. Season to taste with salt and pepper.
to poach some eggs:
Fill a medium size saucepan with about 2″ of water and bring to a boil over high heat. Add the salt and turn heat down to medium. You want your water to be barely simmering, with very small bubbles barely rising to the surface. Crack an egg into a small dish and slide it gently into the water. Quickly do the same with a second egg. Set your timer for 3 minutes for a runny center or 4 minutes for a bit firmer set.
While the eggs are cooking, you'll want to pop 2 English muffin halves into the toaster. Butter when toasted, place on a plate, and then top with 4 grilled spears of asparagus each.
When the timer goes off for your eggs, use a slotted spoon to scoop the first egg out of the water. Tilt the spoon to drain any water off the egg. Place egg on top of the asparagus and repeat with the second egg. Top eggs with BBQ Hollandaise, chopped bacon, chopped parsley, and a sprinkle of barbeque seasoning. Finish with kosher salt and freshly ground black pepper, to taste. Serve immediately.
Prepare additional eggs and English muffins.
Nutrition Information:
Yield: 4
Serving Size: 1
Amount Per Serving:
Calories: 2294
Total Fat: 221g
Saturated Fat: 126g
Trans Fat: 0g
Unsaturated Fat: 82g
Cholesterol: 1077mg
Sodium: 2962mg
Carbohydrates: 46g
Fiber: 3g
Sugar: 13g
Protein: 40g
Nutrition information is automatically calculated by Nutritionix. I am not a nutritionist and cannot guarantee accuracy. If your health depends on nutrition information, please calculate again with your own favorite calculator.