Donna's Cranberry Cake with Butter Cream Sauce
This post may contain affiliate links to products we use and love.
This Cranberry Cake with Butter Cream Sauce is a Christmas family tradition at our house. Tart cranberries + sweet butter cream = irresistible!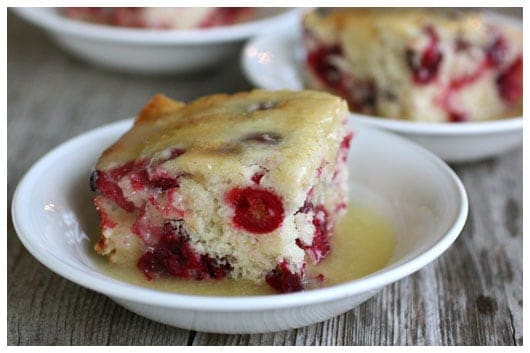 I love how favorite recipes get handed down through family and friends, leaving a trail of happy tummies along the way. Sharing recipes is a wonderful thing. And this Cranberry Cake with Butter Cream Sauce is the perfect example.
My uncle and aunt, Dale and Donna, just celebrated 40 years of marriage. Wahoo!! And this recipe goes way back to their dating, when Dale's Aunt Evel made this Cranberry Cake for Thanksgiving. Donna liked it so much that, after marrying Dale in 1970, she started a family tradition of making this cake for her own side of the family.
MY side of the family. Lucky, lucky me!!
Christmas just wouldn't be the same without this pretty and festive cake. It's extremely dense and moist, and not particularly sweet, especially with all of the tart cranberries. Although the cake is great on its own, the Butter Cream Sauce is what really makes a person swoon. Warmed up and poured over the Cranberry Cake, its sweet and creamy yumminess is completely irresistable.
Wouldn't this be a great addition to one of your holiday gatherings? Please, give it a try. I know Aunt Donna would smile to know the Cranberry Cake trail lives on!
Donna's Cranberry Cake with Butter Cream Sauce
Yield: 9 larger portions (from the 8-inch square pan)

Cook Time:45 minutes
Ingredients:
for the cake:
2 c. all-purpose flour
1 c. sugar
2 tsp. baking powder
1/2 tsp. salt
2 c. whole fresh cranberries
1 c. milk
3 T. butter, melted
for the butter cream sauce:
1/2 c. butter
1 c. sugar
3/4 c. heavy cream
Directions:
for the cake:

Preheat oven to 350°. Lightly spray an 8" square pan and set aside.

Sift together the flour, sugar, baking powder, and salt. Add cranberries, milk, and melted butter. Mix well. Pour into prepared pan and bake for about 45 minutes, until the top is golden and an inserted toothpick comes out clean. Remove to wire rack to cool.

for the butter cream sauce:

Melt the butter in a small sauce pan over medium heat. Add sugar and cream. Bring to boiling and cook for 1 minute.

To serve, pour warm Butter Cream Sauce over individual pieces of cake.

*Note: This can easily be made in a 9" x 13" pan by doubling the cake ingredients. It will just require a bit more time in the oven. I don't think the butter cream sauce requires doubling, however. I would just do a recipe and a half of the sauce.

From Aunt Donna's recipe box, a recipe passed down from her Aunt Evel Peterson.

©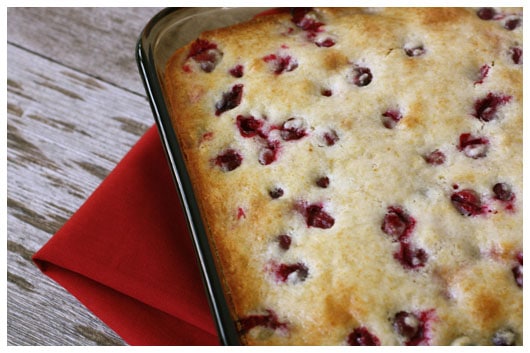 We participate in the Amazon Services LLC Associates Program, an affiliate advertising program designed to provide a means for us to earn fees by linking to Amazon.com and affiliated sites. See our
disclosure policy
for more info.