Chicken Breasts Braised with Hard Cider, Bacon, and Parsnips
Chicken Breasts Braised with Hard Cider, Bacon, and Parsnips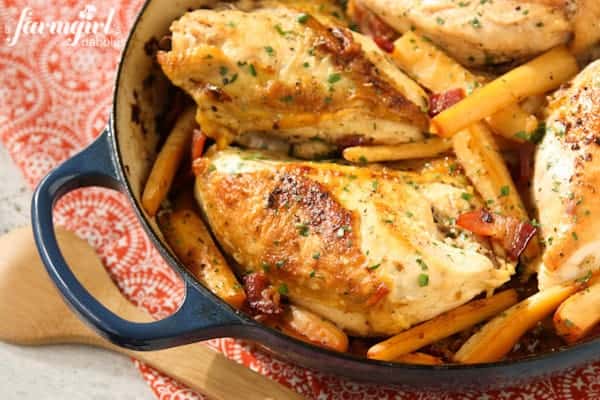 Over the past few years, a good number of people have asked me if I've ever braised chicken breasts. I've always responded with a "no", followed by an explanation of why I don't think it's necessary to braise chicken breasts (they are lean cuts, without the fat and connective tissues that break down and tenderize tougher cuts of meat during braising)…but I was still curious to try it.
Then I came across a recipe in Molly Stevens' book All About Braising, with an ingredient that gave me the perfect excuse to try braising chicken breasts for the first time: hard cider. Two glorious words in my glossary of libations. After falling in love with a big pot of Hard Cider Pot Roast, I needed no convincing to try braising other cuts of meat in it!
I'm so happy this gorgeous pot of Chicken Breasts Braised with Hard Cider, Bacon, and Parsnips came to grace our family table!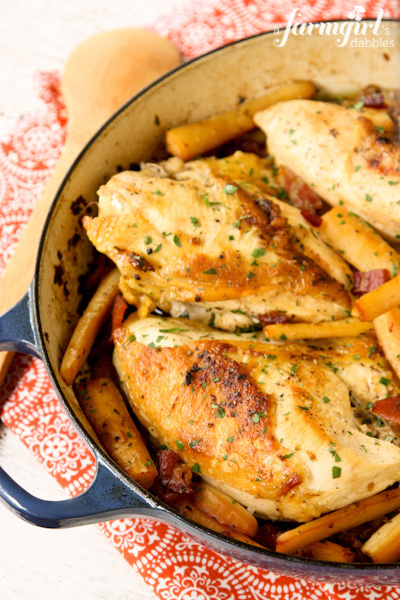 In our home, braising always involves LeCreuset. I've said it before and I'll say it again…I love LeCreuset. Their products are of the highest quality, and always have a way of delivering some of my family's favorite meals to our table. In the past, I've used our 6-3/4 quart oval French oven, and have shared with you:
And now, for this latest recipe for braised chicken breasts, I used our 3-1/2 quart braiser. What a lovely piece! So pretty in indigo blue, it was really the perfect vessel for this chicken dish. Low and wide, with a large bottom surface, it allowed four large breasts of chicken to simmer in the reduced cider sauce.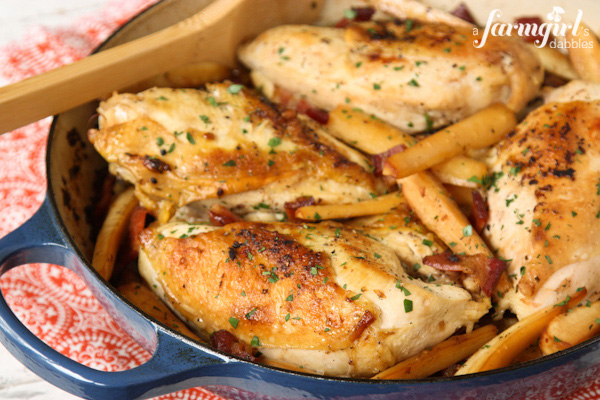 I'm glad that I can now tell people that "yes", I have braised chicken breasts before…and I have the perfect recipe for you!
This dish turned out wonderfully flavorful, especially for using so few ingredients. The secret is in the sauce, all sweet and lovingly reduced, with the flavors of cider, parsnips, and fresh rosemary. And bacon, of course! It's a great pairing for the delicately flavored white chicken pieces.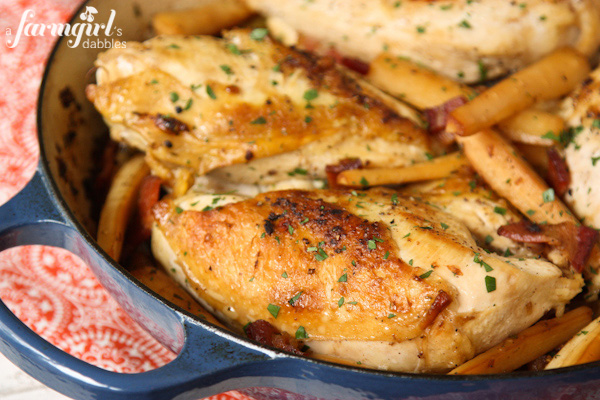 Another notable aspect of this recipe is that it uses just one pot, the braiser alone. Which is definitely a plus for the person who does the dishes in your house. Ahem. Thanks, Blake.
My advice?
Slide a pot of this braised chicken into the oven this weekend. When it's just about ready to wow the center of your table and your guests, pop open a cold hard cider (my favorite is Crisp Apple by Angry Orchard). Take a few sips, then get ready to savor the rest with a serving of this delicious chicken. Enjoy!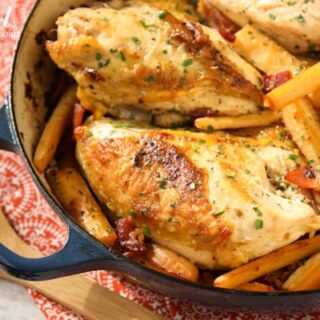 Chicken Breasts Braised with Hard Cider, Bacon, and Parsnips
Yield: 4 to 6 servings
Prep Time: 45 minutes
Cook Time: 50 minutes
Total Time: 1 hour 35 minutes
I'm so happy this gorgeous pot of Chicken Breasts Braised with Hard Cider, Bacon, and Parsnips came to grace our family table!
Ingredients
4 bone-in, skin-on chicken breasts (about 3 lbs. total)
kosher salt and freshly ground black pepper
2 tsp. olive oil
4 slices thick-cut bacon, cut into 1/2'' wide strips
3 T. minced shallot
2.5 c. hard cider (I used Angry Orchard Apple Ginger)
1 T finely chopped fresh rosemary
1 lb. parsnips, peeled, any woody core removed, and cut into sticks about 3'' by 1/2''
Instructions
Preheat oven to 325° F.
Rinse chicken breasts under cool running water and dry them thoroughly with paper towels. (Be sure to dry the chicken thoroughly, or it won't brown properly and will threaten to stick to the pan during searing.) Season chicken all over with salt and pepper. Set aside.
In a 3-1/2 quart LeCreuset braiser or large deep lidded skillet, over medium heat, combine oil and bacon pieces. Stir a few times, until the bacon renders most of its fat and is just crisp, about 6 minutes. With tongs or a slotted spoon, transfer bacon to a paper towel-lined plate to drain.
Pour off and discard all but 2 tablespoons of the olive oil and rendered bacon fat from the pan. Return braiser to the same burner, and heat the remaining fat over medium-high heat. Place prepared chicken breasts skin side down in the pan and brown, without disturbing, for a few minutes. Then peek underneath by lifting the edge of the chicken with a pair of tongs to see if the skin is crisp and bronzed. Once the skin is nicely browned, about 4 to 5 minutes, turn with tongs and brown the other side as well, another 4 to 5 minutes. Transfer chicken to a large plate to catch the juices, and set aside.
Return braiser to same burner, still over medium-high heat, and add shallot to the pan. Let it sizzle, stirring, for a minute. It will brown quickly, so be careful to not let it burn. Quickly pour in 2 cups of the hard cider to deglaze, and scrape the bottom of the pan with a wooden spoon to dislodge and dissolve the browned bits that will flavor the sauce. Let the cider boil to reduce down to about 1/2 cup, about 15 minutes or so. Add the rosemary and the remaining 1/2 cup cider and boil down again until there's about 3/4 cup total, another 6 to 8 minutes. The cider won't become very thick, but you will be concentrating the combined flavors of fruit, bacon drippings, chicken drippings, and rosemary in the process. I promise you, it's yummy!
Add the parsnips and season with generous grindings of black pepper and a pinch of salt. Sprinkle the bacon over the parsnips, and arrange the chicken pieces on top, skin side down. Cover with parchment paper, pressing down so that the paper nearly rests on the chicken pieces and hangs over the sides of the pan by about an inch, and set the lid in place. Slide the pan onto a rack in the lower third of the oven to braise at a gentle simmer. After 25 minutes, turn the chicken pieces, and check the liquid. If it is simmering too ferociously, lower the oven temperature 10 to 15 degrees. Continue braising until the meat at the thickest part of the breast is cooked through when you make a small incision with a knife, another 20 to 25 minutes.
I prefer to serve this meal directly from the braiser, placing it right in the middle of our table. This provides not only a beautiful centerpiece, but it also keeps the chicken and parsnips hot. I also like to add a large spoon to the braiser, so everyone can spoon a bit of the delicious sauce over their chicken. This meal is great served with a big bowl of rice.
Nutrition Information:
Yield: 4
Serving Size: 1
Amount Per Serving:
Calories: 246
Total Fat: 7g
Saturated Fat: 2g
Trans Fat: 0g
Unsaturated Fat: 5g
Cholesterol: 12mg
Sodium: 294mg
Carbohydrates: 30g
Fiber: 4g
Sugar: 15g
Protein: 6g
Nutrition information is automatically calculated by Nutritionix. I am not a nutritionist and cannot guarantee accuracy. If your health depends on nutrition information, please calculate again with your own favorite calculator.