Cheesy Potato and Bacon Skillet
Some days, nothing looks better than a Cheesy Potato and Bacon Skillet, warm and comforting. Wouldn't you agree?!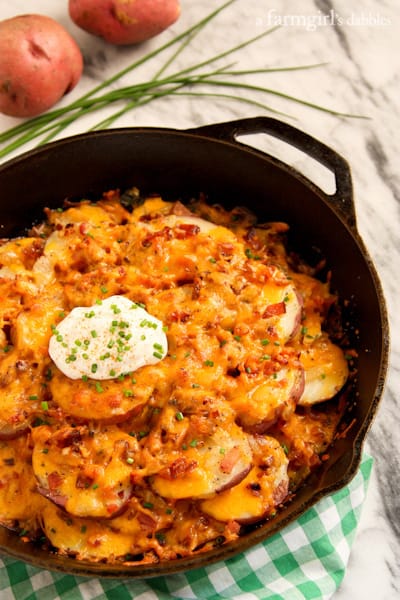 As the cooler temperatures are becoming the norm these days, warm and cozy comfort foods are appearing at our family table more and more often. From soups and chilis to slow cooker favorites, these gratifying meals help to appease the chill in our bones.
Potatoes are great any time of year, but when the weather turns colder is when I really crave them. Mostly my yearnings involve a heaping pile of simply mashed potatoes, with a pretty little pool of sweet, creamy butter. But I also like to mix things up. Here's a cozy side dish that we've been enjoying this fall that's definitely passable as a main dish, too. This Cheesy Potato and Bacon Skillet is so much fun to serve. Some days, nothing looks better than a hot skillet of potatoes, bacon, and golden bubbling cheddar. Wouldn't you agree?!
[rss-cut]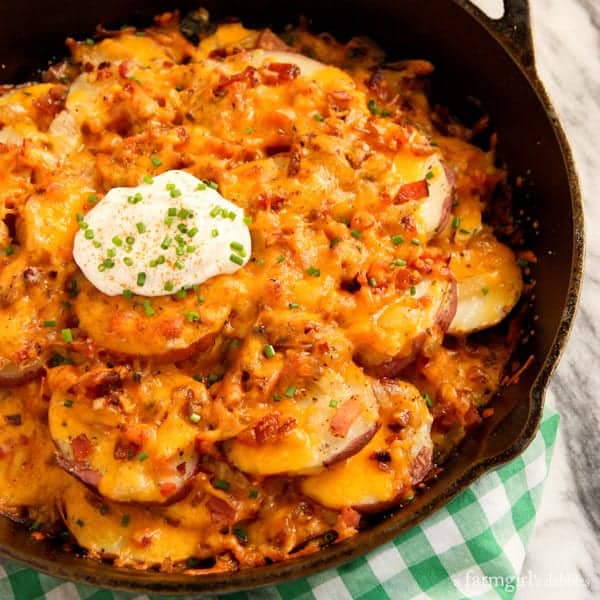 When I'm wanting to make this cheesy potato and bacon skillet extra wonderful, I make a run to our local meat market for their double smoked bacon, cut extra thick. And then I pick up some Widmer's 1 year aged cheddar. Because it's true, extra good ingredients equal an extra wonderful final dish.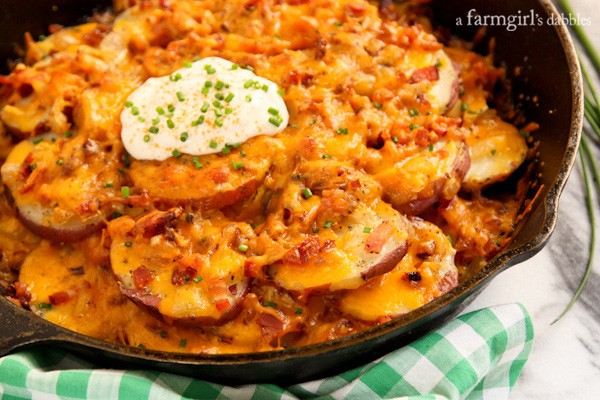 Half of the fun of this dish is in the creation of it. Layering tender potato slices with a buttery garlic and onion mixture, softened to perfection in a skillet sauté…plus chopped bacon, cheddar, and fresh chives…it's kinda like making a savory layer cake. And when popped in the oven to get all married up, golden and bubbly and gorgeous, it emerges to take center stage on your table. Serve it as a side dish or a main dish, but just know it's the dish that everyone will be staring at, yearning for. The table grace might even be said a bit more quickly, in anticipation of digging in.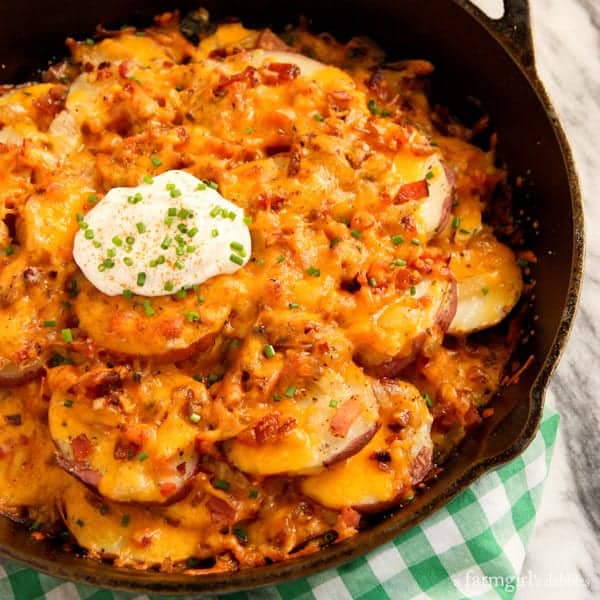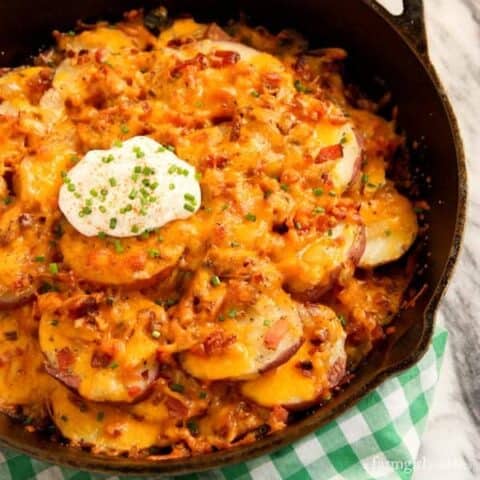 Cheesy Potato and Bacon Skillet
Yield: 6 to 8 servings
Prep Time: 30 minutes
Cook Time: 25 minutes
Total Time: 55 minutes
Some days, nothing looks better than a Cheesy Potato and Bacon Skillet, warm and comforting. Wouldn't you agree?!
Ingredients
2 lbs. medium to large red potatoes, scrubbed clean
6 slices thick-cut bacon (we use a double smoked variety from our local meat market, so good!)
2 T. unsalted butter
1/2 of a large yellow onion, chopped
3 large garlic cloves, minced
8 oz. shredded medium cheddar
1/4 c. chopped fresh chives
kosher salt, to taste
freshly ground black pepper, to taste
sour cream and additional chopped chives, for optional garnish
Instructions
In a large sauce pan or pot, boil potatoes in water just until tender, about 12 minutes or so, depending on the size of your potatoes. Drain and let cool for 20 to 30 minutes. Slice potatoes into 1/4" rounds, leaving skins on.
Preheat oven to 375°.
In a large cast iron skillet over medium heat, fry bacon until crisp yet chewy. Remove bacon to a paper towel lined plate. Once cooled, chop into 1/4″ to 1/2″ size pieces.
Drain all bacon fat from the skillet, except to leave about 1 tablespoon. Return skillet to stove top over medium heat and add the butter. Once butter is melted, add the onion and gently sauté for about 5 minutes, stirring once or twice. Then stir in the garlic and sauté for 3 to 5 more minutes, or until onion is softened but not charred. Remove mixture to a small bowl.
Remove skillet from heat and layer half of the potato rounds into the bottom of the skillet. Top with half of the onion and garlic mixture, half of the chopped bacon, half of the cheese, and half of the chives. Sprinkle with salt and pepper, to taste. Layer on the remaining potato rounds, topped with the remaining onion and garlic mixture, bacon, cheese, and chives. Sprinkle again with salt and pepper, to taste. Bake for about 20 to 25 minutes, or until cheese is bubbly and a bit browned. Remove from oven and let cool just a minute or two. Then top the cheesy potatoes with sour cream and additional chives, or just serve these condiments on the side.
Nutrition Information:
Yield: 6
Serving Size: 1
Amount Per Serving:
Calories: 300
Total Fat: 21g
Saturated Fat: 11g
Trans Fat: 0g
Unsaturated Fat: 8g
Cholesterol: 61mg
Sodium: 554mg
Carbohydrates: 13g
Fiber: 1g
Sugar: 2g
Protein: 14g
Nutrition information is automatically calculated by Nutritionix. I am not a nutritionist and cannot guarantee accuracy. If your health depends on nutrition information, please calculate again with your own favorite calculator.