Homemade Marshmallow Conversation Hearts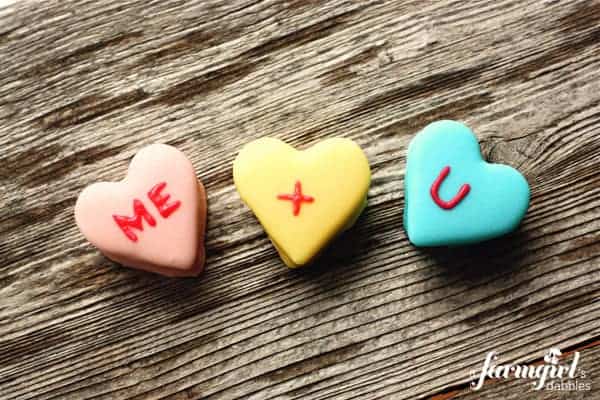 Our kitchen comes alive when homemade marshmallows are mentioned. We're talking singing and dancing and smiles so wide they threaten to swallow us whole. (Well, from us girls, that is!)
Where I was once intimidated by the whole process, making marshmallows at home is nothing short of pure joy for me now. It is super easy. Super fun. And the delicious chewy sweetness is better than any you could bring home from the store. We make them plain and simple, cut like bunnies and dipped in chocolate, and now…these fun and fabulous Marshmallow Conversation Hearts!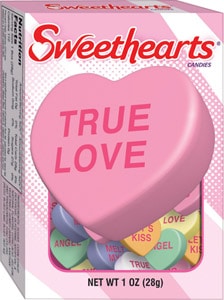 It was fun to read up on the history of Sweethearts Conversation Hearts, and how the sayings have changed over the past century. Such an icon of Valentine's Day, over 8 billion of these little candies are created annually. Production starts just after Valentine's Day each year and runs to mid-January of the following year. Then they completely sell out in just 6 short weeks…that's about 100,000 pounds of little colored hearts every day!
Even if you don't want to take the time to produce a batch of your very own marshmallow conversation hearts, I would love to encourage you to at least give homemade marshmallows a shot. Just take a look at my first plain and simple marshmallow post from one year ago. And if you want to indulge a bit more in this Valentine's season, you could take it one step further with a heart-shaped cookie cutter, creating a feast of marshmallow hearts. They're pretty darn cute floating in a mug of hot chocolate. I'm certain your friends and family would say, "U ROCK".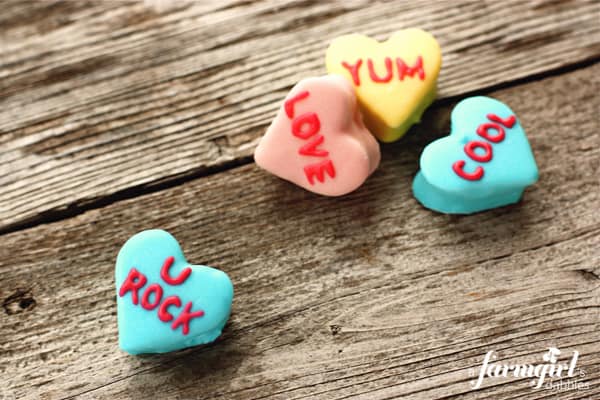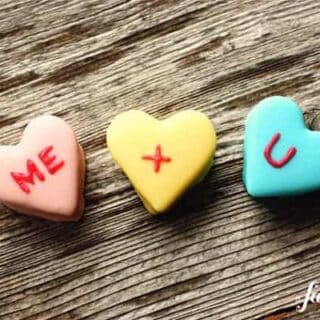 Homemade Marshmallow Conversation Hearts
Yield: 1 batch of conversation hearts
Prep Time: 40 minutes
Cook Time: 20 minutes
Additional Time: 1 hour
Total Time: 2 hours
Homemade Marshmallow Conversation Hearts are colorful sweet treats that your kiddos are sure to love. These easy marshmallow hearts would be a great surprise on Valentine's Day!
Ingredients
for the marshmallows:
powdered sugar, for coating pan
2/3 c. water, divided
3 (1/4 oz.) envelopes unflavored gelatin (found by the Jell-O at the grocery store)
1 c. granulated sugar
1 c. light corn syrup
pinch of kosher salt
1 tsp. vanilla
for the candy coating:
2 12-oz. bags white Wilton candy melts
candy coloring – I used Wilton yellow, red, and blue candy (not icing) coloring
for the glaze icing for the letters:
Please visit my very talented friend – Amanda from i am baker – for her glaze icing recipe and tutorial. She's just so great at using this stuff, and really is your best teacher. Just read my notes specific to this Marshmallow Conversation Hearts recipe in the Preparation section below.
Wilton "no taste" red icing color (Don't use liquid food coloring.)
Instructions
Lightly spray the inside of an 9" x 13" pan with cooking spray. Generously coat with powdered sugar and set aside.
Pour 1/3 cup of the water into the bowl of a stand mixer. Sprinkle the gelatin over the water and stir briefly to incorporate. Let stand for about 10 minutes, or until the gelatin has softened.
In a saucepan, off the heat, combine the remaining 1/3 cup of water and the granulated sugar, corn syrup, and salt. Place the pan over medium-high heat. Clip a candy thermometer on the inside of the pan, making sure it doesn't touch the bottom. Cook the mixture without stirring until it reaches 240°. Brush down the sides of the pan with a pastry brush, dipped in water, to gently wipe away any sugar crystals.
With your mixer on low speed, very carefully add the hot syrup to the softened gelatin. Add the vanilla and increase the speed to medium-high. The mixture will start out clear, but quickly turns very white. Beat for about 8 minutes, or until the marshmallow gets very thick and sticky, and starts to pull away from the sides of the bowl, in string-like pieces. This will really give your mixer a workout.
Spread the mixture into the prepared pan using a lightly oiled spatula. With wet hands, press the batter evenly into the corners of the pan. Just keep rewetting your hands to help with the stickiness. Set aside for at least 1 hour, or until the mixture is firm and cool.
Run a wet knife around the edge of the cooled pan to loosen the marshmallow. Remove the marshmallow from the pan, onto a sheet of parchment paper.
Dip your small heart-shaped cookie cutter (mine measures 1-3/8″ wide by 1-3/8″ tall) into a shallow bowl of water and then cut the slab of marshmallow into heart shapes. This is a sticky job, but just have patience. It's worth it! It helps to dip the heart cutter into the water in between cuts. Repeat this process until the whole slab of marshmallow is cut.
for the candy coating:
Divide the candy melts between 3 glasses. In the microwave, carefully melt the candy melts, taking special care to not let them scorch. It's best to get the candy melts partially melted and then just stir them until they are completely melted. Then color each separate glass to your liking.
Drop a marshmallow heart into the colored melted candy and dunk with a fork to completely coat. Pick the marshmallow up with the fork, allowing excess candy coating to drip off while lightly tapping the fork to coax more of the excess off. Then slide the fork out of the glass, scraping the underside of the tongs along the rim of the glass. This will scrape off any remaining excess candy coating, so you don't have a pool of it form around your heart as it cools.
Set the candy coated heart on parchment paper to cool and completely set up on your kitchen counter. After they are dry to the touch, they are ready to decorate.
for the glaze icing for the letters:
Again, here's the link to Amanda's recipe and tutorial for her glaze icing. I only have a couple things to add, how I did things a little differently for these hearts…
Use only a 1/2 tablespoon of milk, as little as possible. You want the glaze icing to be stiff, so the letters won't spread too much. And do not add any lemon or other flavoring to the glaze icing. Color with the red icing color to your liking and then pipe on the letters with a tiny round Wilton #1 tip. I will admit that the lettering was a little tedious, and that I did have a bit of an issue with the glaze icing still wanting to spread, but I really like its finished glossy look. If you're not up for working with this for the lettering, you might wish to consider a stiffer frosting.
Notes
Marshmallow recipe adapted from jam it, pickle it, cure it by Karen Solomon (I love, love, LOVE this book!). Glaze icing from i am baker. Marshmallow Conversation Hearts concept from a farmgirl's dabbles.
Nutrition Information:
Yield: 20
Serving Size: 1
Amount Per Serving:
Calories: 287
Total Fat: 1g
Saturated Fat: 0g
Trans Fat: 0g
Unsaturated Fat: 1g
Cholesterol: 0mg
Sodium: 44mg
Carbohydrates: 70g
Fiber: 0g
Sugar: 58g
Protein: 0g
Nutrition information is automatically calculated by Nutritionix. I am not a nutritionist and cannot guarantee accuracy. If your health depends on nutrition information, please calculate again with your own favorite calculator.