Decorating Cookies Party Review
Have you always wanted to try decorating your own themed cookies? I highly recommend you check out this Decorating Cookies Party book!
Today I am deeeeeeeeelighted to feature this book, Decorating Cookies Party, by my sweet friend Bridget of Bake at 350. If you find fascination in exquisitely decorated cookies, Bridget's site is the one your eyes should be feasting on. Her work is so beautiful and inspiring, truly an extension of the joyful person she is. And I'm thrilled that she's sharing more of her cookies in this new book!
If you've ever had the slightest inclination to fill pastry bags with frostings of hand-tinted hues, to decorate some celebratory cookies of your own…this book is for you! After creating some fun cookies with our daughters last weekend, I cannot recommend Decorating Cookies Party enough. It's a beautiful book, and brilliant in its instruction.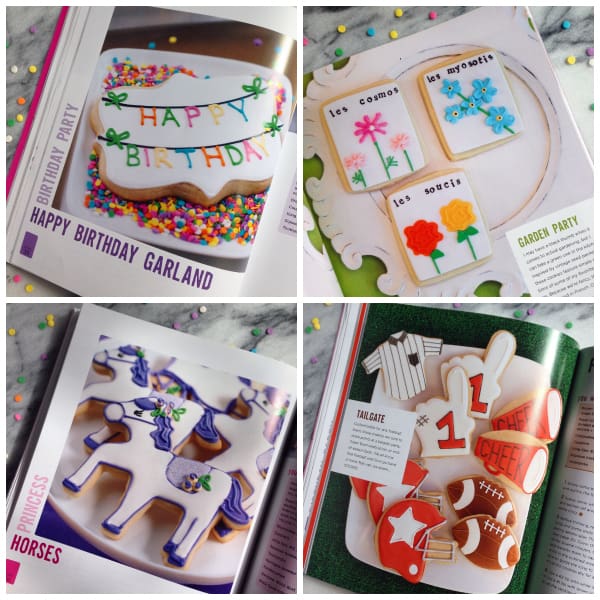 When Bridget's book first arrived, Tessa and I spent our before-bed reading time perusing Decorating Cookies Party. Yes, our 7 year-old gladly gave up her book Junie B. Jones and some Sneaky Peeky Spying for snuggling with Mom, oohing and aahing over Bridget's creative cookies. With each page we turned, Tessa repeated, "Now that's my favorite!"
I've featured just a few of our very favorite designs above. I think the Happy Birthday Garland and the Garden Party cookies are my top choices from the entire book. Both Hatti and Tessa said how much they liked the Garden Party designs, too, simple renditions of vintage flower seed packs. It would be fun to try the different techniques for making each flower, and to add the stamped letters. The Princess Horses cookies were a no-brainer favorite for Tessa, our sweet horse crazy girl. And the Tailgate cookies caught Hatti's eye, as she is her dad's sports watching sidekick.

I used to decorate cookies quite a bit, many years ago, and still have fun with frosted lettering on the occasional birthday cake. But my techniques have never gone beyond the piping of outlines. With this book as my guide, I was determined to take the next step, to follow up my piping with flooding. And with the added enthusiasm of a couple young in-house bakers, we had ourselves a little decorating cookies party!
With Halloween just around the corner, we chose the colorful Monster Mash-Up cookies for our decorating party. How much fun are these?!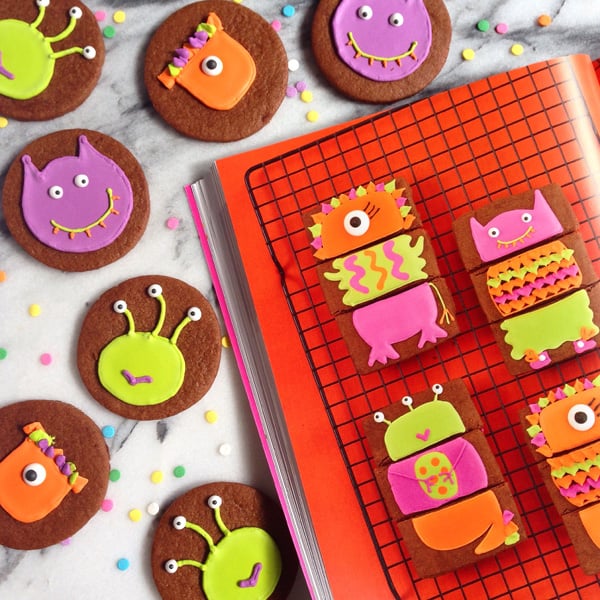 Bridget's monster design is playful, and so dang smart. She uses a rectangular cookie cutter and then cuts each cookie into 3 pieces after they come out of the oven. Once the heads, torsos, and bottoms are decorated, kids are able to mix and match to create their own special monster cookie combinations.
Brilliant as Bridget's cookies are, I decided to change ours up a bit, to utilize the cookie cutters that we already owned. After getting the ok from Hatti and Tessa, we drew up heads-only monsters on round templates. The girls loved thinking creatively about how to make Bridget's original artwork fit within our own parameters.
A couple days before our decorating cookies party, Tessa and I baked the cookies. We made a double batch of Bridget's gluten-free chocolate cut-out cookies (found on page 28 of her book), except we used the included substitutions to make them not gluten-free, and added 1 tablespoon of espresso powder to the double batch. I canNOT wait to make Bridget's mocha cut-out cookies recipe (page 25), with even more of that coffee-chocolate combo!
The cookie recipe was extremely easy to work with, probably one of the best experiences I've had with cut-out cookies. And the flavor is fabulous from the cocoa powder, espresso powder, and a good amount of butter.
We followed the rest of Bridget's Monster Mash-up cookies recipes and instructions without making any more changes. Her book includes tons of simple instructions, most of them with a helpful how-to photo. From creating and tinting the frosting, and then thinning it to flood the piped designs, it felt like Bridget was there guiding us every step of the way. While I did most of the piping on the Monster Mash-Up cookies, the girls did all of the flooding. We got better with each cookie, but most importantly, we had so much fun!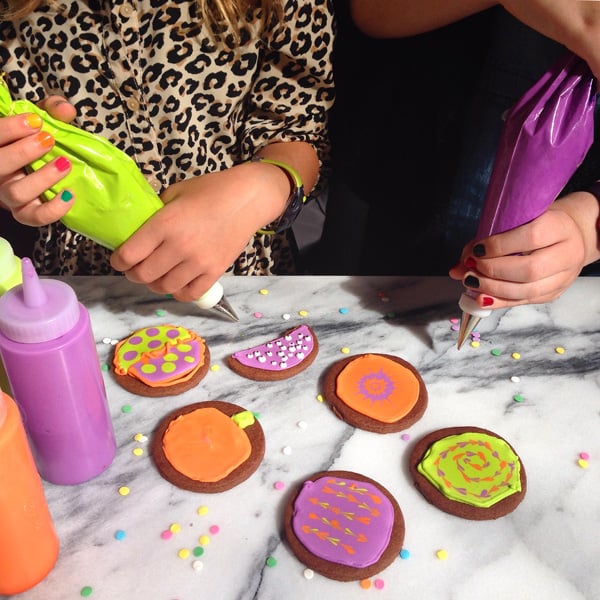 Whenever I've had piping bags filled with frosting for cakes, cupcakes, or cookies, the girls have always been intrigued and wanted to play too. For as long as I can remember, I've handed the decorating tools over to them to experiment and decorate with, using extra baked goods. The same thing happened the day of our decorating cookies party. I was sure to reserve a dozen or so cookies for them to play with at the end, to experiment in frosting decoration in whatever way they chose. There were lots of giggles, plus boosts in confidence. Do you have any idea how fun it is to make eyeballs with tubes of frosting?! It was so fun to watch.
Be sure to check out Decorating Cookies Party, plus Bridget's first book Decorating Cookies. You'll be left feeling inspired, plus have all the knowledge you need to create your own decorated cookies.
Disclaimer: I was sent a copy of Decorating Cookies Party for review. All opinions are my own.