Cheesy Sriracha Tuna Toasts
These Cheesy Sriracha Tuna Toasts are the perfect answer to lunchtime boredom!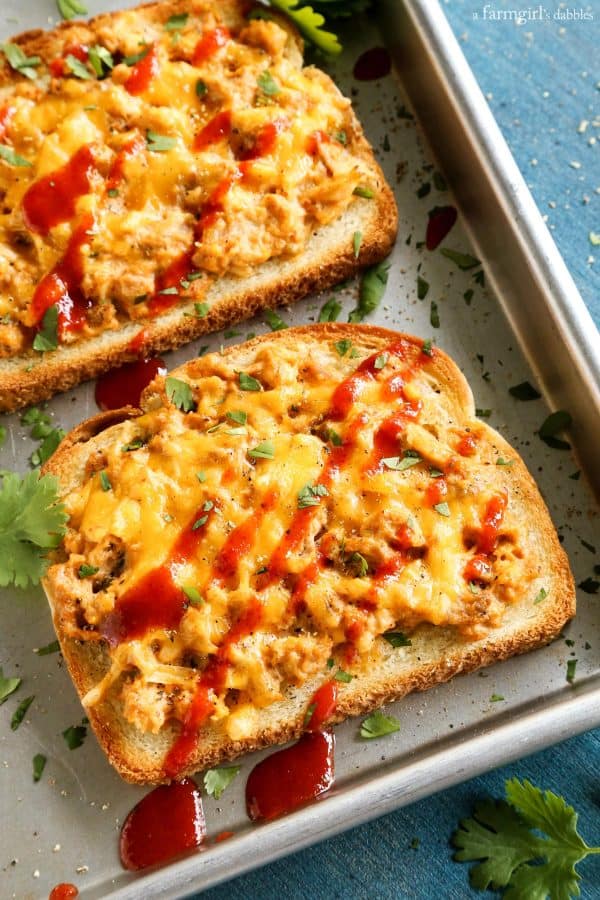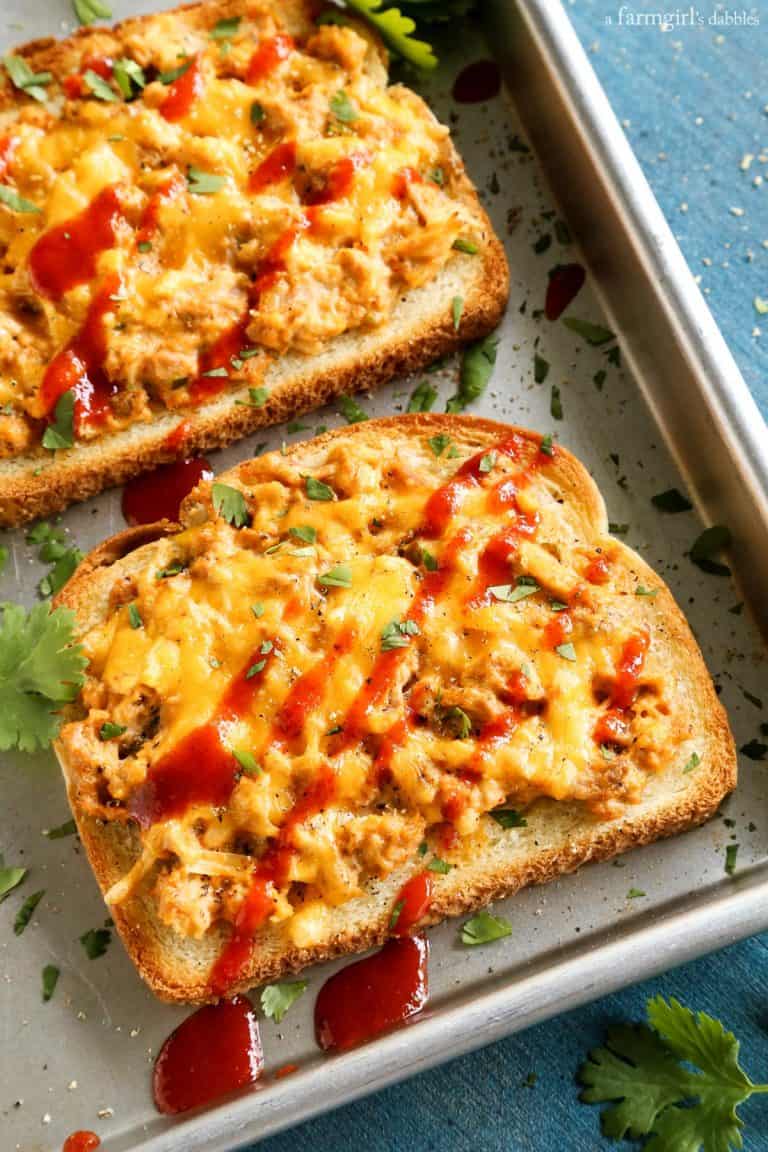 Since quitting my PT job outside the home earlier this year and now blogging FT, I eat lunch at home more than ever before. I'm a leftovers queen, so many days I get a little help from a previous meal. But sometimes there's just not much in the fridge for lunch. Do you know what I mean?!
I am beyond excited to share my quick and easy Cheesy Sriracha Tuna Toasts with you, a recipe born from my own lunchtime boredom. These toasts are packed with incredible flavor – you are going to LOVE it!
* This is a sponsored post, created in partnership with Chicken of the Sea®.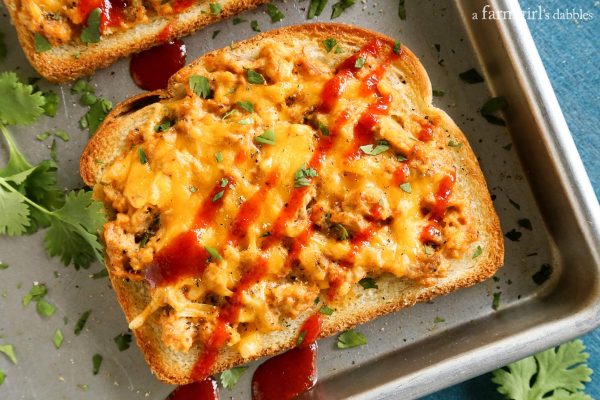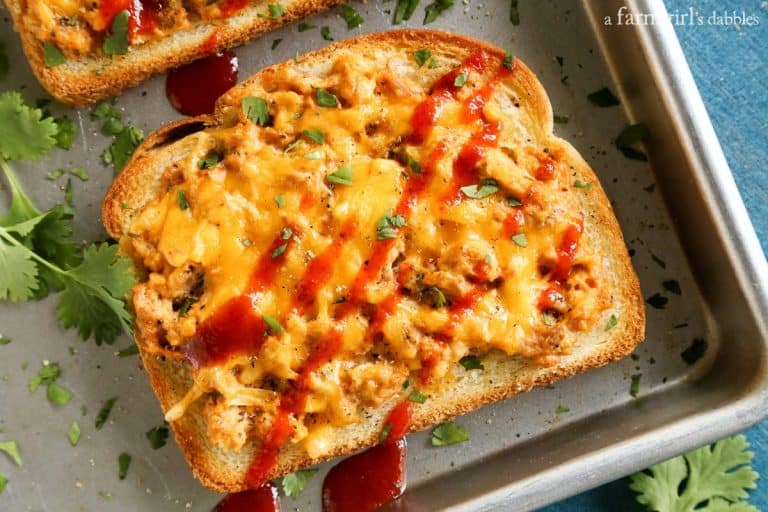 Apparently I've only made these cheesy Sriracha tuna toasts when Blake hasn't been around. Because on the day I was photographing these toasts for this blog post, he was mighty curious, wondering what the Sriracha was all about.
So when I was done with the camera shoot, I handed over the toasts. And they disappeared in what seemed like seconds, a definite hit with the big guy.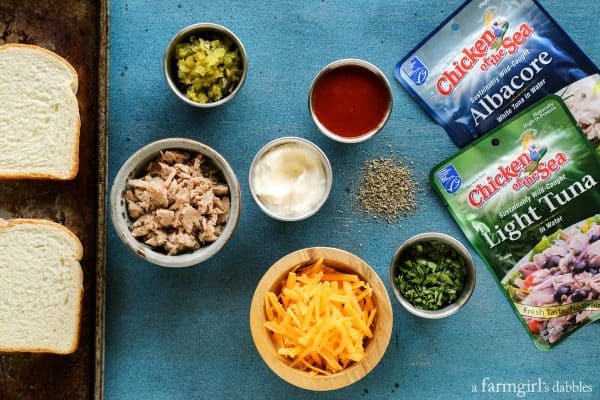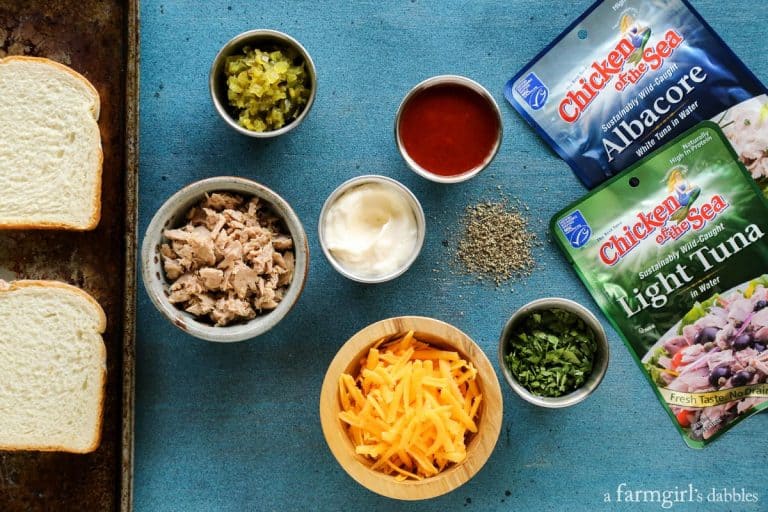 This lunchtime favorite comes together easily with just a few ingredients that I always have on hand: bread, tuna, mayo, pickle relish, black pepper, sharp cheddar, and fresh cilantro.
I find the pouches of tuna from Chicken of the Sea to be so handy. Their 2.5-ounce size is just the right amount to make two open-face cheesy Sriracha tuna toasts. AND. These pouches are packed with protein, a factor that's important to me. The Premium Light Tuna pouch boasts 14 grams of protein and the Premium White Albacore Tuna pouch has 16 grams.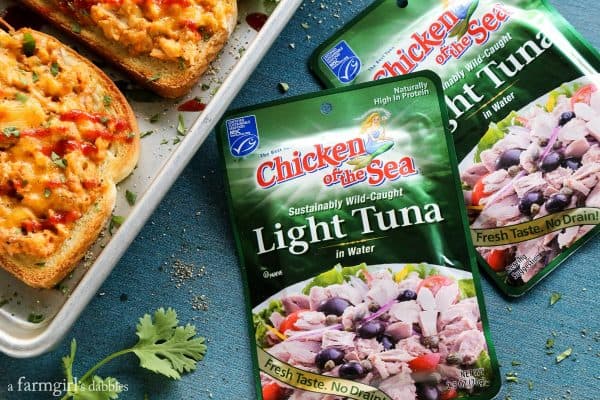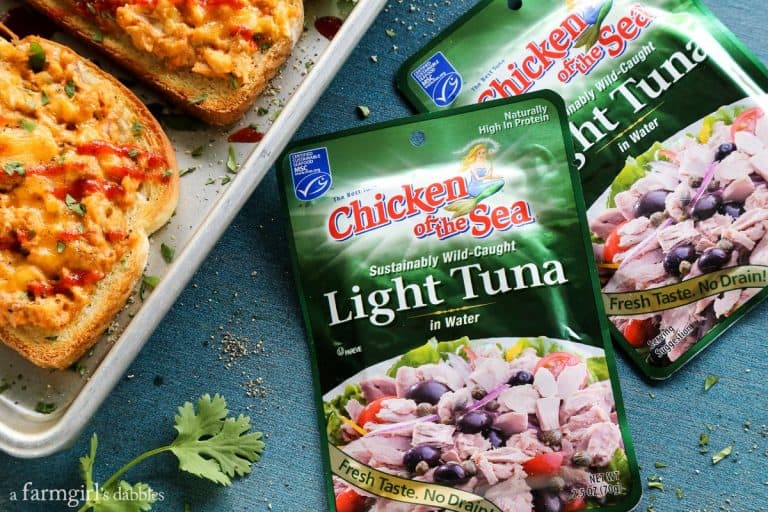 October is National Seafood Month, and Chicken of the Sea is happy to announce that their tuna and salmon pouches are now MSC (Marine Stewardship Council) certified.
That little blue label in the top left corner of the pouch means that Chicken of the Sea meets the rigorous standards for sustainable fishing practices. They are one of the largest brands to commit to these strict standards, playing a leading role in helping to protect our global seafood supply for the future. Read more about that here.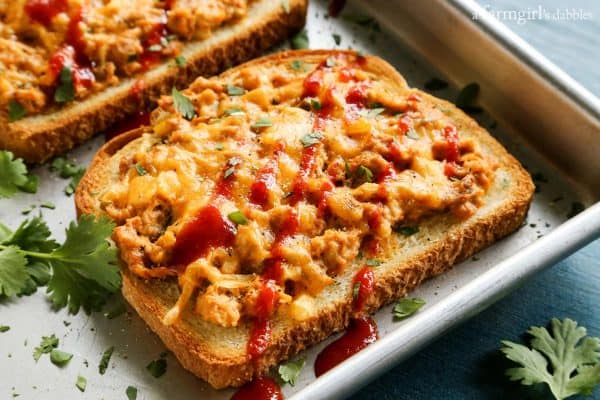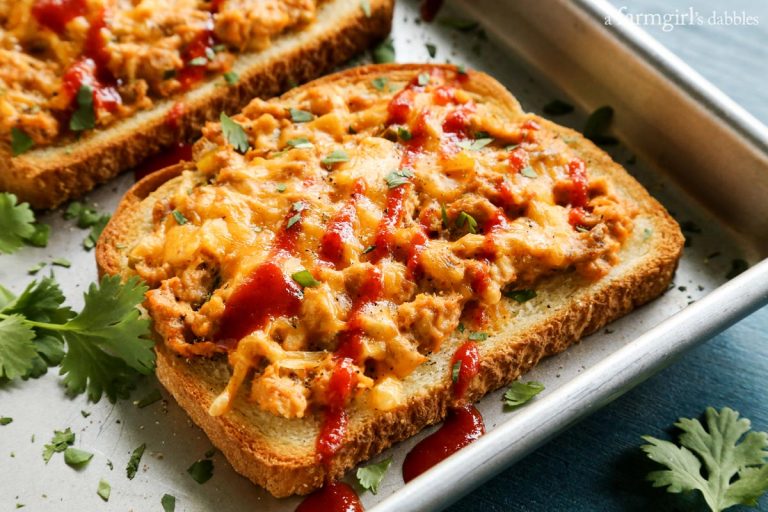 This simple recipe may seem too easy to be true. But that is the absolute beauty of it. Buttery bread crisped under the broiler plus a tasty mixture of tuna, all covered in a blanket of melty cheddar. You just have to give this a try!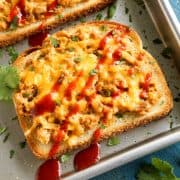 Cheesy Sriracha Tuna Toasts
Yield: 1 serving
Calories per serving: 413
Ingredients:
2 slices your favorite bread
1 T. softened butter
1 (2.5 oz.) pouch Chicken of the Sea® Premium Light Tuna or Premium White Albacore Tuna
1 T. Sriracha sauce, plus more for drizzling over the finished toasts (I really like the Trader Joe's brand!)
2 T. mayonnaise
2 tsp. pickle relish
1/4 tsp. freshly ground black pepper, plus more for sprinkling over the finished toasts
1/2 c. shredded sharp cheddar
chopped fresh cilantro, optional garnish
Directions:
Place slices of bread on a baking sheet. With a knife, spread butter around the outer edges of the bread, leaving center of bread without butter.
In a small to medium sized bowl, stir together tuna, Sriracha, mayonnaise, pickle relish, and black pepper. Divide tuna mixture between the two pieces of bread, spreading it evenly over the un-buttered areas and leaving the buttered edges exposed. Sprinkle tuna mixture with cheddar.
Turn oven broiler on high. Place baking sheet under broiler, on a rack set just a bit higher than the center of the oven. You want to broil slowly, to let the buttered edges of the bread get browned and crispy, while the tuna gets hot and the cheese melty. When done to your liking, remove baking sheet from oven. Add a bit more Sriracha and freshly ground black pepper over the top, if desired. And sprinkle on a bit of cilantro, for a little fresh green. Enjoy hot.
from a farmgirl's dabbles
©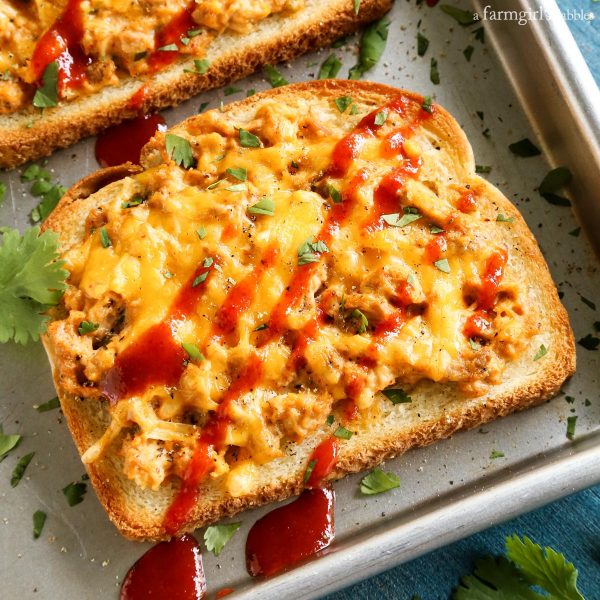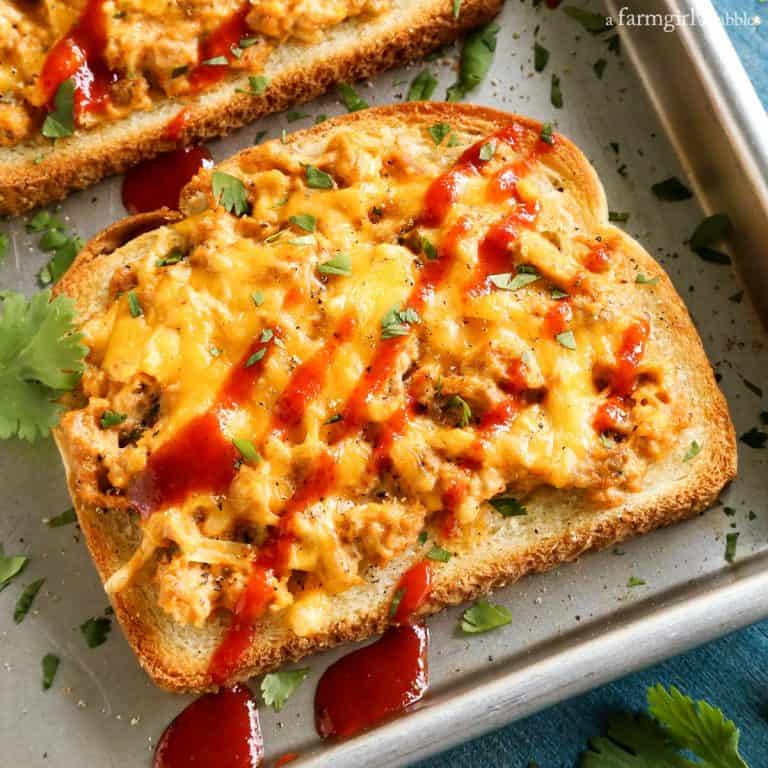 .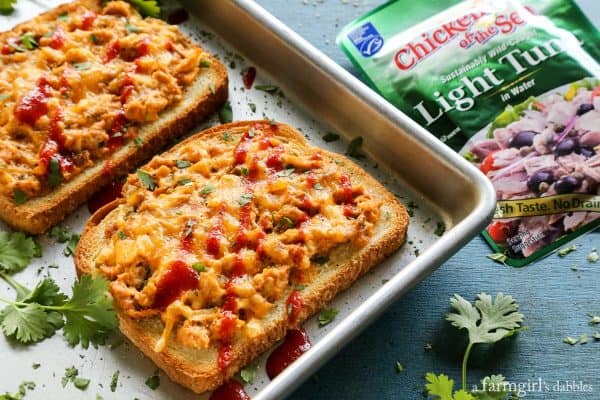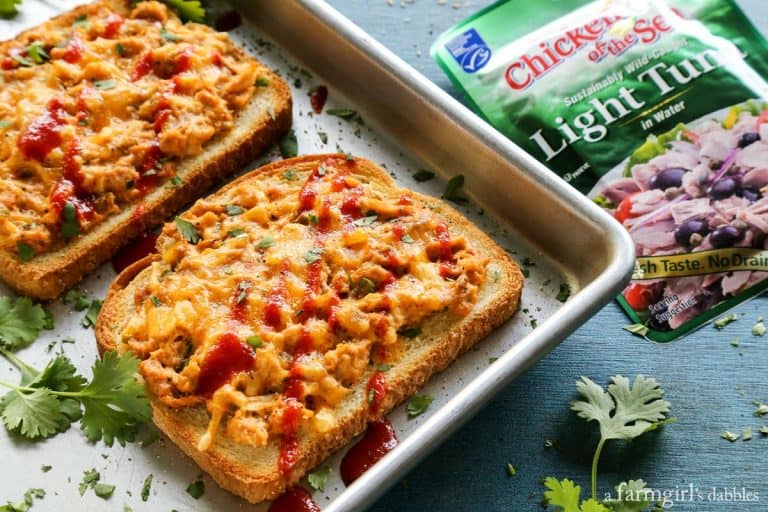 .


Here are a few more recipes using Chicken of the Sea that you might like:
Connect with Chicken of the Sea on their website and social media channels: Facebook, Twitter, Pinterest, and Instagram.
This post is sponsored by Chicken of the Sea. I am happy to be partnering with them again this year, bringing you delicious recipes from the sea. All opinions are 100% my own. Thank you for supporting the brands that help make this site possible.