Herby Lemon Vinaigrette
This Herby Lemon Vinaigrette is loaded with flavor and mealtime versatility. It promises to be your favorite fresh dressing of the summer!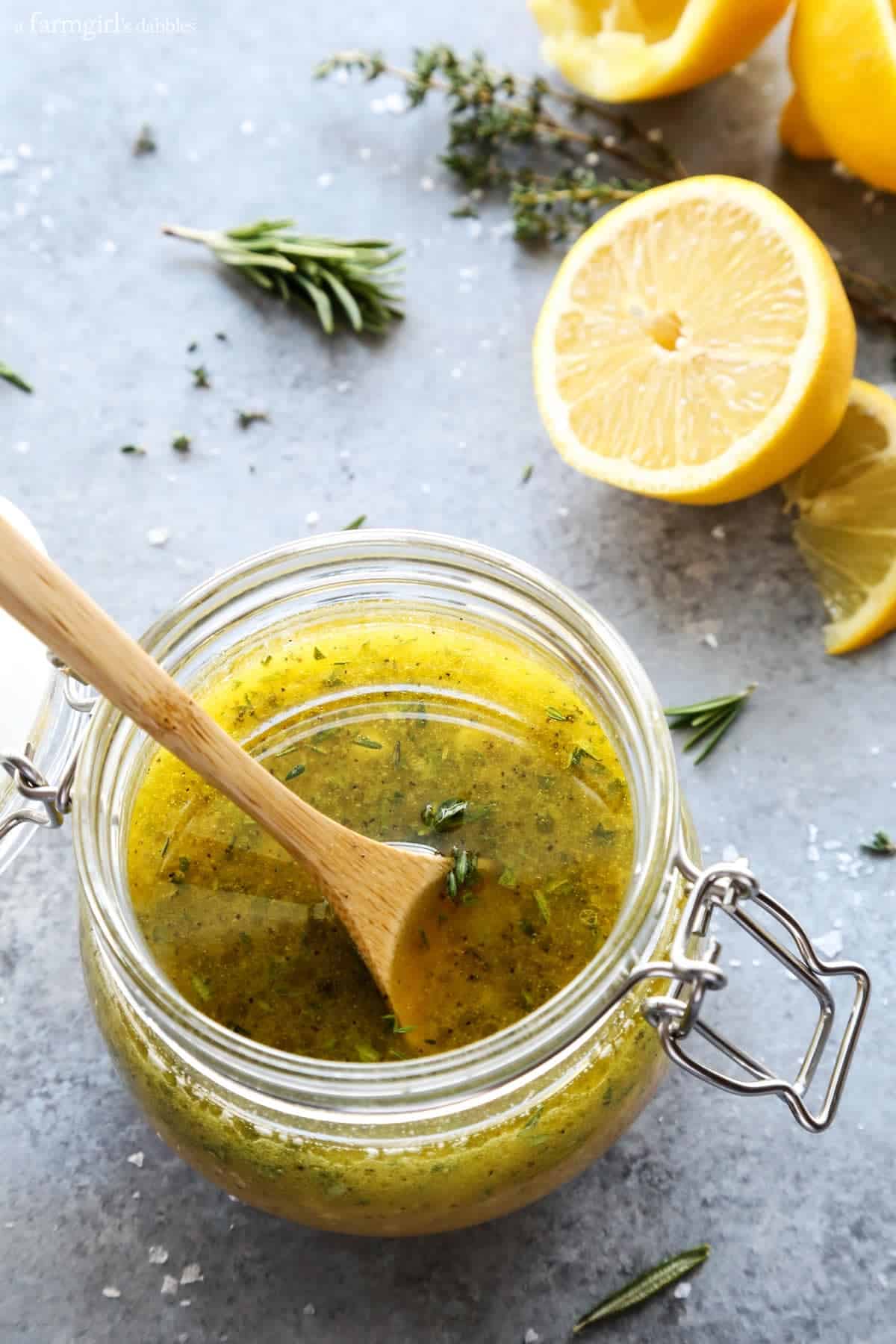 I look for every which way to use fresh herbs this time of year, to soak up the beautiful flavors of summer from our herb garden. You can find me or our girls out there, plucking of their bounty, to add delicious dimension to our meals and beverages for breakfast, lunch, and supper. It's one of the greatest things about this season.
This Herby Lemon Vinaigrette is a dressing full of sunshine. For the past month, as soon as my jar runs out, I whisk up another batch. I just canNOT get enough.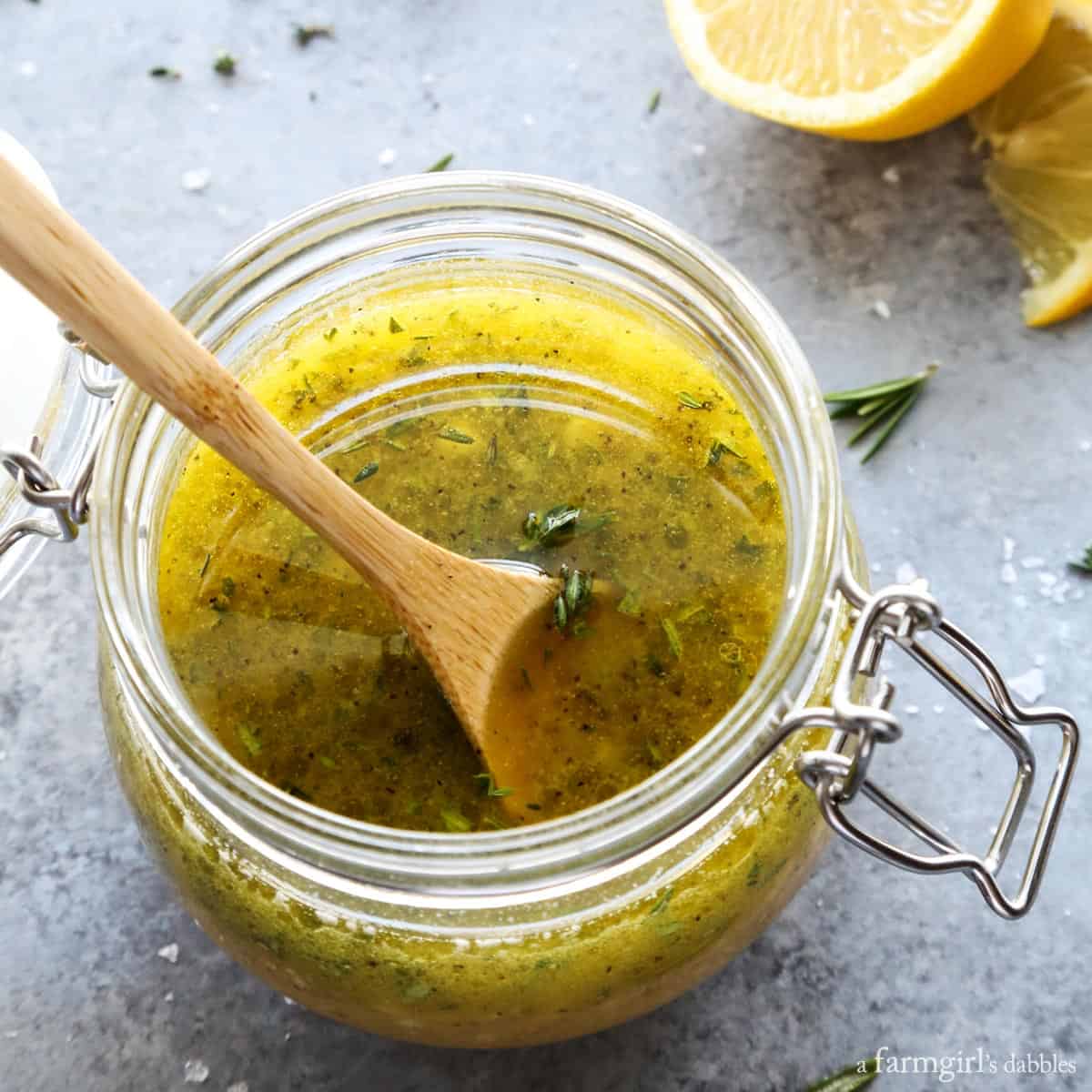 Bright and tangy, and so pretty speckled with minced fresh herbs, this lemon vinaigrette is the epitome of mealtime versatility.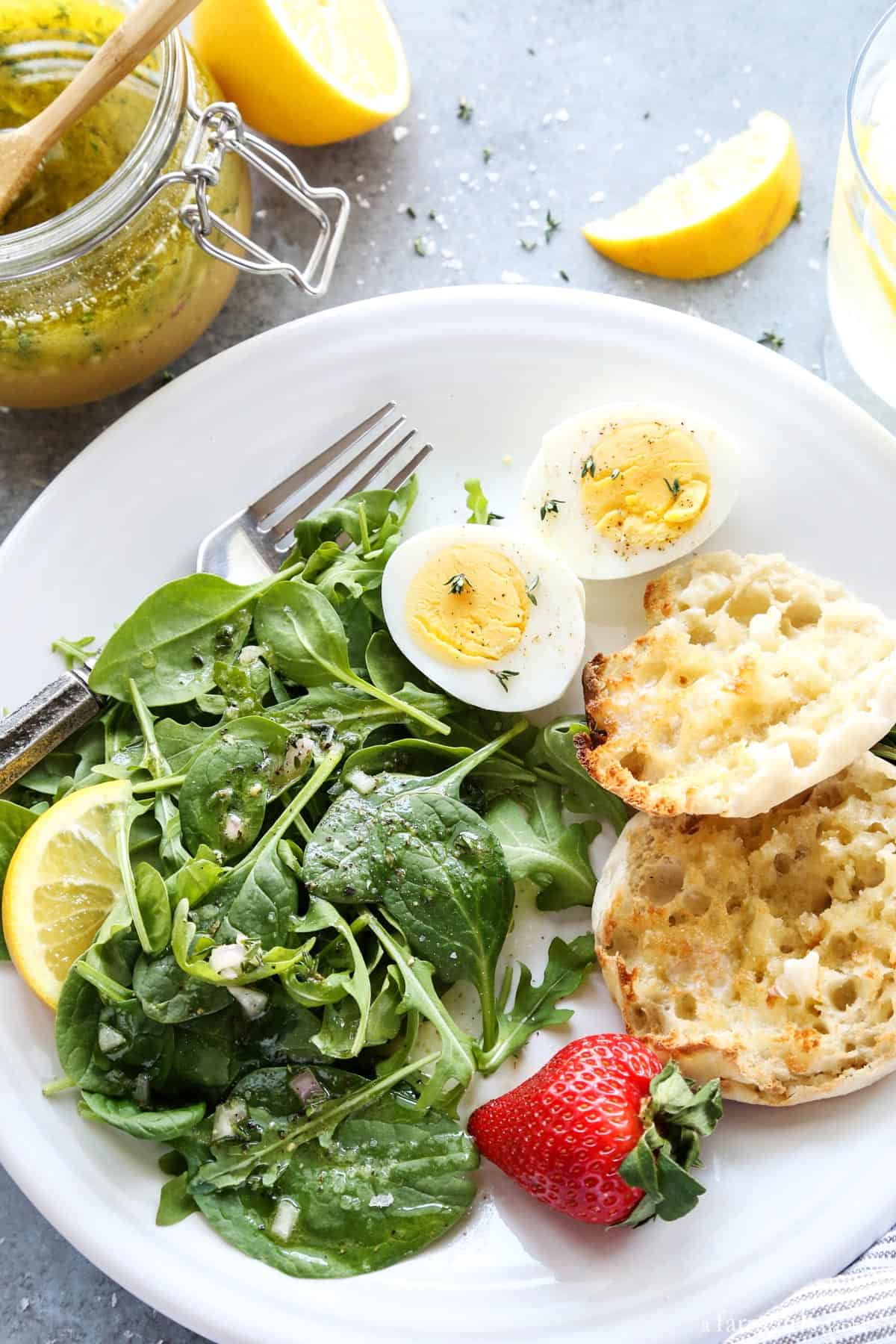 I originally concocted this recipe to simply dress a small side salad, one of my favorite accompaniments to a breakfast of eggs.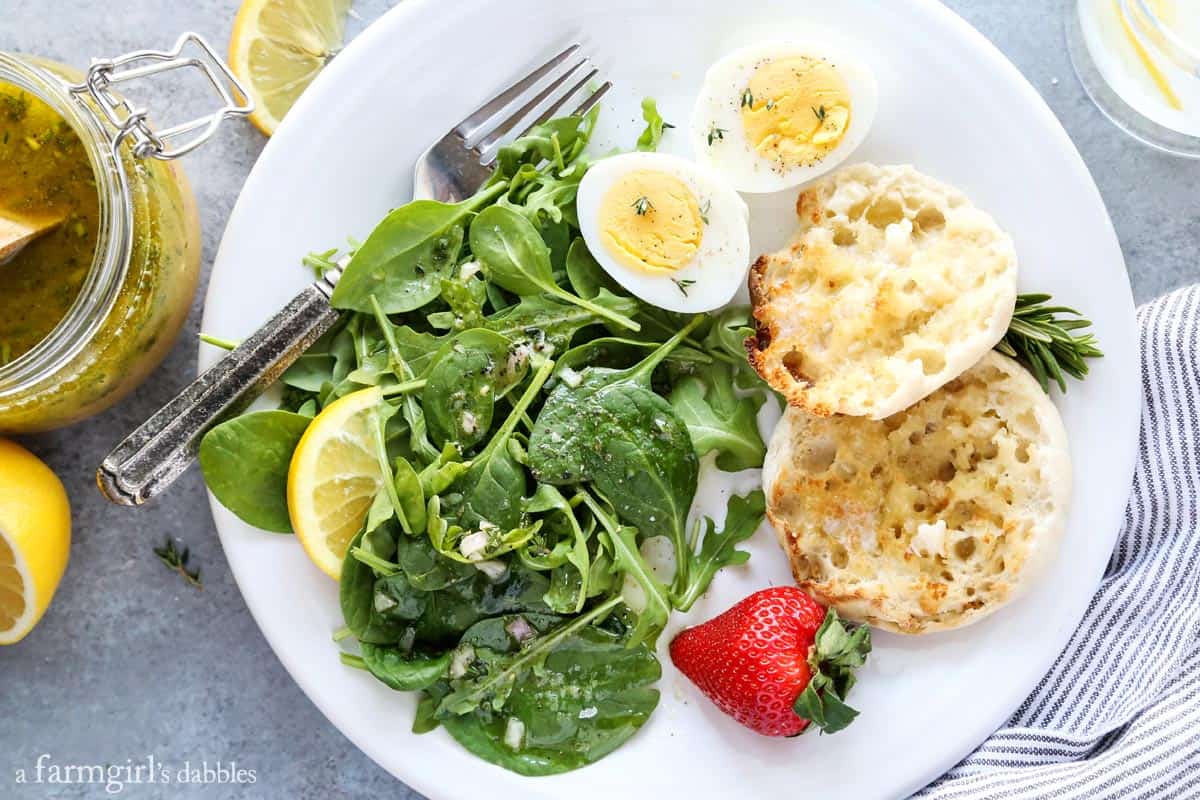 All that little salad needs is a light sprinkling of coarse salt and freshly ground black pepper. And if you happen to have a block of Parmesan cheese on hand, a few quick shavings over the top take this salad up yet another notch.
I now keep this fresh herby lemon vinaigrette on hand for so many more reasons than originally intended. It's wonderful drizzled over fresh tomatoes or any grilled or roasted vegetables…think zucchini, broccoli, cauliflower, potatoes, and asparagus. Our girls like to splash a bit over a fresh grilled chicken breast. Fold a hefty drizzle into a bowl of quinoa, and then add some chopped fresh cucumbers and tomatoes for an easy, flavorful salad. And it's quite lovely on fish and shrimp. There are so many ways to use it!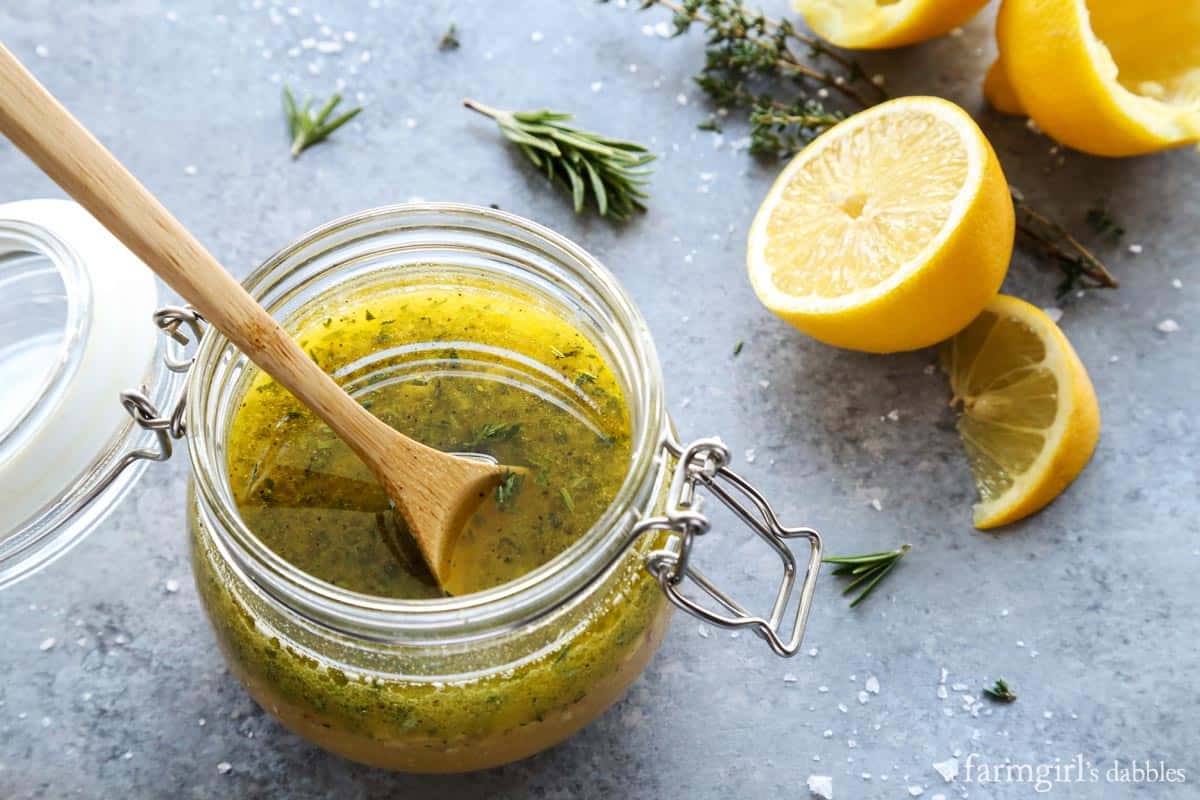 I have been using Meyer lemons for this vinaigrette, but they are harder to find as summer is rolling in. So just use regular lemons when you can't find the Meyers, and add in a bit more honey to offset the extra tang and acidity. I promise you, this is going to be your favorite fresh dressing of the summer.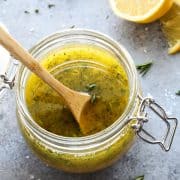 Herby Lemon Vinaigrette
Yield: about 2-1/4 cups vinaigrette
Ingredients:
1 c. freshly squeezed Meyer lemon juice (or regular lemon juice)
1/3 to 1/2 c. honey (use a bit more when using regular lemons)
2 T. Dijon mustard
2/3 c. extra virgin olive oil
3 T. minced shallots
1 T. minced fresh thyme
1/2 T. minced fresh rosemary
1/2 tsp. kosher salt
1/8 tsp. freshly ground black pepper
Directions:
In a medium bowl, whisk together lemon juice, honey, and Dijon mustard. Then add the olive and oil and whisk again. Add shallots, thyme, rosemary, salt, and pepper. Whisk to combine.
from a farmgirl's dabbles
©
You might also like:
* This post was originally published June 2015. Photos and some of the text were updated March 2017.