Watermelon Mintini
This post may contain Amazon or other affiliate links. As an Amazon Associate I earn from qualifying purchases.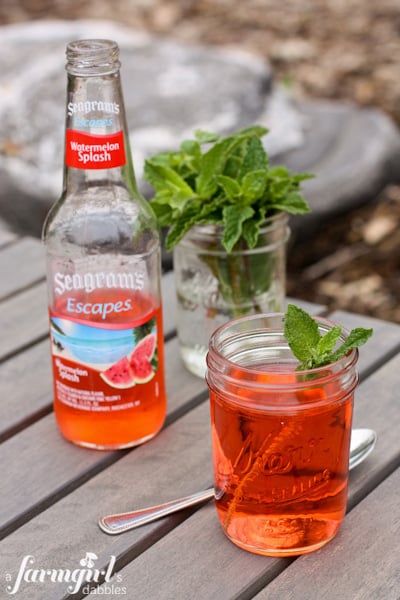 I love to keep some light fruit flavored beverages in the fridge, especially during the summer. So when Seagram's Escapes asked me if I'd like to try out their bottles and frozen pouches, I jumped at the chance. And I'm so glad I did, because I found a few new refreshing bevvies I know I'll be keeping on hand this upcoming summer!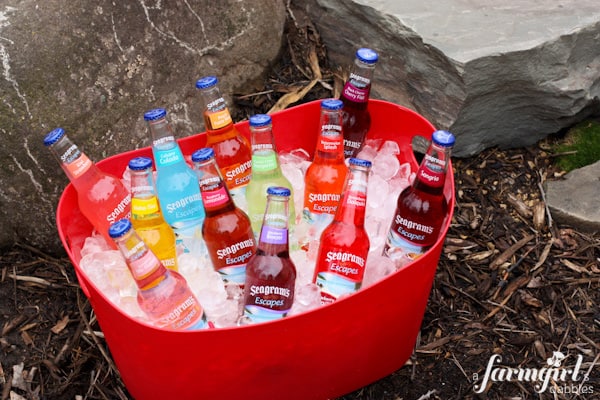 Seagram's Escapes come in seventeen flavors in bottles. SEVENTEEN! That's an incredible variety, bursting with delicious fruit flavors.
The bottled beverages are perfectly convenient, only requiring a thorough chilling. And just look at all of the great colors. An iced tote full of a medley of Seagram's Escapes definitely sets the tone for a fun summer gathering.
These ice cold Seagram's Escapes were smooth and refreshing, and left me dreaming about island sand between my toes.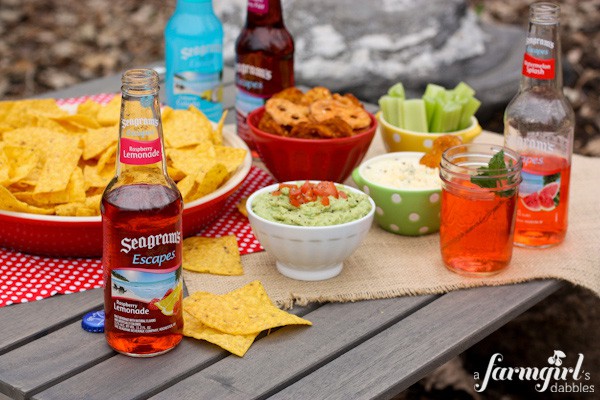 We make many pitchers of fresh raspberry lemonade at our house every summer, with a large raspberry patch in our yard. I thought the Raspberry Lemonade flavor was a great bottle, and I know I'll be enjoying it in a frosty glass with fresh raspberries this summer!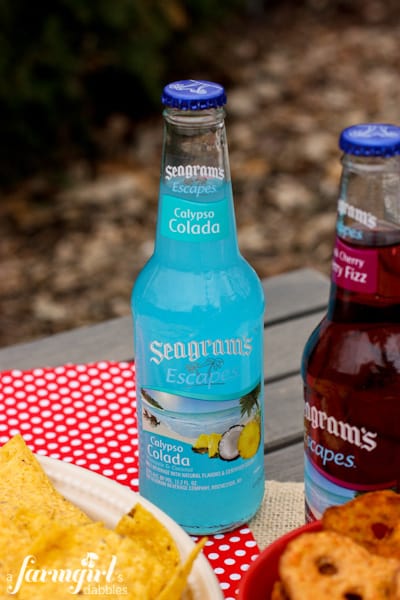 My husband is not a colorful fruity drink sort of guy, so there was very little enthusiasm from him. He likes a frosty beer, a glass of wine, or a classic dry vodka martini, loaded with salty olives.
But when he saw the Calypso Colada nestled in the ice, super cold and vibrant blue, he thought that one might be worth a try. He ended up liking it AND the Watermelon Splash (he continues to surprise me after almost fourteen years of marriage!!), which both turned out to be favorites of mine as well. I also especially liked the Peach Fuzzy Navel, Aloha-Tini, and Blackberry Breezer.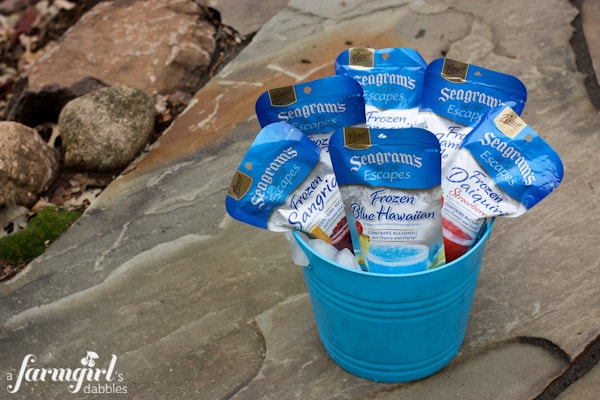 Seagram's Escapes also come in frozen pouches, in six different flavors: Strawberry Daiquiri, Sangria, Margarita, Piña Colada, Jamaican Me Happy, and Blue Hawaiian. They're easily portable and super convenient, with the alcohol already in the pouch.
I love a good slushy fruit drink, but don't often take out the blender and ingredients to make them myself, as there are always 64,000 other things that also need to be done. These frozen pouches turned out to be a happy discovery. All it takes is six to eight hours in the freezer, and you have yourself a perfectly frozen and delicious drink. The icy texture and flavors are great. No blender required!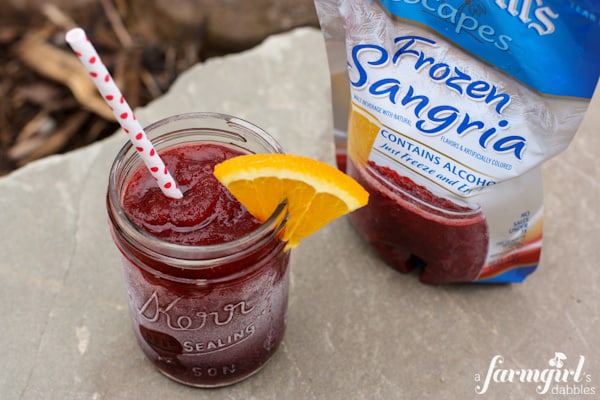 My favorite frozen flavors were the classic Strawberry Daiquiri and this Sangria. A glass of red wine is probably my number one preference for a relaxing drink year round, but I find that I detour around it a bit more during the summer, often opting for a cold fruity drink or a beer instead. But this frozen Sangria? While it's definitely on the fruity side as far as wine is concerned, it took me by surprise. If you stop by this summer, expect to see a few of these pouches in my freezer!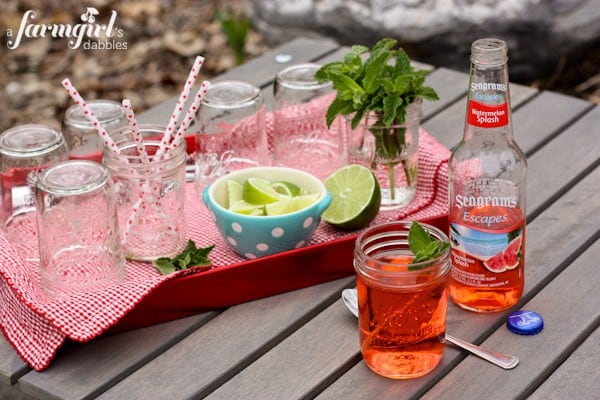 Seagram's Escapes offers lots of options for creative cocktails as well. Just click on the flavor variety of your choice on their website's recipes tab, and you'll find great ideas for those looking for a slightly stronger beverage.
I had some fun of my own with one of our favorite flavors, Watermelon Splash. I call this cocktail the Watermelon Mintini. Simply combine 6 ounces of Watermelon Splash with 1 ounce of Vodka (both ice-cold), and then muddle in some fresh mint. I go through a lot of fresh mint from the garden during the summer, using it to flavor cucumber water, iced tea, and lemonade. It proves fabulous in this watermelon mintini, too.
Here's to summer, my friends. Enjoy!
And please tell me…what is your favorite summer cocktail?
Visit Seagram's Escapes or like Seagram's Escapes on Facebook to see a complete list of flavors and find a store near you. Win a trip to the Hilton Rose Hall Resort & Spa in JAMAICA! Just tell Seagram's Escapes: Who is Jamaican You Happy?
Disclosure: This post is sponsored by Seagram's Escapes. All photos and opinions expressed are my own. To read the full disclosure of this site, please go here.
We participate in the Amazon Services LLC Associates Program, an affiliate advertising program designed to provide a means for us to earn fees by linking to Amazon.com and affiliated sites. See our
disclosure policy
for more info.