Turtle Yum-Yum Bars
This post may contain Amazon or other affiliate links. As an Amazon Associate I earn from qualifying purchases.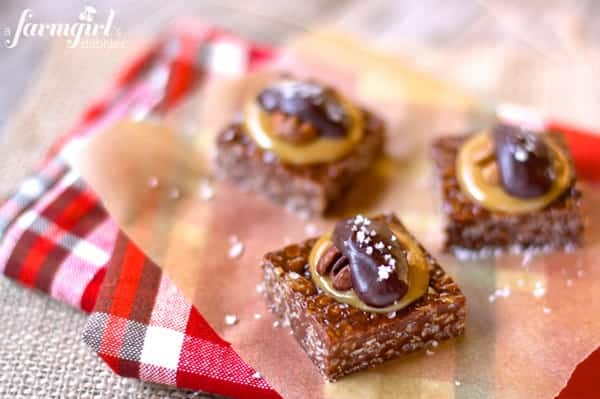 When it comes to Thanksgiving dessert, I'm always looking for a little pumpkin, a bit of chocolate, and a smidgen of caramel-y pecan pie. We're hosting this year, and I'm thinking the pumpkin will be found in these sweet jars of deliciousness. Maybe I can even enlist the kiddos (our daughters and their cousins) to fill up the jars?!
And as for the chocolate-caramel-pecan satisfaction…
Right here, my friends. Turtle Yum-Yum Bars.
This is a riff on one of my favorite bars recipes of all times, Yum-Yum Bars. Which is basically a Rice Krispies treat, jazzed up with chocolate and peanut butter. My aunt June is famous for them, and I've been making them for as long as I can remember.
Yum-Yum Bars have the greatest texture. They're firm, yet completely soft and chewy. I rate them substantially higher than a plain Rice Krispies bar. And I thought they'd make a great base for a version that's a bit more "fancy". That is, if you consider turtles fancy…
These Turtle Yum-Yum Bars are super fun little squares, with chocolate and marshmallow and peanut butter and crispy rice cereal mingling together on the bottom. And a turtle, fancy or not, hanging around up above. It's a chocolate-caramel-pecan lover's dream come true, sure to satisfy that sweet craving that goes beyond the pumpkin.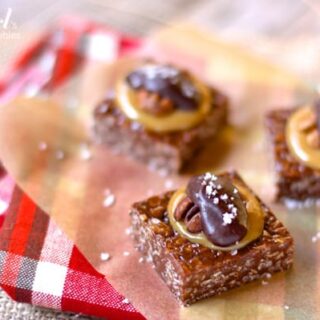 Turtle Yum-Yum Bars
These Turtle Yum-Yum Bars are super fun little squares, with chocolate and marshmallow and peanut butter and crispy rice cereal mingling together on the bottom.
Ingredients
for the Yum-Yum Bars layer:
4 T. unsalted butter
6 oz. semi-sweet chocolate chips (I use Guittard brand)
1 10-oz. package mini marshmallows
2 T. creamy peanut butter
3 c. Rice Krispies
for the caramel:
18 individually wrapped Kraft caramels, unwrapped
1/4 c. sweetened condensed milk
1/2 T. unsalted butter
25 whole pecans
for the chocolate ganache:
1/4 c. heavy cream
1 T. unsalted butter
3 oz. semi sweet chocolate (I use Guittard)
1/2 tsp. sea salt
Instructions
for the Yum-Yum Bars:
Spray a 9'' x 9'' pan with cooking spray and set aside. Or...if you want very neat looking cuts, line your pan with foil so that you can use the foil to gently lift the bars out of the pan, and then cut into squares. Simply fold a long piece of heavy foil into a 9" wide strip and fit it inside the pan, leaving foil overhang on 2 sides. Spray the foil with nonstick spray.
In a large pan over medium heat, melt butter, chocolate chips, marshmallows, and peanut butter. Stir regularly, making sure the mixture isn't scorching on the bottom of the pan, until completely combined. Fold in Rice Krispies until completely mixed throughout.
Spread into the prepared pan in an even layer with the back of a spoon. If the mixture is sticking to the spoon, spray the spoon lightly with cooking spray. Lightly score the top surface of the bars with a knife, dividing the pan into 5 rows across, and 5 rows up and down. This grid will show the squares for each "turtle" to be placed.
for the caramel:
In a small pan over medium heat, melt the caramels, sweetened condensed milk, and butter. Stir until creamy and completely smooth. Remove from heat and let cool in pan for 10 minutes.
With a small spoon, drop caramel into the center of each square bar. The caramel will spread out - I used between 1/2 teaspoon and 1 teaspoon of caramel per square. Then place a pecan on top of each caramel circle.
for the chocolate ganache:
In a very small saucepan, heat the cream until it starts to boil. Remove cream from heat and add butter and chocolate. Allow to rest for a couple minutes, and then stir until mixture is smooth. If mixture is very loose, let it rest for 5 minutes to thicken slightly.
With a small spoon, drop chocolate over each pecan, leaving just a bit of pecan exposed. It doesn't take very much chocolate, only about 1/2 teaspoon per pecan. Then sprinkle chocolate with sea salt.
Place in refrigerator to set completely. Cut into bars using the scored grid.
Nutrition Information:
Yield: 25
Serving Size: 1
Amount Per Serving:
Calories: 160
Total Fat: 9g
Saturated Fat: 4g
Trans Fat: 0g
Unsaturated Fat: 4g
Cholesterol: 11mg
Sodium: 87mg
Carbohydrates: 21g
Fiber: 1g
Sugar: 15g
Protein: 2g
Nutrition information is automatically calculated by Nutritionix. I am not a nutritionist and cannot guarantee accuracy. If your health depends on nutrition information, please calculate again with your own favorite calculator.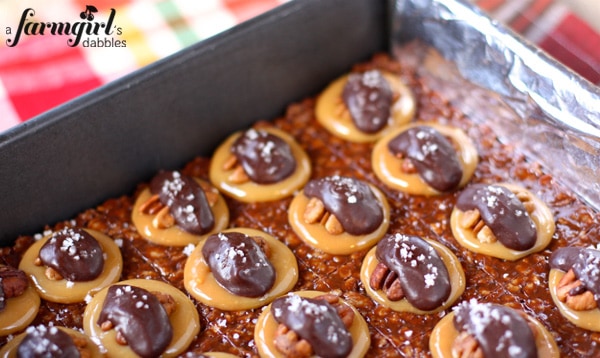 We participate in the Amazon Services LLC Associates Program, an affiliate advertising program designed to provide a means for us to earn fees by linking to Amazon.com and affiliated sites. See our
disclosure policy
for more info.