Triple Chocolate Coconut Blondies
These Triple Chocolate Coconut Blondies are soft and chewy, and full of rich buttery flavor.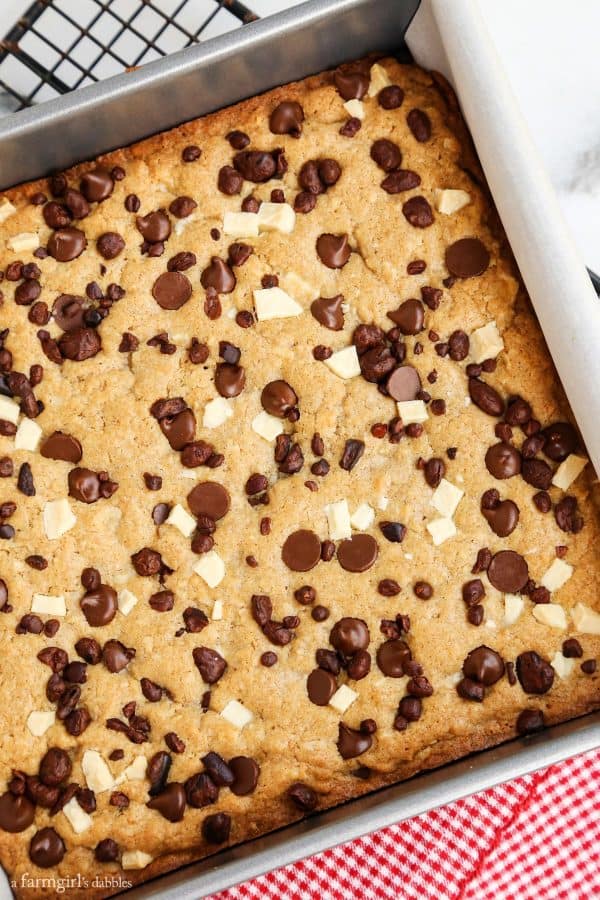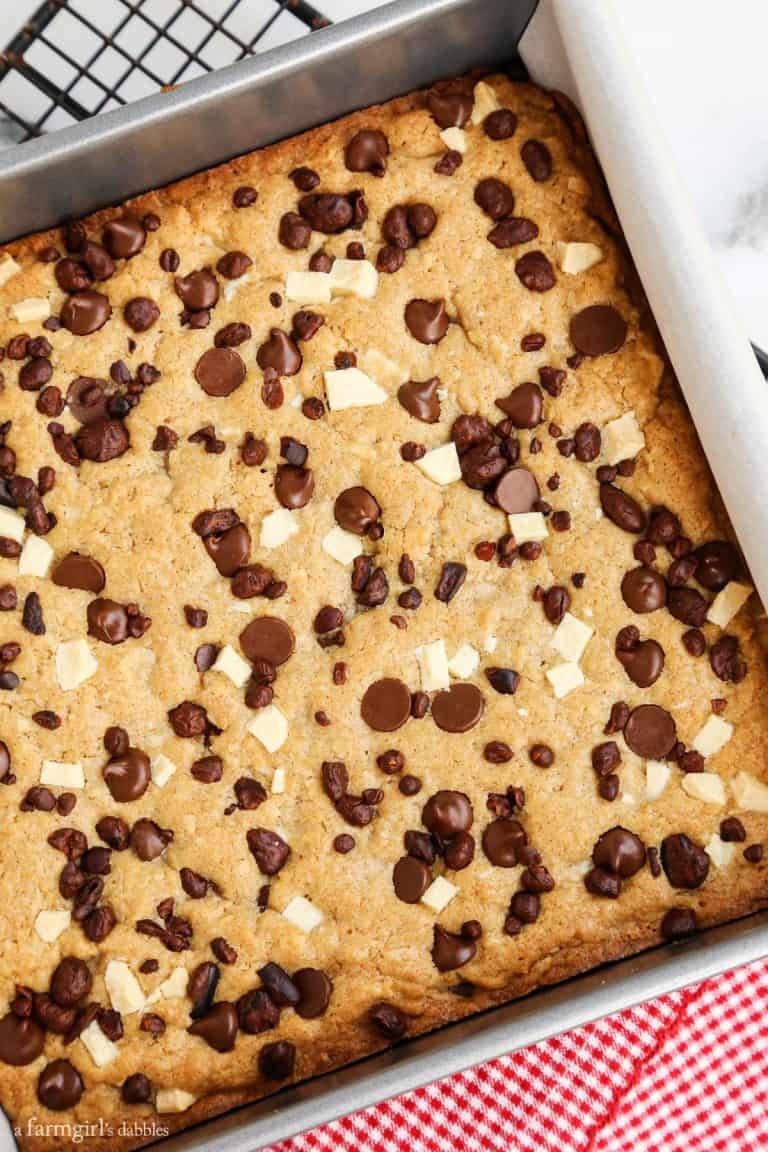 Does this ever happen to you? You're in the kitchen, adding a cup of this and a tablespoon of that to your mixing bowl, when all of a sudden you're thinking about somebody, solely because of the ingredients you're using?
This happens to me all the time. So many delicious tastes and smells are connected to memories of special people or events in my life. And each time I make these Triple Chocolate Coconut Blondies, I can't help but think of Mom. She is crazy for anything where she can enjoy the flavors of coconut and chocolate together in one bite!
* This is a sponsored post, created in partnership with Land O'Lakes, Inc.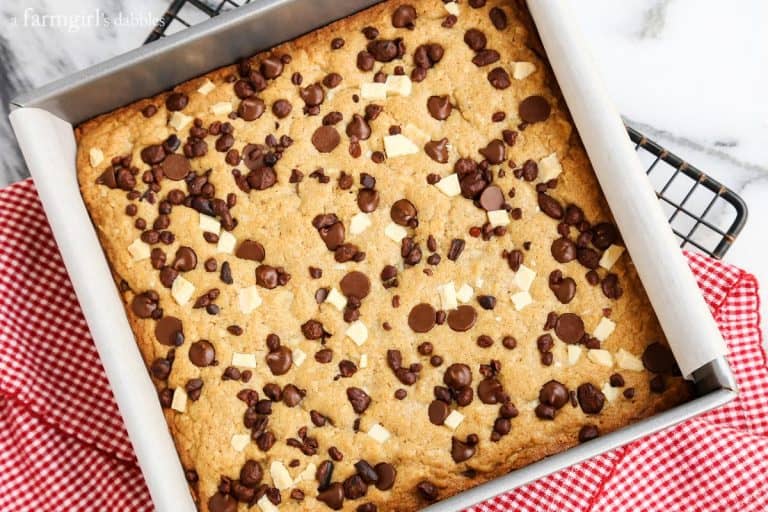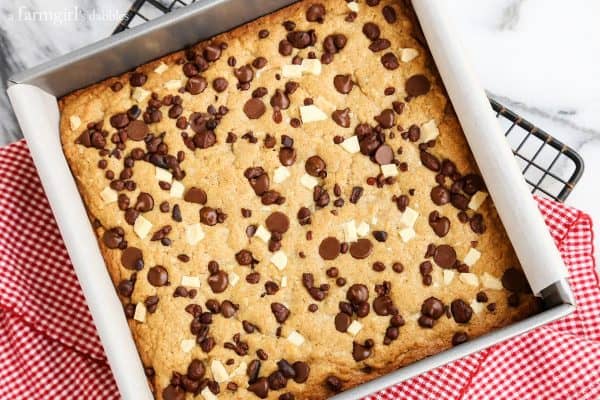 I might call 2016 the year of the blondies at our house. While I've always been more of a brownies kind of girl, playing with different versions of blondies this past year has been a new and fun adventure. And I think that much of the fascination comes from the simple act of combining butter with brown sugar, much like the flavor base of a chocolate chip cookie. When baking in the oven, this combination of ingredients fills the house with the aroma of warmth and comfort.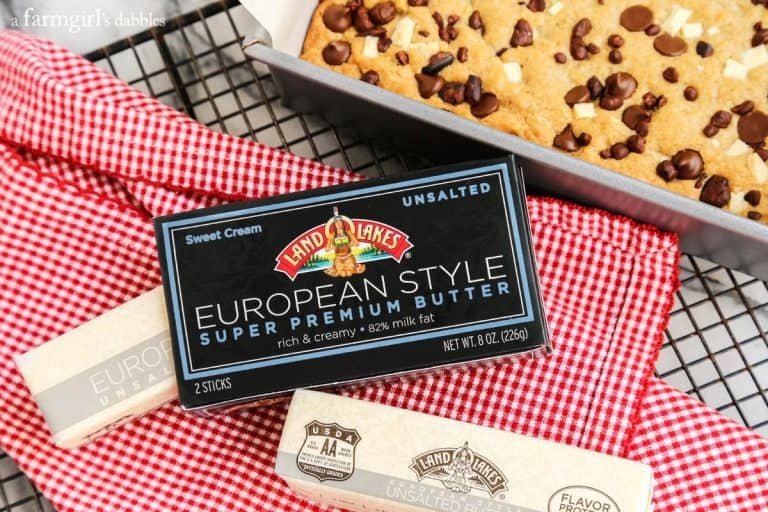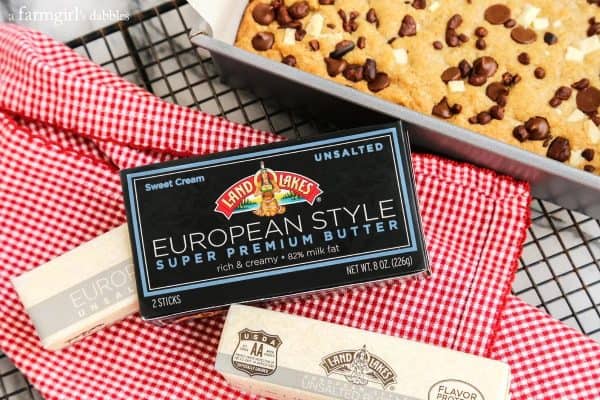 When I want to add a little extra butter love to my recipes, I reach for Land O Lakes® European Style Butter. Made with fresh cream and churned for a higher milk fat content, its creamier texture and richer flavor adds a special touch. I knew this butter would take my triple chocolate coconut blondies to a whole new level.
---
Tip: With the holidays coming up, treat yourself and your guests to this European style butter. It's pretty amazing on warm, fresh baked breads and rolls. I usually only buy unsalted butter, but in this case, I recommend reaching for the salted version. This butter is all those rolls will need!
---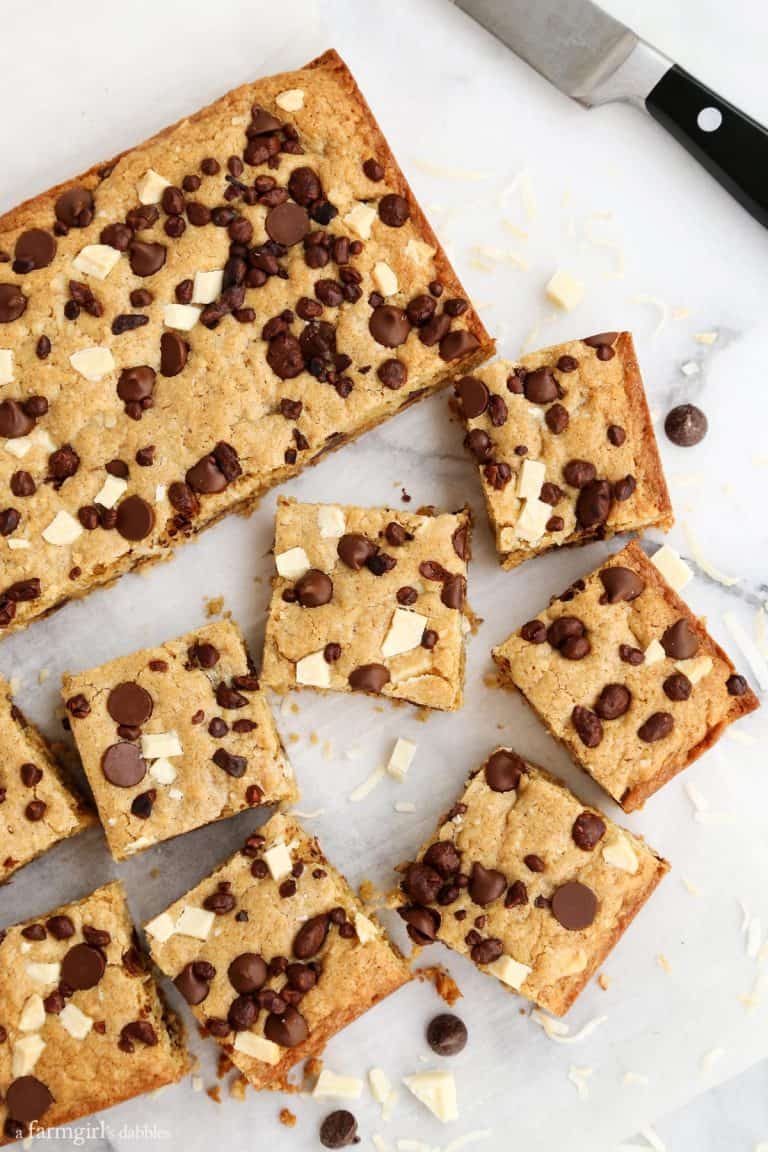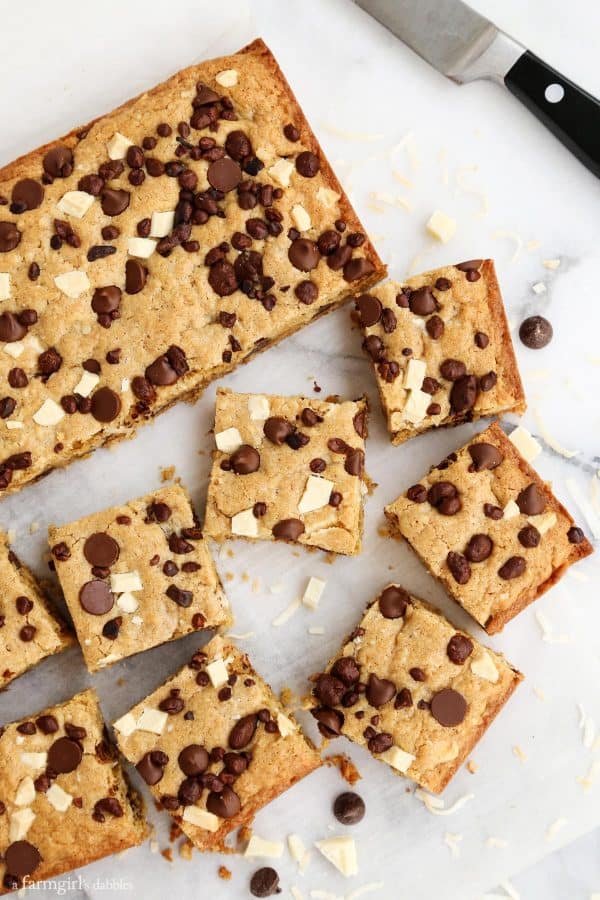 If you like coconut, you're going to love these blondies. I toasted the shredded coconut to give it a little extra flavor depth, and then folded it into the batter. Every bite of these sweet treats has definite coconut flavor and texture.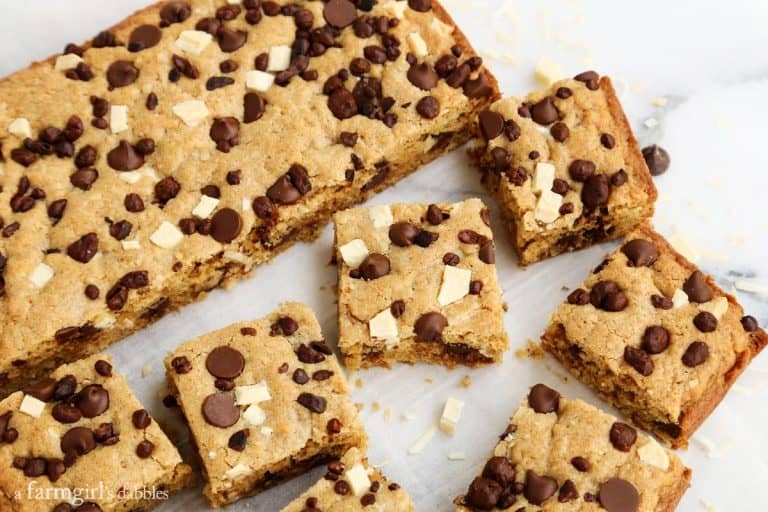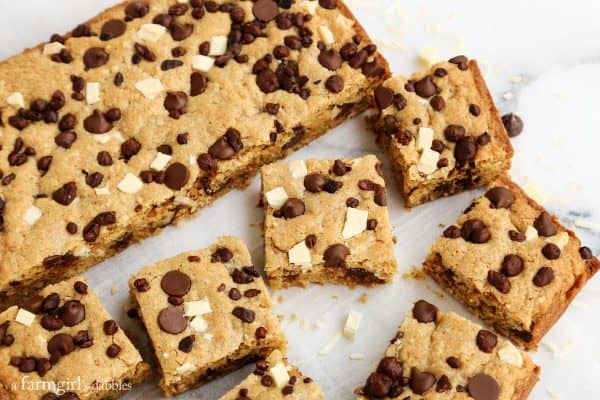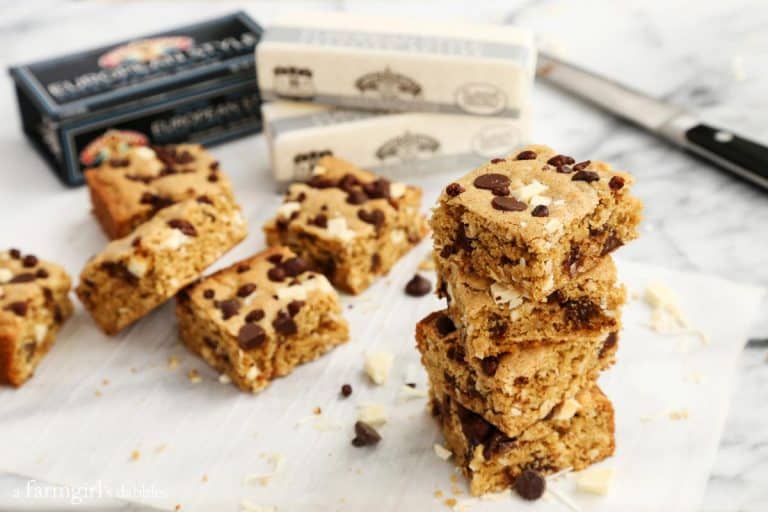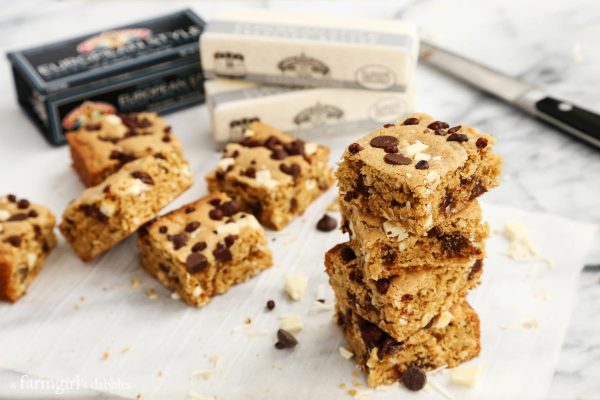 And then for the triple play of chocolate. Semi-sweet chocolate chips and chopped white chocolate bar are folded into the batter, and then a bit more is tossed over the top. The final touch is a sprinkling of cacao nibs, which add little bits of crunchy, intense chocolate flavor. It's fun to play with different chocolates, and this trio is a great one.

The holidays are coming up fast, with plenty of opportunities to gather with friends and family. And sweet treats are a must. Bake up a pan of these triple chocolate coconut blondies to share with those you love.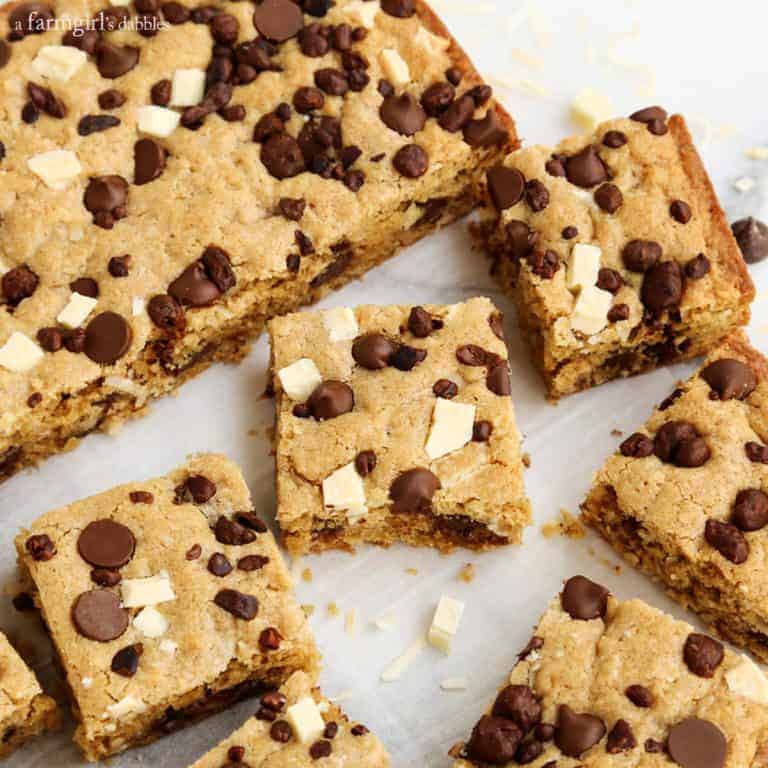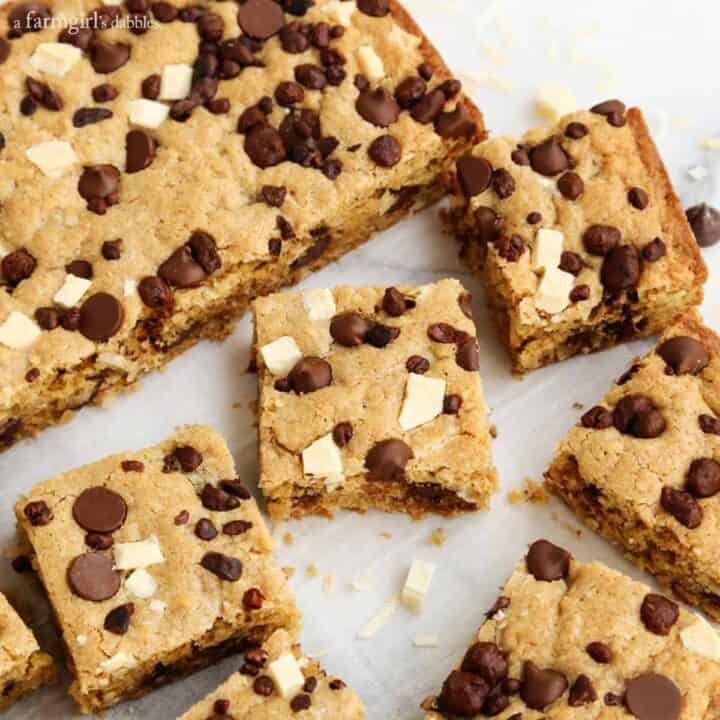 Triple Chocolate Coconut Blondies
Yield: 16 servings
Prep Time: 15 minutes
Cook Time: 24 minutes
Total Time: 39 minutes
These Triple Chocolate Coconut Blondies are soft and chewy, and full of rich buttery flavor.
Ingredients
1/2 c. + 2 T. Land O Lakes® Unsalted European Style Butter
1 c. packed brown sugar
1 large egg
2 tsp. pure vanilla extract
1.5 c. white whole wheat flour
1/2 tsp. kosher salt
1/2 tsp. baking powder
1/4 tsp. baking soda
1 c. unsweetened shredded coconut, lightly toasted and cooled
1/3 c. semi-sweet chocolate chips + a bit more for sprinkling over the top
1/3 c. white chocolate chunks (about 1/4" in size) + a bit more for sprinkling over the top
2 T. cacao nibs
Instructions
Preheat oven to 350° F.
Line an 8" x 8" metal baking pan with parchment paper and set aside.
In a medium-sized microwave-safe bowl, gently melt the butter in the microwave. Try to not let the butter get too hot. With a rubber spatula, stir in the brown sugar until blended. Add the egg and vanilla extract, stirring until completely incorporated. Sprinkle the flour over the top, followed by the salt, baking powder, and baking soda. Then stir just until combined. Do not over mix. If the batter is noticeably warm from the melted butter, let it sit for a bit to cool down to room temperature. Then add toasted coconut, 1/3 cup semi-sweet chocolate, and 1/3 cup white chocolate. Fold batter gently, taking care to not over mix.
Spread batter evenly in prepared pan, and then sprinkle with additional semi-sweet chocolate chips and white chocolate chunks, plus the 2 tablespoons cacao nibs.
Bake for about 24 to 25 minutes, or until a toothpick inserted into the middle comes out just barely clean. Take care to not over bake. Let blondies cool completely before cutting.
Nutrition Information:
Yield: 16
Serving Size: 1
Amount Per Serving:
Calories: 180
Total Fat: 8g
Saturated Fat: 6g
Trans Fat: 0g
Unsaturated Fat: 2g
Cholesterol: 16mg
Sodium: 133mg
Carbohydrates: 25g
Fiber: 2g
Sugar: 16g
Protein: 3g
Nutrition information is automatically calculated by Nutritionix. I am not a nutritionist and cannot guarantee accuracy. If your health depends on nutrition information, please calculate again with your own favorite calculator.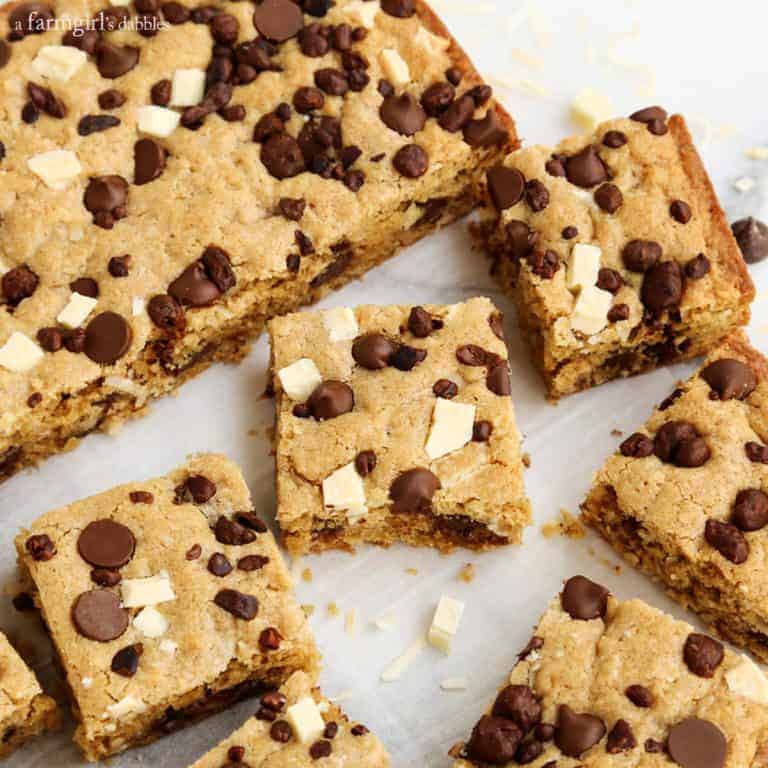 Be sure to check out Land O'Lakes on their website. You can also find them on social media on Facebook, Twitter, Instagram, and Pinterest.
I am honored to partner with Land O'Lakes again this year to share new recipes from our kitchen using Land O Lakes® Butter. This post is sponsored by Land O'Lakes, Inc. All opinions are my own.