Toffee Brownie Cake
This post may contain Amazon or other affiliate links. As an Amazon Associate I earn from qualifying purchases.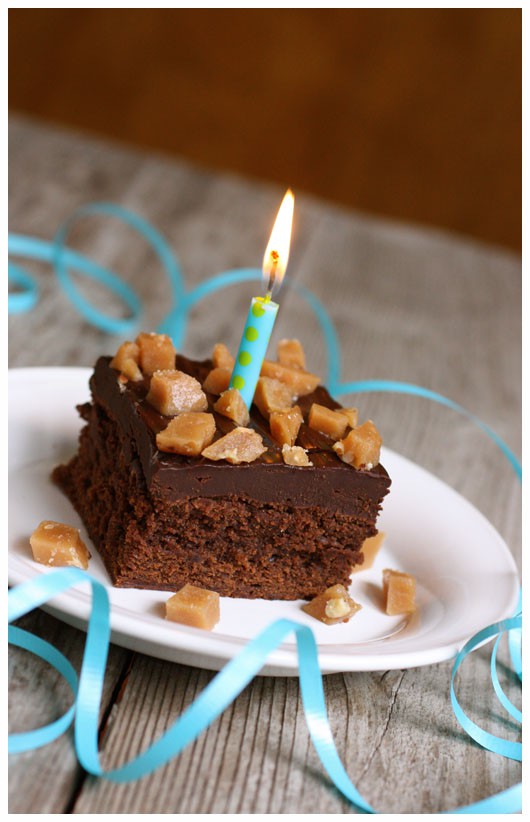 Our family is coming up on Birthday Marathon Time, with a whole bunch of celebrating packed into the next few months. And this upcoming week hosts the highest birthday candle concentration of the entire year. First off are my father-in-law, Archie, and my nephew, Jesse, who share the same birth date. They are then closely followed up by my dad and my oldest daughter, who also share the same date.
We celebrate.
And then we celebrate.
And then we celebrate some more!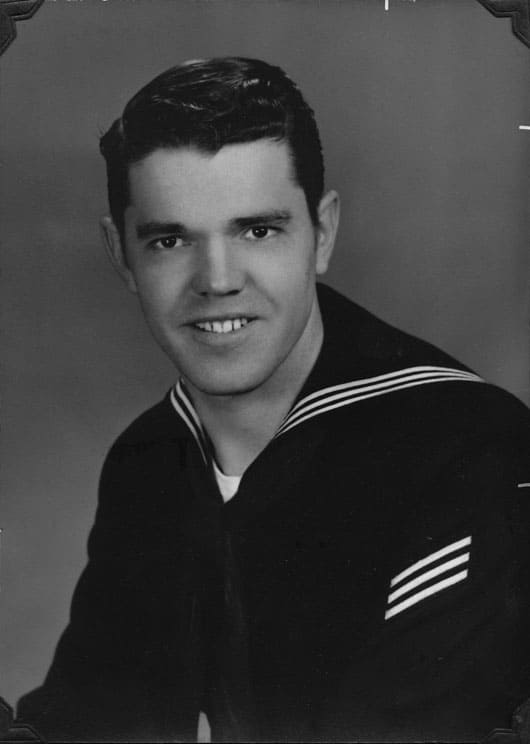 Archie is the best father-in-law ever. He is a kind and gentle man, chock-full of integrity. He loves a good laugh, is always up for a challenging game of Scrabble, and is never too busy to play with his grandchildren.
And what does this man who holds my utmost respect like to indulge in?
What comes to mind is…

* dark chocolate (the real reason I love this man so!)
* nuts
* caramel/toffee
So I came up with this Toffee Brownie Cake to incorporate all of Archie's favorites. The moist base sits somewhere between a fudgy brownie and a dark, dense cake. It's then shamelessly slathered with a silky bittersweet chocolate ganache, followed up by a sprinkling of toffee bits that are perfectly crunchy and buttery.
If the toffee portion of this recipe looks familiar, it should! I adapted the toffee bits from my Mom's Toffee Butter Crunch, a favorite family recipe.
Happy, Happy Birthday to you, Archie!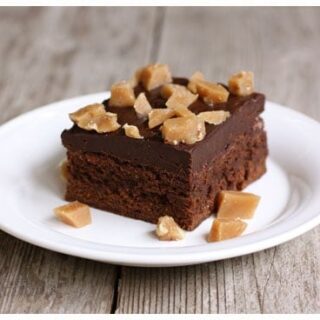 Toffee Brownie Cake
Yield: serves 15
Prep Time: 1 hour
Cook Time: 30 minutes
Additional Time: 2 hours 30 minutes
Total Time: 4 hours
If you're a dark-chocolate, toffee-loving kind of person, this Toffee Brownie Cake is your wildest dreams baked into reality! It's made with a fudgy brownie base, covered in chocolate ganache, and then topped off with toffee bits... what could be better than this cake?
Ingredients
FOR THE TOFFEE BITS:
1/2 c. coarsely chopped almonds or pecans
1 c. butter, plus additional for buttering the sauce pan
1 c. sugar
1 T. light corn syrup
3 T. water
FOR THE BROWNIE CAKE:
3/4 c. flour
1/2 tsp. salt
2 T. cocoa powder
4 oz. bittersweet chocolate
1/2 c. butter, at room temperature
1 c. sugar
3 large eggs
1/2 T. espresso powder
1 tsp. vanilla
FOR THE DARK CHOCOLATE GANACHE:
8 oz. bittersweet chocolate, chopped
1/2 c. heavy cream
Instructions
To prepare the toffee bits: Line a 9″ x 13″ pan with foil, extending over the edges. Sprinkle the chopped nuts in pan.
Butter sides of heavy 2 quart sauce pan. Melt 1 cup of butter in the pan over medium heat. Add sugar, corn syrup, and water. Stir until boiling. Clip candy thermometer to pan. Stir until candy thermometer reaches 290°, about 15 minutes. Watch carefully, as the temperature goes up quickly at the end.
Remove sauce pan from heat. Pour toffee into foiled lined pan. Let cool completely. Then remove toffee from pan and chop enough toffee into 1/4″ to 1/2″ pieces to measure 1 cup of bits. (You have permission to eat the rest!) If making ahead of time, store tightly covered until ready to make the brownie cake.
To prepare the brownie cake: Preheat oven to 350°. Fold a 16″ long piece of foil into an 8″ x 16″ strip. Place in an 8″ x 8″ baking pan, leaving an overhang on 2 sides. Repeat with another sheet of foil, laid in the pan in the opposite direction, to completely line the pan. Spray the foil with cooking spray and set aside.
In a medium bowl, sift together the flour, salt, and cocoa powder.
In a medium heavy saucepan over very low heat, stir the bittersweet chocolate and butter until melted. Remove from heat and whisk in the sugar, then the eggs, one at a time. Whisk in the espresso powder and vanilla. Then sprinkle the sifted dry ingredients over the wet ingredients and stir until just blended. Transfer batter to your prepared pan. Bake until a toothpick inserted into the center comes out with just a bit of moist batter attached, about 30 minutes. Be careful to not overbake, or your brownie cake will be on the dry side and not as fudgy. Cool completely in pan on wire rack.
To prepare the dark chocolate ganache: Place the chocolate in a medium microwave safe bowl. Bring cream to a simmer in a small saucepan over medium heat. Pour the hot cream over the chocolate. Let stand for 1 minute and then stir until the chocolate is melted and entirely smooth. If necessary, microwave on low for 15 seconds at a time, until the chocolate is melted. Do not overheat! Let the ganache sit on the counter until it is thickened, but still pourable, about 30 minutes.
Pour the ganache over the brownies and spread evenly. Sprinkle with the 1 cup of toffee bits, very lightly pressing them into the ganache. Chill for 2 hours to set.
Lift the brownies out of the pan using the foil overlap. Cut into your desired size.
Nutrition Information:
Yield: 15
Serving Size: 1
Amount Per Serving:
Calories: 543
Total Fat: 38g
Saturated Fat: 22g
Trans Fat: 1g
Unsaturated Fat: 14g
Cholesterol: 99mg
Sodium: 318mg
Carbohydrates: 45g
Fiber: 5g
Sugar: 30g
Protein: 7g
Nutrition information is automatically calculated by Nutritionix. I am not a nutritionist and cannot guarantee accuracy. If your health depends on nutrition information, please calculate again with your own favorite calculator.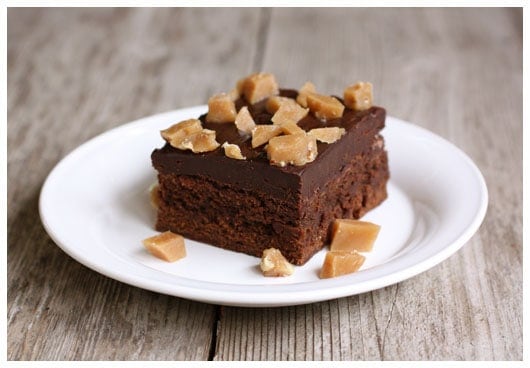 We participate in the Amazon Services LLC Associates Program, an affiliate advertising program designed to provide a means for us to earn fees by linking to Amazon.com and affiliated sites. See our
disclosure policy
for more info.