Summer, Ice Cream Sodas, and Sleepovers
This post may contain Amazon or other affiliate links. As an Amazon Associate I earn from qualifying purchases.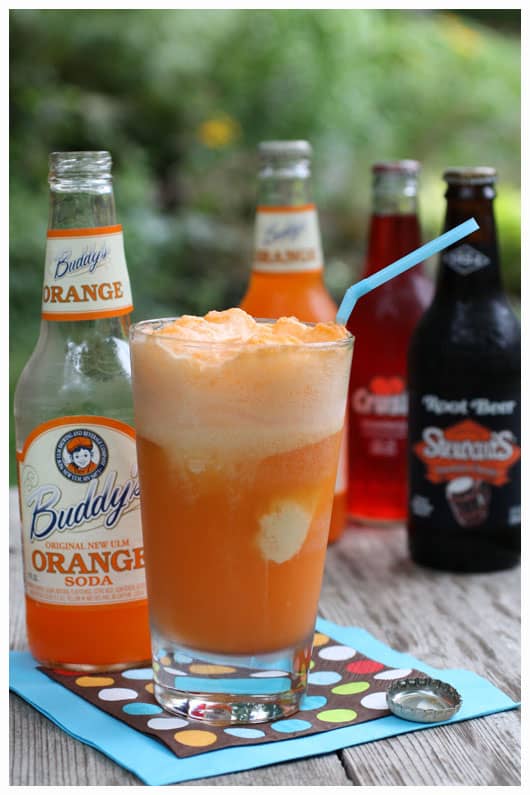 Ice cream sodas, or floats, as we used to call them, are a sure sign of summer at our house. They were always a special treat I enjoyed as a kid, and I can't help but break these out with our own daughters when the temperature rises. Cold, refreshing, and so very eye-catching, they are just the thing for a fun and ultra easy dessert.
This past week was a busy one, with lots of overnight guests. My sister and her family from Cairo were here staying with us for a couple days, along with their very good Egyptian friends, who were traveling through our area. It was so wonderful to connect with these new friends we've heard so much about. To enjoy a beautiful Minnesota summer evening on the deck, laughing as though we've known one another forever.
Then, as we waved our good-byes to my sister's family, we welcomed in some sweet and spunky 8-year-olds for a sleepover. Hatti seems to have been initiated into the summer sleepover circuit this year. She's been having a ball. And so was the rest of our family this past weekend. Literally. Hatti and her friends convinced Blake and I that a game of keep-away was a good idea. So we put our speed and agility to the test. And ya know what? We're not so young anymore. Those girls were quick and very strategic. Sadly for us, we were no match. But we had a blast trying.
The sleepover food was very simple. Grilled hot dogs, grapes, cherries, and Nacho Cheese Doritos. This easy meal left the ice cream sodas all the glory. It was fun to watch the girls' excitement as they picked out their soda of choice (it was very evident they each enjoyed having their own soda bottle) and eagerly waited for their glass with a big scoop of ice cream.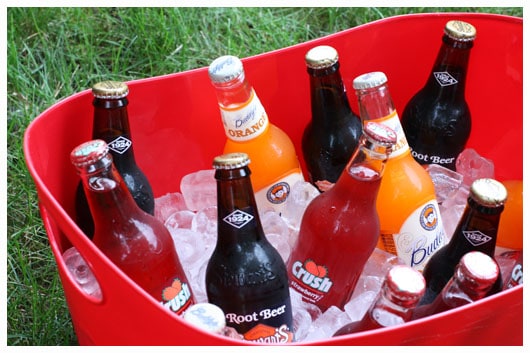 The ice cream sodas were a real hit, and I enjoyed one right along with them, as I am apparently still cool enough for 8-year-olds. There was lots of silly happy conversation and, of course, never a moment of silence. That special sound was reserved for after midnight…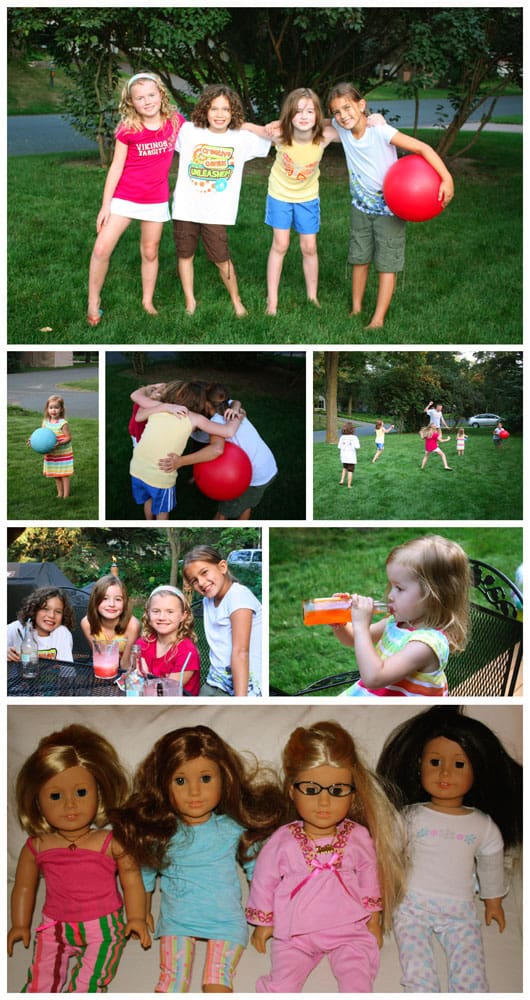 Ice Cream Soda
Fill a glass about half full of cold soda, holding the glass at an angle and pouring slowly to avoid creating too much foam. Gently place a scoop of vanilla ice cream into the glass, then pour more soda over the ice cream. The soda will fizz up, so pour slowly. Serve immediately with a straw and spoon.
My favorite sodas for these treats are root beer, strawberry, and orange, as you might be able to tell from the red drink tub. Feel free to use whatever you like, however. The orange Buddy's Soda Pop shown in the first picture is brewed right here in Minnesota by Schell Brewing Company in New Ulm.
We participate in the Amazon Services LLC Associates Program, an affiliate advertising program designed to provide a means for us to earn fees by linking to Amazon.com and affiliated sites. See our
disclosure policy
for more info.