Strawberry Rhubarb Crumb Bars
Strawberry Rhubarb Crumb Bars are the perfect spring dessert, where tender, buttery cake meets sweet strawberries and tart rhubarb.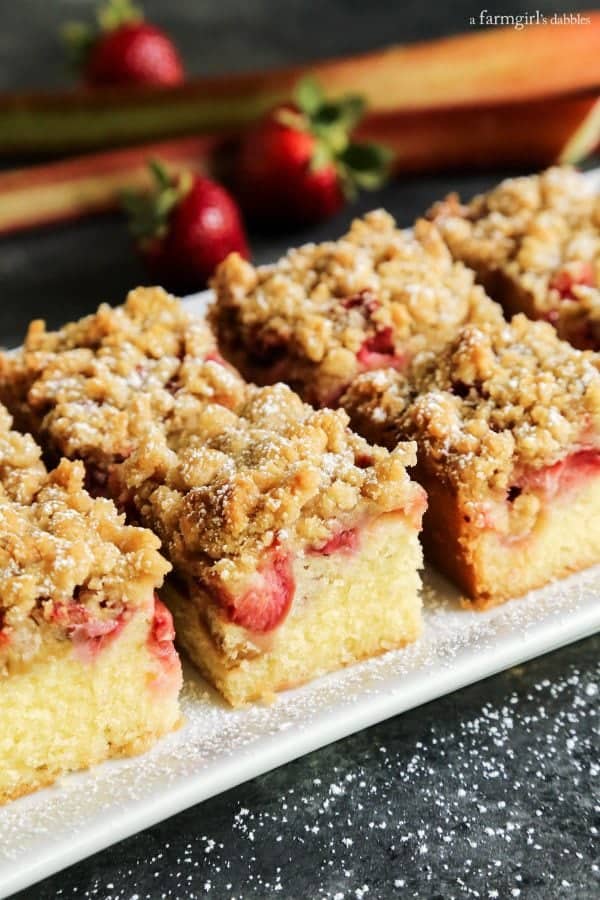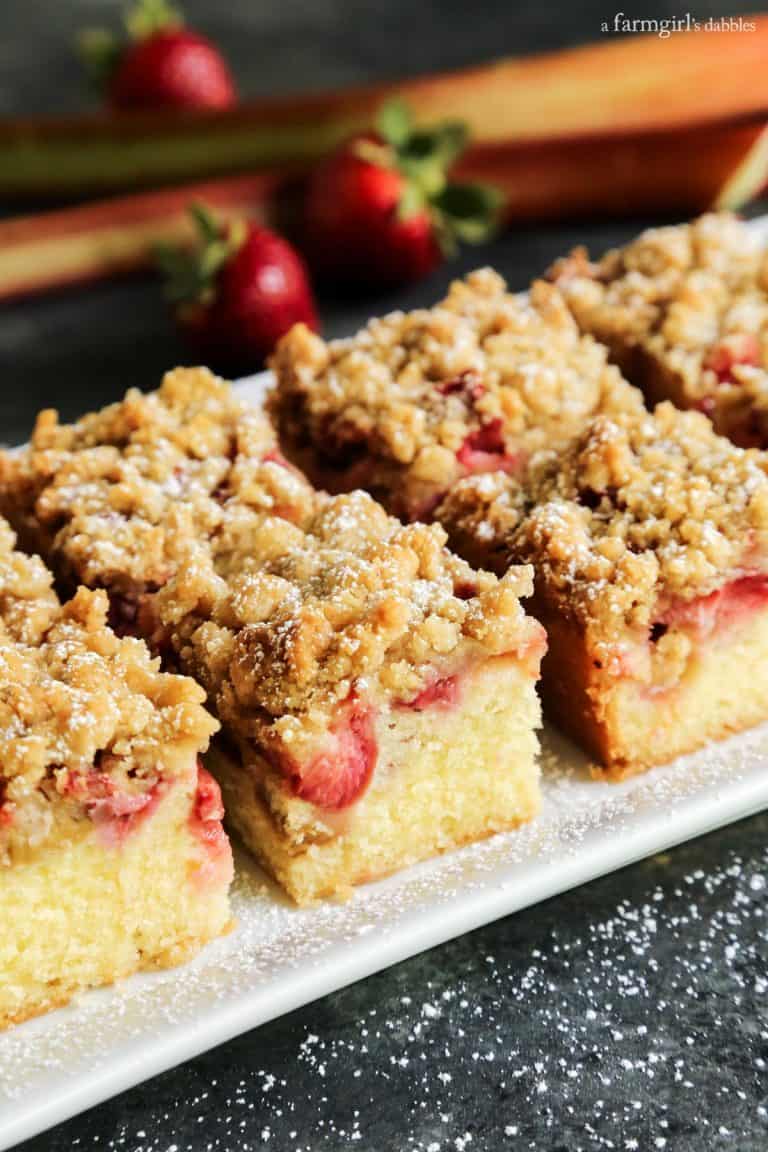 Every once in awhile, I dare myself to just chuck out all the loose recipes I have stashed away to try "some day". Because keeping them organized can be a royal pain.
But then…I wouldn't be able to enjoy and share some pretty wonderful recipes that have caught my eye over the years.
Like these Strawberry Rhubarb Crumb Bars. This recipe is such a great spring treat!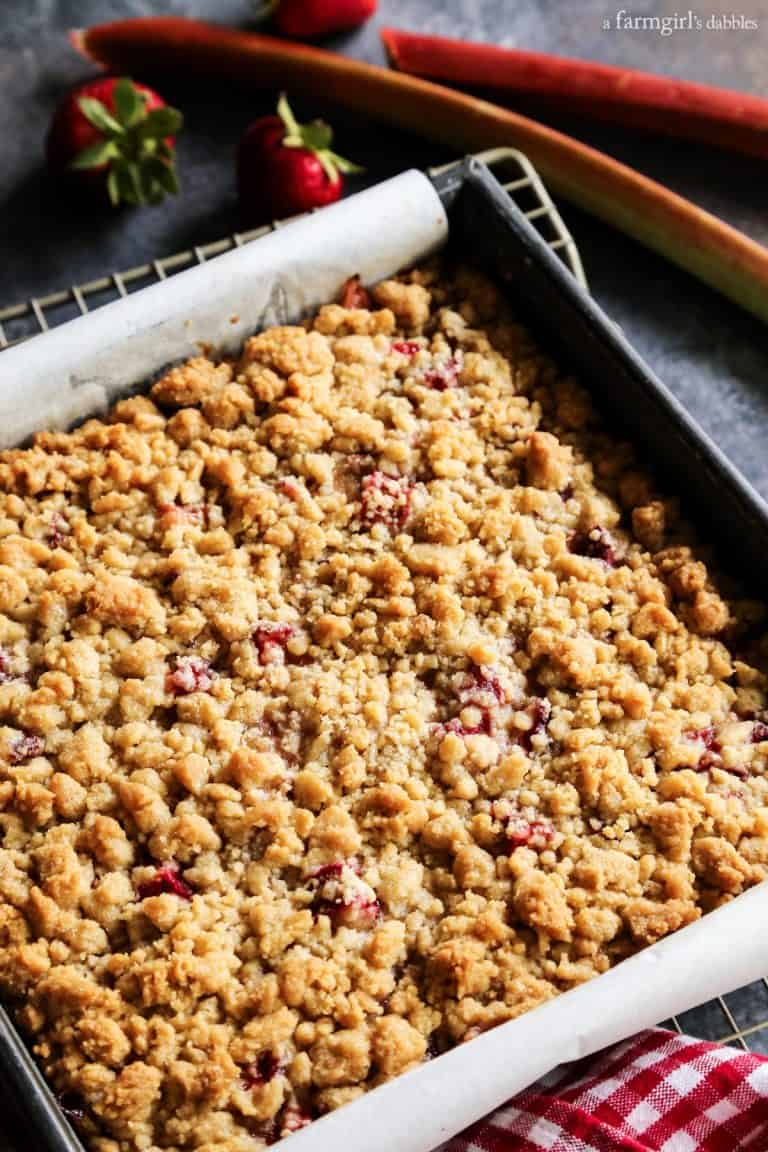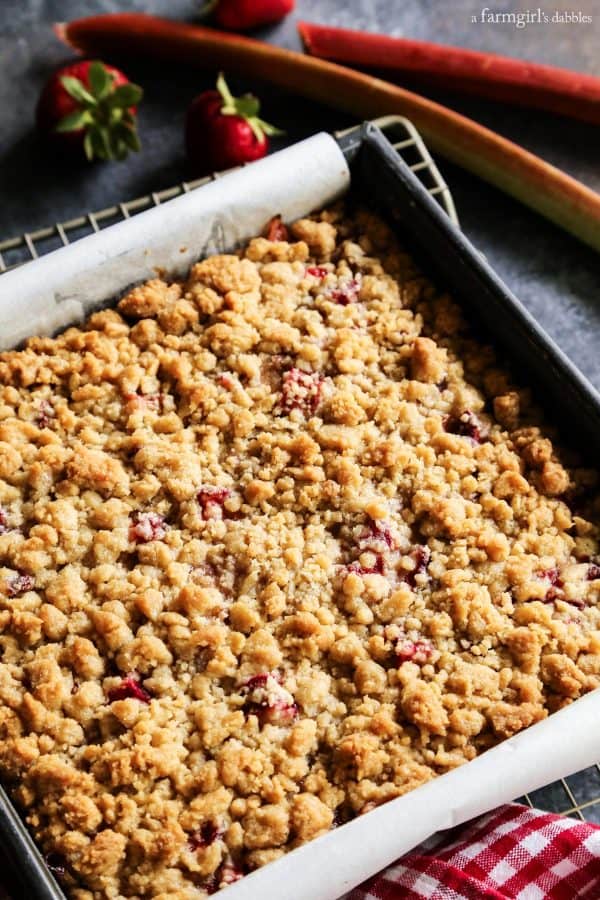 I think strawberries are just the perfect rhubarb partner, and can't let spring go by without making my mom's Super Simple Rhubarb Sauce, an Old-Fashioned Strawberry Rhubarb Crisp, and refreshing Rhubarb Mojitos.
Check out ALL my rhubarb recipes here.
And for my Rhubarb 101 over at The Pioneer Woman's site, go here!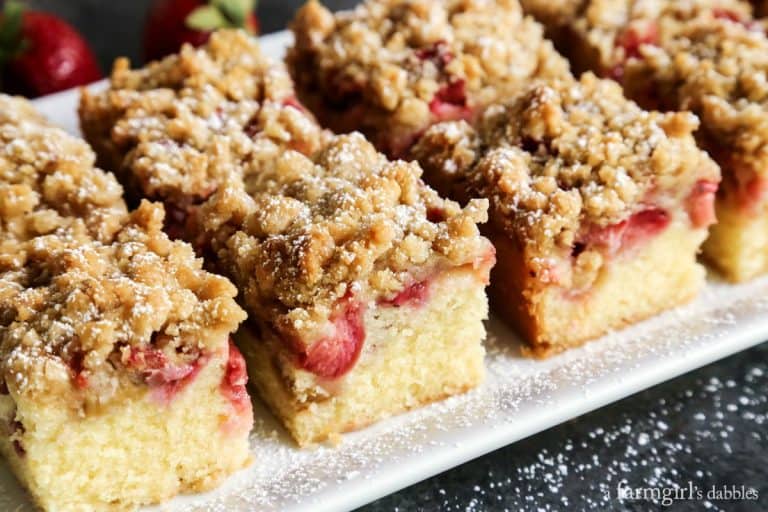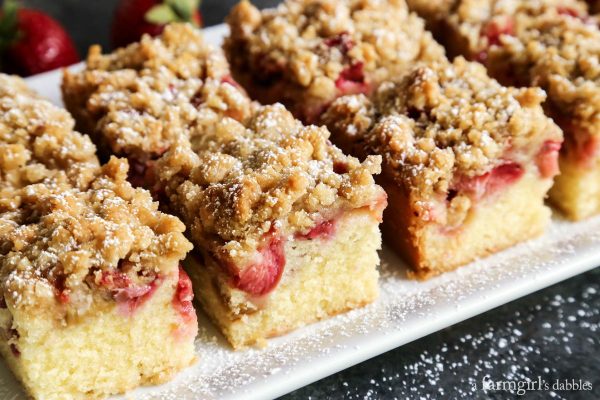 These bars are full of butter, giving wonderful flavor and moist, tender texture. I love how the sweet strawberries and tart rhubarb play with the buttery crumb.
Our daughters absolutely love these bars. They make a sweet little after-school spring treat near the end of the school year. And I have to admit, they make a great little breakfast!
Like this recipe? Pin it!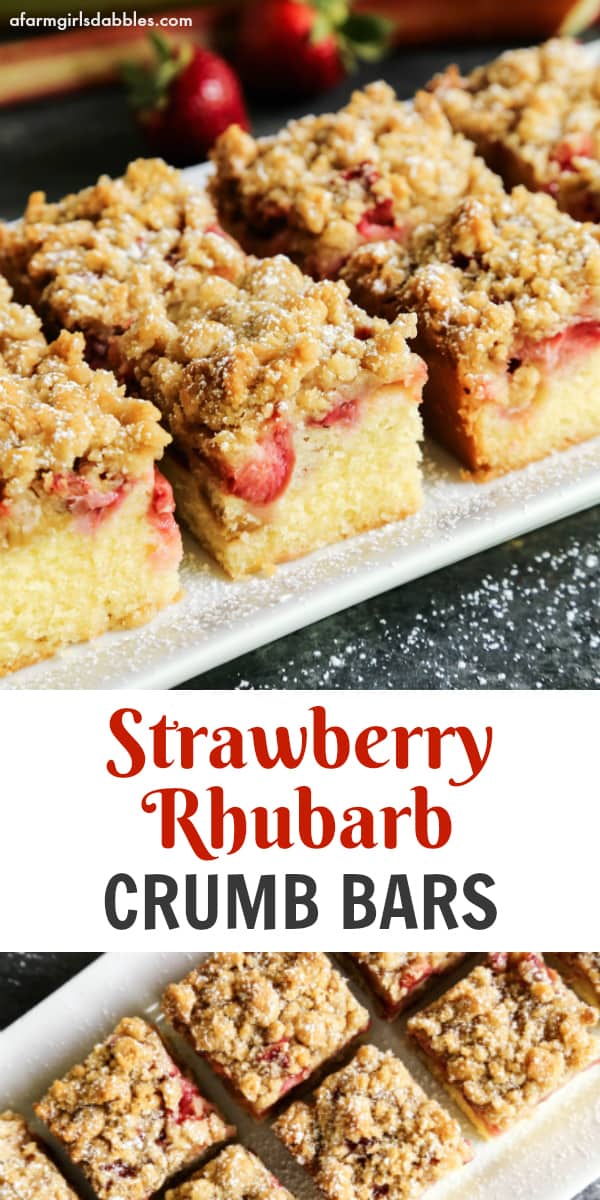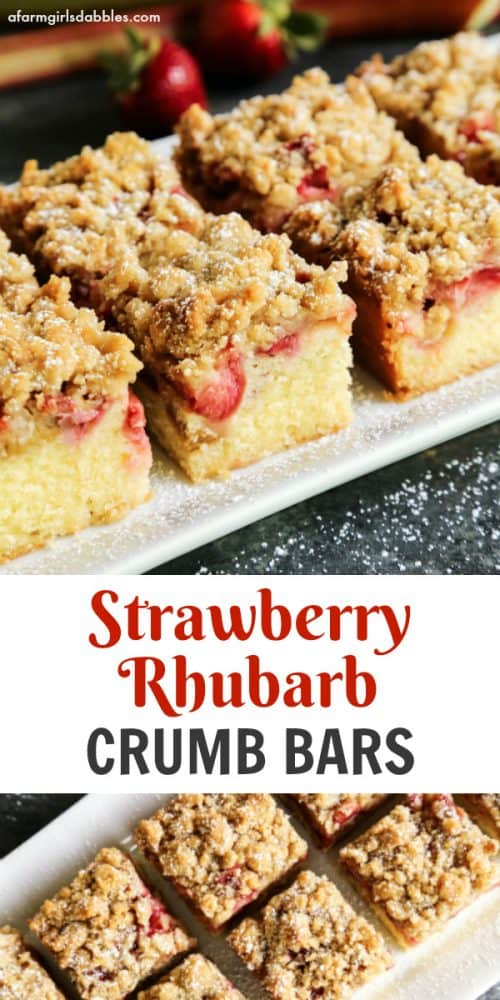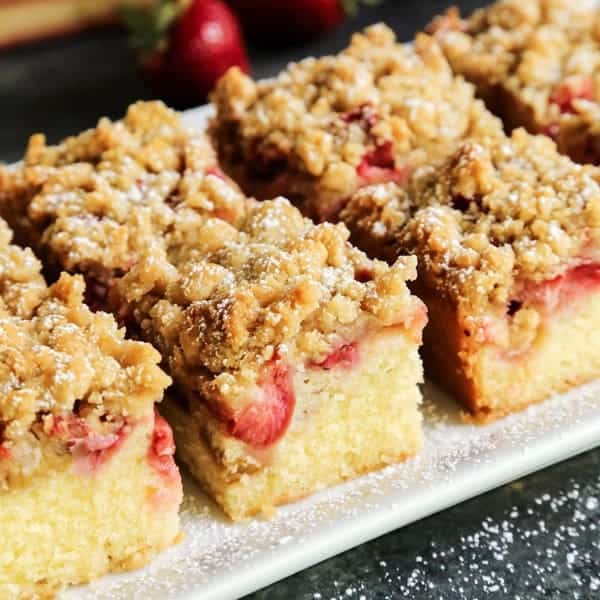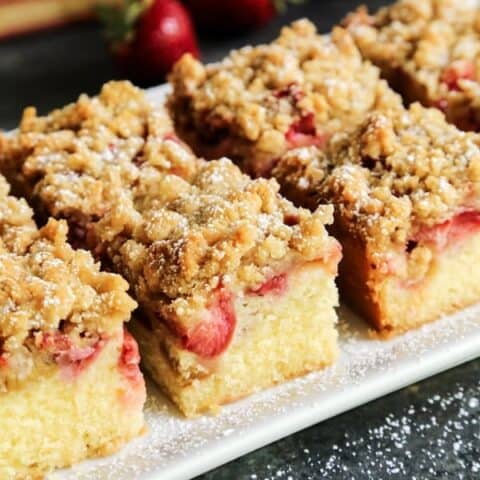 Strawberry Rhubarb Crumb Bars
Yield: 16 to 20 bars
Cook Time: 50 minutes
Ingredients
for the streusel:
1/2 c. unsalted butter, melted, plus room temperature butter for pan
3/4 c. packed light brown sugar
1/4 tsp. kosher salt
1-1/4 c. all-purpose flour
for the bars:
1/2 lb. rhubarb, cut into 1/2'' pieces
1/2 lb. strawberries, hulled and sliced 1/4" thick
2 T. light brown sugar
1-1/2 c. all-purpose flour, divided
3/4 tsp. baking powder
1/2 tsp. kosher salt
3/4 c. unsalted butter, at room temperature
1-1/2 c. powdered sugar, plus more for dusting finished bars
3 large eggs
1 tsp. pure vanilla extract
Instructions
Preheat oven to 350° F. Butter a 9'' square baking pan and line with parchment paper, leaving a 2'' overhang on 2 sides. Butter and flour parchment paper and pan, tapping out the excess flour. Set aside.
for the streusel:
Whisk together the butter, brown sugar, and salt. Add flour and cut with a rigid pastry cutter or fork until large crumbs form. Refrigerate until ready to use.
for the bars:
In a medium bowl, combine rhubarb, strawberries, brown sugar, and 1/4 cup of the flour. In another medium bowl, whisk the remaining 1-1/4 cup of flour, baking powder, and salt. In a large bowl, using an electric mixer, beat butter and powdered sugar until light and fluffy. Beat in the eggs, one at a time. With mixer on low, beat in vanilla, then flour mixture. Spread batter in prepared pan. Top with rhubarb and strawberry mixture, then top with prepared streusel. If you like to have some of the pretty red of the rhubarb and strawberries show on top (I do!), poke a few pieces up through the streusel.
Bake until golden and a toothpick inserted in the center comes out with just a bit of moist crumbs attached, about 50 to 55 minutes. Let cool completely in pan. Run a knife around the edge of the pan and, using the parchment paper overhang, lift cake from pan. Cut into bars and dust with powdered sugar. Serve as is, or with some freshly whipped and sweetened cream...so lovely!
Nutrition Information:
Yield: 1620
Amount Per Serving:
Calories: 212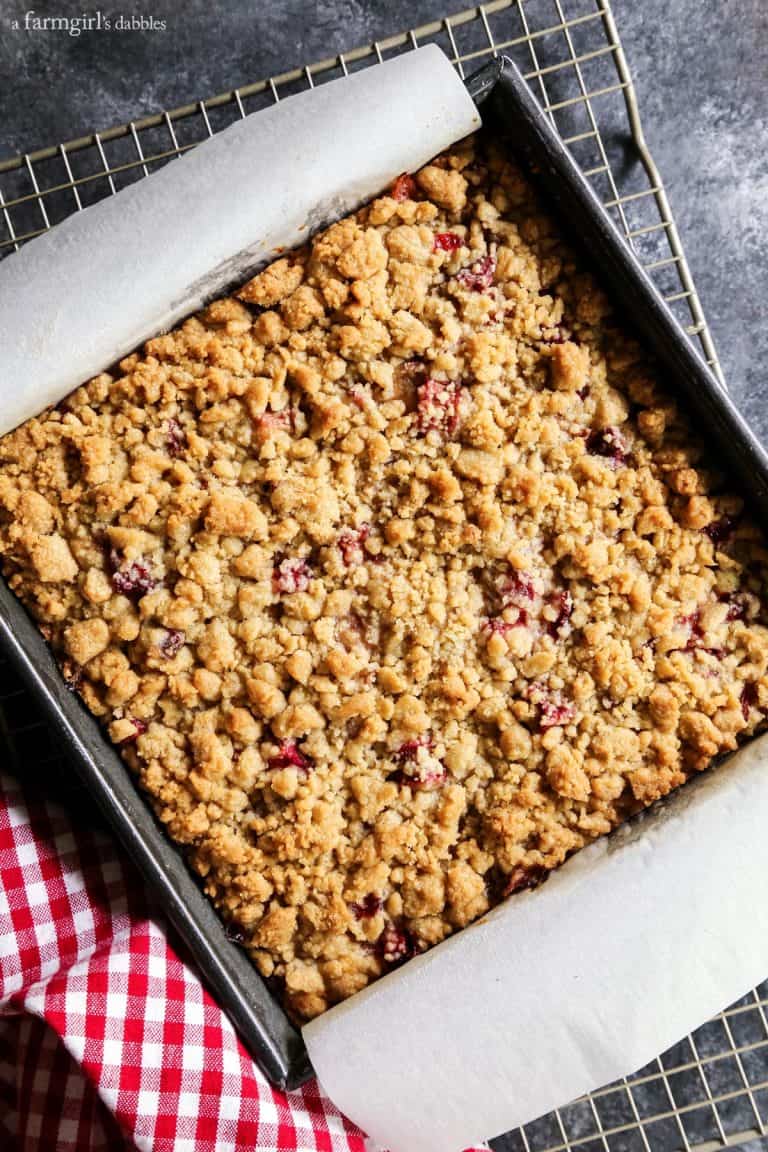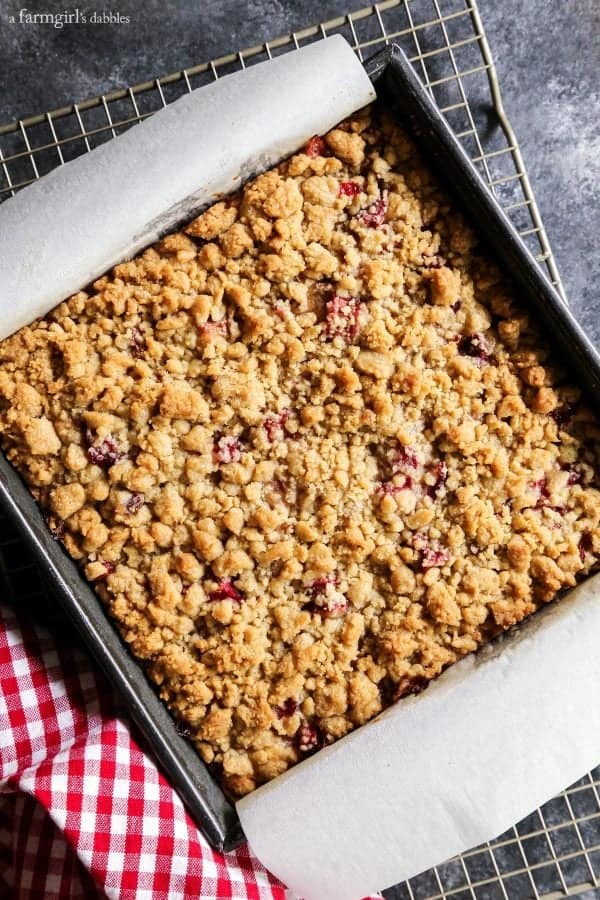 .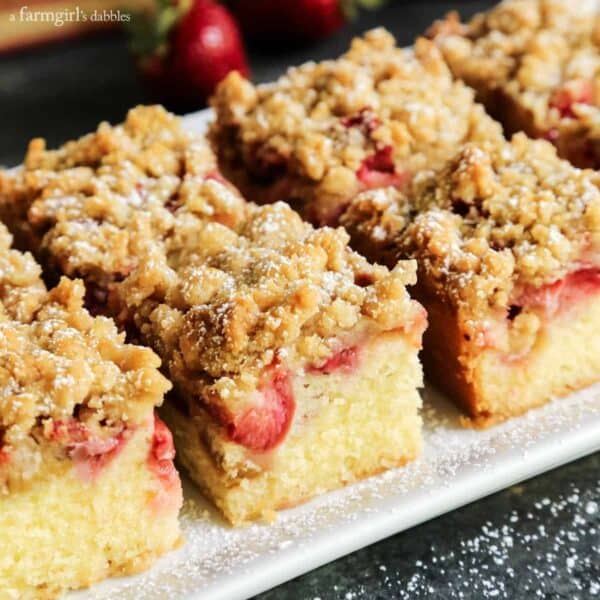 .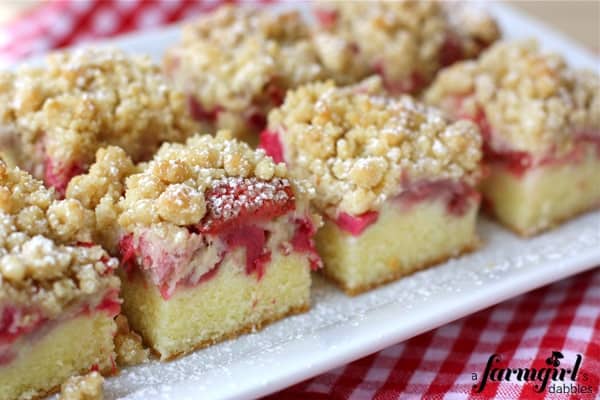 Hungry for more rhubarb? Check out a couple very special family recipes using rhubarb:
This post was originally published April 2102 and has been a popular reader favorite. Some of the photographs and text were updated June 2017.