Spicy Italian Sausage Meatballs over Egg Noodles
This post may contain Amazon or other affiliate links. As an Amazon Associate I earn from qualifying purchases.
This recipe for Spicy Italian Sausage Meatballs over Egg Noodles is comfort through and through, homemade goodness at its best.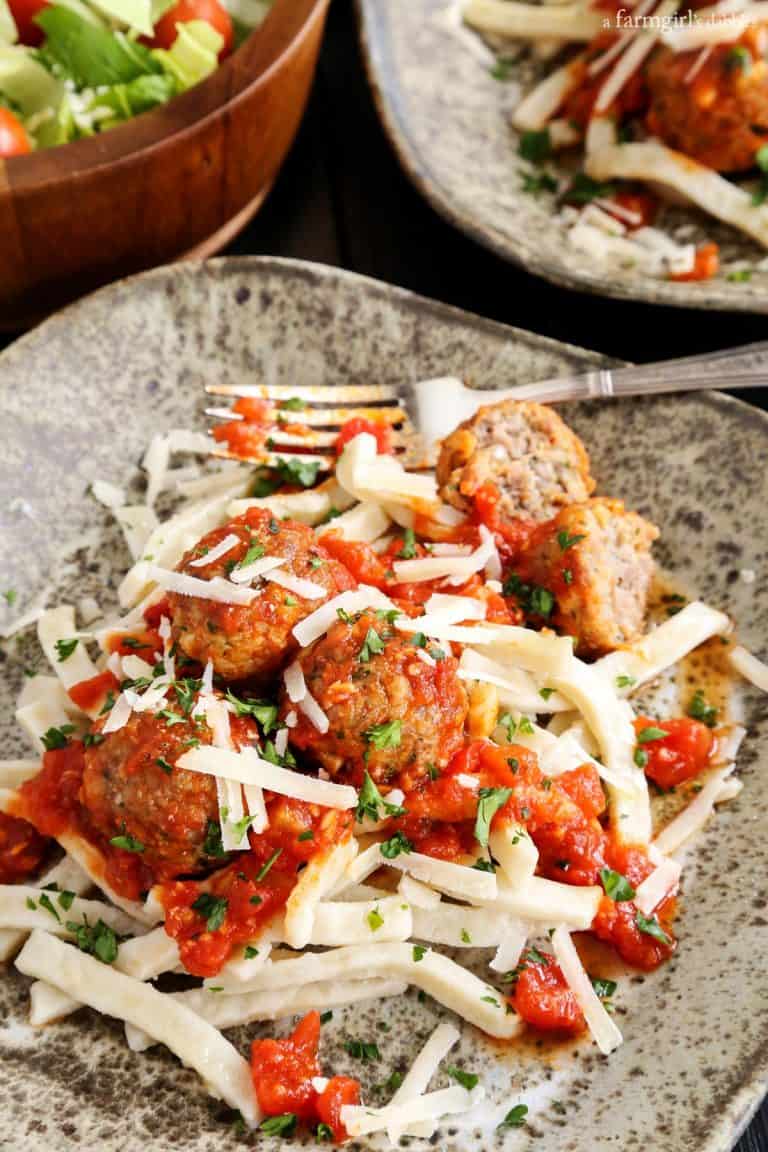 'Tis the season.
Christmas just a few days away, but I'm talking more about the general season of winter, and the comfort food that brings us all around the table together. When the outdoor temperatures take a dive and our home thermostats get nudged higher, our cravings turn to warm homemade goodness.
This recipe for Spicy Italian Sausage Meatballs over Egg Noodles puts smiles on the faces of my family. Because…
There's thick and chewy homestyle egg noodles.
Don't meatballs make everyone happy?!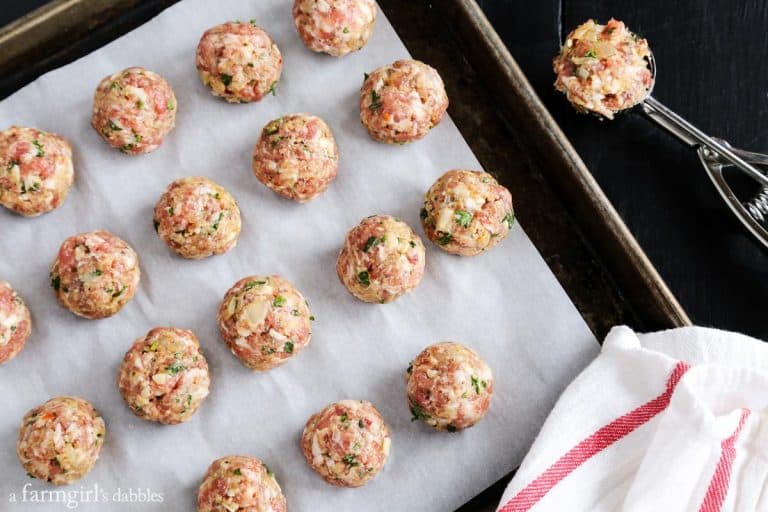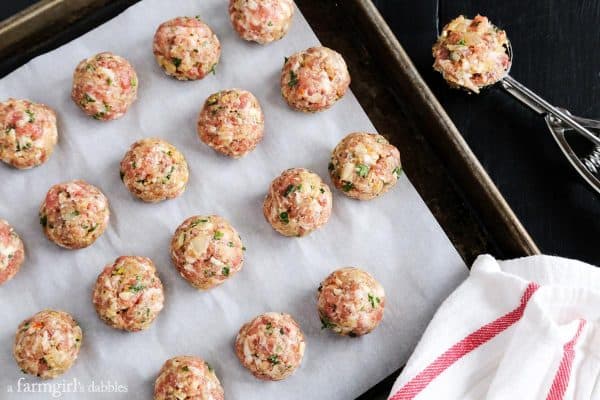 * This is a sponsored post, created in partnership with Reames®.

I tend to get lazy when serving a marinara and meat sauce to my family. I usually just fry up some ground meat in a big skillet, along with some onion and garlic, add a bottled or homemade marina, and call it good.
But when I take a little extra time to make meatballs?
Ohhhhhh, how this makes everyone smile!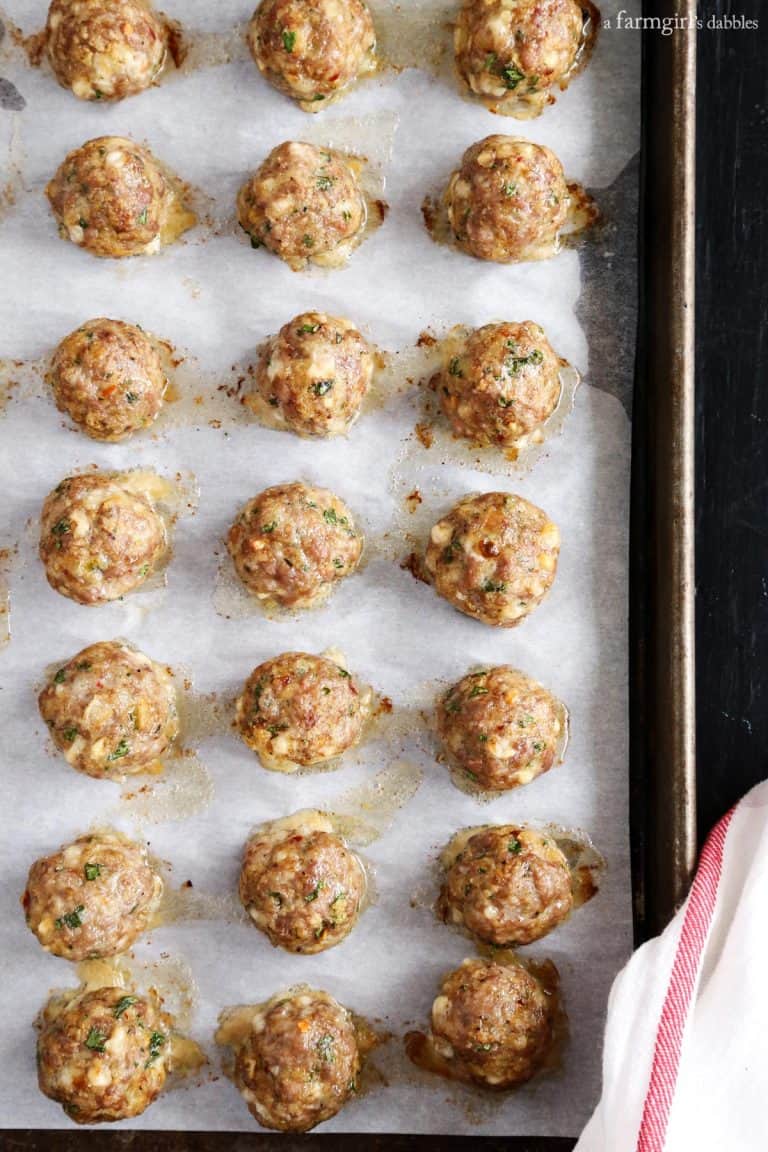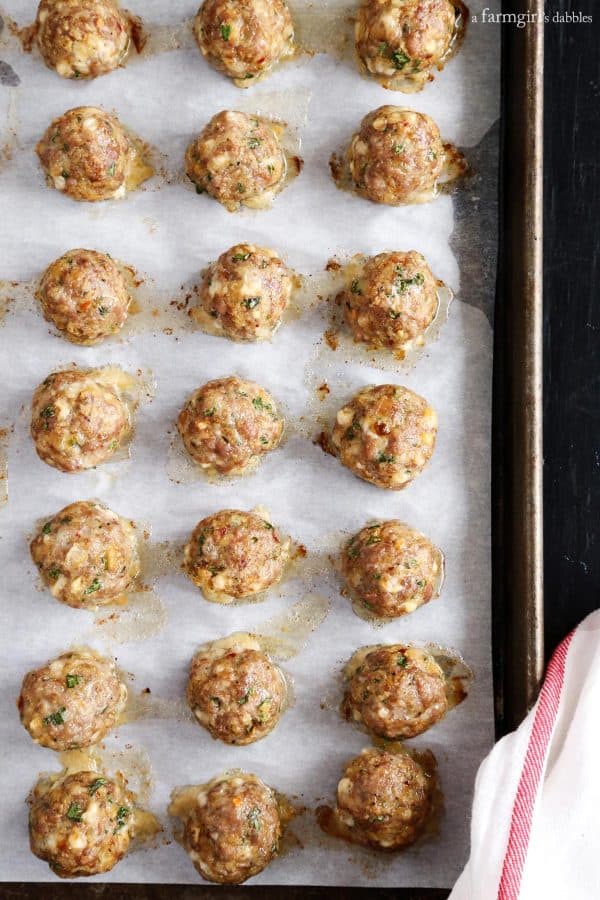 These spicy Italian sausage meatballs are perfection. PERFECTION.
They come together quite easily and bake up beautifully in the oven. I think the oven-baked aspect is one of the best parts about this recipe, in fact. No turning, turning, turning those meatballs in a skillet on the stovetop, splattering grease everywhere. This oven baking method is easy, with quick and painless clean-up.
Another great aspect to these meatballs is the incredible flavor. A bit of red pepper heat + pockets of grated Parmesan = Y.U.M.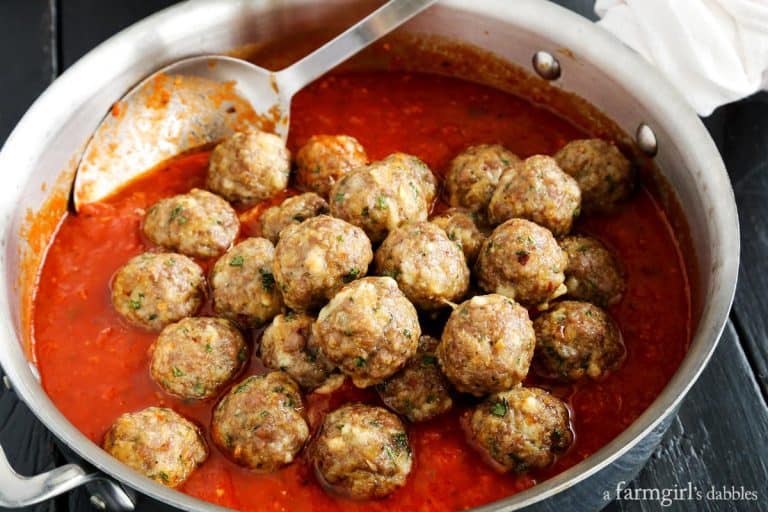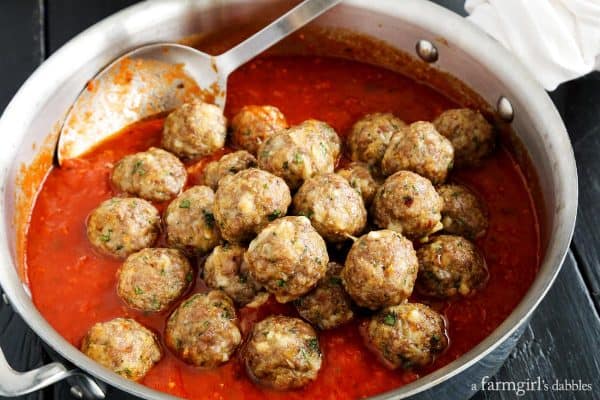 The spicy Italian sausage meatballs get tossed in a marinara, any kind that you wish. If time allows and you're up for making your own favorite red sauce, go for it. But on busy weeknights, I often opt for one of my favorite jarred sauces. I especially like the spicier sauces that are labeled "arrabbiata", which translates to "angry" in Italian.
Tasty Tip: If you have leftover meatballs, they make awesome meatball sandwiches!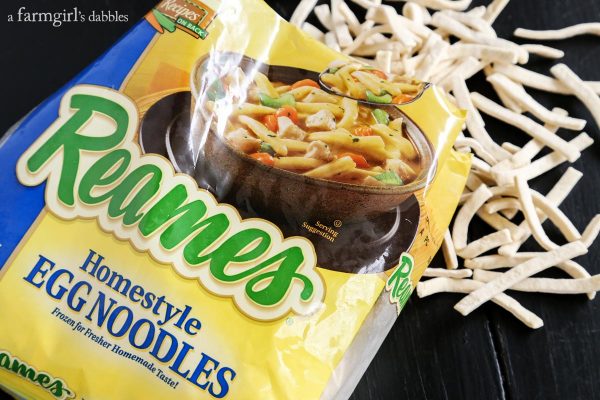 And then I like to serve the meatballs and red sauce over these homestyle egg noodles from Reames®. These tasty homestyle noodles are found in the freezer section at the grocery store, and I reach for them whenever I'm in need of a little extra comfort and homemade goodness.
Homestyle egg noodles will forever remind me of Mom, as she likes to use them in her wonderful chicken noodle soup. It's my very favorite chicken noodle soup in the whole wide world. Wherever I eat it, I'm immediately transported back to my childhood, gathered around the table in our kitchen on the farm.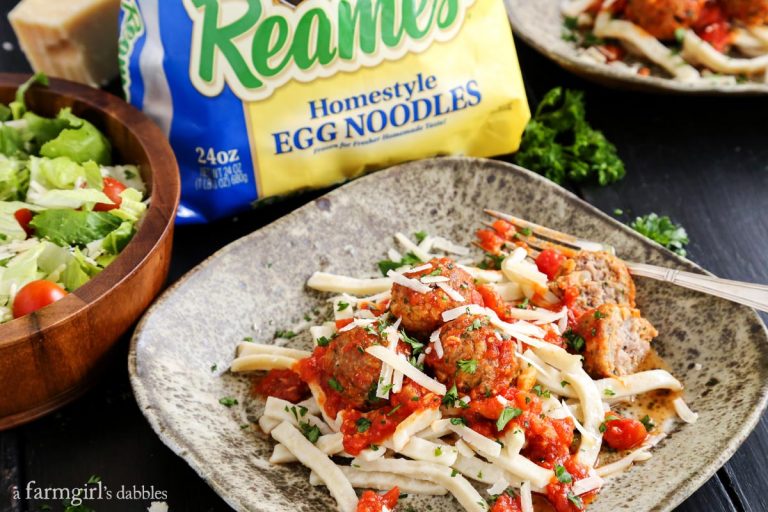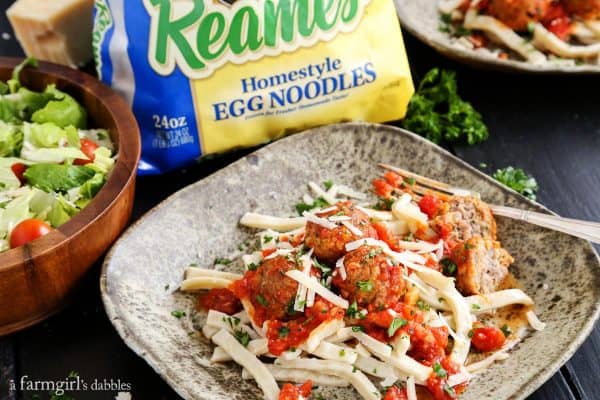 I like to serve this comfort meal with a fresh green side salad, and I'm sure to offer plenty of additional grated Parmesan on the side.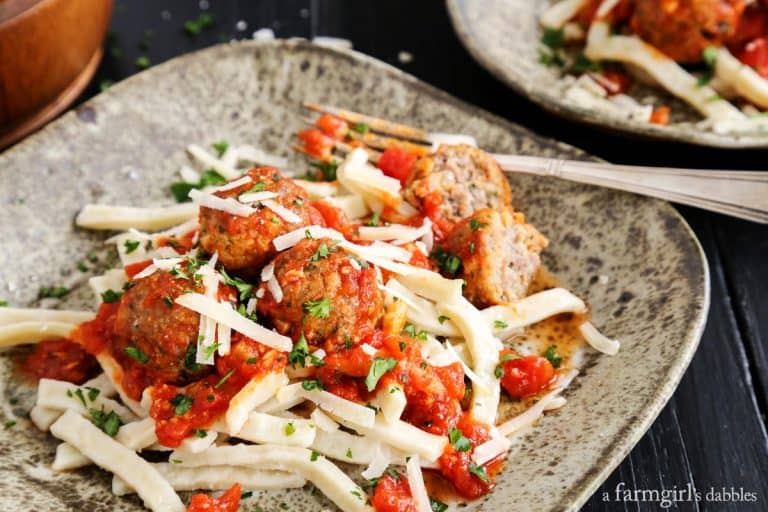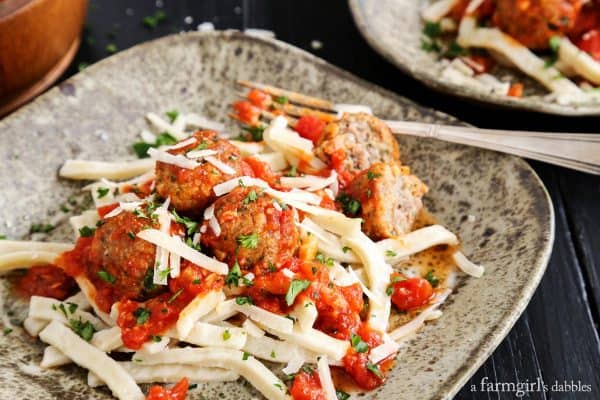 Our young daughters are especially fond of this meal, knowing that there will be leftovers for their school lunches the following day. Because what could be better on a cold winter day, trudging through a day of classes, than to get to the cafeteria and open a steaming insulated container of homestyle egg noodles and meatballs? Our girls live for these hot lunches from our own kitchen. A little bit of home always feels so good.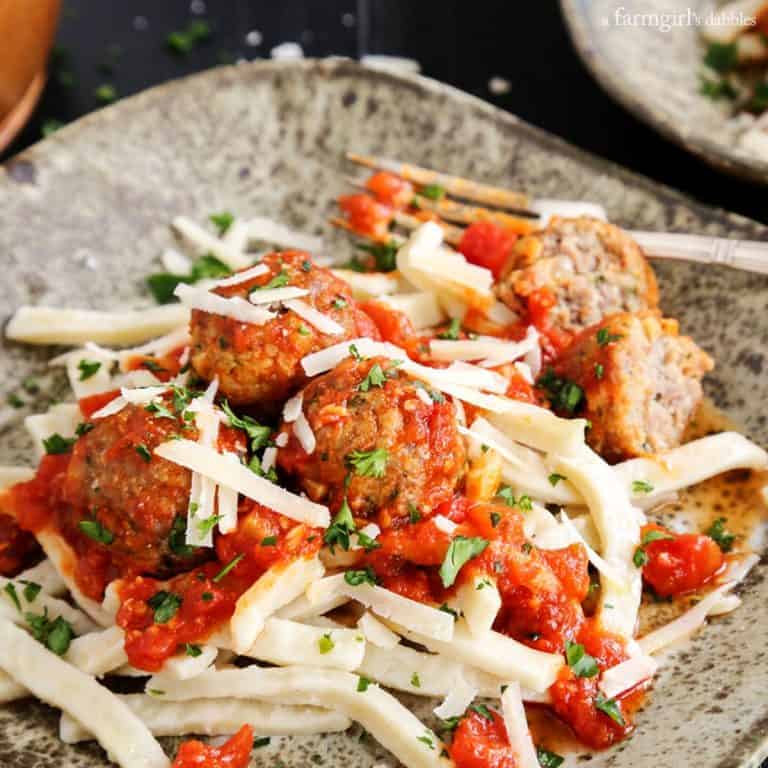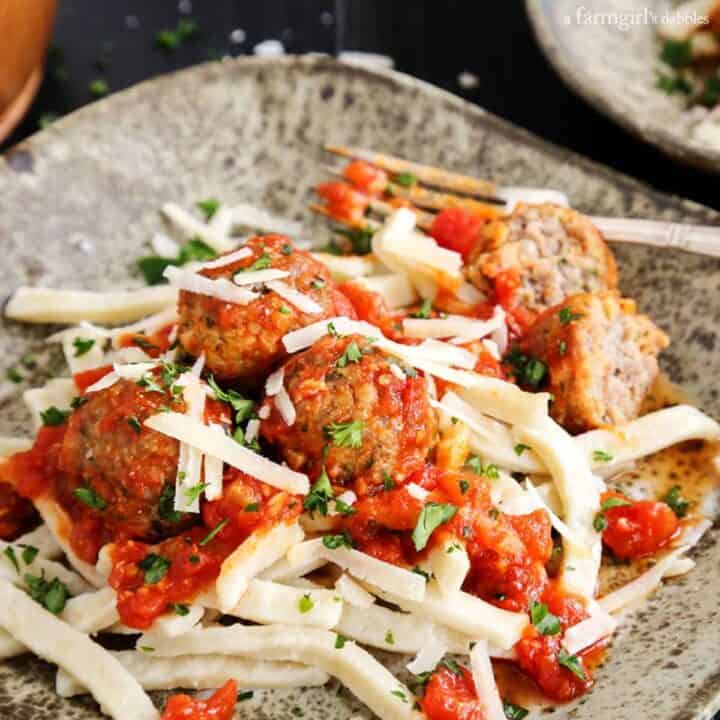 Spicy Italian Sausage Meatballs over Egg Noodles
Yield: 8 servings
Prep Time: 10 minutes
Cook Time: 35 minutes
Total Time: 45 minutes
This recipe for Spicy Italian Sausage Meatballs over Egg Noodles is comfort through and through, homemade goodness at its best.
Ingredients
1 T. olive oil
1/2 c. finely chopped yellow onion
3 large cloves garlic, minced
1.5 lbs. bulk Italian sausage
1/8 tsp. to 1/2 tsp. red pepper flakes, or whatever heat level you are comfortable with
1 large egg
1/3 c. freshly grated Parmesan cheese (use larger holes in your grater), plus more for sprinkling over the top of individual portions
1/2 c. bread crumbs
1/4 c. finely chopped fresh parsley, plus more for sprinkling over the top of individual portions
1 24-oz. package Reames® frozen Homestyle Egg Noodles
1 25-oz. jar of your favorite spicy "arrabbiata" sauce or regular marinara sauce
Instructions
Heat oven to 350° F.
Line a large rimmed baking pan with parchment paper and set aside.
In a large skillet over medium to medium-high heat, saute onion and garlic in the olive oil. Stir occasionally until softened, about 5 to 7 minutes. Remove from heat.
In a medium-sized bowl, combine sausage, red pepper flakes, egg, Parmesan, bread crumbs, and parsley. Add in sautéed onion and garlic. Mix until mostly combined with a wooden spoon, then bring it all together with a little hand mixing. Shape sausage mixture into balls. I like to use a scoop that holds almost 2 tablespoons. I pack it very tightly in the scoop and then finish it off with a little bit of hand rolling. Place meatballs onto prepared pan. Bake for 25 minutes. Turn oven to broil and then place pan under broiler (on a rack about 6" under the broiler) and cook for an additional 3 to 4 minutes, or until meatballs are golden.
While meatballs are baking, cook egg noodles according to package directions. Drain. Sprinkle a small amount of olive oil over the noodles and toss lightly to prevent sticking.
Return skillet to medium heat and warm the marinara. Add the baked meatballs and toss to coat. Once thoroughly warmed, serve meatballs in marinara over individual servings of hot egg noodles. Finish with additional shredded Parmesan and chopped parsley.
Notes
from a farmgirl's dabbles
Nutrition Information:
Yield: 8
Serving Size: 1
Amount Per Serving:
Calories: 545
Total Fat: 31g
Saturated Fat: 10g
Trans Fat: 0g
Unsaturated Fat: 22g
Cholesterol: 102mg
Sodium: 1286mg
Carbohydrates: 41g
Fiber: 4g
Sugar: 9g
Protein: 25g
Nutrition information is automatically calculated by Nutritionix. I am not a nutritionist and cannot guarantee accuracy. If your health depends on nutrition information, please calculate again with your own favorite calculator.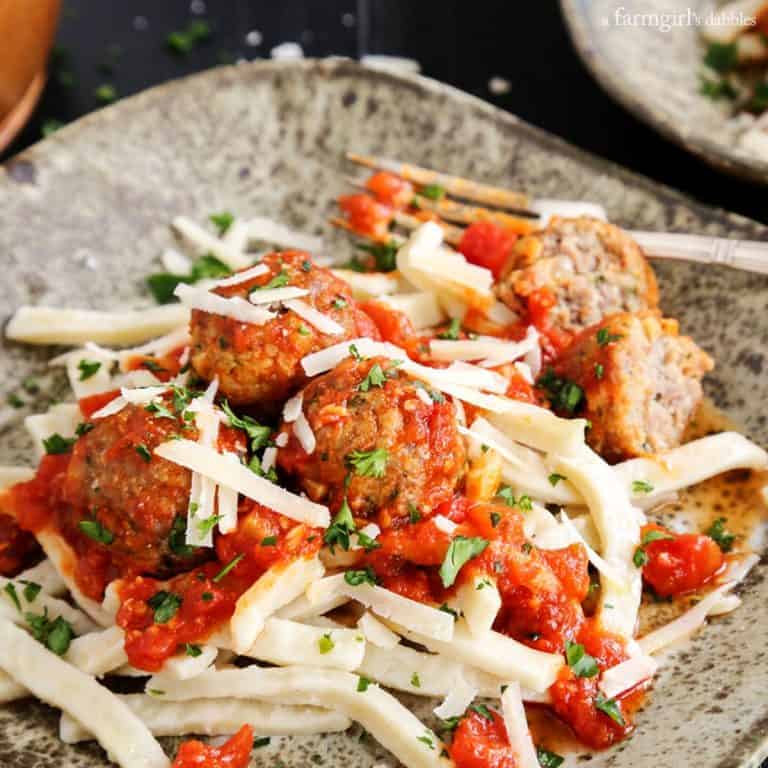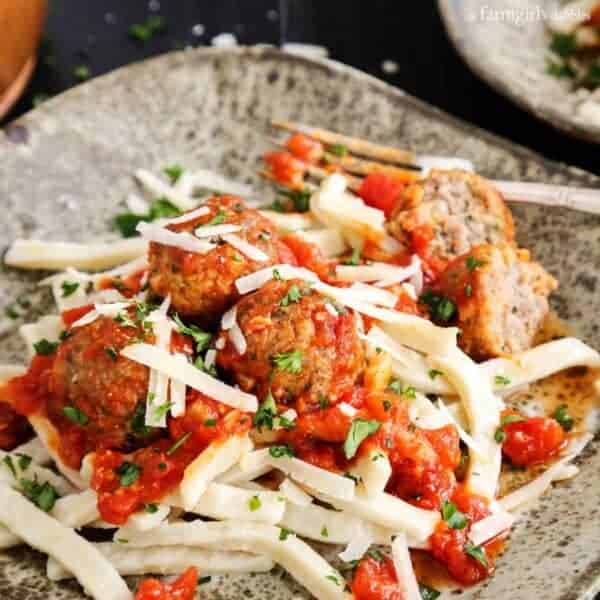 This post is sponsored by Reames®. All text and opinions are 100% my own. Thank you for supporting the brands that help make this site possible.
We participate in the Amazon Services LLC Associates Program, an affiliate advertising program designed to provide a means for us to earn fees by linking to Amazon.com and affiliated sites. See our
disclosure policy
for more info.