Sparkly Red Velvet Brownie Bites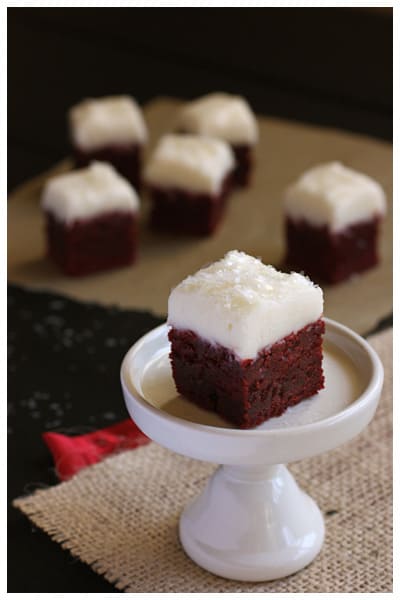 Today's my mom's birthday.
With this special day falling at the beginning of the Christmas season, it always feels appropriate to bake something holiday-ish. I've turned to red velvet cake with cream cheese frosting in the past, as it always makes for a beautiful presentation. And we're definitely a chocolate cake and cream cheese frosting kind of family!
So this year I made a riff on that famous cake, coming up with some rich brownies that capture all those delicious flavors. Then, because I wanted to offer smaller portions for holiday party platters, I cut these super dense and delicious red velvet brownies into bite-size pieces. Well, bite-size to my husband. More like two bites for me!
The finishing touch is a sprinkling of edible sparkle glitter, adding a little something special for this wonderful time of the year. Kinda like after a fresh snow fall, when the world is blanketed in white, shimmering in diamond dust.
I think these Sparkly Red Velvet Brownie Bites will make the perfect addition to my sweets platter for upcoming holiday parties. And I know Mom is gonna love them when we celebrate her birthday this upcoming weekend!
………………………………………………………………..
Want to know what Mom & I have been up to lately?
We've been playing Wordfeud!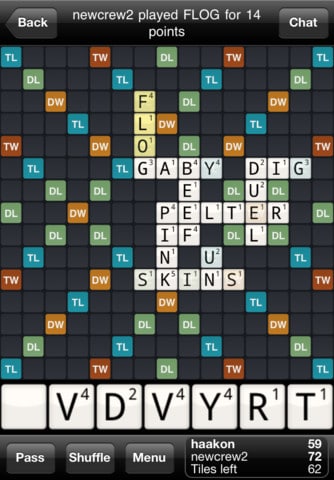 If you don't know about this free app, it's a word game very similar to Scrabble. It allows us to compete against eachother on our iPhones, connecting us on a daily basis with over two hundred miles between us!
Mom is directly responsible for my love of word games. Scrabble, Wheel of Fortune, Bananagrams, crossword puzzles – you name it, we're there. When visiting eachother's homes, our nights are usually closed down with a crossword puzzle from the day's paper. So when she suggested we start up Wordfeud, a game she had already been playing with my word wiz of a brother-in-law Scott, I didn't hesitate.
It's been so much fun. Even though we aren't having a conversation every day, it still feels like there's a daily connectedness.
Do you have a favorite game app that you play with someone special?
I'd love to hear about it!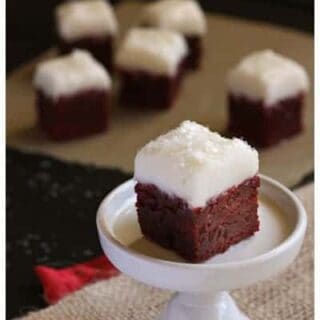 Sparkly Red Velvet Brownie Bites
Yield: 50 brownie bites
Prep Time: 25 minutes
Cook Time: 30 minutes
Total Time: 55 minutes
Sparkly Red Velvet Brownie Bites, topped with cream cheese frosting, are rich bite-size brownies that would look amazing on your holiday dessert platter!
Ingredients
FOR THE RED VELVET BROWNIES:
1/2 c. unsalted butter, diced
3 oz. bittersweet chocolate, chopped
1-1/2 c. sugar
3 large eggs
1 tsp. pure vanilla extract
1/4 tsp. salt
1 oz. liquid red food coloring
1 c. flour
1/2 tsp. baking powder
FOR THE SPARKLY CREAM CHEESE FROSTING:
8 oz. cream cheese, at room temperature
4 T. unsalted butter, at room temperature
1 tsp. vanilla
1-1/2 c. sifted powdered sugar
white sparkles edible glitter, optional
Instructions
for the red velvet brownies:
Preheat oven to 325°. Fold a 16" long piece of foil to a 9" x 16" strip and place in 9" x 9" metal baking pan, leaving overhang on 2 sides. Repeat with another sheet of foil the same size in the opposite direction, lining pan completely. Spray foil with nonstick spray.
Stir butter and chocolate in heavy large saucepan over very low heat until chocolate is melted. Remove from heat. Whisk in sugar, then eggs, 1 at a time. Stir in vanilla, salt, and food coloring. Sift flour and baking powder over mixture and stir to blend well. Transfer batter to prepared pan.
Bake brownies until puffed and dry-looking and tester inserted into center comes out with some moist batter attached, about 30 to 35 minutes. Cool completely in pan on rack.
for the sparkly cream cheese frosting:
Prepare the frosting by first beating together the cream cheese and butter until light and fluffy. Add vanilla and mix a bit to incorporate. Then add the sifted powdered sugar and beat to combine.
Using the foil as an aid, lift brownies from pan and place on cutting board. Peel foil down away from the sides of brownies. Spread cream cheese frosting evenly over brownies. Sprinkle with edible glitter, if desired. Cut into bites 1-1/4" x 1-1/4". To achieve clean cuts, wipe the knife after each slice.
Notes
Inspired by a red velvet brownie I had while visiting my parents. Brownie base heavily adapted from these spectacular Cappuccino Brownies from Bon Appetit.
Nutrition Information:
Yield: 50
Serving Size: 1
Amount Per Serving:
Calories: 116
Total Fat: 6g
Saturated Fat: 3g
Trans Fat: 0g
Unsaturated Fat: 2g
Cholesterol: 24mg
Sodium: 38mg
Carbohydrates: 15g
Fiber: 0g
Sugar: 13g
Protein: 1g
Nutrition information is automatically calculated by Nutritionix. I am not a nutritionist and cannot guarantee accuracy. If your health depends on nutrition information, please calculate again with your own favorite calculator.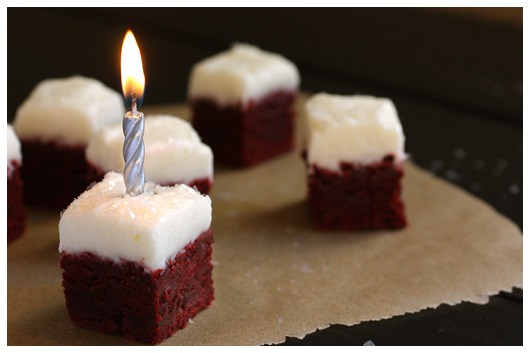 Happy Birthday, Mom!