Smoky Tomato Deviled Eggs
Smoky Tomato Deviled Eggs are the perfect casual appetizer, creamy and flavorful, with pops of fresh tomato flavor folded right into the filling!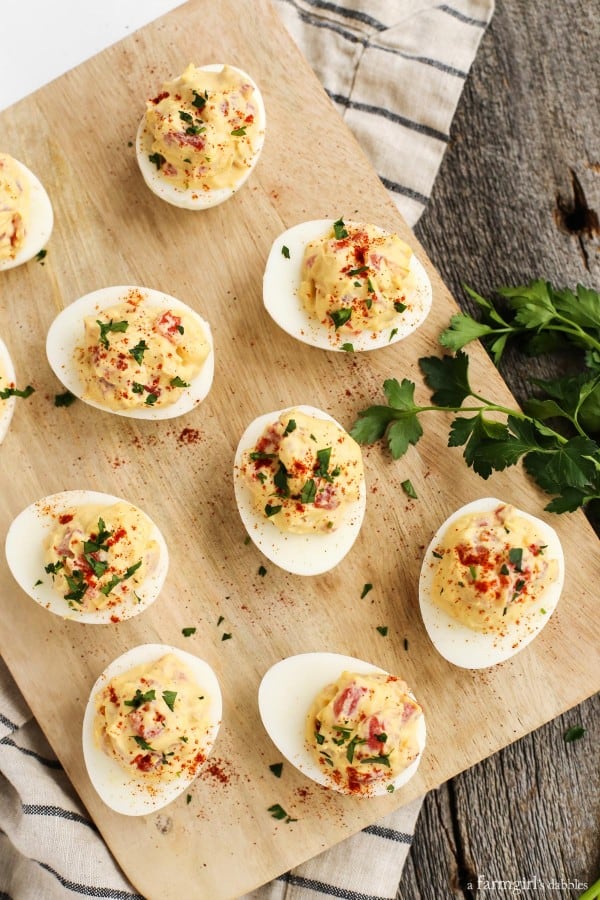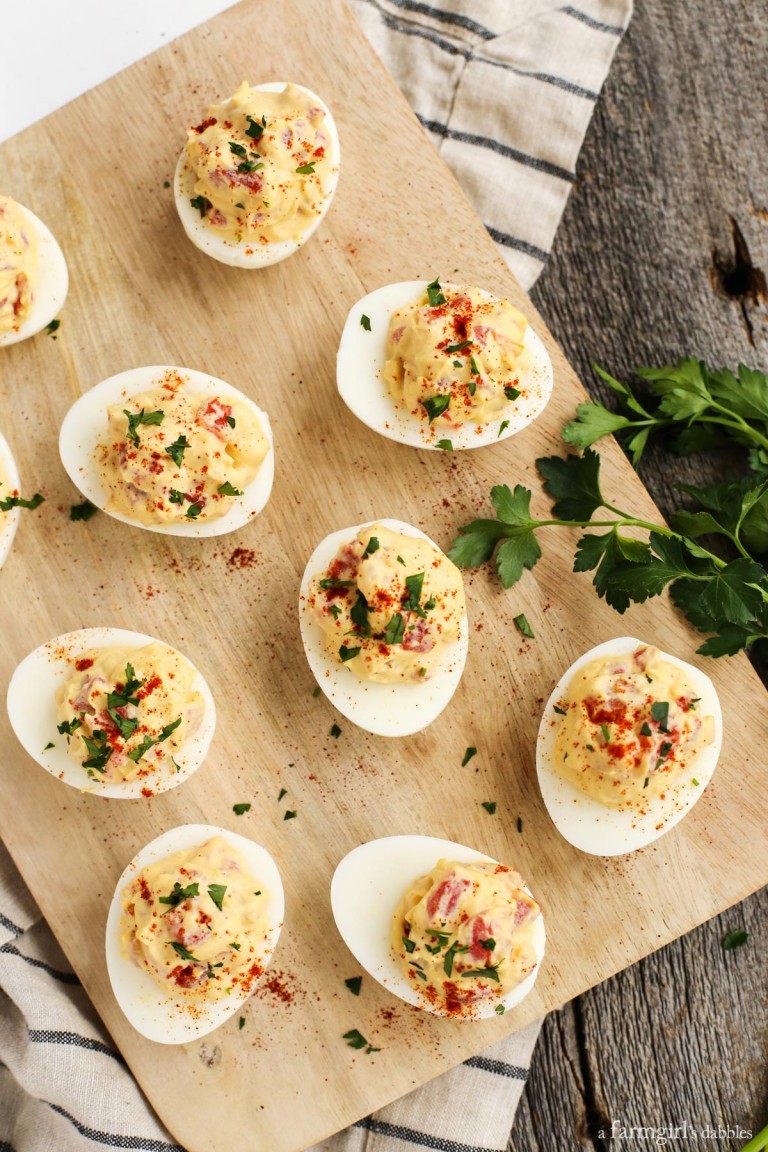 First of all, before we get on with this new deviled eggs recipe, I want to give a big shout-out to Purr Design for the new look here at a farmgirl's dabbles. I asked Lindsay to clean house for me, to leave this space with fresh air and open spaces. And that's exactly what she did. I couldn't be happier with the new design!
Now on with the program!
How many ways are there to make deviled eggs? I think the possibilities are almost endless, and for a girl who loves variety, this is such a fun thing. But I do have a few very simple, very basic requirements when it comes to serving deviled eggs from my own kitchen…
Overall, the deviled eggs should have an appetizing appearance. And that starts with the base. The egg whites should be smooth, free from missing chunks due to peeling difficulties.
Then let's talk about the filling. It should have a pretty yellow hue (no green or gray tinted yolks), with a creamy, sturdy (but not stiff) texture. A runny filling really turns me off.
And then the flavor. My favorite deviled eggs filling has a noticeable tang from mayonnaise and mustard. Bland deviled eggs have no place on my plate!
This recipe for Smoky Tomato Deviled Eggs fits all my requirements, beautiful and super tasty, and just a little bit different. The diced tomatoes folded into the filling are something new for me, a fresh tasting little twist I just know you're going to like!
* This post is sponsored by Red Gold Tomatoes.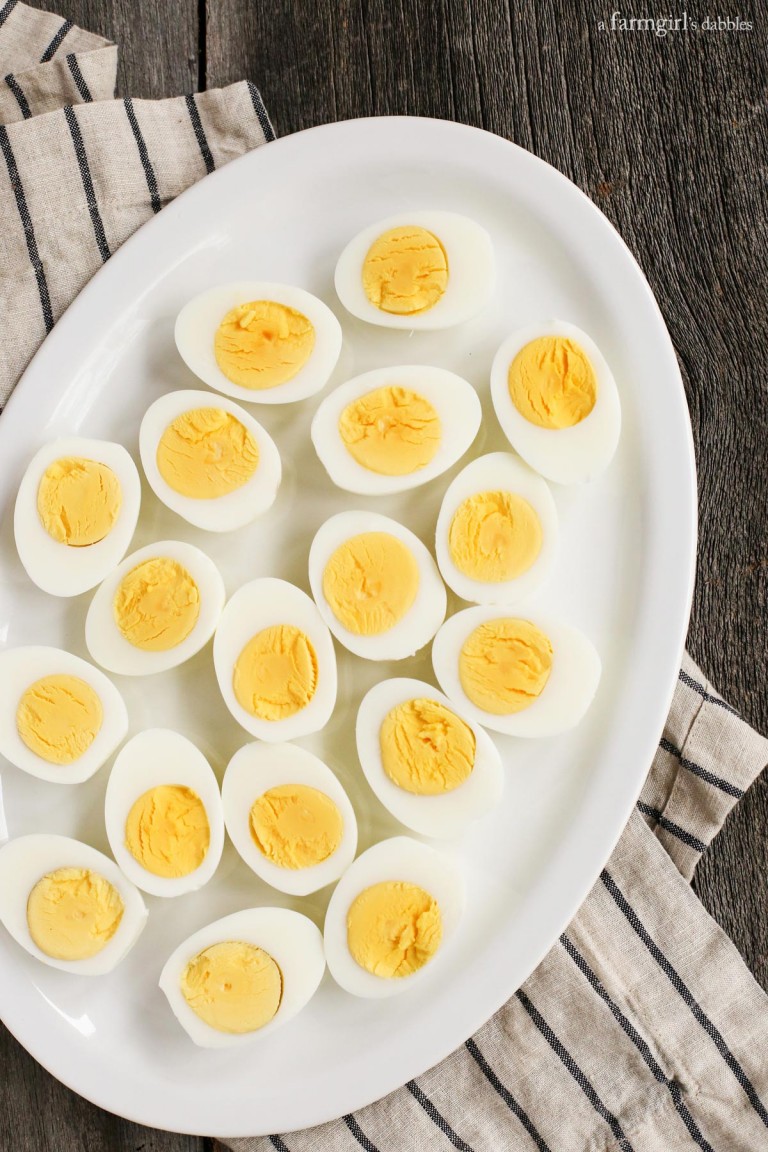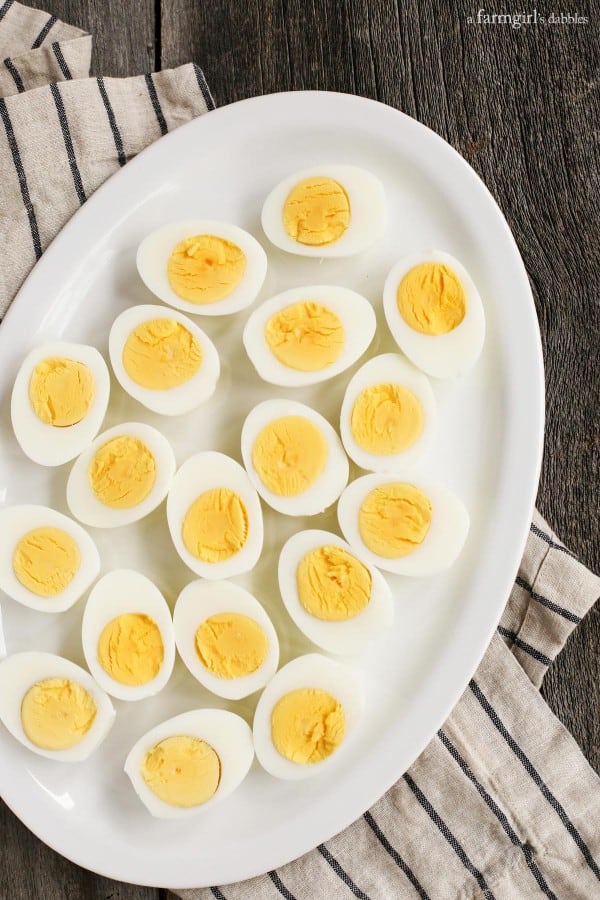 The appearance of these peeled hard-boiled eggs are about as good as it gets. No chunks missing out of the whites. No dull gray-green yolks. I've searched for yeeeeeeears for the perfect method for hard boiling eggs, and only just recently tried this technique from my friend Joanne. Over the past few months, I've made dozens of hard boiled eggs using this method, and can happily say it's the best one I've ever tried. Now I actually enjoy making hard boiled eggs. If you have issues with hard boiling eggs, you simply must try this!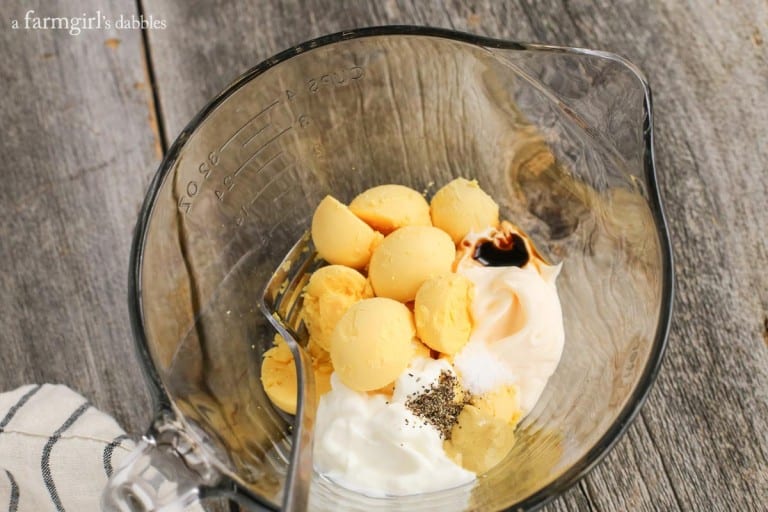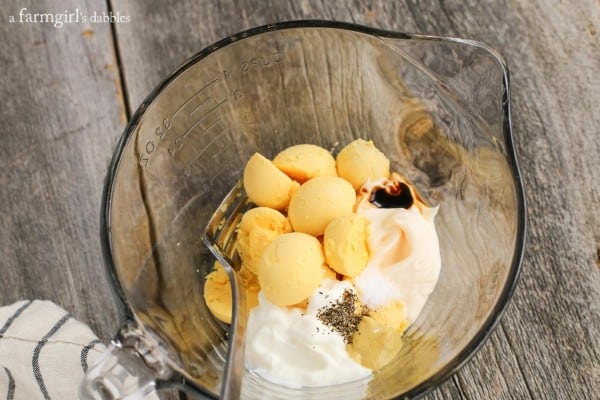 Like most deviled eggs fillings, this recipe for Smoky Tomato Deviled Eggs includes egg yolks, mayo, and mustard. I typically opt for the brighter flavor of good ol' yellow mustard, but in this recipe I used half regular yellow mustard and half Dijon, which gives the filling a bit more depth. You'll also find sour cream and a little Worcestershire, two ingredients that I've never before added to my deviled eggs.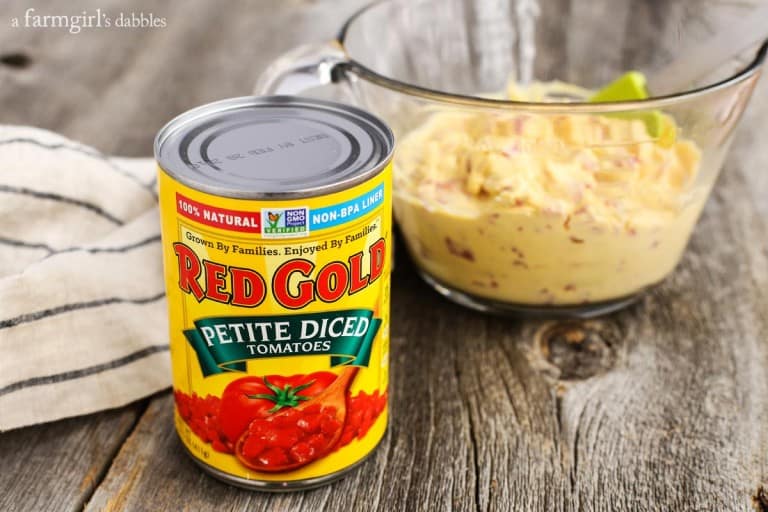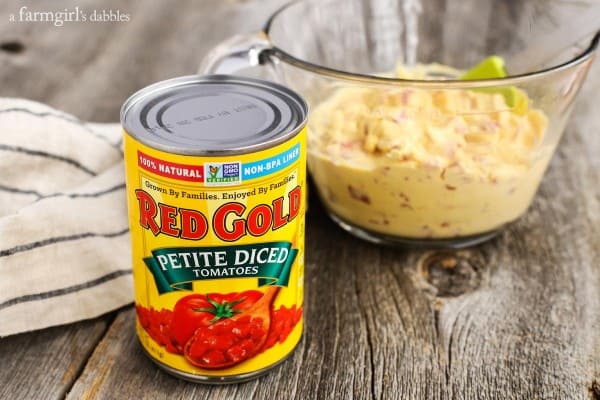 I've made deviled eggs with a fresh tomato garnish before. But I've never actually folded tomatoes into the yolk filling. So when I came across this Red Gold recipe, I was definitely intrigued. I needed to try it for myself.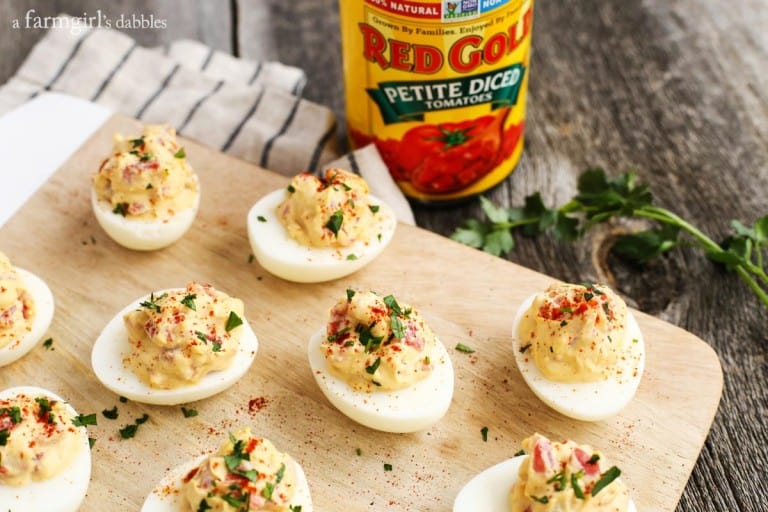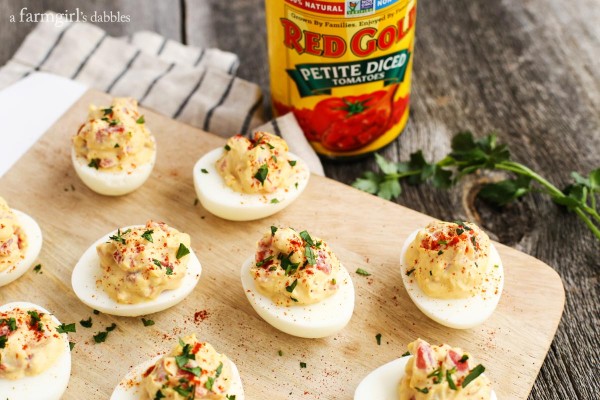 Red Gold is a family owned and operated company rooted in the Midwest. They've been growing gorgeous, tasty tomatoes for four generations. If you haven't seen it already, be sure to check out my findings when I took the Red Gold Challenge and compared Red Gold's canned tomatoes with another major brand's. Be prepared to be impressed with Red Gold.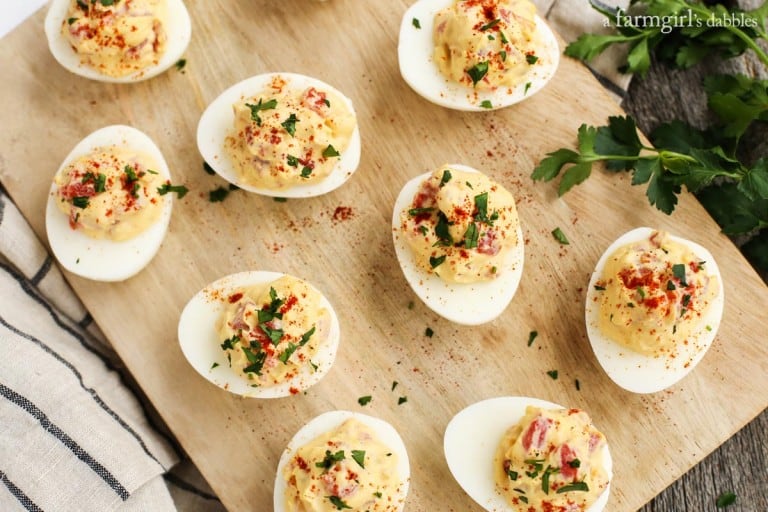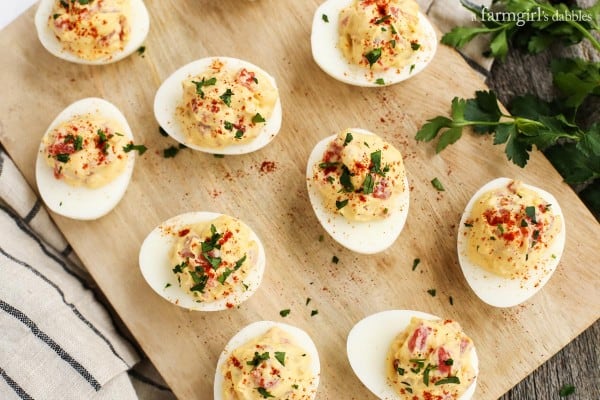 These deviled eggs are pretty to look at, with a flavorful filling that has pops of fresh tomato flavor. And I love what the smoked Spanish paprika does for these little bites. I found myself reaching for the deviled eggs with the heavier sprinklings of this smoky spice. Do yourself a favor and give each piece of deviled egg an extra pinch or two of paprika. You won't be sorry.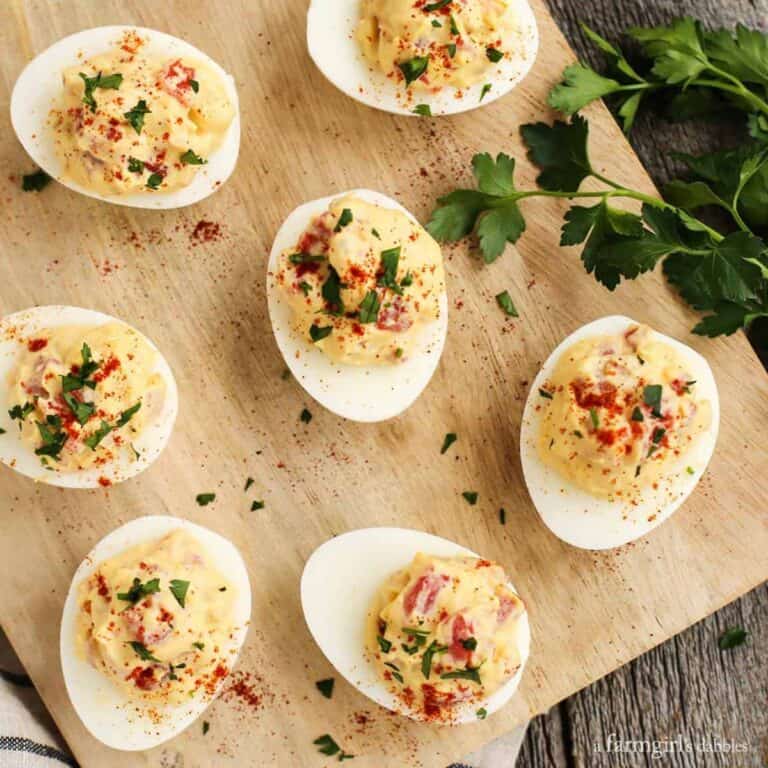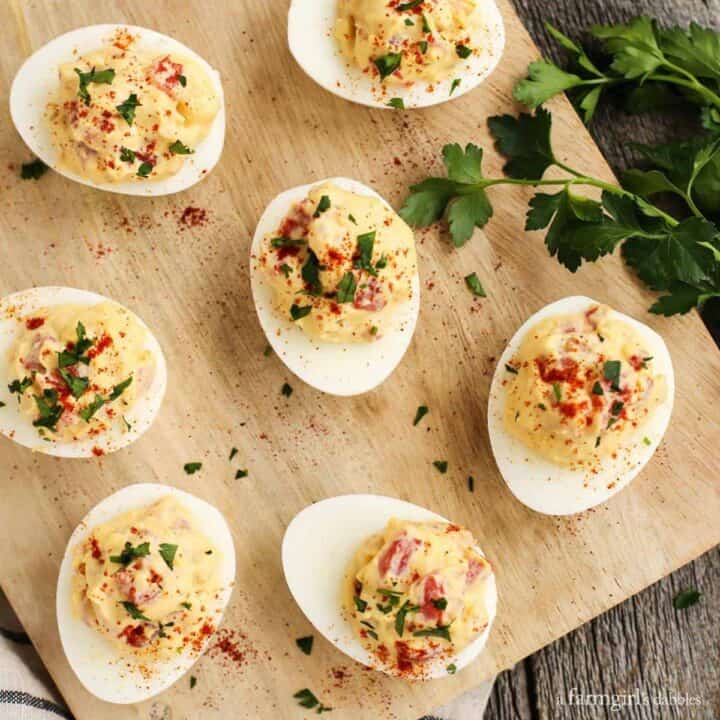 Smoky Tomato Deviled Eggs
Yield: 12 servings
Prep Time: 15 minutes
Total Time: 15 minutes
Smoky Tomato Deviled Eggs are the perfect casual appetizer, creamy and flavorful, with pops of fresh tomato flavor folded right into the filling!
Ingredients
1 14.5-oz. can Red Gold® Petite Diced Tomatoes
12 large eggs, hard boiled and peeled (This is the method I use – it's the best!)
1/4 c. mayonnaise
1/4 c. sour cream
1 tsp. lemon juice
1 tsp. Worcestershire sauce
1 tsp. Dijon mustard
1 tsp. prepared yellow mustard
1/4 tsp. kosher salt
smoked Spanish paprika
1 T. minced Italian parsley
Instructions
Drain petite diced tomatoes very well in a colander. When ready to use, press on the tomatoes gently with a paper towel to absorb any remaining excess liquid.
Cut eggs in half lengthwise and remove yolks. Place yolks in a medium bowl and mash with a fork. Add mayonnaise, sour cream, lemon juice, Worcestershire sauce, Dijon mustard, yellow mustard, and salt. Continue to mash with a fork until fully combined and smooth. For an even smoother filling, blitz the yolk mixture a few times with an immersion blender (optional). Fold in petite diced tomatoes. With a small spoon, fill the egg whites with the yolk mixture. Garnish with a good sprinkle of smoked paprika and a bit of the minced parsley. Serve immediately or refrigerate covered until ready to serve.
Nutrition Information:
Yield: 12
Serving Size: 1
Amount Per Serving:
Calories: 119
Total Fat: 10g
Saturated Fat: 3g
Trans Fat: 0g
Unsaturated Fat: 6g
Cholesterol: 191mg
Sodium: 165mg
Carbohydrates: 1g
Fiber: 0g
Sugar: 1g
Protein: 7g
Nutrition information is automatically calculated by Nutritionix. I am not a nutritionist and cannot guarantee accuracy. If your health depends on nutrition information, please calculate again with your own favorite calculator.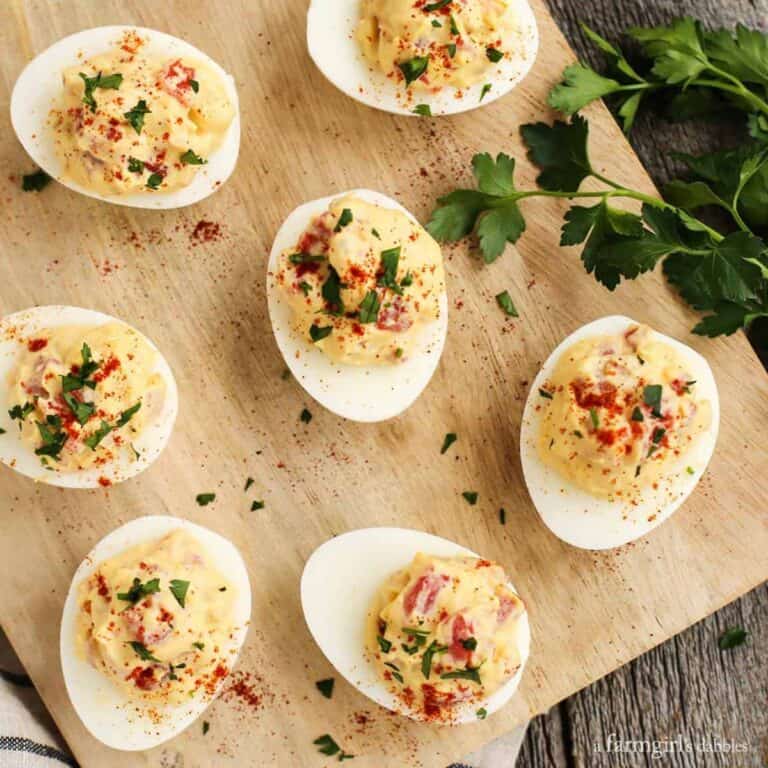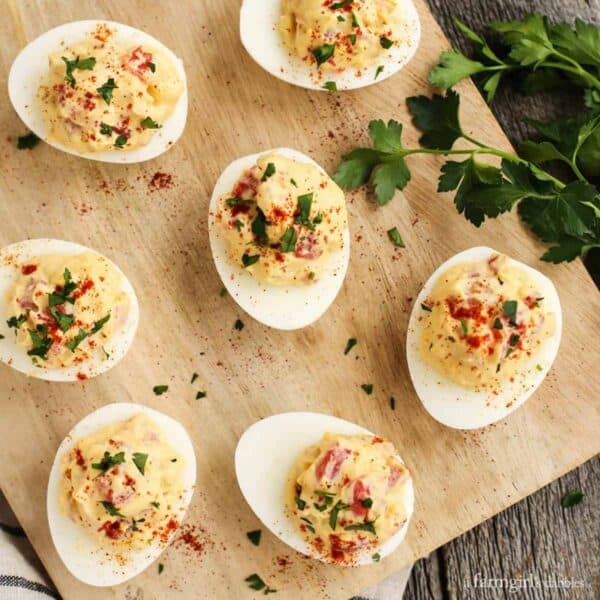 This post is sponsored by Red Gold Tomatoes. I am happy to be partnering with them this year, bringing you delicious recipes bursting with fresh, rich tomato flavor. All opinions are 100% my own. Thank you for supporting the brands that help make this site possible.