Pumpkin Biscuits with Candied Ginger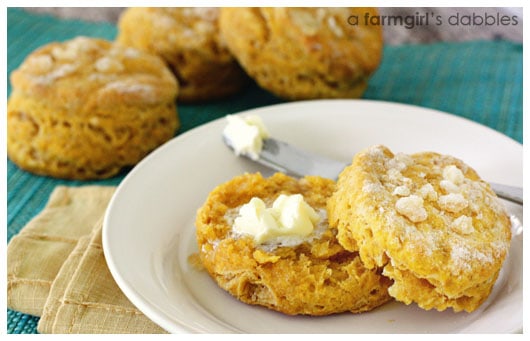 I think I'm in love with candied ginger.
Since making that incredible Pumpkin Cheesecake with Ginger and White Chocolate, I've had recurring cravings for the candied ginger's spicy sweetness, tender and irresistible.
Maybe you don't know about candied ginger? Well, sometimes it's called crystallized ginger. The names seem to be interchangeable. It is simply ginger that has been sliced very thin and cooked in a sugar syrup until its raw toughness is broken down, tenderized and sweetened. Then it can be dipped in sugar to add a thin crisp coating and another layer of sweetness. This process leaves the wonderful ginger pungency, but its bite is much softer. Quite beautiful. And perfect for adding a little zip in your baking.
This recipe for Pumpkin Biscuits with Candied Ginger has been in the making for a number of years. I first saw the pumpkin biscuits in Cooking Light many years ago, and that torn out magazine page has been in my file since then. I tried it once, liked the overall concept, but was disappointed in its un-flakiness and low profile. I wanted a biscuit that stood tall! So I held onto the recipe, vowing to return one day.
When my eyes, hungry for fall, caught sight of those biscuits again this year, I knew it was time. I found the recipe updated online, with a reinvention that looked like it just might be able to deliver this time. So I made a few changes, due to what I had on hand for ingredients and equipment.
And I couldn't resist topping each biscuit with a sprinkling of my new love, candied ginger.
The result was a beautiful golden biscuit with subtle pumpkin spiced sweetness. The candied ginger was the most perfect topper. And they baked up nice and tall!
These pumpkin biscuits would be a lovely alternative to your regular Thanksgiving dinner roll. Serve them warm with butter. Or, for an extra special treat, whip up some sweet cinnamon honey butter to slather on. I promise you, the biscuits won't last long!
Pumpkin Biscuits with Candied Ginger

Yield: 10 biscuits

Cook Time:14 minutes

Ingredients:

2 c. all-purpose flour
1 T. baking powder
1 tsp. cinnamon
1/8 tsp. freshly ground nutmeg
1/2 tsp. salt
5 T. unsalted butter, chilled and cut into 1/2" pieces
1/3 c. buttermilk
3/4 c. canned pumpkin puree (not pre-spiced pumpkin pie filling)
3 T. honey
2 T. chopped candied ginger (I love the stuff from Penzeys!)

Directions:

Preheat oven to 400°. Line baking sheet with parchment paper and set aside.

Whisk together flour, baking powder, cinnamon, nutmeg, and salt in a large bowl. Cut in butter with a pastry blender until mixture resembles coarse meal. Chill for 10 minutes in the refrigerator.

Combine buttermilk, pumpkin, and honey in a medium bowl. Whisk until well blended and then add to the chilled flour mixture. Stir just until moist.

Turn dough out onto a lightly floured surface and knead lightly just a few times. Roll dough into a 1/2" thick 9" x 5" rectangle and dust top of dough with flour. Fold the dough crosswise into thirds, as if folding a piece of paper to fit into an envelope. Roll the dough again into a 1/2" thick 9" x 5" rectangle and dust the top with flour. Fold dough crosswise into thirds again and gently roll or pat to a 3/4" thickness. This process helps to make your biscuits tall, with a layered textured. Using a 2-1/2" biscuit cutter, cut dough into 10 rounds. Place dough rounds 1" apart on your prepared baking sheet. Lightly press some candied ginger into the top of each round. Bake for 14 minutes, or until golden brown. Remove from pan and cool on wire rack for a couple minutes. Serve warm. (They're really good with Cinnamon Honey Butter!)

I'm linking up with the following this week: