Pumpkin and Fudge Layer Bars with Salty Crunchy Streusel
This post may contain affiliate links to products we use and love.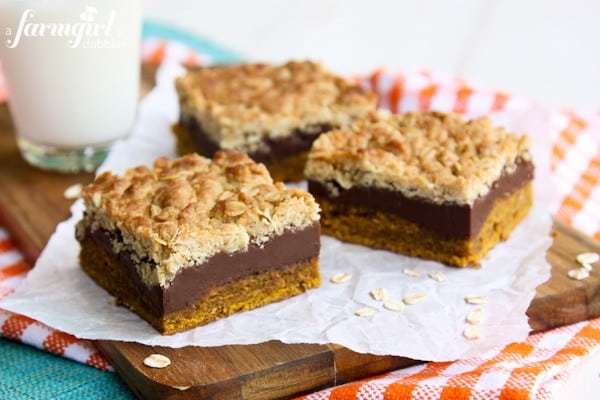 I've always liked layered desserts. Stripes of different colors and textures and flavors, all stratified like those geology book illustrations I've always found so intriguing. They both beg me to look closer, to investigate the composition of each band.
Take these Pumpkin and Fudge Layer Bars with Salty Crunchy Streusel, for example. Don't they make you want to reach into your screen and pull one out, so you can study each delicious layer?!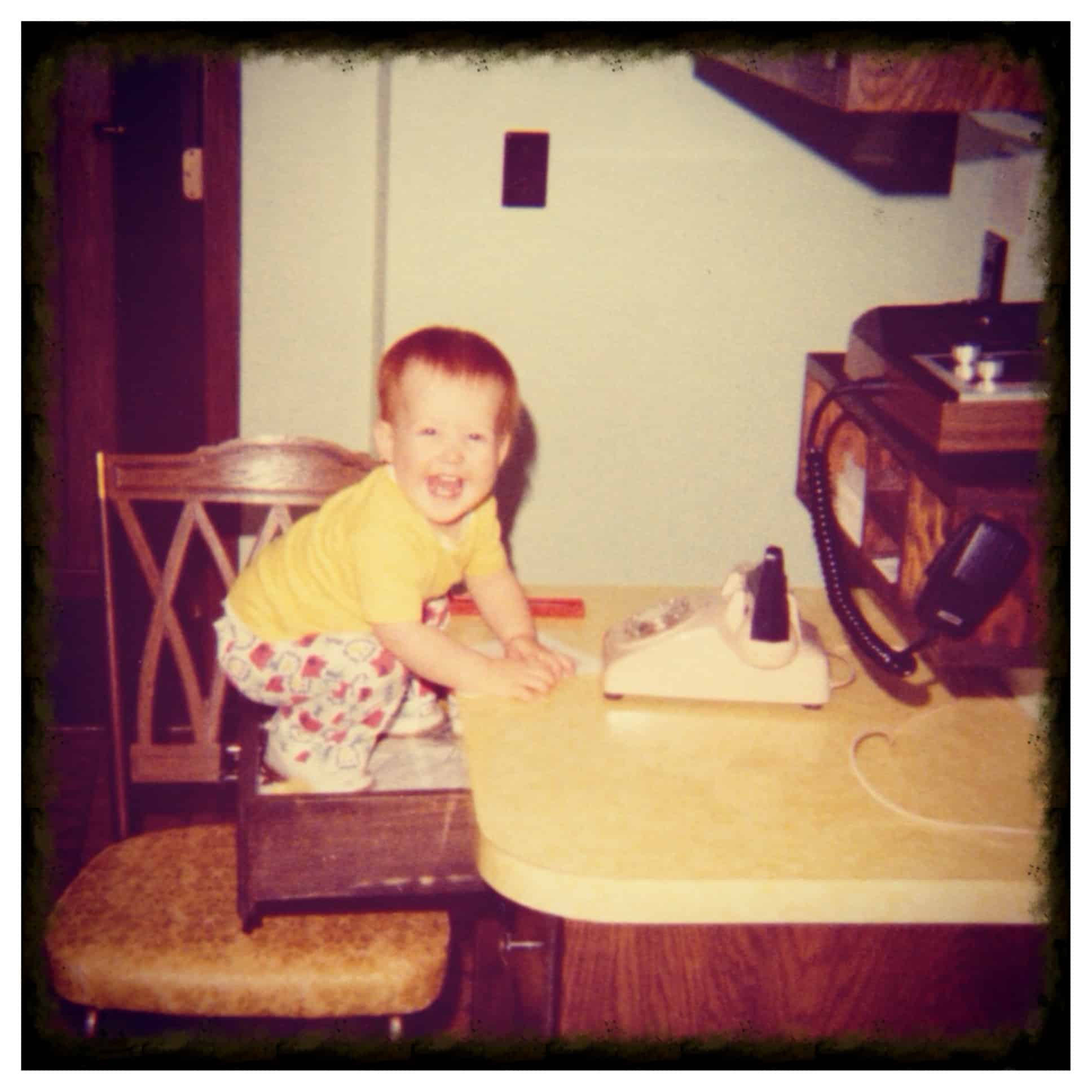 I created these bars, inspired by my sister Jessica's love for pumpkin and chocolate. The photo above, snapped back in 1977, is one of my very favorites. It captures the essence of my youngest sister. Vibrant, playful, mischievous even…with a never failing desire to talk. I'm pretty sure her goal in this photo was to get to the telephone or the farm's CB radio to get some conversation going!
Jessica will be celebrating her birthday over the upcoming weekend, and I'm taking this time and space to call out the beautiful person she is. Although her "abundance of life" can often make me dizzy in the head, I also know her to be one of the most tender and thoughtful people in my life. She's a sweetheart that is always thinking about you, rooting for you, praying and hoping for your very best. She will compromise her own comfort to help you. Or someone she barely knows, for that matter. She's a giver. Has alwaaaaaayyyys been a giver. It's quite normal to receive a special birthday gift six months before your birthday, only to receive another gift on your actual birthday. Giving is her joy. And I'm so blessed to call her my friend.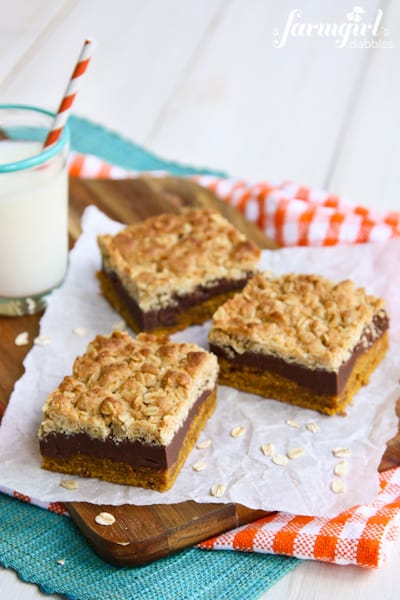 These "Happy Birthday Jessica" treats are layered with dense spiced pumpkin cake, thick fudgy chocolate, and scrumptiously salty crunchy yum. Special enough for a birthday, common enough to be called a bar, they make a great dessert for any fall gathering.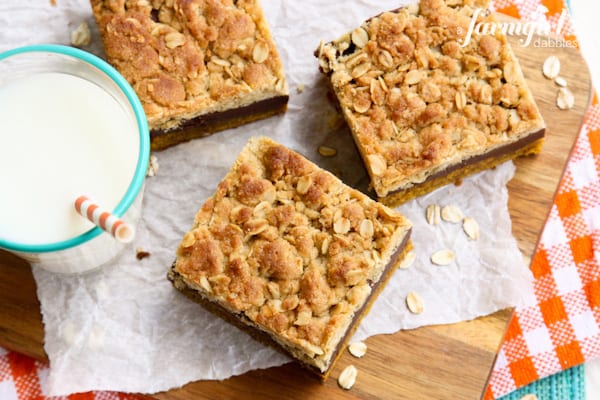 Happiest Birthday to you, dear Jessica.
♥ ♥ ♥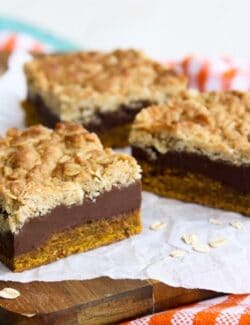 Pumpkin and Fudge Layer Bars with Crunchy Streusel
Ingredients:
for the pumpkin layer:
3/4 c. butter, at room temperature
1 c. packed brown sugar
1 c. pumpkin puree
2 large eggs
2 tsp. pure vanilla extract
1-3/4 c. all-purpose flour
1/2 tsp. baking soda
1 T. cinnamon
1/2 tsp. allspice
1/2 tsp. nutmeg
1/4 tsp. kosher salt
for the fudge layer:
1 14-oz. can sweetened condensed milk
14 oz. semi-sweet chocolate chips
for the salty crunchy streusel:
3/4 c. all-purpose flour
3/4 c. old fashioned oats
3/4 c. brown sugar
1-1/2 tsp. kosher salt
1 tsp. baking powder
1/2 c. unsalted butter, at room temperature
Directions:
Preheat oven to 350°. Lightly spray a 9"x13" pan with non-stick cooking spray. Set aside.
for the pumpkin layer:
In the bowl of a stand mixer, cream butter and sugar on medium-high speed until light and fluffy. Add pumpkin, eggs, and vanilla, and beat to combine. In a medium bowl, whisk together flour, baking soda, cinnamon, allspice, nutmeg, and salt. Add dry ingredients to the wet ingredients, and slowly incorporate until batter is smooth, scraping down sides of bowl as needed. Spread batter into prepared pan.
for the fudge layer:
In a medium saucepan over low heat, combine sweetened condensed milk and chocolate chips. Stir constantly, until chocolate is melted. Remove from heat and very quickly spread fudge layer over pumpkin layer. As the fudge cools, it becomes harder to spread.
for the salty crunchy streusel:
In a medium bowl, whisk together flour, oats, brown sugar, salt, and baking powder. Add butter. Use a rigid pastry cutter or a fork to cut in the butter until you have pea-size crumbs. Sprinkle evenly over the fudge layer, pressing it into the fudge just a little bit.
Bake for 28 to 30 minutes. Place under broiler for a minute or two to get a more golden color and crunchier streusel. Set on wire rack to cool completely.
from a farmgirl's dabbles
©
We participate in the Amazon Services LLC Associates Program, an affiliate advertising program designed to provide a means for us to earn fees by linking to Amazon.com and affiliated sites. See our
disclosure policy
for more info.