Paula's Chewy Ginger Cookies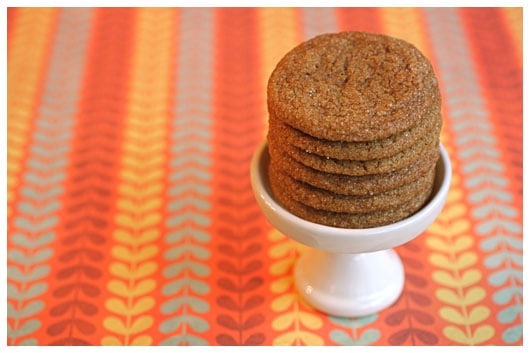 I don't recall ever really liking ginger cookies.  And I believe the biggest reason why is that whenever I was offered one, it was always a hard cookie.  A dunking sort of cookie.  And that just wasn't my thing.  I like my cookies soft and chewy.
So when a plate of soft and chewy ginger cookies showed up at work a few years ago, I was completely stunned by this marvelous creation.  I had no idea there was such a thing as a soft ginger cookie!  And I've been searching for a good recipe ever since.
I recently came across this delicious recipe from Paula of The Vanilla Bean Baker, a lady who has shown me kindness and encouragement from the get-go of my own blog.  I don't know if they come much sweeter than Paula.  She's a real gem, always baking sweet treats for someone, somewhere.  So I am just thrilled that my family now has her Chewy Ginger Cookies in our recipe box.  They are lovely little bites of spiced yumminess, soft and chewy, and perfect for this time of year.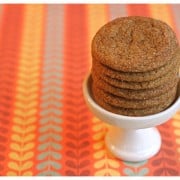 Paula's Chewy Ginger Cookies
Yield: 4 dozen cookies
Cook Time:8 to 10 minutes
Calories per serving: 71
Ingredients:
3/4 c. butter
1 c. brown sugar
1 large egg
1/4 c. molasses
2 c. all-purpose unbleached flour
1 tsp. baking soda
1 tsp. ground cinnamon
1 tsp. ground ginger
1/2 tsp. cloves
1/2 tsp. salt
sugar, for rolling dough balls in
Directions:
Beat butter and sugar until creamy. Add egg and molasses and beat until well mixed.  Combine all the dry ingredients in one bowl and stir well. Add wet ingredients until well combined. Chill dough for at least 2 hours or overnight, as the dough is quite sticky.
Preheat oven to 375°. Roll chilled dough into 1″ balls and then roll the balls in sugar. Place sugared dough balls on parchment lined baking sheet and bake until cracks form on top of the cookie, about 8 to 10 minutes. Be careful to not over bake. Remove from the oven and let sit on the baking sheet for a few minutes before moving to a cooling rack.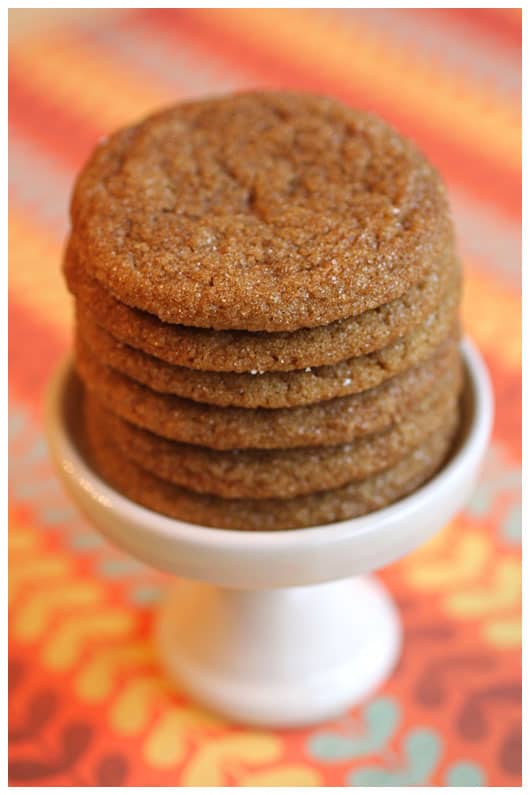 We participate in the Amazon Services LLC Associates Program, an affiliate advertising program designed to provide a means for us to earn fees by linking to Amazon.com and affiliated sites. See our disclosure policy for more info.