Parmesan Black Pepper Galette with Sweet Potato and Apple
This post may contain Amazon or other affiliate links. As an Amazon Associate I earn from qualifying purchases.
This Parmesan Black Pepper Galette with Sweet Potato and Apple is easy to make and bakes up tender, flaky, and delicious.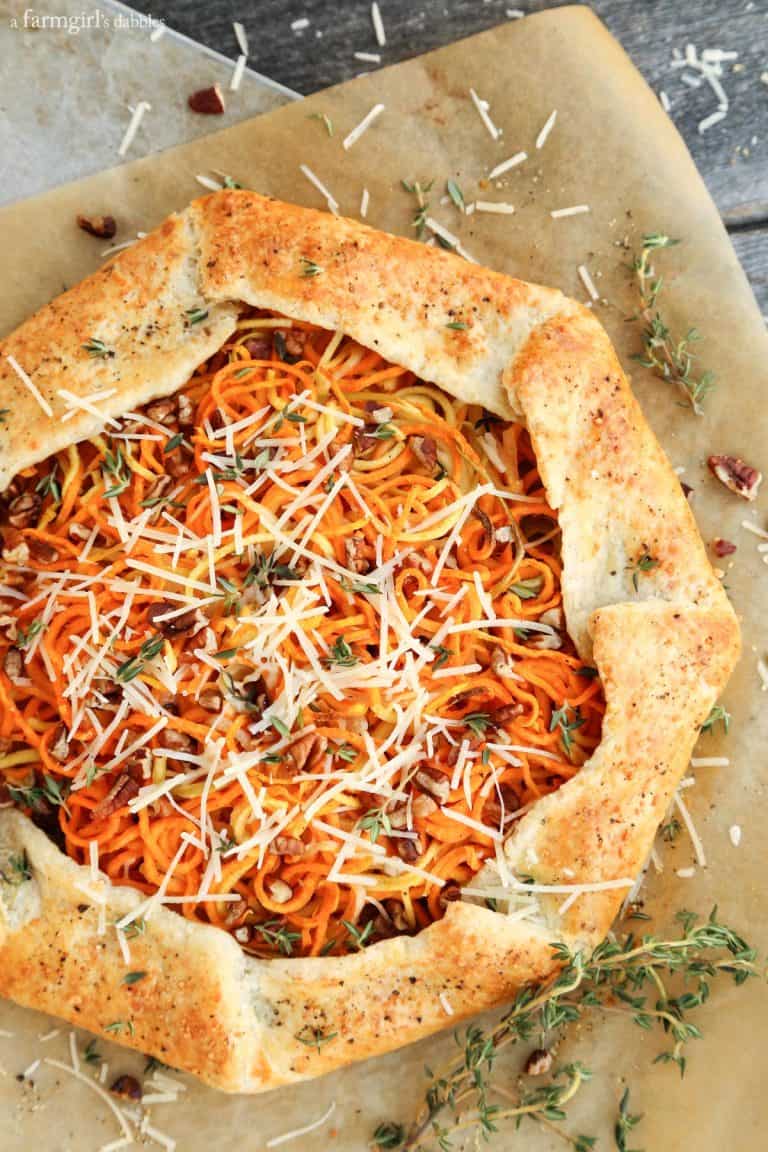 Preparing holiday menus, in anticipation of treating family and friends to a special meal, can be both exciting and daunting. I always try to think just a bit outside the box, to serve familiar flavors in fresh, new ways.
This Parmesan Black Pepper Galette with Sweet Potato and Apple has been a big hit at our house this fall. I cannot believe how quickly this savory free-form pie has disappeared each time we've made it!
* This is a sponsored post, created in partnership with Crystal Farms® Cheese.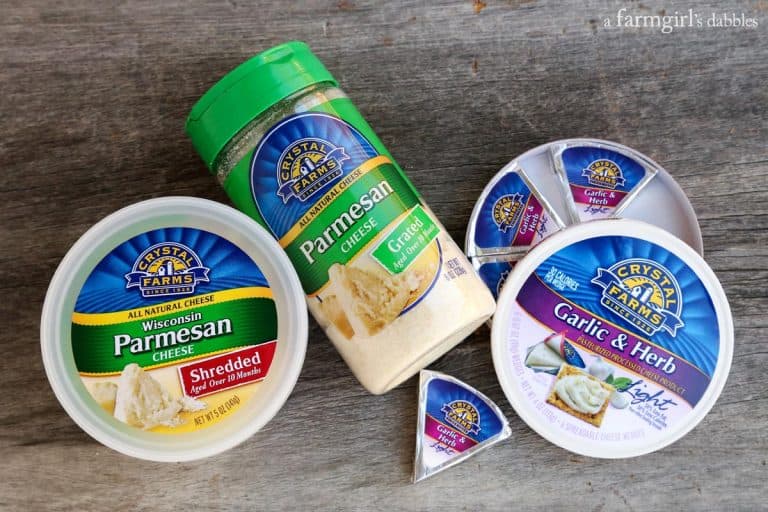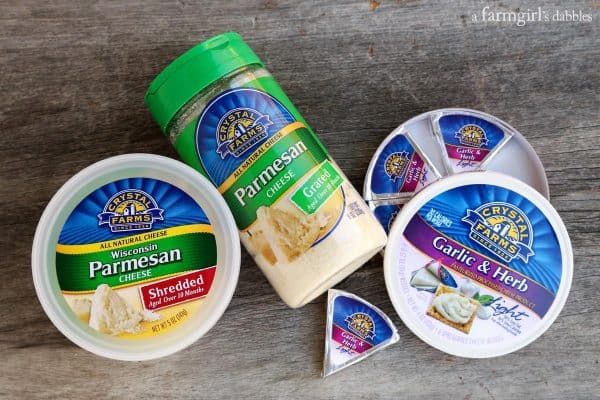 I'm both happy and honored to continue my partnership with Crystal Farms into 2017. Proud of my Midwestern roots, I love to help shine a light on products that I use from this area. I grew up in South Dakota, lived in North Dakota for about 10 years, and have called Minnesota home for the past 17+ years. And Crystal Farms is located just across the border, in Lake Mills, Wisconsin. I'd call that being neighbors.
You can always find Crystal Farms® Cheese in our refrigerator. Crystal Farms is one of the largest cheese brands in the country, which seems pretty obvious to me when I walk down the dairy aisles of many of our local grocery stores. Crystal Farms offers so many varieties of cheese, in a wonderful assortment of both type (shredded, block, sliced, string, crumbled, shaved, grated, spreadable, etc.) and flavor (too many to mention!). They have been making cheese since 1926, committed to providing the highest quality products to all of us cheese lovers.
In this galette recipe, I used three different kinds of Crystal Farms Cheese:
Crystal Farms Shredded Parmesan Cheese
Crystal Farms Grated Parmesan Cheese
Crystal Farms Garlic & Herb Spreadable Wedges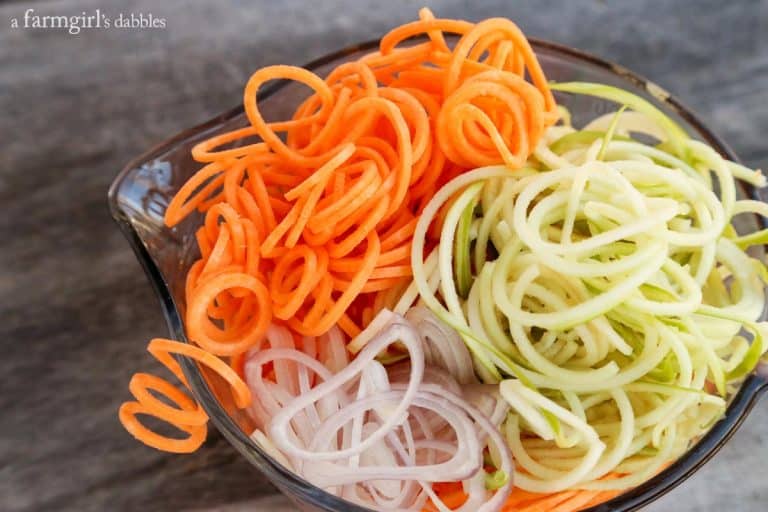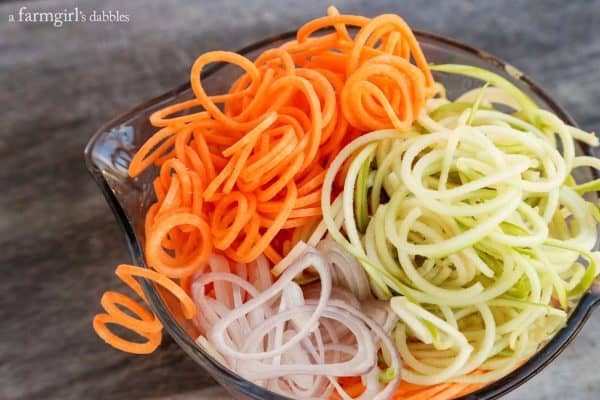 Our family has recently discovered a newfound love of sweet potatoes, and that was my starting point when thinking about how to fill this Parmesan black pepper galette. Green apples add a sweet + bright + tart flavor, and some thinly sliced shallot brings the whole thing together.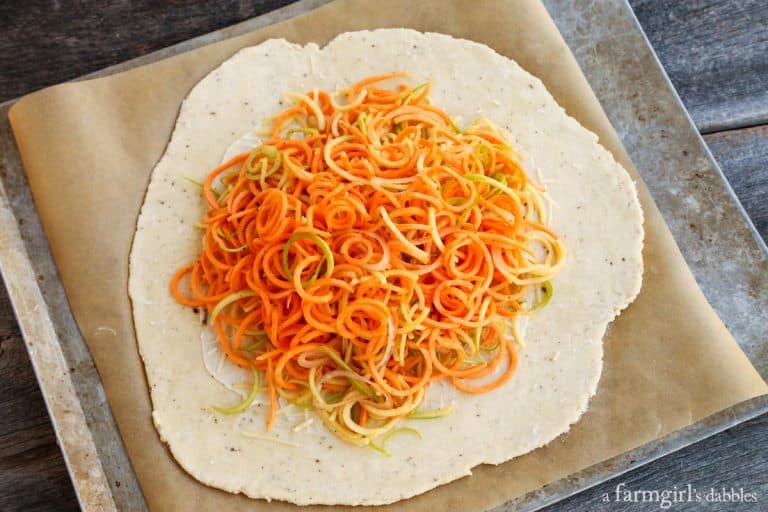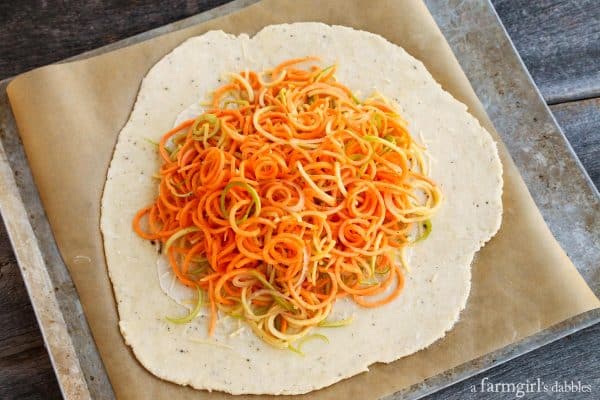 I'm a bit impaired when it comes to creating beautiful pie crusts. I definitely did not inherit my mom's genes in that department. But what I can make is a pretty fantastic galette. This dough is super forgiving, very easy to work with. In fact, our youngest daughter, 9 years old, made this galette all on her own last weekend, with me just standing by for supervision. Yes, it's that easy.
Grated Parmesan is incorporated into the flaky, buttery crust, along with a good amount of freshly cracked black pepper, both contributing to a wonderful depth of flavor. And then creamy Garlic & Herb Spreadable Wedges are schmeared over the bottom of the crust, followed by a hefty sprinkling of shredded Parmesan. Then the simple, fresh filling is piled high in the center.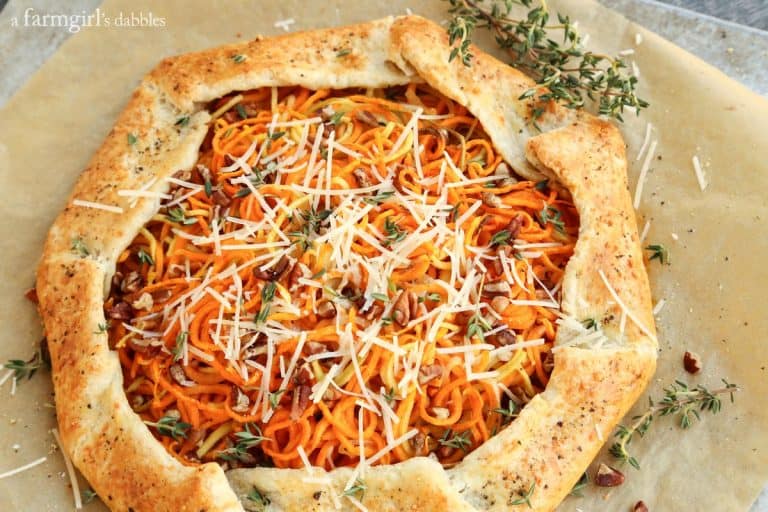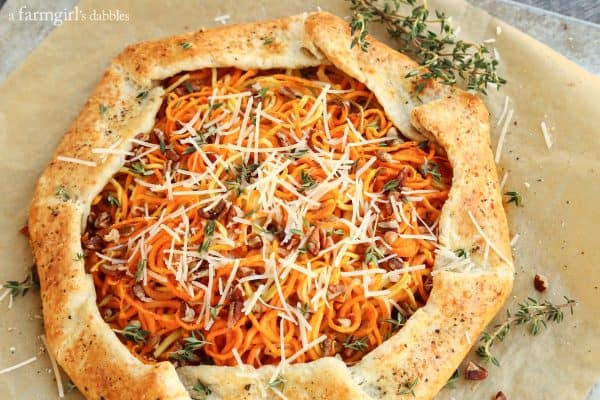 The edges of the dough get folded up over the pecan-scattered filling, brushed with a bit of egg wash, and then sprinkled with a little more grated Parmesan and black pepper. The galette bakes up golden and so very pretty. Before setting it on the table, it gets topped with a little more shredded Parmesan and fresh thyme leaves. Don't forget the thyme. It's the final beautiful touch of flavor.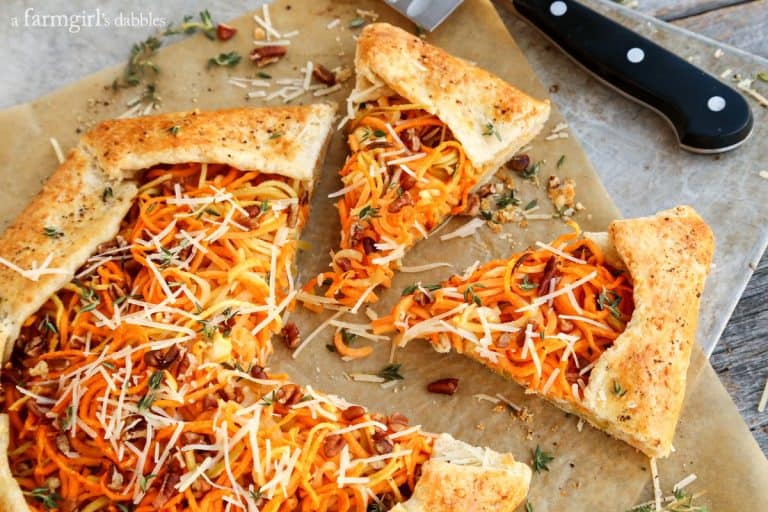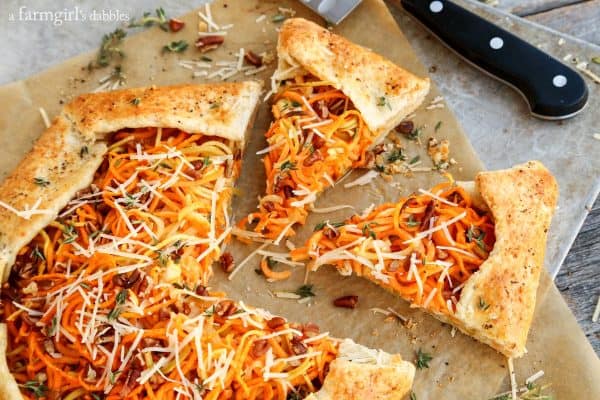 Each time this galette is served, our girls gush about how good the crust is. It's flaky and flavorful with Parmesan, one of their favorite cheeses, so it's really no wonder.
If you're looking for a little different way to add the wonderful fall goodness of sweet potatoes and apples to your upcoming holiday menu, this galette would make a most excellent choice. Enjoy!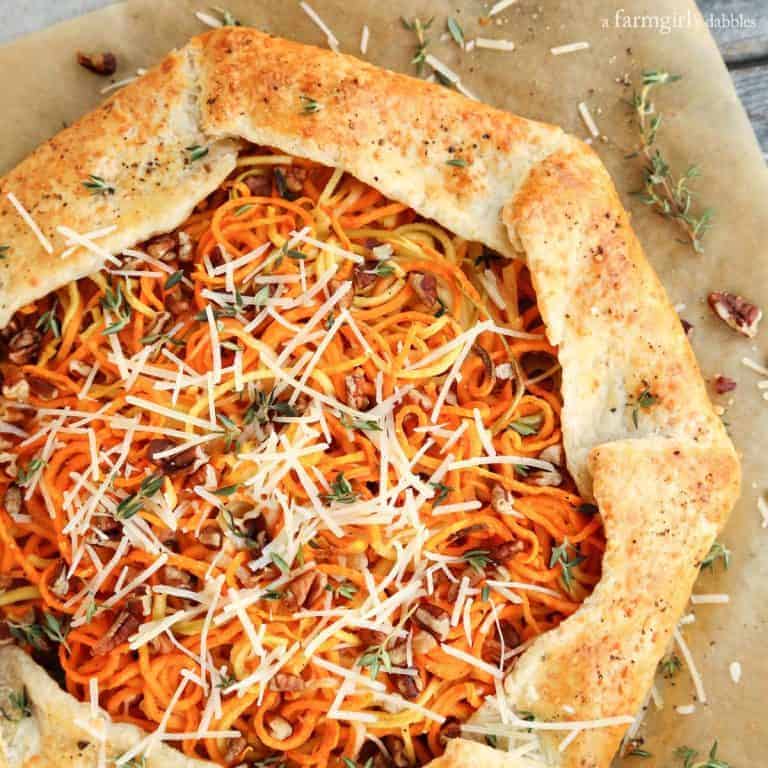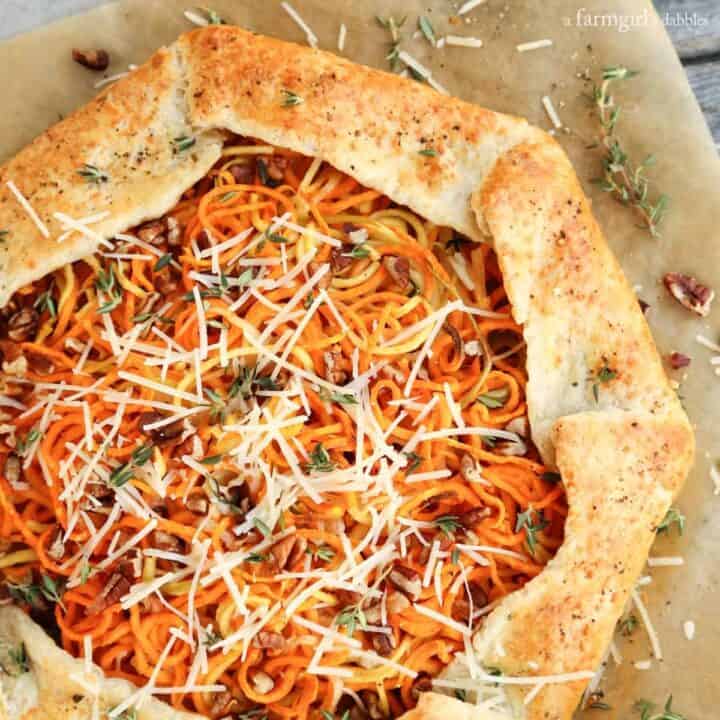 Parmesan Black Pepper Galette with Sweet Potato and Apple
Yield: 8 servings
Prep Time: 20 minutes
Cook Time: 50 minutes
Total Time: 1 hour 10 minutes
This Parmesan Black Pepper Galette with Sweet Potato and Apple is easy to make and bakes up tender, flaky, and delicious.
Ingredients
for the crust:
1.5 c. all-purpose flour
1/4 c. Crystal Farms Grated Parmesan Cheese
1 tsp. freshly ground black pepper
1/2 tsp. kosher salt
1/2 c. cold unsalted butter, cut into small pieces
6 T. ice water
for the filling:
1 T. unsalted butter
1 T. olive oil
6 oz. spiralized sweet potato (peeled)
6 oz. spiralized Granny Smith apple (cored, unpeeled)
half of a large shallot, very thinly sliced into rounds
1/2 tsp. kosher salt
1/4 tsp. freshly ground black pepper
to assemble the galette:
2 individually wrapped wedges of Crystal Farms Garlic & Herb Spreadable Wedges
1/2 c. Crystal Farms Shredded Parmesan Cheese, plus a bit more for sprinkling over the galette right before serving
1.5 T. roughly chopped pecans
1 large egg beaten with 1 T. water
a bit of Crystal Farms Grated Parmesan Cheese
a bit of freshly ground black pepper
1 tsp. fresh thyme leaves
Instructions
for the crust:
Add flour, grated Parmesan, black pepper, and salt to the bowl of a food processor and pulse a few times to combine. Add butter pieces and pulse until you have small pea-sized crumbs.
Sprinkle ice water over the flour mixture and pulse until the dough comes together. Pat dough into a 5" round disk on a piece of plastic wrap. Then wrap the dough up nice and tight, and refrigerate for 30 minutes.
Preheat oven to 425° F. Line a baking sheet with parchment paper and set aside.
for the filling:
Prepare the filling while dough is chilling. Place butter in a large microwave-safe bowl and melt gently. Whisk in oil. Then add sweet potato, apple, and shallot, and toss until everything is coated evenly. Sprinkle with salt and pepper and toss a couple more times to combine. Set aside.
to assemble the galette:
On a lightly floured surface, roll the dough into a 12" diameter circle. Transfer dough to prepared parchment-lined baking sheet. Place spreadable wedges in a very small bowl or a cup, and stir with a small rubber spatula until super creamy. Spread this over the center of the dough, leaving a bare strip around the perimeter, about 1-1/2" wide. Sprinkle spreadable wedges with shredded Parmesan, and then add prepared filling, spreading it out into an even layer, and still leaving the 1-1/2" outside perimeter bare.
Sprinkle filling with pecans. Fold bare edges of dough over the filling. Lightly brush exposed edges of crust with egg wash, and then sprinkle with a bit of grated Parmesan and freshly ground black pepper.
Place a very loose tent of foil over the galette, so the foil isn't touching the dough. Bake for 15 minutes. Then create a smaller circle of foil (no need to be fussy, just aim to cover the filling in the center so it doesn't brown too quickly) and place directly on top of filling. Bake for another 25 minutes. Remove foil entirely and bake for another 5 to 10 minutes, until crust is golden and sweet potato is tender with just a bit of bite left to it.
Remove from oven and let cool for 5 minutes. Sprinkle with a bit of shredded Parmesan and the fresh thyme leaves. Cut into wedges and serve hot.
Notes
from a farmgirl's dabbles
Nutrition Information:
Yield: 8
Serving Size: 1
Amount Per Serving:
Calories: 304
Total Fat: 19g
Saturated Fat: 10g
Trans Fat: 0g
Unsaturated Fat: 8g
Cholesterol: 64mg
Sodium: 458mg
Carbohydrates: 27g
Fiber: 2g
Sugar: 4g
Protein: 7g
Nutrition information is automatically calculated by Nutritionix. I am not a nutritionist and cannot guarantee accuracy. If your health depends on nutrition information, please calculate again with your own favorite calculator.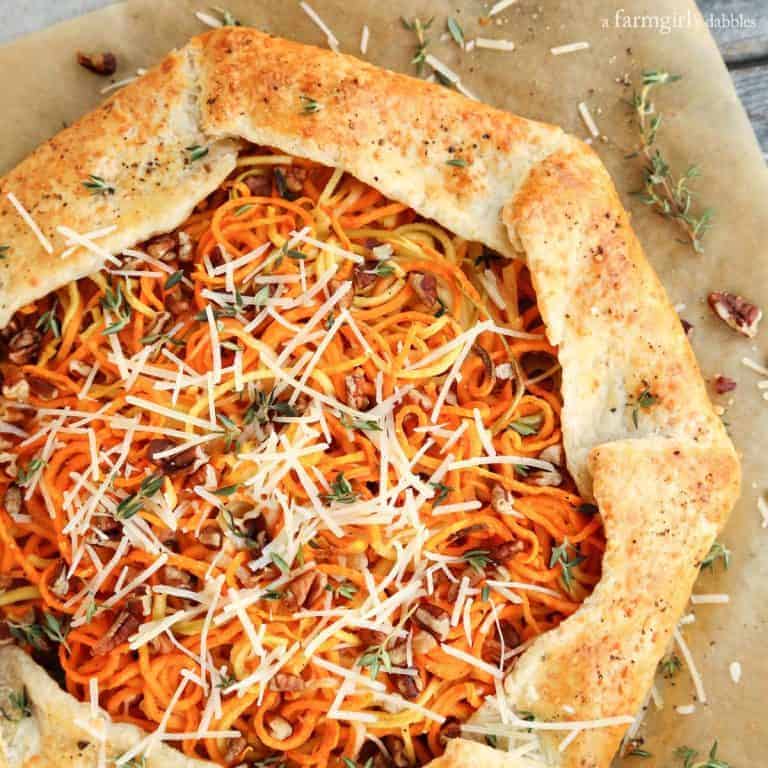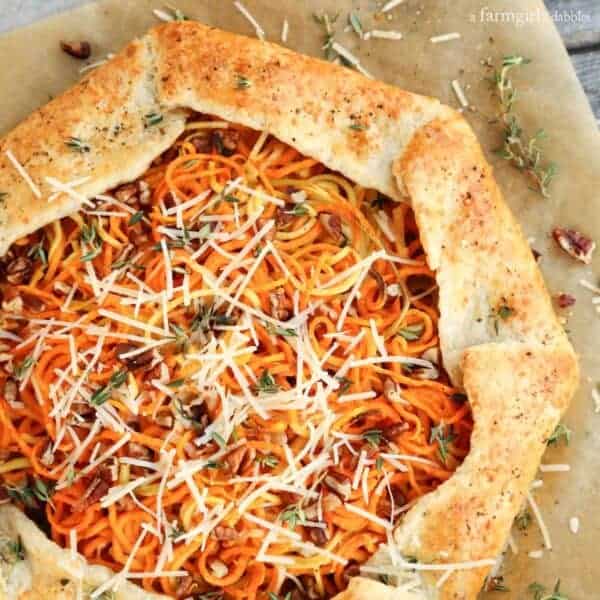 For more Crystal Farms #cheeselove, be sure to check them out on their website. You can also find them on social media on Facebook, Twitter, and Pinterest.
This post was created in partnership with Crystal Farms® Cheese of Wisconsin. All text and opinions are mine. Thank you for supporting the brands that help make this site possible.
We participate in the Amazon Services LLC Associates Program, an affiliate advertising program designed to provide a means for us to earn fees by linking to Amazon.com and affiliated sites. See our
disclosure policy
for more info.