Octoberbark
This post may contain Amazon or other affiliate links. As an Amazon Associate I earn from qualifying purchases.
This Octoberbark is a great way to use up all that Halloween candy you have around the house!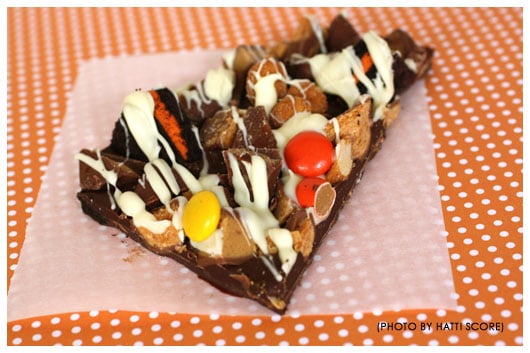 First of all, please take a look at this picture for me. Very nice angle, huh? Thanks to my eight year old daughter, Hatti, I have this awesome picture of some rockin' Octoberbark. She is always interested in what's going on in the kitchen, and especially perks up when the camera surfaces. I just had to turn my beloved Canon over to her for a few shots. And I particularly liked this one.
Now, let's talk candy! I remember eating candy bars in junior high and high school quite a bit. Actually, probably, too much, really. Because, back then, I could actually get a full size candy bar AND a glass of pop with my allotted dollar from Dad whenever we went to a school sporting event.
That little gig ended many years ago, though, and it's a very rare thing for me to buy a candy bar these days. But when I saw this idea in the latest Bon Appetit magazine, I was mesmerized. All my favorite candies were lovingly chopped into bite size pieces and strewn across a bed of melted chocolate. I knew it wasn't exactly the healthiest thing for myself or my family, but it's all about moderation and sharing the yummies with friends. So I fought through my conscience and picked up numerous bags of high sugar content candy.
And I felt good about it. Yes, I honestly did! So good, in fact, I have declared this our new October tradition.
Hark! Octoberbark!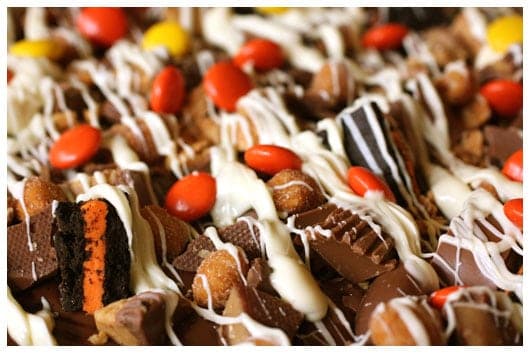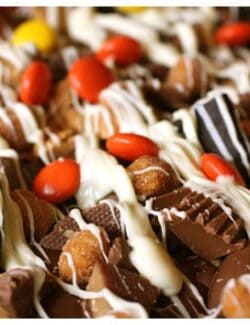 Octoberbark
Ingredients:
8 oz. bittersweet chocolate chips (or 16 oz. bittersweet chocolate, omitting the semi-sweet)
8 oz. semi-sweet chocolate chips
6 oz. Butterfinger candy bars, cut into irregular bite-size pieces
4 oz. Heath or Skor toffee candy bars, cut into irregular bite-size pieces
4 oz. Reese's peanut butter cups, cut into irregular bite-size pieces
6 Halloween Oreos, quartered
1/4 c. honey-roasted peanuts
4 oz. white chocolate, chopped
1/4 c. Reese's Pieces yellow and orange candies
Note:  This is so adaptable – use what YOU like.  The original recipe calls for a bittersweet chocolate base, but I knew my husband would enjoy it more if it wasn't quite so dark, so I used half bittersweet and half semi-sweet.  I happen to like all the candy from the original recipe, so I used all that was suggested.  And I added some Halloween Oreos.  I would like to try it with Twix and Rolo's, too!
Directions:
Line baking sheet with aluminum foil.  Stir chocolate chips in heavy medium saucepan over low heat until melted and warm (not hot) to touch.  Pour chocolate onto foil and spread to 1/4″ thickness (about 12″ x 10″ rectangle). Sprinkle with Butterfinger candy, toffee, peanut butter cups, Oreos, and nuts, making sure all pieces touch melted chocolate to adhere.

Put white chocolate in heavy small saucepan.  Stir contantly over very low heat until chocolate is melted and warm (not hot) to touch.  Remove from heat.  Dip spoon into chocolate and wave from side to side over bark, creating zigzag lines.  Scatter Reese's Pieces over, making sure candy touches melted chocolate.

Chill bark until firm, about 45 minutes.  Slide foil with candy onto work surface and peel off foil.  Cut bark into irregular pieces.
We participate in the Amazon Services LLC Associates Program, an affiliate advertising program designed to provide a means for us to earn fees by linking to Amazon.com and affiliated sites. See our
disclosure policy
for more info.