My Kitchen Garden
This post may contain Amazon or other affiliate links. As an Amazon Associate I earn from qualifying purchases.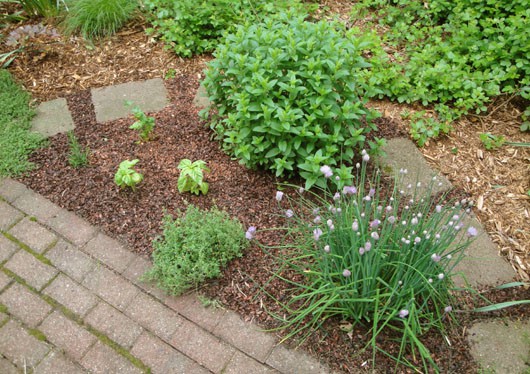 When we first moved into our home, there was an area right outside our backyard door that was planted solid with lily of the valley. The area measured about 20′ x 8′. Solid lily of the valley. I do think that this plant is pretty, and that it has its place in a shady woodland garden. But this was not the spot for it. It received far too much sun and would end up looking fried halfway through summer. It felt like a lazy uncared for ground cover to me.
So I ripped it out.
It was ALOT of work.
Then I turned once again to my sister, Cheryl (see my post on alliums), for ideas on how to incorporate an herb garden out our back door. I expressed wanting an accessible spot, one that I would actually use because it would be so darn easy, fun, and close to the kitchen.
Cheryl suggested planting the majority of the space once inhabited by lily of the valley with a variety of plants – some low growing sumac, a red twigged dogwood, a beautiful deep pink climbing rose, my great-grandmother's dark purple clematis, etc. Then, with her beautiful landscape-designer-pencil-strokes (I love to look at her hand drawn landscape plans!), she marked out on a piece of blue grid paper a small area she lovingly referred to as my "kitchen garden", an area that would eventually flow into the rest of the yard plan (still not finished) she was scheming up.
So I put Cheryl's plan into motion and dug in a few concrete walking pavers around the garden's perimeter, according to her sketching. Besides giving easy access to the back side of the kitchen garden, these pavers are a favorite path for our girls to play on. They rub the leaves of different herbs between their fingers, and then bring their fingers to their noses to take it all in. I've even been known to find various herb leaves in little pockets as I'm doing laundry. :-)
Next step: install herbs.
I added some good garden soil and then took Cheryl's wise advice when planting the mint, a highly invasive plant that can be a real pain to keep in check. She told me to plant my mint in a 12″ diameter plastic pot with drain holes in the bottom, then plant the whole thing in my kitchen garden, pot and all. And this method has worked great! I still get some mint shoots popping up here and there, but it's very easy to maintain by simply pulling out the strays. Mint is a perennial, so it's really a no-brainer to plant some if you like to use it during the summer.
Two other cold-hardy herbs that come back year after year are chives and thyme. I can't live without them in our summer grilling.
Then I usually buy each year the more tender Italian parsley, rosemary, and basil . I plant oregano every now and then, too.
To finish it off, I spread some cocoa bean mulch. This dark mulch helped to differentiate visually the kitchen garden from the rest of the planted area that has lighter colored wood mulch, plus…I LOVE cocoa bean mulch! It's beautiful and really does smell like chocolate! And being right outside my kitchen window, I get to smell the lovely aroma as I'm washing dishes at the sink. I would like to have this mulch in all my garden beds, but it is very lightweight and considerably costlier than the wood mulches. So this small area proved the perfect spot to get my cocoa bean mulch fix.
I hope this example of my kitchen garden inspires others to look for a spot in their own yard to do the same. If you don't have ground area to plant herbs, it also works great to tuck them into pots. It really does make summer cooking and grilling a treat!
Here are some suggestions for using the fresh herbs I planted this year… Mint…use in refreshing summer lemonades and mojitos, or as a garnish. Chives…add their sweet and delicate onion flavor as a baked potato topper, or in soups and stews. Add the pretty purple flowers of chives to salads or plates as a garnish. The long green strands of chives also add distinction and color to dishes when used to bundle together cooked vegetables, such as carrots and asparagus. Thyme…add character to poultry and meat dishes, soups and stews. I strongly recommend roasted potatoes with thyme, with a crumbling of goat cheese added at the end. Italian parsley…sometimes known as flat-leaf parsley, this herb gives a clean, slightly peppery taste to finish off a salad or pasta. Rosemary…add this sweet yet pungent herb to roasted meat, in particular poultry, fish, and pork. It is also wonderful in breads, biscuits, soups, and vegetable dishes. I especially like it with grilled or roasted potatoes. Rosemary can easily overpower a dish, though, so start with small quantities. Flavored oils and vinegars also love the stuff. Basil…for making basil pesto – to use instead of pizza sauce on homemade pizzas, or to stir into pasta. This herb was meant for tomatoes, so use in any variety of tomato salads. Our favorite tomato salad is a very simple mix of fresh tomatoes, fresh mozzarella, and torn basil leaves – finished off with a drizzle of balsamic vinegar and olive oil, and a sprinkle of kosher salt and freshly cracked pepper.
Ahhhhhh…summer!
Do you have a favorite fresh herb?
Or a special "kitchen garden" spot?
How do you use fresh herbs?
We participate in the Amazon Services LLC Associates Program, an affiliate advertising program designed to provide a means for us to earn fees by linking to Amazon.com and affiliated sites. See our
disclosure policy
for more info.