Mom's Microwave Caramel Popcorn
All you need are about 15 minutes, plus a few simple ingredients, a microwave, and a brown paper bag for my Mom's Microwave Caramel Popcorn!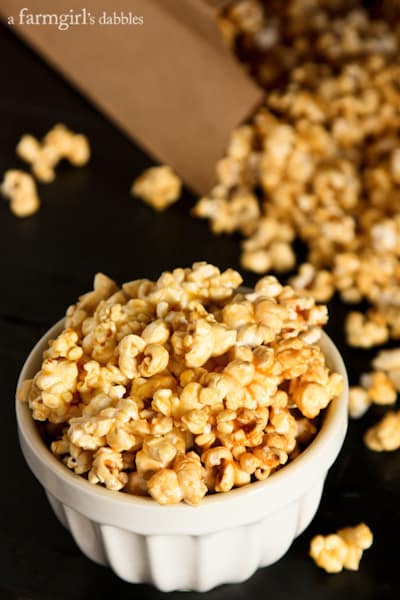 It's this time of year, during the holidays, that my craving for caramel popcorn is fiercest. As if there weren't enough sweets to be had with all the pretty cookie platters and holiday gatherings. But my craving is what it is, and I don't even try to fight it anymore.
My favorite caramel corn is a recipe from my friend Ann, an oven-baked version that is absolutely phenomenal. But it does require a candy thermometer on the stovetop and some babysitting in the oven, which amounts to stirring the caramel corn every 15 minutes a few different times. And that is where the beauty of my Mom's Microwave Caramel Popcorn recipe shines. It's easy peasy. No candy thermometer or oven baking required!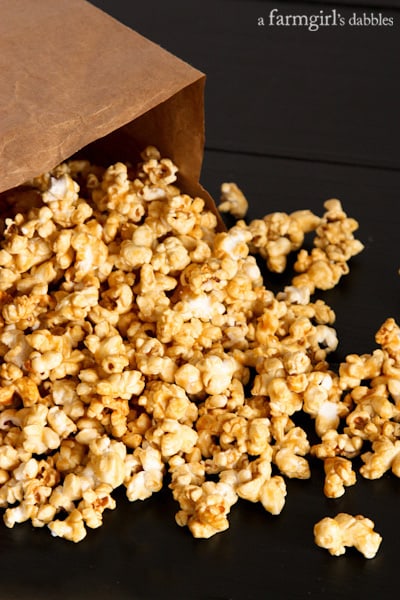 I remember enjoying this sweet treat when we were young, but haven't had it in so many years. Then, when we were back in South Dakota for corn harvest in October, Mom made a batch of this microwave caramel popcorn one evening. In a very short amount of time, she had a fresh crunchy batch of delicious caramel popcorn set out on the counter. I couldn't believe how quickly it came together, and then how very delicious it was!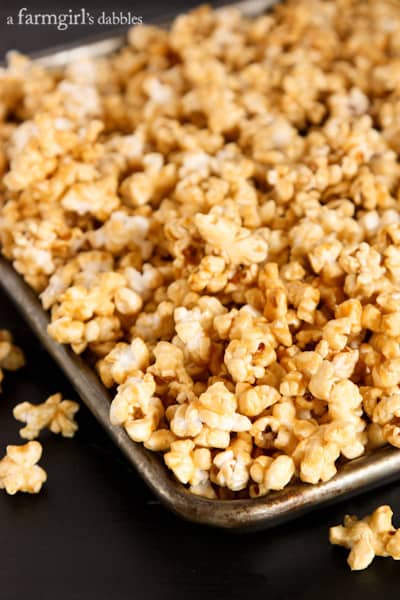 All you need is popped corn and a few simple ingredients for the caramel, a microwave, and a brown paper bag. Give yourself about 15 minutes and you'll have a pan of caramel popcorn cooling in a pan on the counter, ready to indulge in.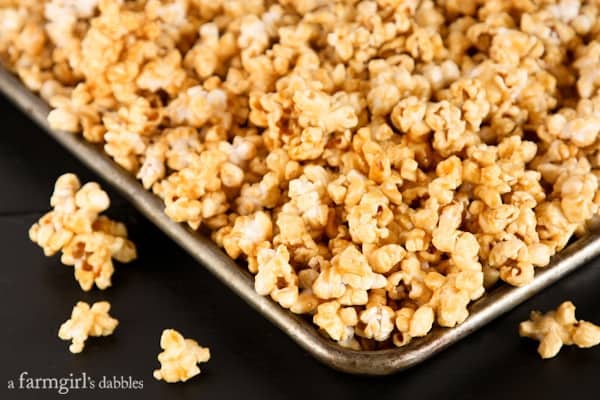 I'm not gonna lie…that oven-baked version from my friend Ann is still #1 in my book. It has a little deeper flavor, a little fuller crunch. But this microwave recipe from Mom is what I'll be making more often from here on out. It's just too easy to put together, and is still incredibly delicious. Now I have every reason to enjoy wonderful homemade caramel popcorn whenever the craving hits me, any time of year.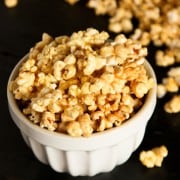 Mom's Microwave Popcorn
All you need are about 15 minutes, plus a few simple ingredients, a microwave, and a brown paper bag for my Mom's Microwave Caramel Popcorn!
Yield: 4 quarts caramel corn
Prep Time:10 minutes
Cook Time:5 minutes
Total Time:15 minutes
Ingredients:
4 qts. popped corn (from almost 1 cup unpopped kernels)
1 c. packed brown sugar
1/2 c. unsalted butter
1/4 c. light corn syrup
1/2 tsp. kosher salt, plus more sprinkled on at the end, if desired
1 tsp. pure vanilla extract
1/2 tsp. baking soda
Directions:
Place popped corn in a grocery-size brown paper bag. Set aside.
In a medium microwave-safe bowl (a bowl with a spout works great), combine brown sugar, butter, corn syrup, and salt. Microwave on high for 2 minutes. It will be boiling. Stir in vanilla, and then the baking soda, until combined. Immediately drizzle caramel mixture over popcorn in the paper bag. Fold top of paper bag over a couple times and shake well to evenly coat the popcorn. Set bag in microwave and cook for 1-1/2 minutes. Remove bag, shake again, and then microwave for another 1-1/2 minutes. Pour caramel corn out onto a rimmed cookie sheet. Spread out caramel corn, breaking up clumps if desired. Immediately sprinkle with a bit more kosher salt, if desired. Let cool completely.
Note: Microwave power can vary quite a bit from microwave to microwave. Adjust cook time accordingly. 
Adapted slightly from Mom's recipe box.
©