Melt-In-Your-Mouth Pumpkin Cookies
These Melt-In-Your-Mouth Pumpkin Cookies are the perfect little bites for fall. They're light in texture, yet moist – and topped with a dollop of easy-to-make frosting, plus a sprinkling of toasted pecans and flaky sea salt. And yes – they DO practically melt in your mouth!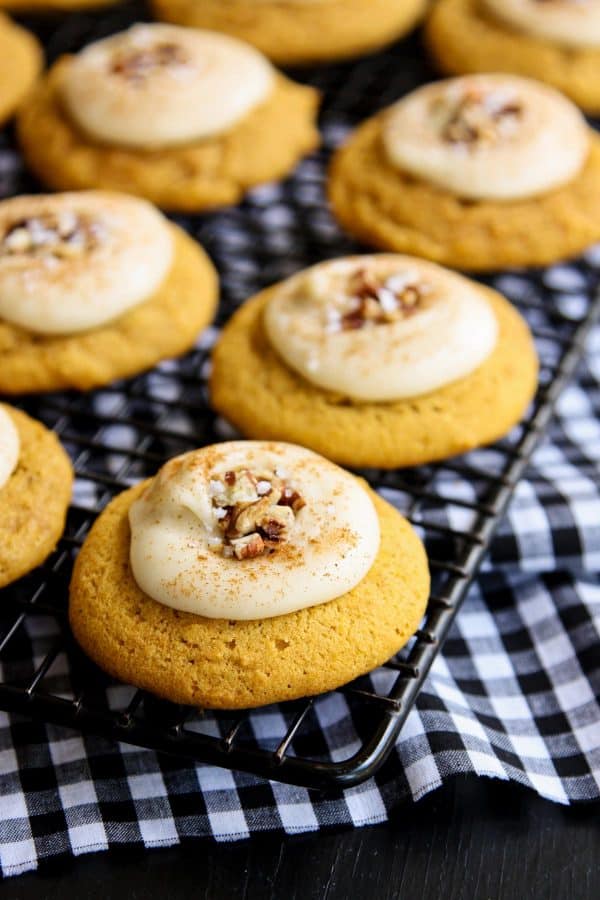 This fall we've experienced colder-than-normal temperatures, quite alot of rain, and many dreary, overcast days. Really only a few of the "stunner" kind of autumn days we're used to here in Minnesota. Ones that gift us with warm temps, sunshine, and striking fall colors.
But I can tell that fall has been trying hard to redeem itself lately, popping in some beautiful days here and there. I accompanied Hatti on two separate college visits (her first!) at the end of last week, and both of us were extremely thankful for being able to walk around campuses with just a light jacket…and sunglasses, YES!!
This time of year, nothing feels better than a little pumpkin and spice when it comes to baked treats. These Melt-In-Your-Mouth Pumpkin Cookies are pretty little bites that I just know you're going to love!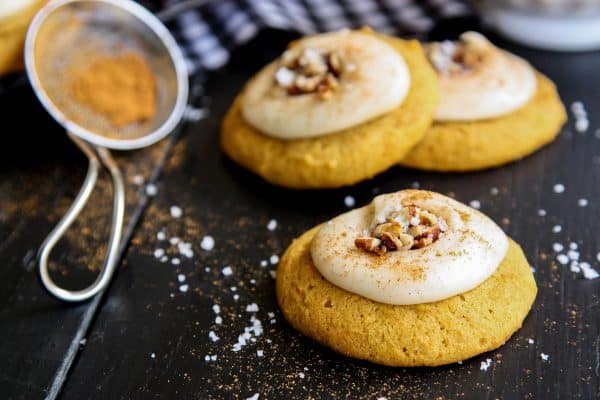 When Better Homes & Gardens' blog, Delish Dish, asked me to recreate one of their recipes and incorporate my own twist, these pumpkin cookies were calling my name.
I've been reading Better Homes & Gardens magazine for longer than I can remember. And when I had the opportunity a number of years ago to tour Meredith Corporation in Des Moines, it felt a bit like a dream.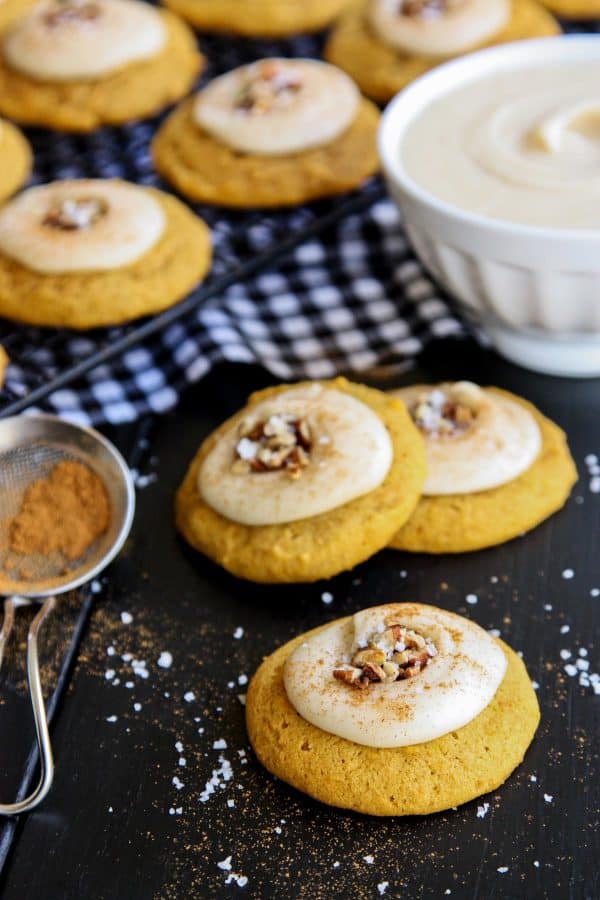 To walk through the Better Homes & Gardens test kitchens and talk with the people who actually cooked, baked, taste tested, styled, and photographed all the wonderful food we see in their magazines each month…well, it was just plain amazing.
Having had that peek into life at Better Homes and Gardens gives this pumpkin cookies recipe even more life. I'm excited to share it with you!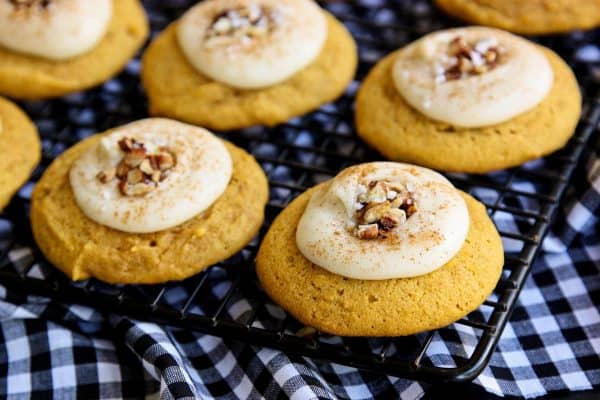 Pumpkin Cookies
I adore soft pumpkin cookies. And while these are both soft and moist, they also have a light texture. The butter does make them almost melt in your mouth.
To finish the cookies, a super simple butter and brown sugar frosting is dolloped onto each cookie, along with a sprinkle of cinnamon.
And then this is where I added my own twist to the recipe, by adding chopped, toasted pecans and a light sprinkle of flaky sea salt to the top. This not only makes these pumpkin cookies so very pretty, but it also adds fun texture and flavor.
Of course, if you're not into nuts in your cookies, go ahead and skip that step!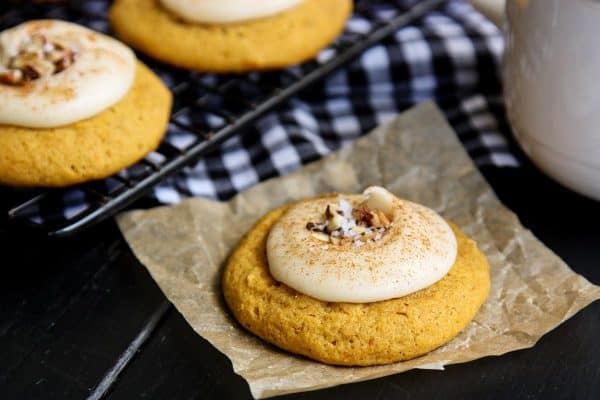 Whenever I make these pumpkin cookies, people say, "They practically melt in your mouth!"
I'm happy to say that these sweet treats completely live up to their name!
Like this Pumpkin Cookies recipe? Pin it!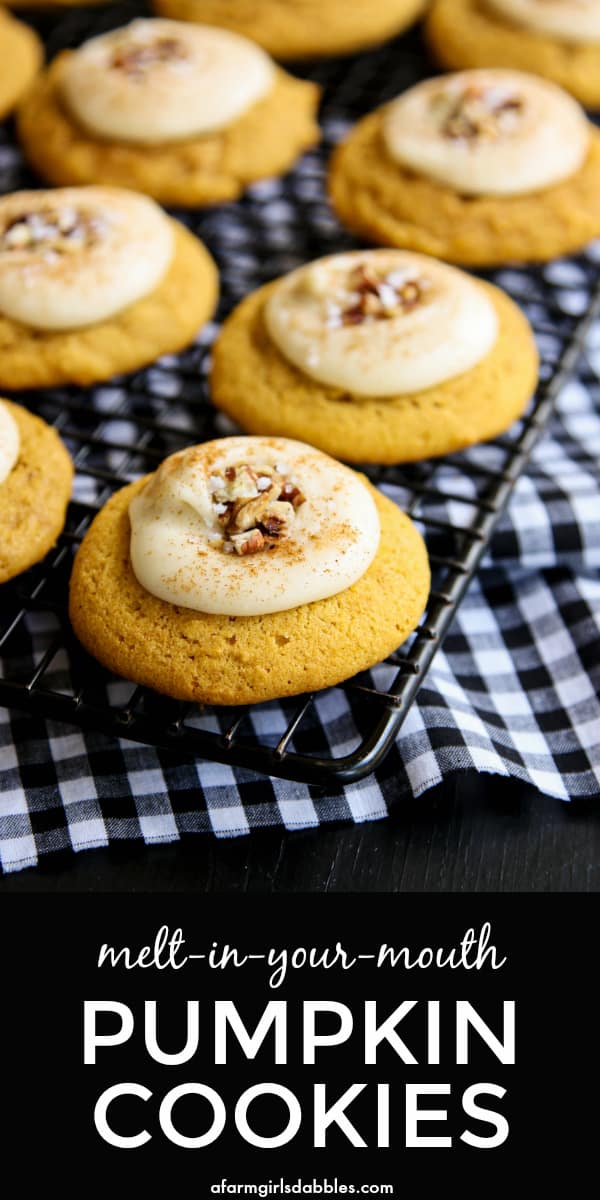 Yield: 60 cookies

Prep Time: 35 minutes

Cook Time: 10 minutes

Additional Time: 40 minutes

Total Time: 1 hour 25 minutes
Ingredients
for the pumpkin cookies:
2 c. unsalted butter, softened
2 c. sugar
2 tsp. baking powder
2 tsp. baking soda
1 tsp. kosher salt
1 tsp. cinnamon
1 tsp. ground nutmeg
2 large eggs
2 tsp. pure vanilla extract
1 (15 ounce) can pumpkin
4 c. all-purpose flour
for the frosting: 
1/2 c. unsalted butter
1/2 c. packed brown sugar
1/4 c. milk
1 tsp. pure vanilla extract
2-3/4 c. powdered sugar
cinnamon
chopped and lightly toasted pecans, optional
flaky sea salt, optional
Instructions
for the pumpkin cookies: Preheat oven to 350° F. In a large bowl, beat butter with an electric mixer on medium to high speed for 30 seconds. Add sugar, baking powder, baking soda, salt, cinnamon, and nutmeg. Beat until combined, scraping bowl occasionally. Add eggs and vanilla, and beat until combined. Beat in pumpkin. Beat in as much of the flour as you can with the mixer. Using a wooden spoon, stir in any remaining flour.
Drop dough by heaping teaspoons 2" apart on an ungreased cookie sheet. Bake for 10 to 12 minutes or until tops are set. Do not over bake. Transfer cookies to a wire rack and let cool.
for the frosting: In a small saucepan, heat butter and brown sugar until melted and smooth. Transfer melted butter to a medium bowl and stir in milk and vanilla. Beat in powdered sugar until smooth.
With a small spoon, place a dollop of frosting on a cookie, leaving a small indentation in the center of the frosting. Sprinkle lightly with cinnamon and then add some of the pecans and sea salt, pressing the pecans in ever so slightly to adhere. Frost two to three cookies at a time, so the toppings adhere to the frosting, until all cookies are finished. If desired, omit pecans and sea salt toppings.
Nutrition Information:
Yield:
60
Serving Size:
1
Amount Per Serving:Calories: 156 Total Fat: 8g Saturated Fat: 5g Trans Fat: 0g Unsaturated Fat: 3g Cholesterol: 27mg Sodium: 111mg Carbohydrates: 20g Fiber: 0g Sugar: 14g Protein: 1g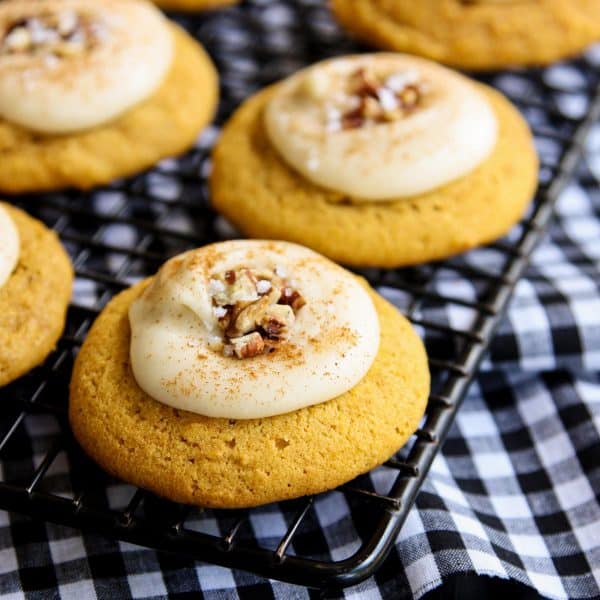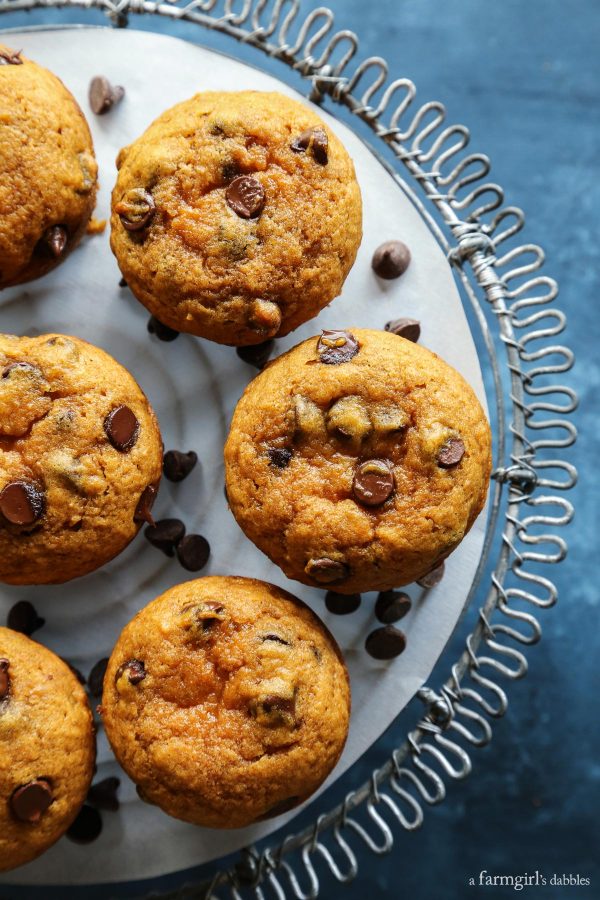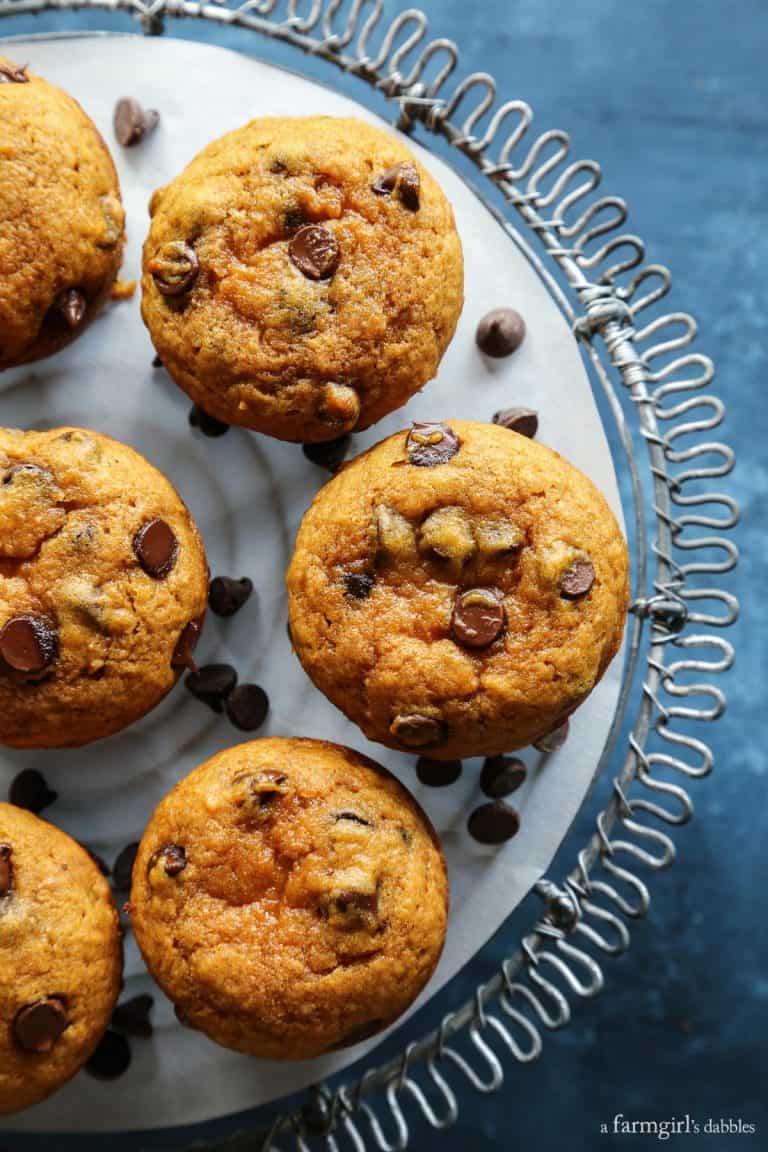 Also be sure to grab this recipe for Pumpkin Chocolate Chip Muffins. It's a family, friends, and reader favorite!!
This post was previously published in 2013. Photographs and some of the text were updated in 2018.