Reuben Dip
Reuben Dip is like a deconstructed Reuben sandwich, all magnificently reborn into a baked ooey gooey, cheesy dip. You'll love this hot appetizer recipe!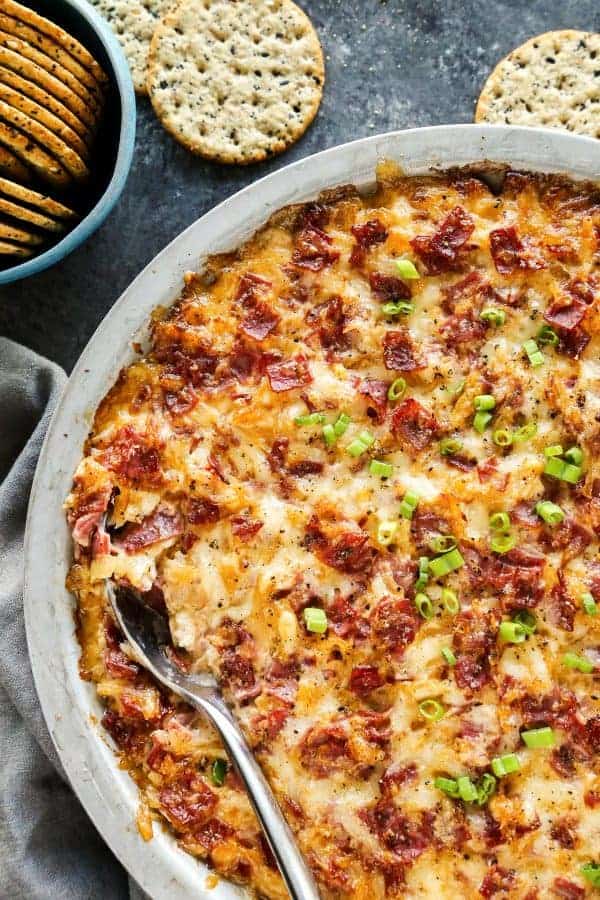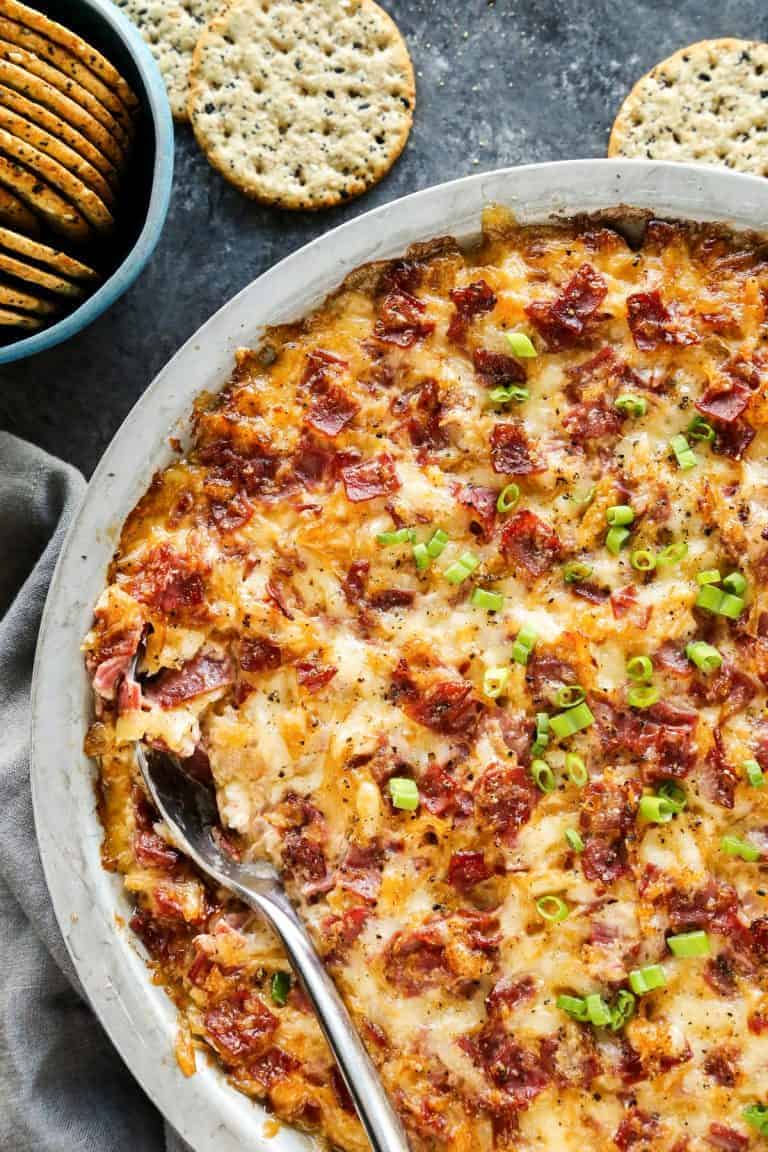 CLICK HERE to save recipe to Pinterest!
Growing up, sauerkraut made a somewhat regular appearance at our kitchen table.
I come from a long line of Germans, and this soured cabbage is a well known food staple of my heritage. Mom kept our house stocked, fermenting her own cabbage in a four-gallon crock in the basement, just like her mom and grandma taught her.
And my biggest takeaway from growing up with sauerkraut is my appreciation of a hot and cheesy Reuben sandwich. Mom and Dad taught me well.
My friend Meghan introduced this hot reuben dip to me. She's Irish through and through, where corned beef and cabbage are commonplace on their family's table. Many years ago, Meghan brought this dip into the office in the days leading up to St. Patrick's Day. It's been a favorite March recipe for me ever since.
Meghan's Reuben Dip is a fun riff on that Reuben sandwich that I love. I hope it becomes a March tradition for you, too!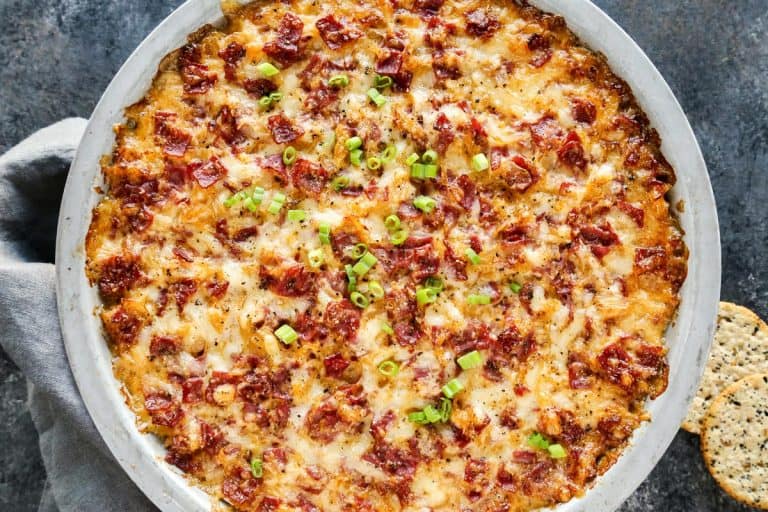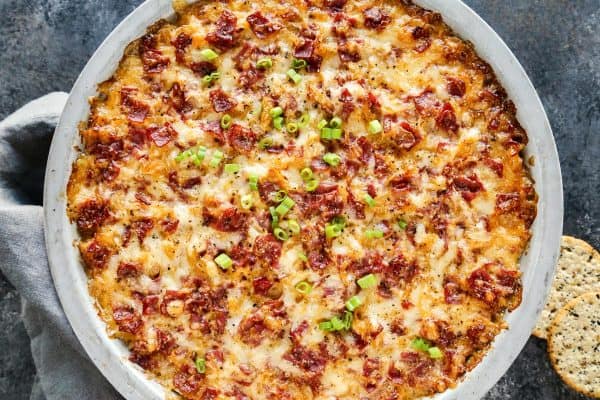 My dad also recalls growing up with fresh sauerkraut. As a kid, he would help to bring in the cabbages from the fall garden, and then help prepare them for sauerkraut.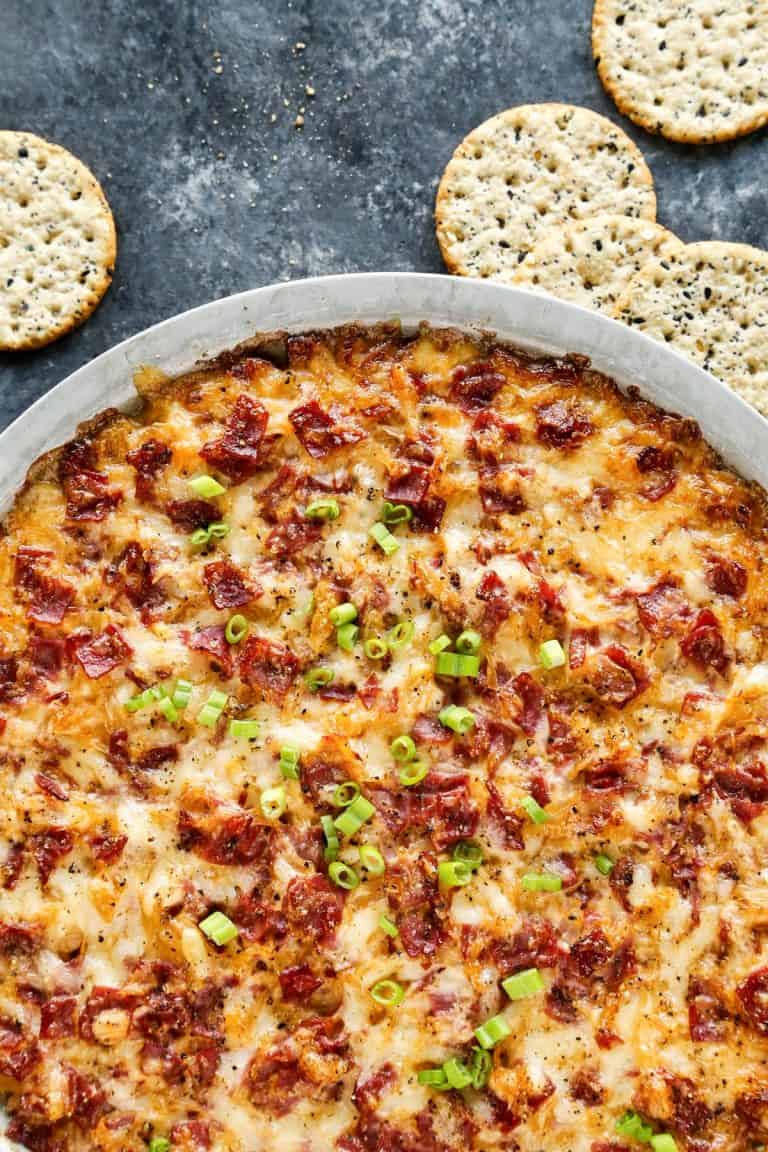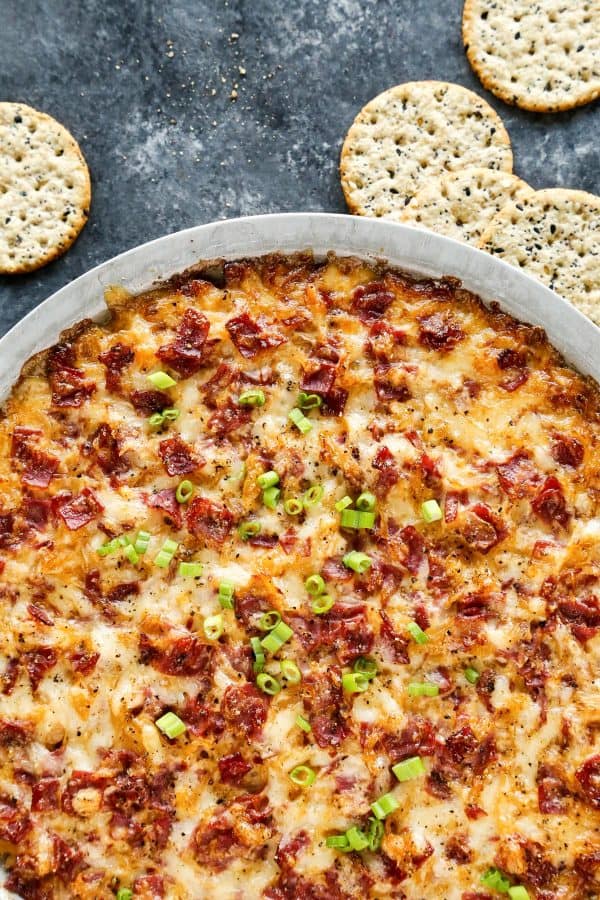 And when my dad would visit his grandparents (my Great Grandpa & Grandma Braun), he was often asked to fetch some fresh sauerkraut from their huge Red Wing crock in the basement.
The crock featured a circular board cover, sized to just fit the inside of the crock, with a small hole cut into it for an easy finger pull. A heavy stone rested on the board, pressing the fermenting cabbage down into the brine.
Armed with a bowl and a large tined meat fork, Dad would scoop out some fresh sauerkraut for his grandma to warm up with their next meal. That menu probably consisted of some kind of sausage or smoked meat, fresh from the farm's fall butchering.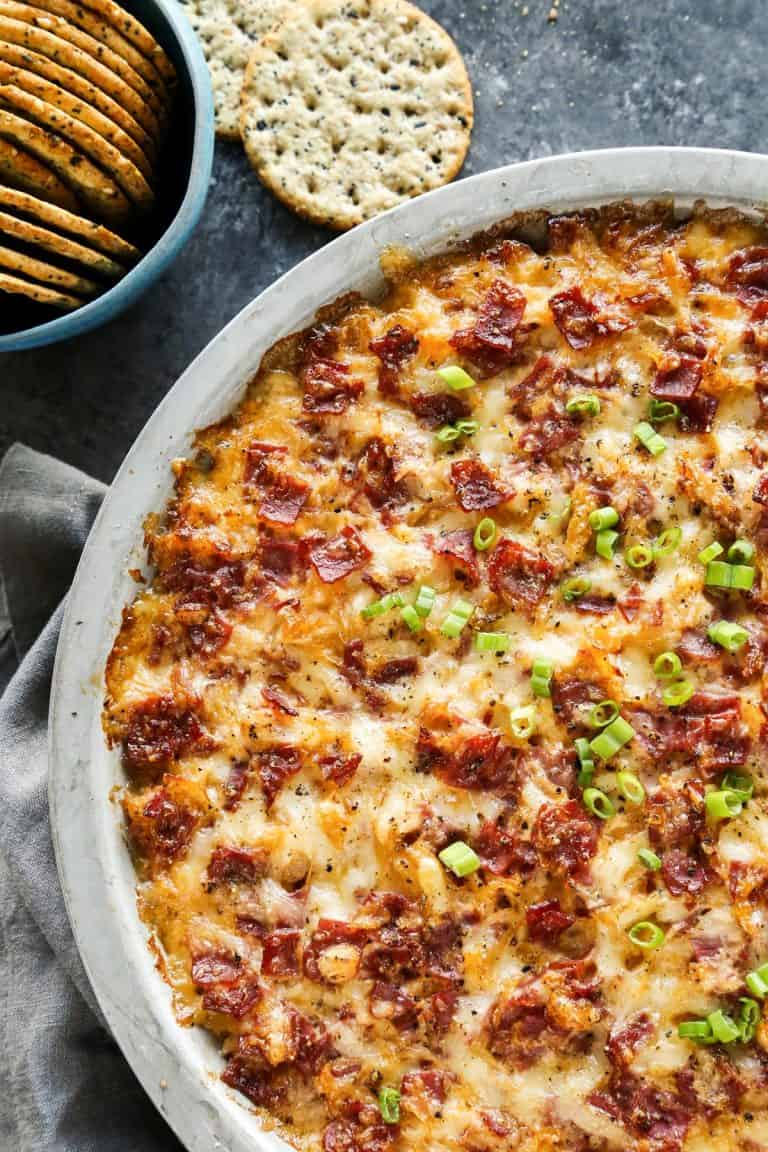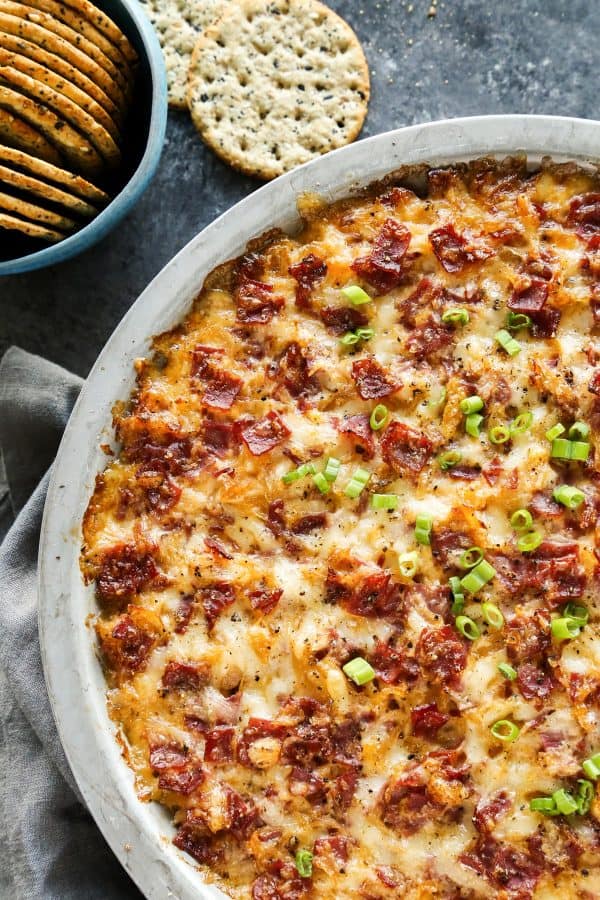 Sauerkraut is a key ingredient in this Reuben Dip
I know that sauerkraut can be a love/hate thing. Its distinctive strong flavor just doesn't sit well with many people.
But I remember my own fondness for sauerkraut growing stronger with each Reuben sandwich I ate as a kid. Dad & Mom were big on their Reubens, and after a few snitchful bites of theirs, I started to want my own. I'm pretty sure that's when I also discovered how wonderful Thousand Island dressing can be. Ha!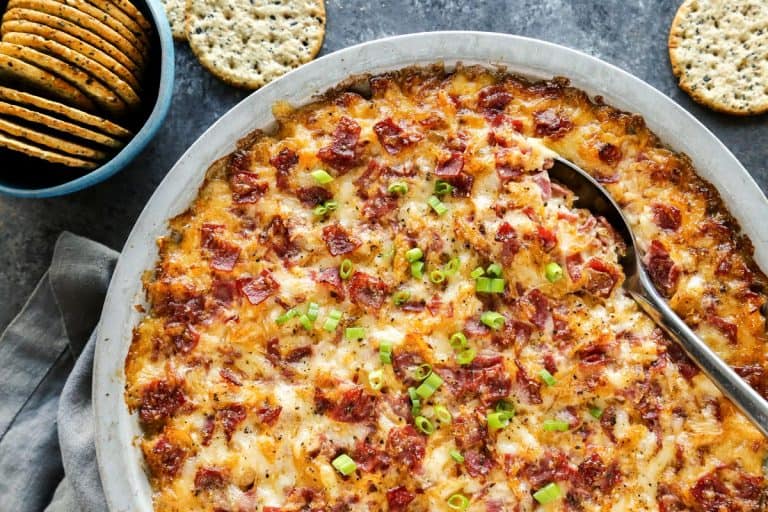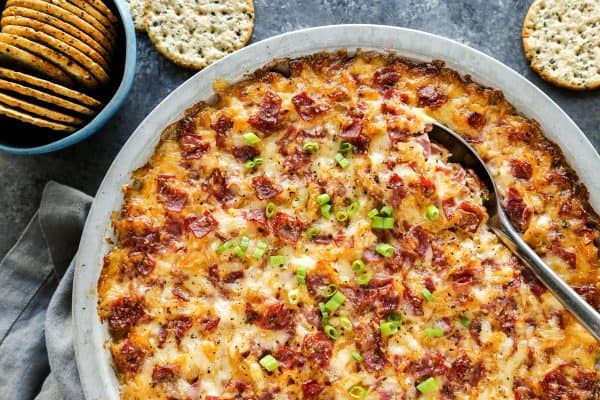 Baked Reuben Dip is like a deconstructed Reuben sandwich
This hot Reuben dip is a handsome one. It's like a deconstructed Reuben sandwich, all magnificently reborn into a baked ooey gooey, cheesy dip.
It's creamy and tangy with Thousand Island dressing, and loaded with chopped corned beef, sauerkraut, and Swiss cheese. Pretty darn irresistible, if you ask me.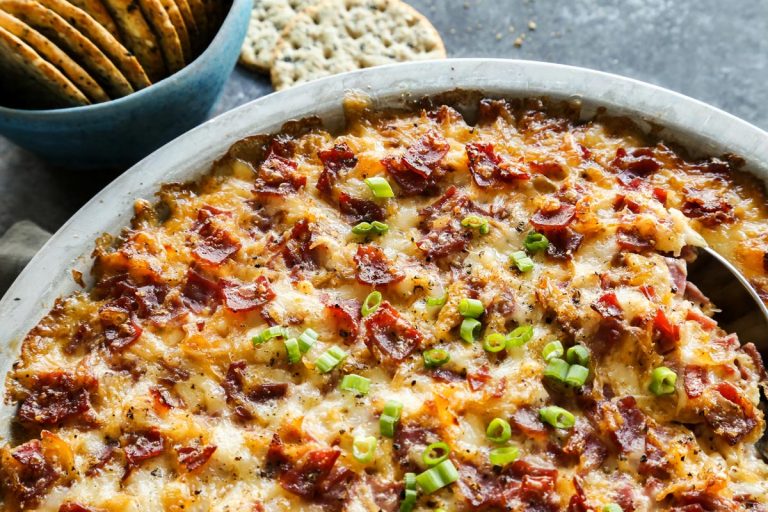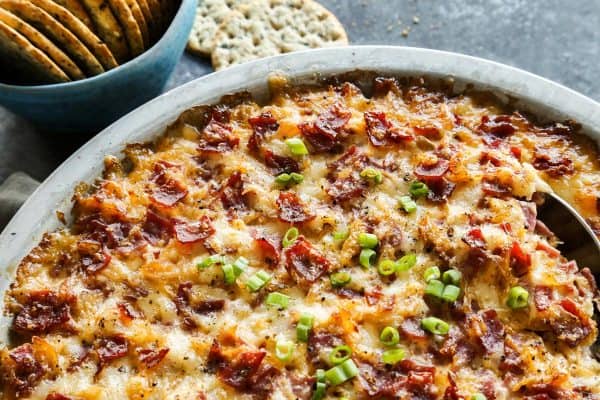 My very German parents gave this reuben dip a hearty thumbs-up. And my very Norwegian husband, who is not a fan of sauerkraut, has even been seen taking seconds. And thirds. That right there is a huge testimony to this dip's goodness!
Like this reuben dip recipe? Pin it!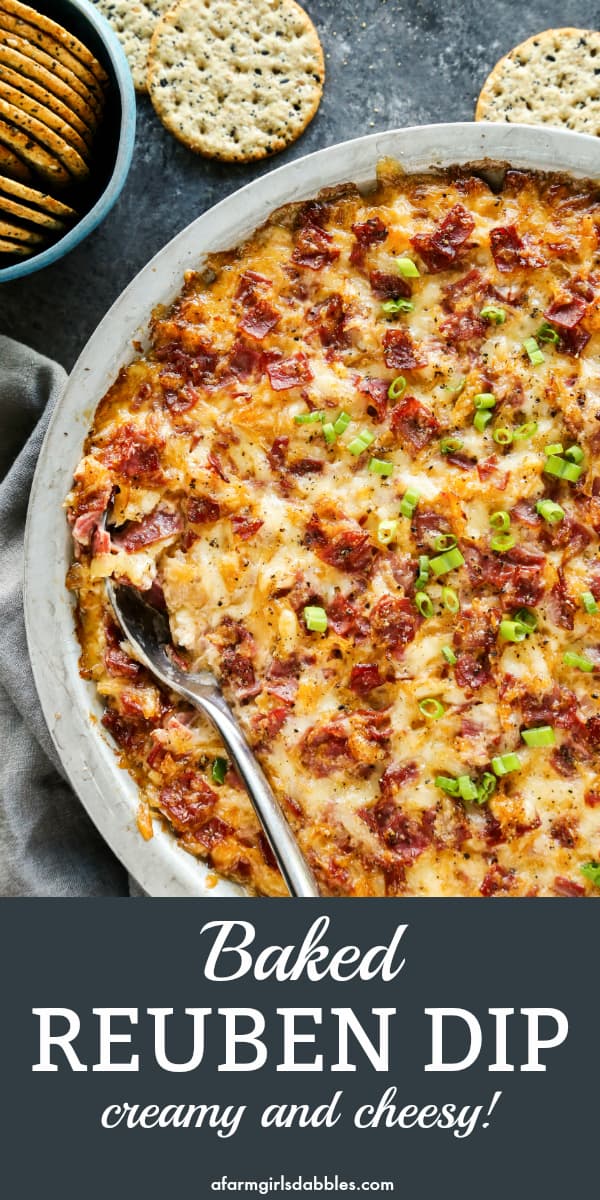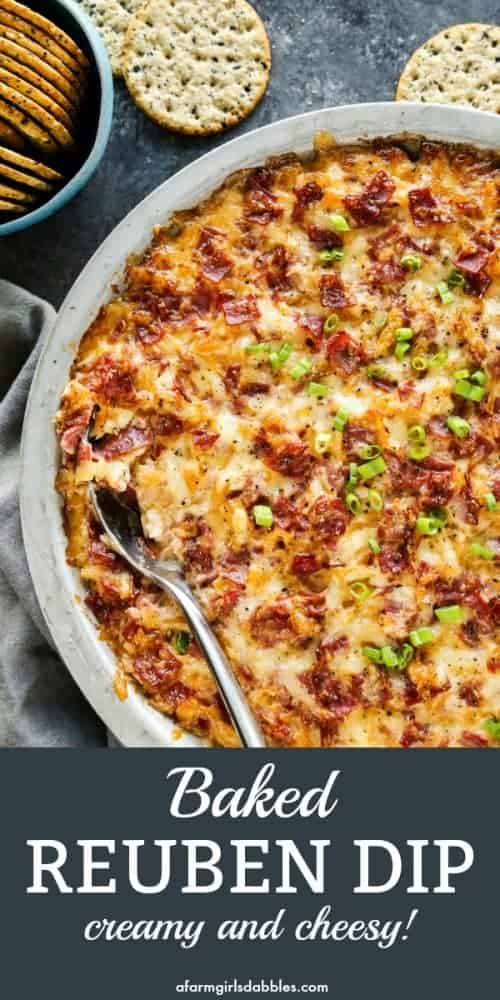 Here are a few more appetizer recipes you might like: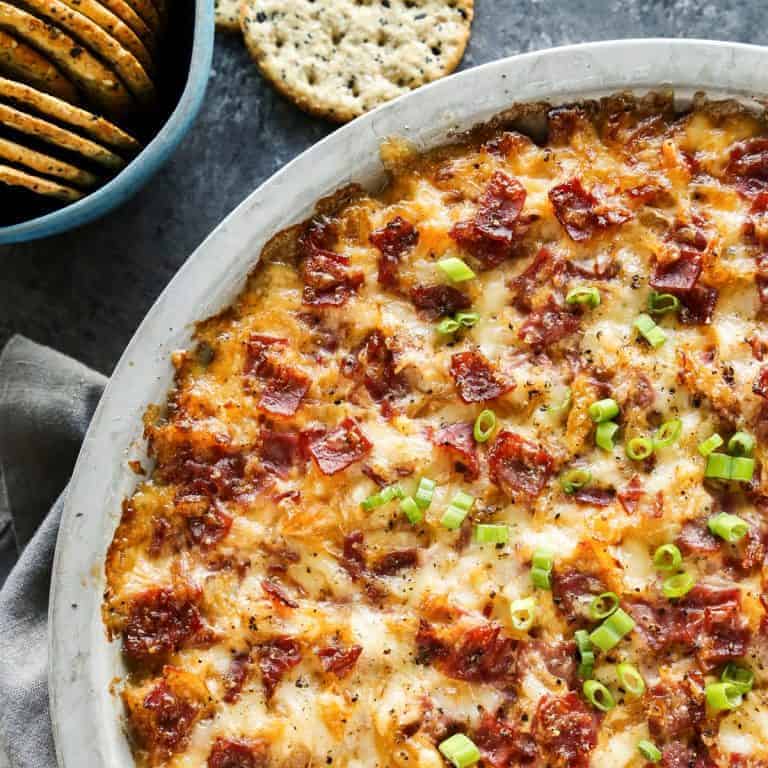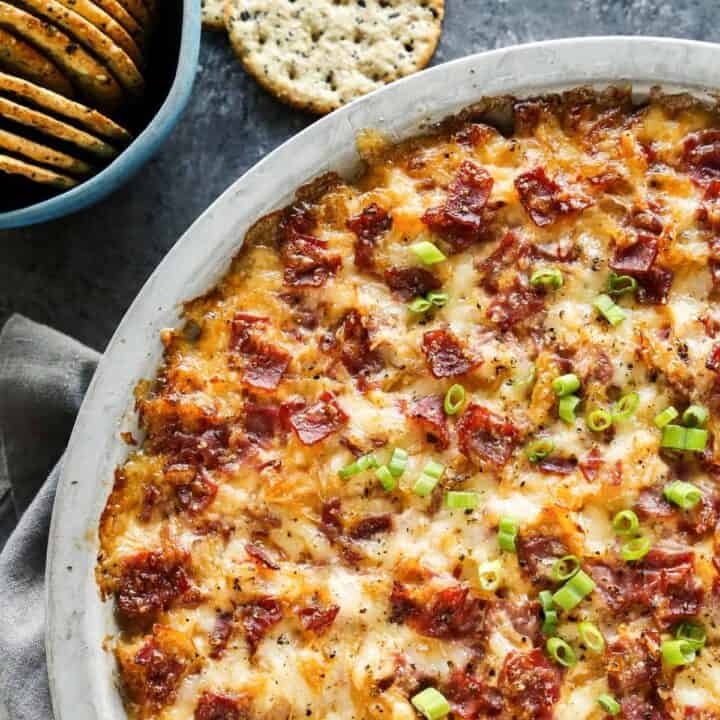 Reuben Dip
Yield: 12 servings
Prep Time: 15 minutes
Cook Time: 25 minutes
Total Time: 40 minutes
Reuben Dip is like a deconstructed Reuben sandwich, all magnificently reborn into a baked ooey-gooey, cheesy dip!
Ingredients
1 lb. diced corned beef
8 oz. shredded swiss cheese
1 (14-oz.) can sauerkraut, drained very well (place in strainer & press out liquid)
3/4 c. mayonnaise
1/4 c. Thousand Island dressing
kosher salt, if desired (I don't usually add any salt.)
freshly ground black pepper
Instructions
Preheat oven to 400° F.
In a large bowl, stir all ingredients together with a spatula. Transfer mixture to a serving dish that can be placed in the oven (a large pie pan works great!). Bake for about 20 to 30 minutes, or until dip is bubbling and nicely browned.
Serve with your favorite sturdy crackers. Rye crackers and bagel chips are tasty with this.
This recipe makes a good amount of dip. If you want, split the dip in half between 2 pie pans. When baking them separately, and the dip is more spread out, there's more surface area of cheese that gets browned. This method creates more of that gooey browned cheese texture on top. Yum!
Notes
Adapted slightly from my friend Meghan Kell's recipe box, originally from her friend "Biz, The Appetizer Queen".
Nutrition Information:
Yield: 12
Serving Size: 1
Amount Per Serving:
Calories: 283
Total Fat: 25g
Saturated Fat: 8g
Trans Fat: 0g
Unsaturated Fat: 15g
Cholesterol: 62mg
Sodium: 646mg
Carbohydrates: 3g
Fiber: 0g
Sugar: 1g
Protein: 12g
Nutrition information is automatically calculated by Nutritionix. I am not a nutritionist and cannot guarantee accuracy. If your health depends on nutrition information, please calculate again with your own favorite calculator.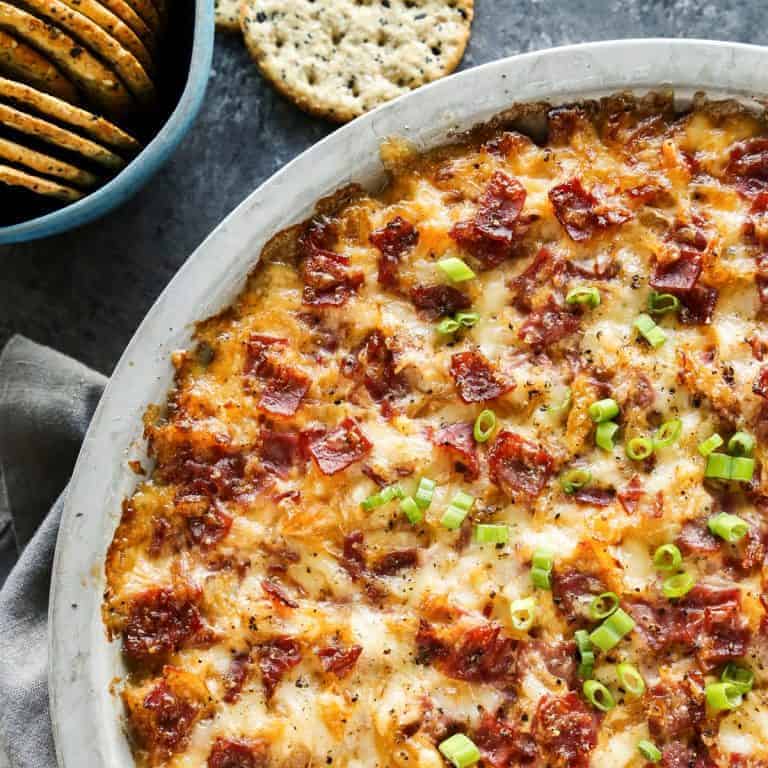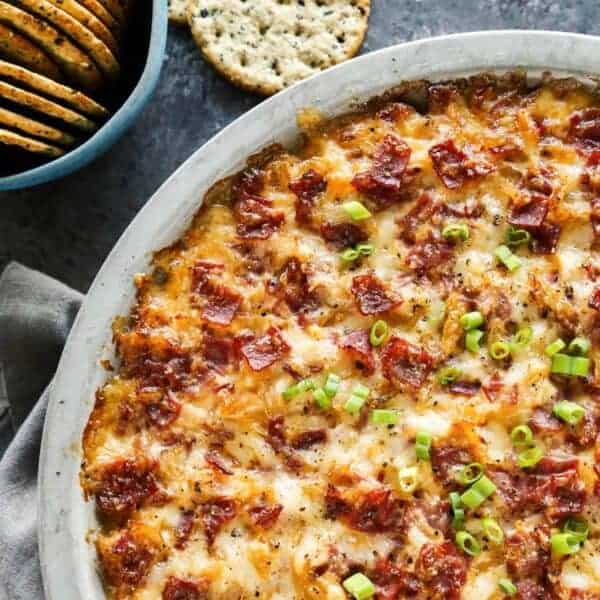 (This post was previously published March 2011. Photographs and some of the text were updated February 2018.)