Layered Brownies with White Chocolate Caramel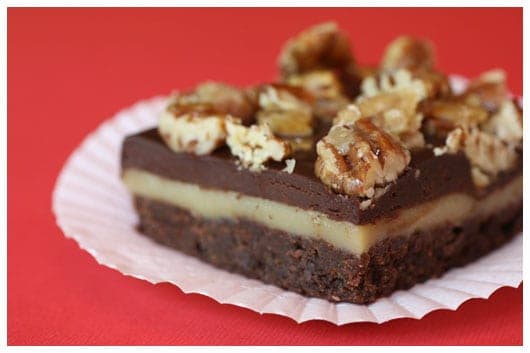 These Layered Brownies with White Chocolate Caramel are a rich and decadent bunch. So I thought by cutting them into numerous bite-size squares, they would grace my kitchen just a bit longer. Foolish thinking that was! These layered brownies are tempting in the most deliciously evil of ways, and I flunked out shamelessly in self control.
But flunking a course just means you have to take it over again, right?! I hope you're following me here…
Since I shared the recipe for Cappuccino Brownies earlier this summer, I've received many comments and emails that shout loud and clear how much they're being enjoyed. So here's another spectacular brownie from Bon Appetit for you to try. Just looking at those three distinct and seductive layers, plus the candied pecans on top, you already know this recipe is gonna have a few steps and it's gonna take some time. But none of it is difficult. It's mostly about having time carved out for each layer to chill. I actually found the process quite relaxing.
Bon Appetit's recipe and photo never left the kitchen counter as I waited for my own brownie creation to come to fruition. The anticipation was building as each beautiful layer was mixed up and smoothed over the last. After it had chilled and set for its final minute, I cut myself a piece and took a bite.
And then I sat down.
I chewed very slowly, as I was quickly aware that this was a much more complicated bite than I was expecting. As the layers unfolded, I detected separate textures of chewy and dense, soft and satiny, smooth and creamy, with a wonderful bite of contrasting crunch from the candied pecans. My tastebuds were mostly picking up the two layers of chocolate, but the white chocolate caramel was not too timid to be missed. It was luscious. So very delicate and luscious, tucked between those two dark layers.
And just as the crunch of the pecans stood out so boldly from the softer layers beneath them, they were once again the show-offs in the flavor department. The pecans broke right through the whole thing with their thinly coated caramel nuttiness. I'm not usually a fan of show-offs, but in this case, I'm making an exception. These Layered Brownies with White Chocolate Caramel rock. And the nuts are a non-negotiable requirement!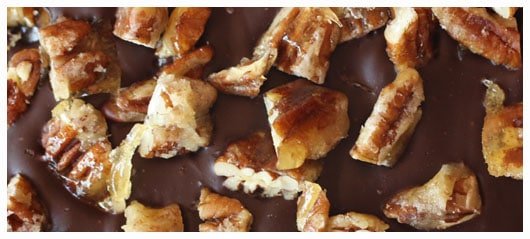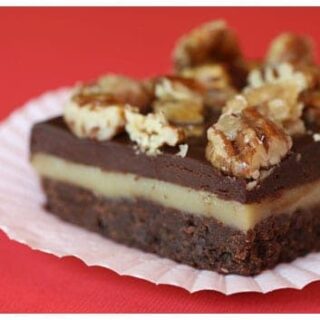 Layered Brownies with White Chocolate Caramel
Yield: 1 8x8x2 pan
Prep Time: 1 hour
Cook Time: 45 minutes
Additional Time: 12 hours
Total Time: 13 hours 45 minutes
Layered Brownies with White Chocolate Caramel are a rich and decadent bunch. Top these caramel brownies with candied pecans and chocolate ganache, and they become irresistible!
Ingredients
FOR THE CANDIED PECANS:
1/2 c. sugar
1/4 c. water
1 c. pecan halves, toasted
FOR THE BROWNIE BASE:
1/2 cup (1 stick) unsalted butter
2 oz. bittersweet chocolate (54% to 60% cacao), chopped
1/4 c. plus 1 tsp. natural unsweetened cocoa powder
2-1/2 T. all purpose flour
1/8 tsp. salt
1/2 c. plus 1 T. sugar
2 large eggs
1/2 tsp. vanilla extract
FOR THE WHITE CHOCOLATE CARAMEL LAYER:
3 T. water, divided
3/4 tsp. unflavored gelatin
4-1/2 T. sugar
Pinch of salt
6 T. heavy whipping cream
4 oz. high-quality white chocolate (such as Lindt or Perugina), finely chopped
1-1/2 T. unsalted butter, diced, at room temperature
FOR THE BITTERSWEET CHOCOLATE GANACHE LAYER:
2/3 c. heavy whipping cream
6 oz. bittersweet chocolate (54% to 60% cacao), chopped
Instructions
For the candied pecans, lightly butter baking sheet. Stir sugar and 1/4 cup water in large nonstick skillet over medium heat until sugar dissolves. Increase heat and boil until sugar syrup is light golden, occasionally brushing down sides of skillet with wet pastry brush, about 8 minutes. Add pecans and stir until syrup coats pecans, about 1 minute. Immediately pour pecans out onto prepared baking sheet. Spread in single layer with heatproof spatula. I liked using 2 spoons to separate the pecans. Cool completely. Coarsely chop nuts. (These can be made 2 days ahead. Store airtight at room temperature.)
For the brownies, preheat oven to 350°F. Line an 8x8x2-inch metal baking pan with foil. Butter foil. Combine 1/2 cup butter and bittersweet chocolate in heavy medium saucepan. Stir over medium-low heat until melted and smooth. Remove from heat and cool slightly. Whisk cocoa powder, flour, and salt in small bowl. Whisk sugar, eggs, and vanilla in medium bowl to blend. Pour butter mixture into sugar mixture and whisk until blended. Add cocoa mixture. Whisk until blended. Transfer brownie batter to prepared baking pan and smooth top (layer will be thin).
Bake brownie until tester inserted into center comes out with moist crumbs attached, 18 to 20 minutes. Allow brownie to cool slightly, then gently press down on edges to form flat, even layer. Cool completely in pan on rack.
For the white chocolate caramel layer, spoon 1 tablespoon water into small bowl and sprinkle gelatin over. Stir to blend. Let stand until gelatin softens, about 15 minutes.
Meanwhile, combine remaining 2 tablespoons water, sugar, and pinch of salt in heavy small saucepan. Stir over medium heat until sugar dissolves. Increase heat and boil until syrup is deep amber, occasionally swirling pan and brushing down sides with wet pastry brush, about 8 minutes. Slowly add cream (mixture will bubble vigorously). Reduce heat to low. Stir to dissolve any caramel bits. Remove from heat and let cool 5 minutes. Add gelatin mixture and stir until gelatin dissolves. Add white chocolate and whisk until melted and smooth. Whisk in butter. Pour caramel atop cooled brownie. Spread evenly to cover completely. Chill uncovered until caramel firms slightly, at least 8 hours or overnight.
For the bittersweet chocolate ganache layer, bring cream to simmer in small saucepan. Remove from heat. Add chocolate and whisk until melted and smooth. Cool until mixture is slightly thickened but still pourable, about 15 minutes. Pour ganache atop caramel on brownie and spread just to edges. Sprinkle chopped candied pecans evenly over. Chill uncovered until ganache is firm enough to cut, about 4 hours.
Using foil as aid, lift brownie out of pan and place on work surface. Fold foil sides down. Using sharp knife, cut into pieces.
Nutrition Information:
Yield: 16
Serving Size: 1
Amount Per Serving:
Calories: 318
Total Fat: 24g
Saturated Fat: 12g
Trans Fat: 0g
Unsaturated Fat: 11g
Cholesterol: 50mg
Sodium: 64mg
Carbohydrates: 21g
Fiber: 3g
Sugar: 14g
Protein: 5g
Nutrition information is automatically calculated by Nutritionix. I am not a nutritionist and cannot guarantee accuracy. If your health depends on nutrition information, please calculate again with your own favorite calculator.