Kale and Wild Rice Salad with Chipotle Maple Almonds and Zingy Currants
This post may contain Amazon or other affiliate links. As an Amazon Associate I earn from qualifying purchases.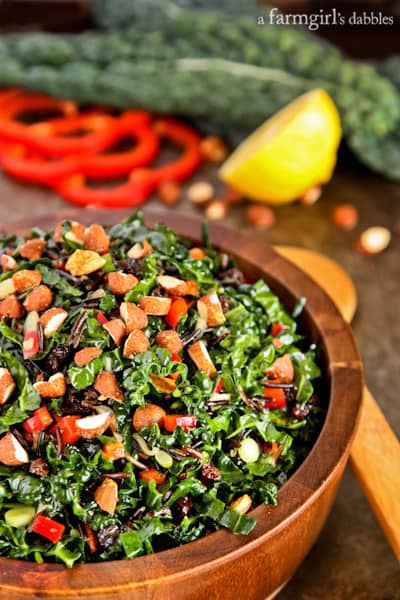 It takes a pretty awesome kale salad to get every single person in our family to respond with a "thumbs up". In fact, it's never been done before.
Until now. Yes, I finally found a kale salad that we can all agree on!
This Kale and Wild Rice Salad with Chipotle Maple Almonds and Zingy Currants is one that I'll be making again and again. With its sweet and tangy honey lemon vinaigrette, it is bright and flavorful, and bursting with all kinds of goodness.
I am grateful to NatureBox for providing me with this opportunity to create this healthy and delicious dish!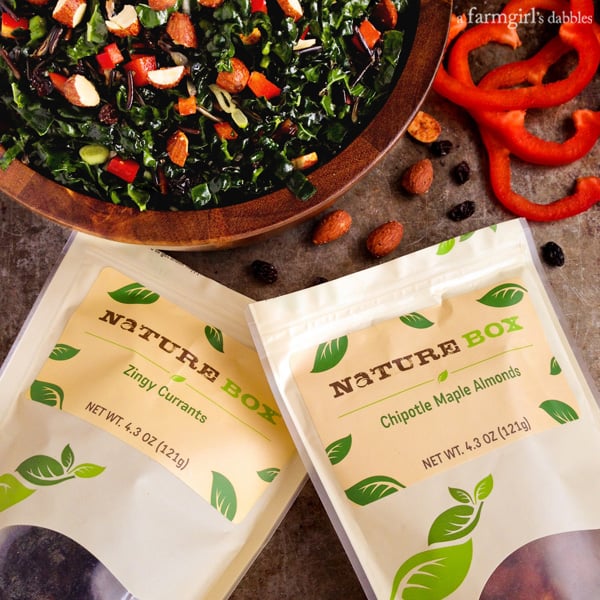 I am so glad I was introduced to NatureBox snacks last summer when I attended the BlogHer conference in Chicago. Besides getting to finally try a number of their snacks, I was able to talk with some of the people behind the company. Both are definitely impressive. I feel quite honored to be working with them, sharing about their goodness.
But do you know about NatureBox?
NatureBox snacks are made from wholesome ingredients that are minimally processed, if at all. Every ingredient listed on each package is easy to recognize…and to pronounce! They are delivered right to your door, in easy to use resealable bags (so easy to tuck into your purse or your kids' backpacks!), and promise to have:
No high fructose corn syrup
No partially hydrogenated oils
No artificial sweeteners
No artificial flavors
No trans fats
And besides being healthy, NatureBox snacks are incredibly tasty. You can check out all of their snacks in their NEW snack catalog. While I think they're all great, a few of my family's very favorite NatureBox munchies are BBQ Kettle Kernels, Honeycomb Sunflower Kernels, Sweet Blueberry Almonds (oh my!!), Bombay Curried Cashews, Dried Pears, Apple Orchards Granola, Tart and Tangy Fruit Medley…and the Chipotle Maple Almonds that I incorporated into this kale and wild rice salad.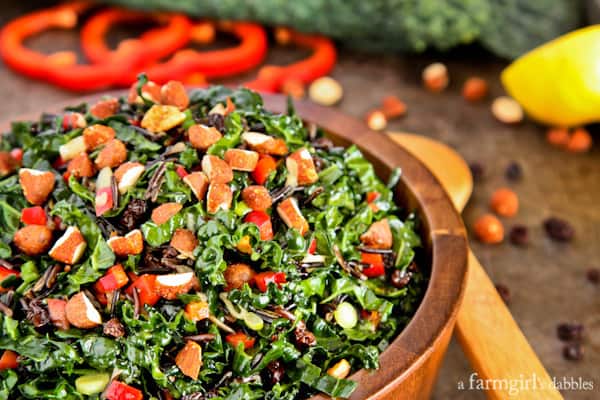 If you have yet to be convinced on a great kale salad (like my family once was!), this is the one to try. It's a simple salad, packed with so many incredible textures and flavors. Wild rice adds earthy heartiness, while Zingy Currants lend a sweet chew. And red bell peppers offer bites of sweetness, plus pretty pops of red. I love to snack on NatureBox's Chipotle Maple Almonds, and almost didn't want to "waste" them on my salad. But they really do add just the perfect little amount of spicy kick, with big bold crunch. Guess I'll just have to keep adding those almonds to my monthly NatureBox order!
And the honey lemon vinaigrette that pulls it all together? Our girls kept dipping their fingers into it as I was making this salad, saying they needed to "test it one more time". I know something is good when that phrase keeps getting repeated! But I do have to agree with the girls…this vinaigrette is pretty awesome.
I've come to realize that I like kale salads best when the kale is sliced into small "ribbons" or thin strips, also called a chiffonade. Kale also responds to massage well, as Food52 taught me, leaving it softer and sweeter and dare I say, just more relaxed. Here's how to massage kale…do give it a try!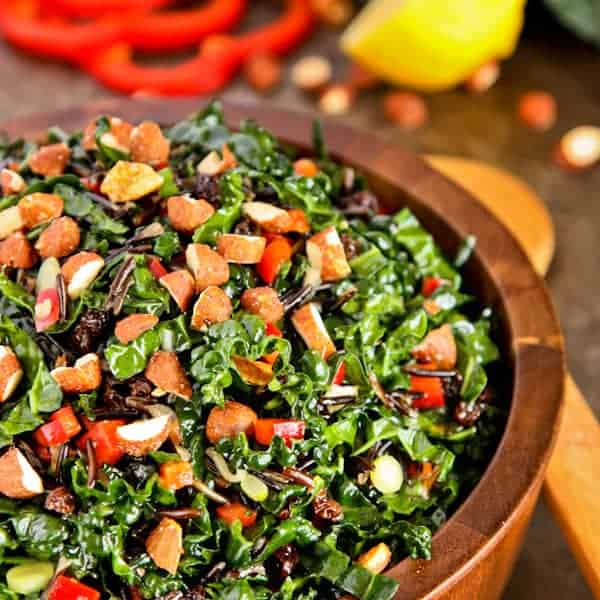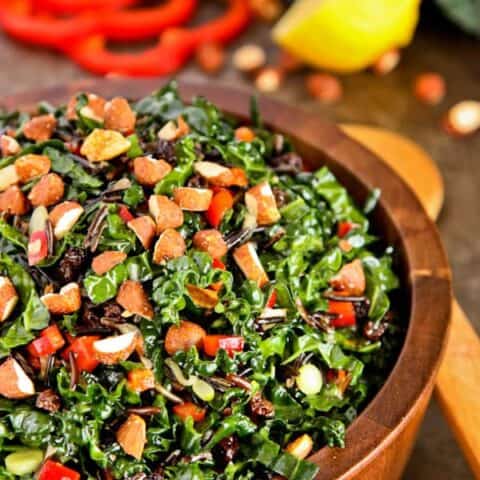 Kale and Wild Rice Salad with Chipotle Maple Almonds and Zingy Currants
Yield: 4 to 6 servings
Prep Time: 15 minutes
Cook Time: 10 minutes
Total Time: 25 minutes
With its sweet and tangy honey lemon vinaigrette, it is bright and flavorful, and bursting with all kinds of goodness.
Ingredients
for the kale and wild rice salad:
6 c. thinly sliced kale (wash and dry the kale, remove thick center ribs, and slice into 1/4" wide ribbons)
1/2 c. wild rice, prepared according to package directions, drained and cooled
2 green onions, very thinly sliced
1/2 c. chopped red bell pepper
1/3 c. NatureBox Zingy Currants (or try Cherry Berry Bonanza, Dried Cranberries, or Tart and Tangy Fruit Medley)
1/3 c. NatureBox Chipotle Maple Almonds, coursely chopped
for the honey lemon vinaigrette:
1/4 c. freshly squeezed lemon juice
1 T. white wine vinegar
1 T. honey
1/4 c. extra virgin olive oil
1/2 tsp. kosher salt
1/4 tsp. freshly ground black pepper
Instructions
for the kale and wild rice salad:
Add sliced kale to large bowl and massage it. Then add wild rice, green onions, red pepper, and Zingy Currants, and fold to combine.
for the honey lemon vinaigrette:
In a small bowl, combine lemon juice, white wine vinegar, and honey. Whisk in olive oil until combined. Season with salt and pepper.
Drizzle vinaigrette over salad and fold to combine. If serving immediately, sprinkle with chopped Chipotle Maple Almonds.
This salad can be prepared up to 2 hours before serving. Just keep it refrigerated and only add the almonds right before serving. If you are creating this salad to eat over the course of a few days (what a great make-ahead lunch idea!), simply keep the kale and wild rice salad mixture separate from the honey lemon vinaigrette in the refrigerator. Add the vinaigrette to each individual salad portion, and then top with the almonds. This will ensure that the salad won't get soggy. Enjoy!
Notes
from a farmgirl's dabbles
Nutrition Information:
Yield: 6
Serving Size: 1
Amount Per Serving:
Calories: 308
Total Fat: 22g
Saturated Fat: 2g
Trans Fat: 0g
Unsaturated Fat: 18g
Cholesterol: 0mg
Sodium: 343mg
Carbohydrates: 26g
Fiber: 6g
Sugar: 12g
Protein: 8g
Nutrition information is automatically calculated by Nutritionix. I am not a nutritionist and cannot guarantee accuracy. If your health depends on nutrition information, please calculate again with your own favorite calculator.
---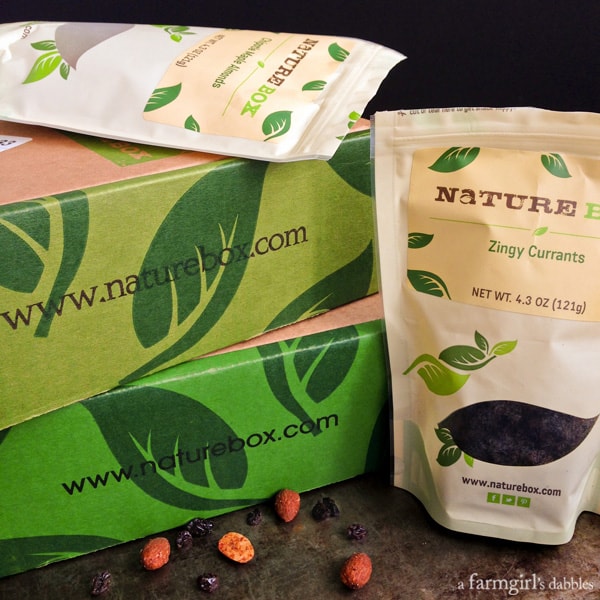 Disclosure: Thank you to NatureBox for sponsoring this delicious recipe post. All opinions are my own.
We participate in the Amazon Services LLC Associates Program, an affiliate advertising program designed to provide a means for us to earn fees by linking to Amazon.com and affiliated sites. See our
disclosure policy
for more info.