Herbs de Provence Chicken Breasts Grilled Under a Brick
This post may contain Amazon or other affiliate links. As an Amazon Associate I earn from qualifying purchases.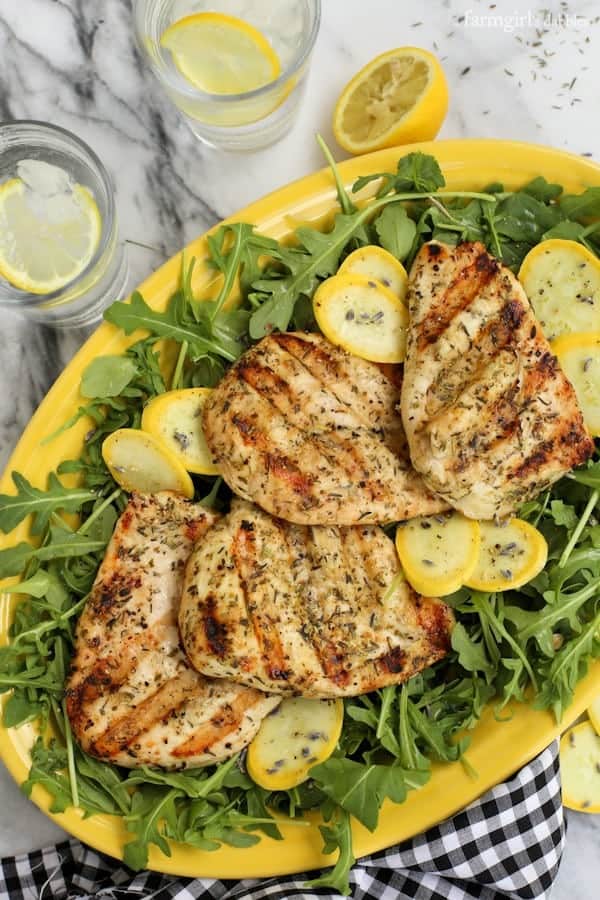 This recipe for Herbs de Provence Chicken Breasts Grilled Under a Brick is easy to make and perfect for a delicious, healthy summer meal!
We Love The Herb Seasoning On These Grilled Chicken Breasts
I believe that grilled chicken breasts never need to be boring. This recipe for Herbs de Provence Chicken Breasts Grilled Under a Brick proves just that!
For many years, Blake and I have been seasoning our grilled steaks with a Dry-Aged Beef Seasoning found at local Byerly's and Lunds grocery stores. This concoction is basically an herbs de Provence mixture combined with an extra chunky grey sea salt, and it makes for awesome grilled rib-eyes with pops of saltiness.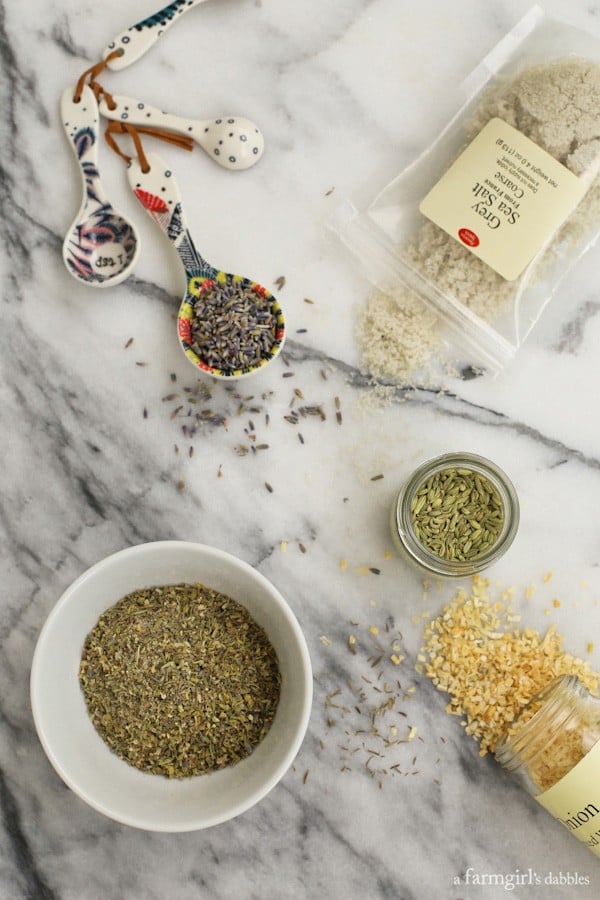 But I got to wondering'… Why couldn't this beautiful combination of herbs be used for our home-grilled chicken as well? I mean, the French have been doing this forever. So I threw in another technique I've been meaning to share with you as well; about how to grill tender, juicy chicken breasts with the use of bricks. It's all right here in this recipe: Herbs de Provence Chicken Breasts Grilled Under a Brick. You're gonna love it!

What Is Herbs De Provence?
Although jars of Herbs de Provence can be found in many grocery stores, you can easily create this union of flavors at home. Herbs de Provence is a classic French herb blend that takes its name from the region of Provence, France. It's a delightful mixture of flavors that come straight from the abundance of fresh herbs growing in the backyards of this area.
Herbs de Provence Ingredients
In my research of this famous herb blend, I never found a single recipe that used the exact same ingredients list as the next. So I started with my favorite ingredients from the local blend we use and then added in a few more ingredients from the more typical recipes for Herbs de Provence. The most unusual common ingredient was lavender, pleasantly pungent and so very lovely.
I used a course grey sea salt in my Herbs de Provence blend, but continue to be on the lookout for a super course grey sea salt like the one found in the blend from Byerly's and Lunds, with even larger grains that can be up to 1/16″ in size. If you know where I can find some, please give a holler.

How To Make These Grilled Chicken Breasts
Once you have the Herbs de Provence mixed, clean up some bricks and wrap them in heavy duty aluminum foil. Nothing fancy here.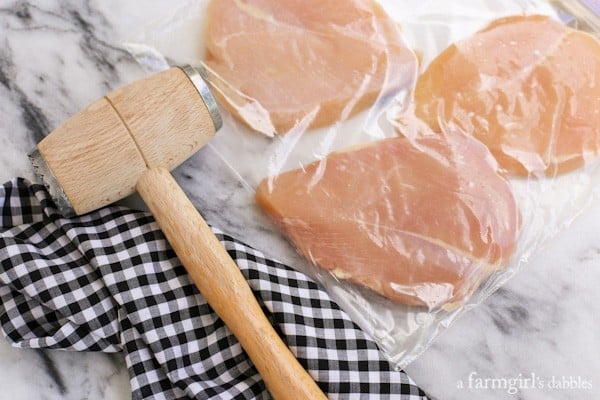 Then pound the individual chicken breasts to an even thickness. I always aim for the chicken breasts to be 1/2″ thick, or just slightly less, all the way across each piece. This will help the chicken to cook evenly, without overcooking the thin parts just to get the thick parts properly cooked. Place the chicken breasts in a resealable plastic bag and pound away. Our girls fight over this piece of kitchen action.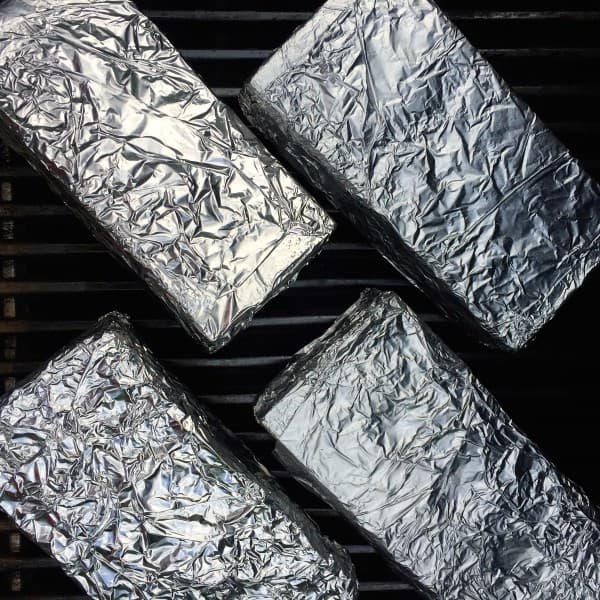 Once the chicken breasts are lightly oiled and seasoned with Herbs de Provence, they are set on the hot grill grates and covered with the foil-wrapped bricks. The bricks provide pressure on the grates, giving gorgeous grill markings to the chicken. But more importantly, the bricks create a cover for the meat. This allows for faster, more even cooking that keeps the meat moist.

More Ways To Use Herbs de Provence
The Herbs de Provence adds something really wonderful to grilled chicken. Our girls took quickly to this recipe and ask for it quite often. And now that I have a homemade blend that I know we all like, it will be easy to incorporate these flavors into other dishes we love – from meats and soups, to salads and veggies. I'm already looking forward to the fall roasting season of root vegetables, made all the lovelier because of this delicious blend of herbs.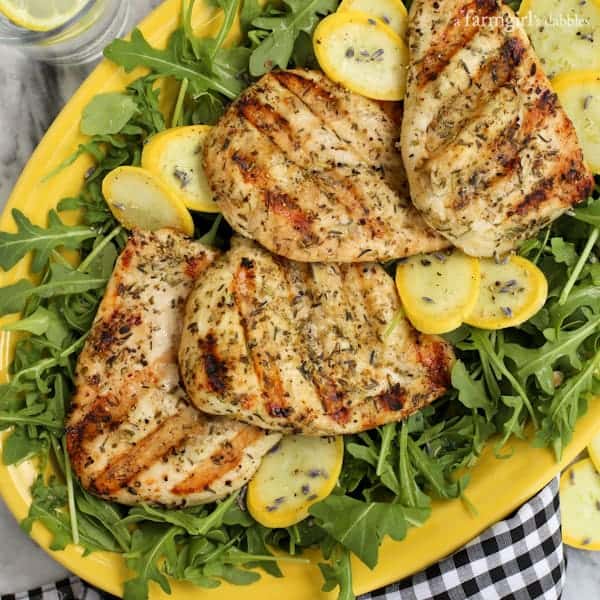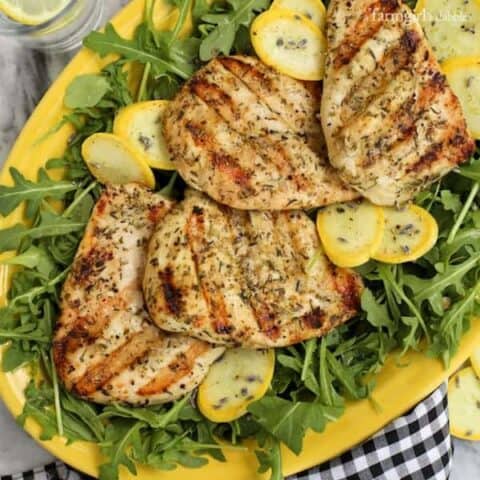 Herbs de Provence Chicken Breasts Grilled Under a Brick
Yield: 4 servings
Prep Time: 20 minutes
Cook Time: 8 minutes
Total Time: 28 minutes
This recipe for Herbs de Provence Chicken Breasts Grilled Under a Brick is easy to make and perfect for a delicious, healthy summer meal!
Ingredients
for the Herbs de Provence mixture:
1 T. dried lavender
3 T. dried rosemary
2 tsp. dried onion flakes
1 tsp dried fennel
3 T. dried thyme
1 T. course grey sea salt
1 T. dried oregano
1 tsp. dried basil
for the chicken:
bricks
heavy duty aluminum foil
4 small to medium sized chicken breasts
olive oil
herbs de Provence
freshly ground black pepper
for the salad bedding:
fresh arugula or your favorite greens
1 yellow squash, sliced on the diagonal almost 1/4" thick
extra-virgin olive oil
1 to 2 fresh lemon halves
additional Herbs de Provence mixture
freshly ground black pepper
Instructions
for the Herbs de Provence:
In a spice grinder, blitz the lavender, rosemary, onion flakes, and fennel a few times, just until broken up. Aim for coarse pieces, not a fine texture.
Pour mixture into a small bowl and add thyme, sea salt, oregano, and basil. Stir to combine and set aside.
for the chicken:
Wrap bricks tightly with aluminum foil. Set aside.
Place chicken breasts in a resealable plastic bag and pound gently, but firmly, with the smooth side of a kitchen mallet, until individual pieces of chicken are at an even thickness. About 1/2" thick is perfect.
Remove chicken to a platter and drizzle with a bit of olive oil to coat. Then sprinkle both sides of each chicken breast with a nice amount of the Herbs de Provence mixture and freshly ground black pepper.
Place foil-wrapped bricks on the center of grill grates. Heat grill and bricks to medium to medium-high heat, about 400° F. Make sure grates are scrubbed clean and then oiled. (To oil the grates, add some canola oil or olive oil to a small bowl. Then fold a heavy paper towel a few times to make a smaller square. With a tongs, grasp the folded paper towel and dip it into the oil until the paper towel is drenched. Then run the paper towel over the grates, repeating until all grill grates are thoroughly oiled.) Move bricks to outside edges of grill grates.
Place chicken breasts on the grates and cover each individual piece of chicken with a brick. Close grill cover and grill for about 3 to 4 minutes, or until nicely charred. Remove bricks, flip chicken, and add bricks once again. Grill for another 3 to 4 minutes on the second side, until nicely charred and an instant read thermometer reaches 160° F. Then pull the chicken off the grill, to a platter, to rest for a few minutes and continue to cook to 165° F. This will help to ensure that your chicken doesn't dry out from over cooking it.
for the salad bedding:
While chicken is resting, arrange arugula and yellow squash on a platter. Drizzle just a bit of olive oil over the top, followed by a squeeze of fresh lemon juice. Sprinkle lightly with more of the Herbs de Provence mixture and freshly ground black pepper.
Arrange chicken breasts simply over the top of the salad. Serve immediately.
Nutrition Information:
Yield: 4
Serving Size: 1
Amount Per Serving:
Calories: 181
Total Fat: 9g
Saturated Fat: 2g
Trans Fat: 0g
Unsaturated Fat: 7g
Cholesterol: 26mg
Sodium: 1780mg
Carbohydrates: 16g
Fiber: 8g
Sugar: 4g
Protein: 13g
Nutrition information is automatically calculated by Nutritionix. I am not a nutritionist and cannot guarantee accuracy. If your health depends on nutrition information, please calculate again with your own favorite calculator.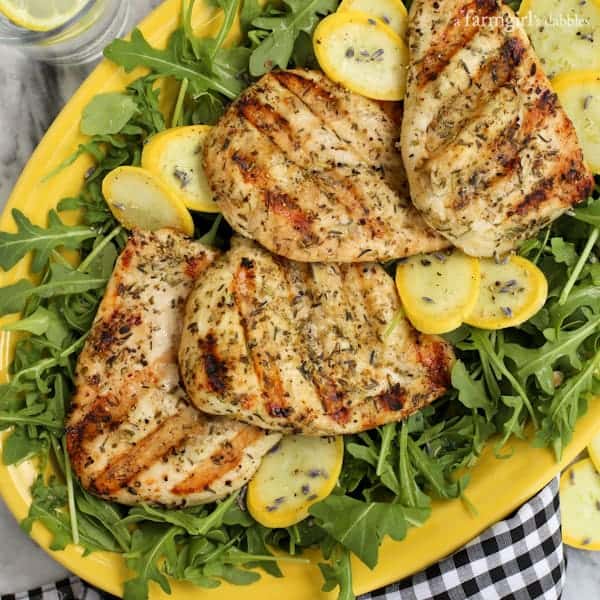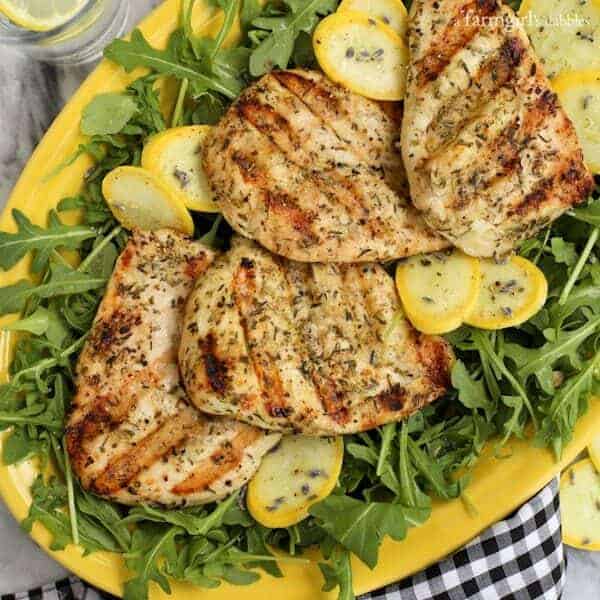 We participate in the Amazon Services LLC Associates Program, an affiliate advertising program designed to provide a means for us to earn fees by linking to Amazon.com and affiliated sites. See our
disclosure policy
for more info.