Grilled Honey Sriracha Chicken Burgers with Cilantro Cream and Pickled Onions
This post may contain Amazon or other affiliate links. As an Amazon Associate I earn from qualifying purchases.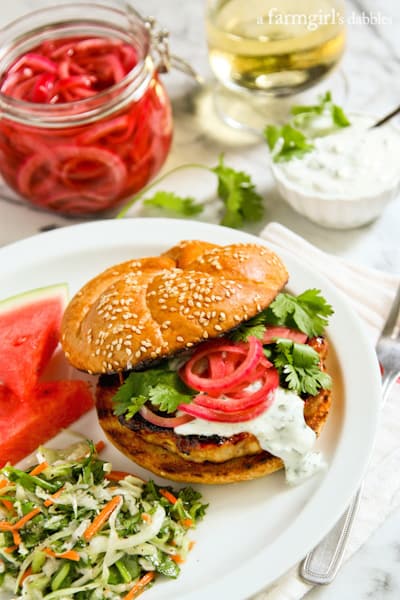 Grilled Honey Sriracha Chicken Burgers with Cilantro Cream and Pickled Onions. Yes, it's a hefty title. But I couldn't leave any tasty piece unmentioned. Together, they make a grand burger, full of flavors and textures that both harmonize and contrast with one another. And I promise you; it comes together in quick fashion. Especially if you already have a jar of pickled onions in your fridge!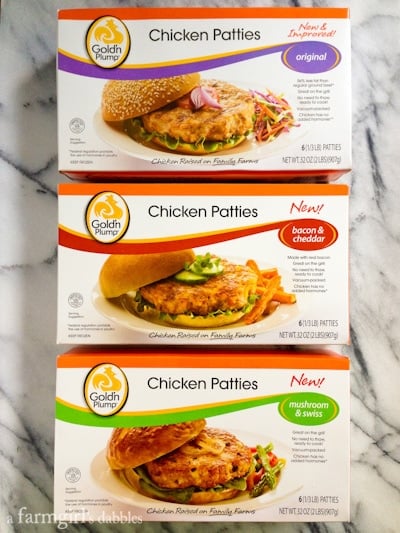 I am so glad that Gold'n Plump asked me to create a recipe using their chicken patties. If it wasn't for their asking, I might never have found out how easy it is to deliver a delicious meal of juicy grilled chicken burgers to our family table.
You can find Gold'n Plump Chicken Patties in the freezer section of your grocery store. Made from premium quality all natural boneless skinless chicken thighs (my favorite chicken pieces…moist and extra flavorful!), they come in three varieties:
Original
Bacon & Cheddar
Mushroom & Swiss
The frozen chicken patties weigh 1/3 lb. each, the perfect size for a regular bun. And they're vacuum-sealed and packaged very neatly, six to a box. Each patty is separated by a piece of parchment paper, making it easy to grab just one or two for a small meal. For those of you who don't like to craft your own patties from ground chicken meat (you know who you are!), this is the ultimate solution. Chicken burgers just don't get any easier than this!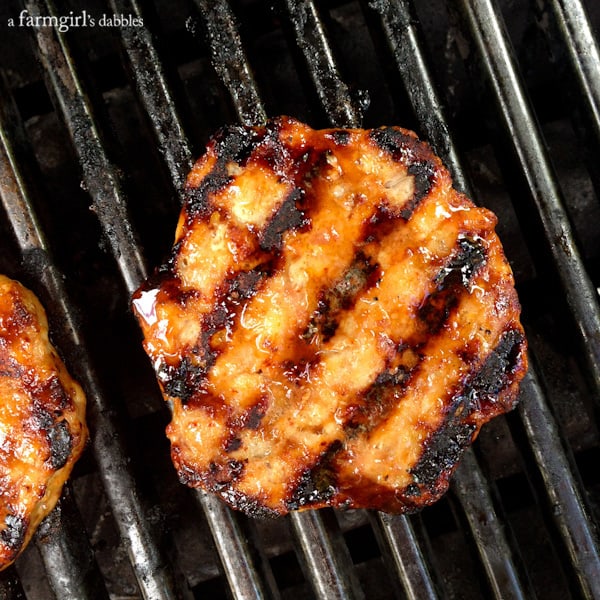 I like that the chicken patties can go straight from the freezer to the grill or skillet, without needing to thaw them first. And they don't shrink up on the grill! When schedules are crazy, or when we simply want to spend our time enjoying all that summer has to offer, the convenience of these chicken patties is a welcome partner in our home.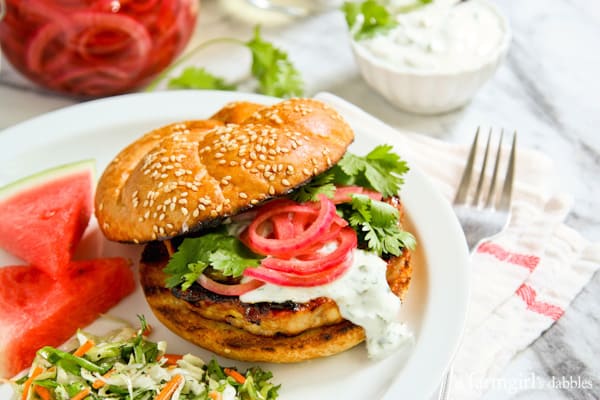 If you've been following along with me, you know that I've fallen head over heels in love with sriracha over the past year. I like to pump up the sriracha for dishes that my husband and I eat, but tame it down quite a bit for our young daughters. These chicken burgers, grilled with a simple glazing of a honey and sriracha mixture, make every single one of us happy. The glaze doesn't come off as hot or spicy. It's just super flavorful with a nice sticky sweetness.
And the cilantro cream? Everyone loved the creamy condiment, tangy from fresh lime juice and zest. The pickled red onions, however, are up for debate in our family. I have not been able to convince my husband and oldest daughter on the wonderful qualities of all things pickled. Our youngest is coming to stride with her momma, though. You can often find our hands dipping simultaneously into a jar of homemade pickles. Maybe some day the others will come to see the light of our pickle joy. But until then, they'll be eating these burgers sans the zesty pickled onions. And that definitely works, too.
To see the previous recipe I created for Gold'n Plump, also check out my Herby Grilled Chicken Kebabs with Grapes and Shallots. Click here!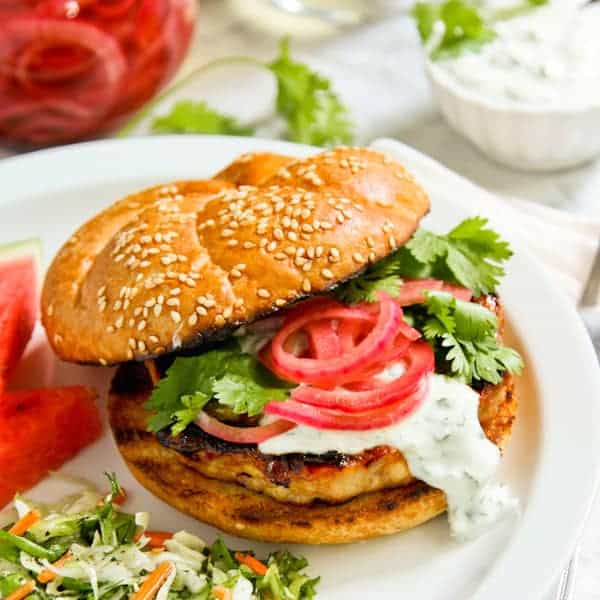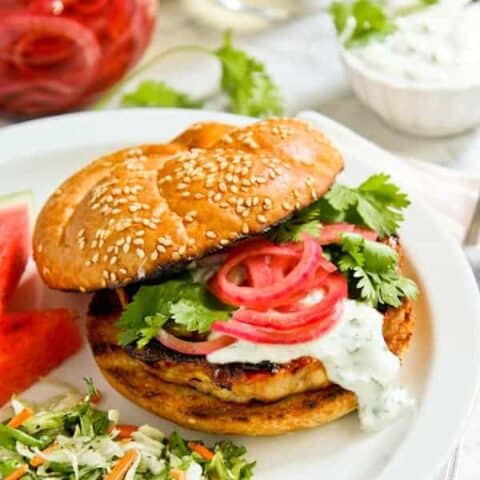 Grilled Honey Sriracha Chicken Burgers with Cilantro Cream and Pickled Onions
Yield: 4 servings
Prep Time: 10 minutes
Cook Time: 12 minutes
Total Time: 22 minutes
Together, they make a grand burger, full of flavors and textures that both harmonize and contrast with one another.
Ingredients
for the honey sriracha chicken patties:
for the cilantro cream:
1 c. plain Greek yogurt
juice and zest from 1 fresh lime
1/4 c. finely chopped fresh cilantro
1/2 T. honey
fresh cilantro leaves
Instructions
for the honey sriracha chicken patties:
In a small bowl, whisk together honey, sriracha, and vegetable oil.
Heat grill to high (475° F to 500° F). Place frozen chicken patties on cleaned and oiled grill grates. Grill for 3 to 4 minutes. Flip chicken burgers over and grill for another 3 to 4 minutes. Brush honey sriracha sauce onto top side of chicken burgers and then flip again. Grill for about 2 minutes, brush top side of chicken burgers with more honey sriracha sauce, and then flip and grill for a final 2 minutes.
For extra honey sriracha flavor, brush on more of the sauce, if desired.
for the cilantro cream:
In a small bowl, stir together all ingredients.
to serve:
Place grilled chicken patties on toasted buns, and then top with cilantro cream, pickled onions, and fresh cilantro leaves.
Notes
from a farmgirl's dabbles
Nutrition Information:
Yield: 4
Serving Size: 1
Amount Per Serving:
Calories: 363
Total Fat: 15g
Saturated Fat: 3g
Trans Fat: 0g
Unsaturated Fat: 10g
Cholesterol: 83mg
Sodium: 188mg
Carbohydrates: 32g
Fiber: 1g
Sugar: 29g
Protein: 27g
Nutrition information is automatically calculated by Nutritionix. I am not a nutritionist and cannot guarantee accuracy. If your health depends on nutrition information, please calculate again with your own favorite calculator.
This post is sponsored by Gold'n Plump, a chicken brand based out of St. Cloud, Minnesota. The brand's good chicken mission centers on providing truly all natural products that are highly trimmed of fat and free of unwanted solutions. GNP Brand, the company behind the Gold'n Plump brand, employs about 1,600 people and partners with nearly 350 family farmers in Minnesota and Wisconsin to produce wholesome, high-quality chicken. I am partnering with Gold'n Plump this year to bring you delicious new chicken recipes from our kitchen and backyard grills. All opinions are 100% my own, as always. Thank you for supporting the brands that help make this site possible!
We participate in the Amazon Services LLC Associates Program, an affiliate advertising program designed to provide a means for us to earn fees by linking to Amazon.com and affiliated sites. See our
disclosure policy
for more info.