Fudgy Patriotic Brownies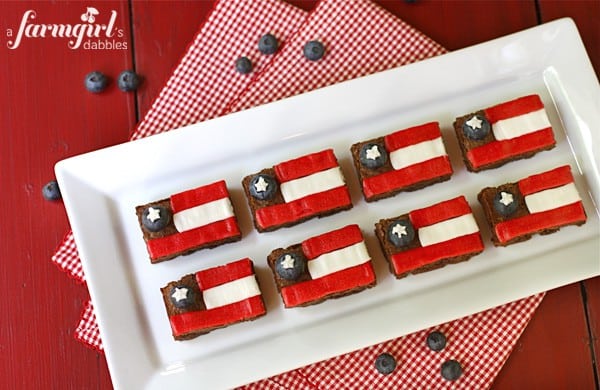 Happy Flag Day, America!
We are smack-dab in the middle of that time of year when our country's patriotism is displayed most prominently. First with the reverence of Memorial Day, then with Flag Day, and finally with the culmination of waving our red, white, and blue on the 4th of July. Through it all, the one common striking image is that of our flag of the United States of America.
Today, June 14th, marks the 235th anniversary of the adoption of the flag of the United States. Just a little trivia for you. And a reminder to display your flag proudly!

These Fudgy Patriotic Brownies are just the thing to show off your American pride at a summer picnic or 4th of July gathering this year. I used my favorite rich and fudgy brownies and cut them into simple rectangular shapes. Then, in the style of Betsy Ross, only this time interpreted in blueberries and fresh raspberry buttercream…I swept on the stars and stripes. It's a platter of yumminess I'd be proud to display any time of year.
Do you have a favorite way to show off your red, white, and blue pride?
I'd love to hear about it!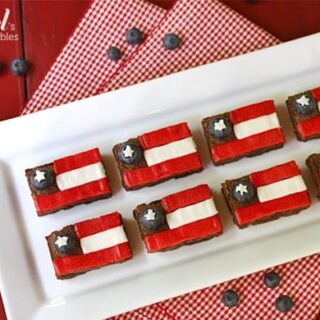 Fudgy Patriotic Brownies
Yield: 25 brownie flags
Cook Time: 20 minutes
Total Time: 20 minutes
These Fudgy Patriotic Brownies are just the thing to show off your American pride at a summer picnic or 4th of July gathering this year.
Ingredients
for the fudgy brownies:
1/2 c. unsalted butter, diced
3 oz. unsweetened chocolate, chopped
1.5 c. sugar
3 large eggs
1 tsp. instant espresso powder
1.5 tsp. vanilla
1/4 tsp. salt
3/4 c. flour
for the buttercream frosting:
6 oz. raspberries, fresh or frozen
1/2 c. unsalted butter, at room temperature
3.5 c. powdered sugar
1/4 tsp. freshly squeezed lemon juice
pinch of kosher salt
red food coloring, if desired
also needed:
fresh blueberries
Instructions
for the fudgy brownies:
Preheat oven to 325° F.
Fold a long piece of heavy foil into a 13" wide strip and fit it inside a 9" x 13" metal baking pan, leaving foil overhang on the 2 long sides. Spray the foil with nonstick spray.
Stir the butter and chocolate in a large heavy saucepan over very low heat until chocolate is melted. Remove from heat and whisk in the sugar, and then the eggs, 1 at a time. Whisk in espresso powder, vanilla, and salt. Then sift the flour over the chocolate mixture and stir to blend well. Transfer batter to prepared pan and bake brownies until slightly puffed and dry-looking, and tester inserted into center comes out with some moist batter attached. This should take about 20 minutes. Let cool completely in pan on rack.
Once cooled, run a knife around the inside edge of the brownie pan. Use the overhanging foil as an aid and gently lift the brownies from the pan. Cut into individual rectangular flag shapes. Mine are approximately 2-1/2'' wide by 1-1/2'' tall.
for the buttercream frosting:
Cook the raspberries in a small saucepan over medium heat, stirring frequently until the raspberries are broken down into a sauce. Set up a fine mesh strainer lined with 2 layers of cheese cloth over a bowl. Pour the raspberry sauce over the cheese cloth to remove the seeds. I gather up the ends of the cheese cloth and gently press out all the raspberry juice to get as much juice out as possible. Pour the raspberry juice back in the pan. Simmer a bit until the juice reduces to 2 tablespoons. It will be a very rich red and concentrated sauce. Set aside to cool completely.
With a mixer, cream the butter with a paddle attachment on medium high speed about 2 minutes, until lightened in color and a bit fluffy. Add half the powdered sugar, lemon juice, and salt. Mix until smooth. Add the rest of the powdered sugar and mix until smooth. Measure out 1 cup of the frosting and set aside. To the remaining frosting in the mixer bowl, add the 2 tablespoons of raspberry sauce. Mix well. This will be used for the red stripes on the flag. If you want the red to be deeper in color, add a little bit of red food coloring. (I did.) Mix well again.
If either the white or red frosting seems too stiff, you can add milk, a half teaspoon at a time.
to assemble the patriotic brownies:
Fit a pastry bag with a flat petal tip (I used a Wilton #150 with an opening that is about 1/2'' wide) and fill it with the red frosting. Pipe 2 straight lines, 1 on top and the other on the bottom, onto the brownie, as shown in the pictures. Repeat until all brownies have 2 red stripes.
Then fit another pastry bag with the same tip and fill it with the reserved white frosting. Pipe 1 line in between the two red lines, as shown in the pictures. Repeat until all brownies have a white stripe.
Remove the flat petal tip from the bag with the white frosting and replace it with a small star tip. Squeeze a small amount of frosting onto the brownie where the blueberry will go, and then stick a blueberry on it. Finish by adding a small star to the top of the blueberry. Repeat until all brownies have a blueberry with a star.
Notes
Concept from a farmgirl's dabbles. Brownies recipe was heavily adapted from one of my very favorite brownies, a recipe originally from bon appetit magazine, July 2009. Fresh Raspberry Buttercream recipe heavily adapted from Making Life Delicious.
Nutrition Information:
Yield: 25
Serving Size: 1
Amount Per Serving:
Calories: 230
Total Fat: 10g
Saturated Fat: 6g
Trans Fat: 0g
Unsaturated Fat: 3g
Cholesterol: 43mg
Sodium: 40mg
Carbohydrates: 34g
Fiber: 1g
Sugar: 29g
Protein: 2g
Nutrition information is automatically calculated by Nutritionix. I am not a nutritionist and cannot guarantee accuracy. If your health depends on nutrition information, please calculate again with your own favorite calculator.