Flowers for Your Home, Sweet & Simple
This post may contain Amazon or other affiliate links. As an Amazon Associate I earn from qualifying purchases.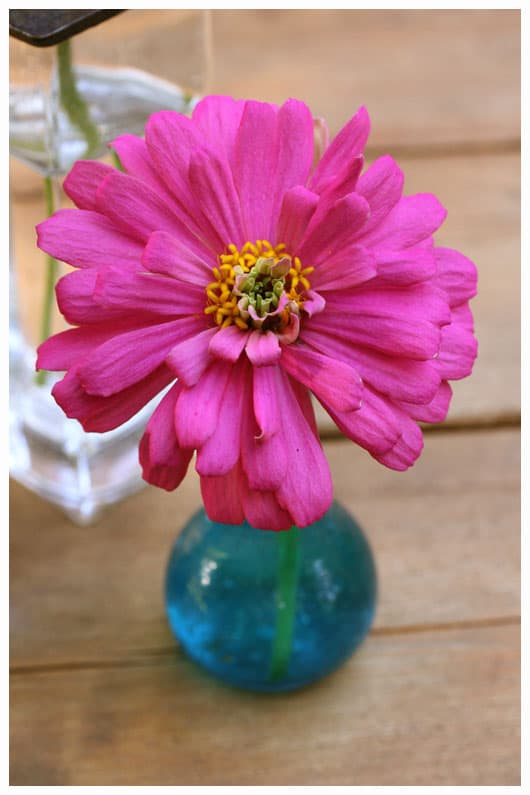 I love a lazy morning at home. Coffee in hand, just walking around the yard, taking in all the changes. There's always new buds and blossoms, something new to smell, and yes, a few weeds to pluck.
And bringing some of that garden beauty back into the house gives me so much pleasure. It's amazing what a tiny vase with a single bright blossom will do for my spirits. Spring through fall, you will most likely find at least one adorned vase somewhere in our home. My favorite spots are next to the kitchen sink and my side of the bathroom counter – two places I tend to spend a little extra time at each day.
I especially like to fill a few vases when we have guests. Placing fresh flowers in the guest bathroom, kitchen, and living room areas lends a gentle welcome to those visiting our home. It really doesn't take much to create some inviting little pieces. A single flower will do. Or an interesting piece of foliage. Even a small stick can be beautiful. It's all about color, form, and texture – and keeping it sweet and simple.
In the early spring, lilacs are my absolute favorite vase filler. Their fragrance and beauty sends me off to another world. There could never be enough lilacs in my house!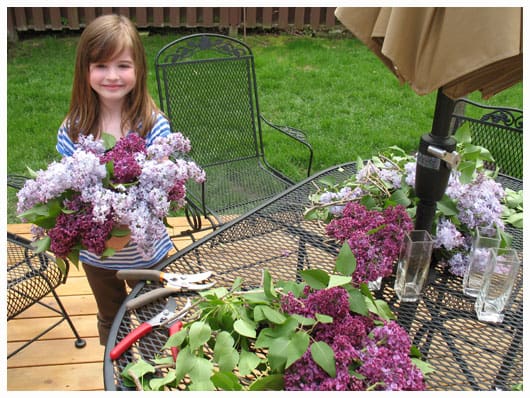 These photos were taken in early June when I hosted a gathering in our home. All the plants are perennials from our yard. 'Palace Purple' Coral Bells, Lamium 'Pink Pewter', chive blossoms (yes, herbs are beautiful and fragrant in vases, too!), sedum, young ferns and hosta leaves, and a bud from a climbing rose. Isn't the contrast between the Coral Bells and the Lamium striking? I love seating them next to eachother.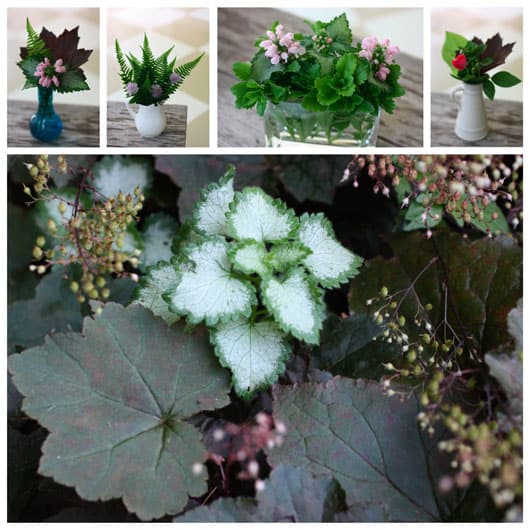 The following shots were taken while we were staying with my parents earlier this month. Walking through their yard to see what has changed since our last visit is always a must-do activity with Mom. And it's fun to swap plants back and forth. She digs some up for me. I dig some up for her. It's so fun to know her plants are growing in my yard. Pictured below are pink shrub roses, Sedum 'Autumn Joy' ready to bloom, purple coneflowers, and yellow daisies.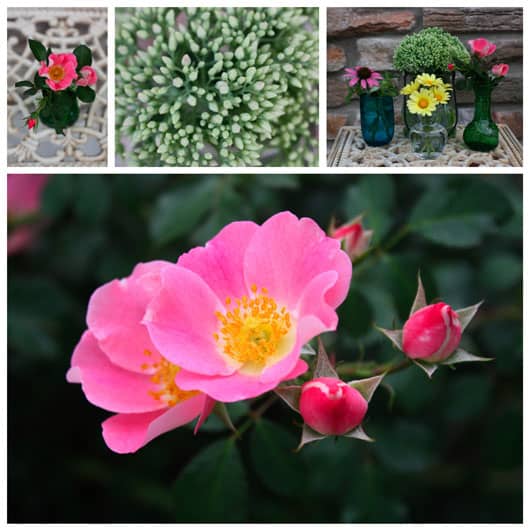 And these photos were taken about a week ago, showing flowers from our yard again, later in the season. Black-eyed Susans are always a sure bet, a hardy perennial that blooms profusely mid to late summer . I also like to plant a few packets of annuals each spring for a cutting garden. Cosmos always make my list, as they remind me of the farm. And zinnias are loads of fun with their bursting vibrant blooms.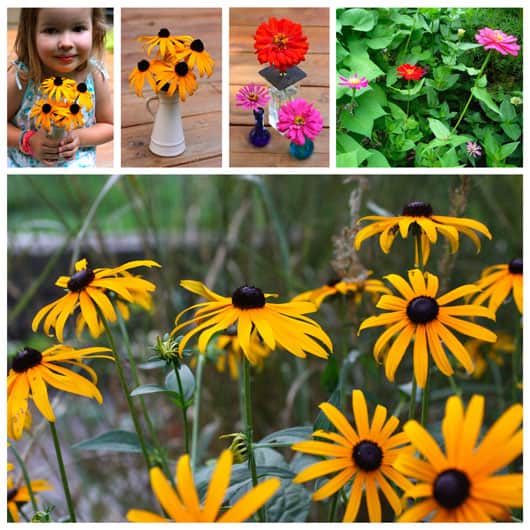 Bringing simple flowers into your home is all about being creative and using what you have. It's thriftiness in its most lovely form. And it's about nurturing a warm and relaxing hospitality for you and your guests to enjoy.
So, I'm asking you to take a look around you. Peer at things from a different angle. Take a child by the hand and see what catches their little eye. Bend down and smell those blossoms. Touch the furry leaves. And the rough leaves. And the glossy leaves. I'm betting you will find something beautiful to take back into your own home that's simple and sweet, too.
………………………………………….
And speaking of someone with oodles of simple and sweet ideas…
Do you know Sandy Coughlin?! She's the lovely lady behind the very popular blog and newly released book, both titled, "The Reluctant Entertainer".
Sandy helps real people conquer real entertaining, by demonstrating over and over again her motto of simple and gracious hospitality. She has much wisdom to share and teaches others how to give themselves permission to be unperfect. To be more courageous, more joyful, more authentic. To embrace family and friends at every possible junction. To just love on people and not worry about all the little details.
So, please, take a little trip over to Sandy's place and relax in her hospitality. Be inspired and blessed by the ideas and conversations that you find there. And check out her new book, full of stories, grace-giving tips, beautiful photos, and yummy recipes. My family loves her "Cousin Jim's St. Louis-Style Steaks" on page 84. Super easy, super delish!
Now, go! Sandy's waiting to welcome you!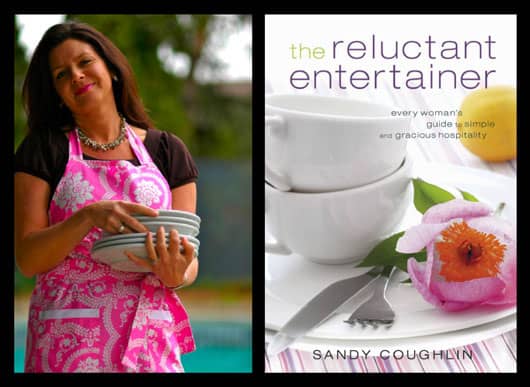 We participate in the Amazon Services LLC Associates Program, an affiliate advertising program designed to provide a means for us to earn fees by linking to Amazon.com and affiliated sites. See our
disclosure policy
for more info.