Cinnamon Caramel Corn with Coconut and Almonds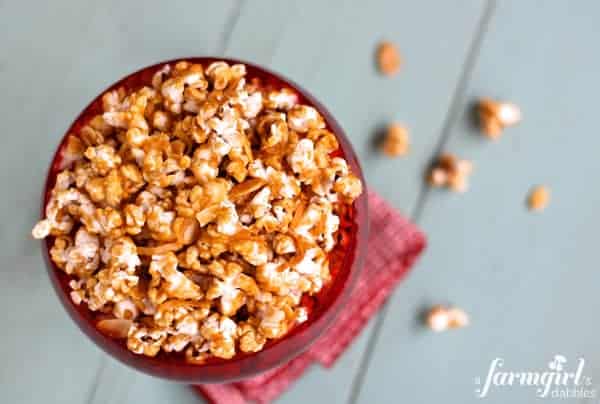 I knew I wanted to jazz up my favorite caramel corn recipe, to make an extra special treat for the weekend. So I picked up a few Valentine's Day themed goodies to mix in and drizzle over it, adding pretty red and pink fun. But then, at the very last minute, I ditched the whole concept. I put the holiday candies and sprinkles away and pulled out cinnamon, coconut, and almonds. Because that's what I was reeeeeeeeeally craving.
Sometimes when a plan falls through, it's just meant to be.
This Cinnamon Caramel Corn with Coconut and Almonds is true testimony.
It's flavored beautifully with the added warmth of cinnamon. And the yummy tidbits of shredded coconut and sliced almonds, all sweet and crunchy from being baked with a coating of caramel, is undeniably wonderful. This batch of caramel popcorn was just the perfect "Plan B" to my jazzed up caramel corn plan.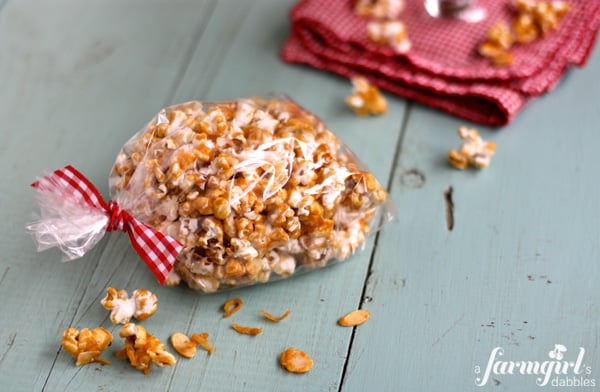 If you're looking to gift a sweet homemade treat to someone special for Valentine's Day, this caramel popcorn would be an excellent choice. Bag it, tie it up with a pretty red ribbon, and add a Valentine's Day sentiment…really, what could be sweeter?!

And here's that jazzed up caramel corn recipe for you!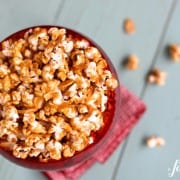 Cinnamon Caramel Corn with Coconut and Almonds
Yield: 6 qts. caramel corn
Cook Time:45 minutes
Ingredients:
5 to 6 qts. popped corn, from 1 c. unpopped corn (I like to use white pop corn – I think it's prettier!)
1 c. unsalted butter
2 c. brown sugar, firmly packed
1/2 c. light corn syrup
1 tsp. salt
1 T. ground cinnamon
2 tsp. cinnamon extract, optional (if you want a more pronounced cinnamon flavor)
1/2 tsp. baking soda
1 c. shredded coconut
1 c. sliced almonds
Directions:
Preheat oven to 250°.
Spread freshly popped corn in two large, shallow sheet pans with sides. Place in the oven to keep warm and crisp.
Combine butter, brown sugar, corn syrup, and salt in a 2-quart heavy saucepan. Place on medium heat, stirring until sugar dissolves. Continue to boil to the firm ball stage (248°).
Remove from heat and stir in cinnamon and the optional cinnamon extract. I like the very natural cinnamon flavor attained from only using the ground cinnamon, but do as you want. Then stir in baking soda. Syrup will foam.
Take popped corn from oven and sprinkle evenly with coconut and almonds. Pour hot caramel mixture over popcorn, in a fine stream. Stir to mix well. Return to oven for 45 minutes, stirring and scraping up caramel from pan bottom every 15 minutes. Cool and serve or store in an airtight container for up to a week.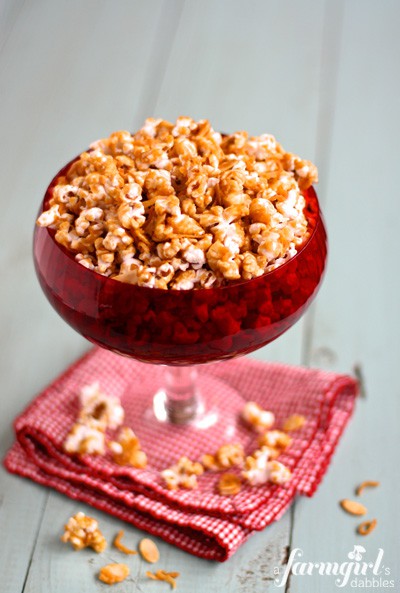 We participate in the Amazon Services LLC Associates Program, an affiliate advertising program designed to provide a means for us to earn fees by linking to Amazon.com and affiliated sites. See our disclosure policy for more info.