Chocolate Marshmallow Fondue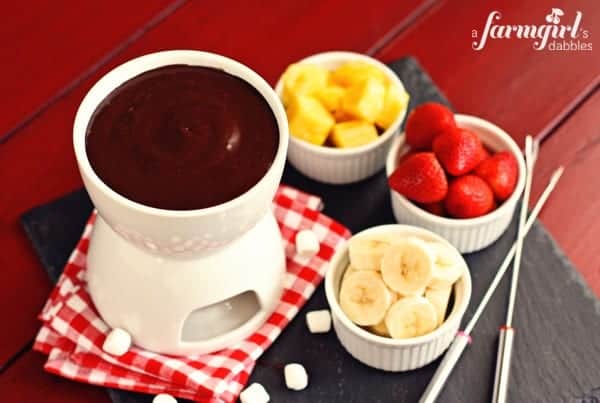 Do you fondue?
Our oldest daughter has been wanting a fondue pot for the past few years. She even considered adding it to her Christmas list a year ago, but when it came right down to it, the 9-year-old in her opted to not "waste" a line item on a kitchen gadget. ;)
Well, I finally broke down recently and ordered this one. It's a very simple pot, smaller in size than most. And because the heat is generated from a tea light, it isn't capable of heating oil to cook meats and seafood, etc. But it's exactly what I was looking for, to introduce our family to fondue. We used it first to keep the savory Bagna Cauda dip warm, and now for this irresistible Chocolate Marshmallow Fondue.
It's true, I love my marshmallows, homemade or from the bag. So when I wanted a chocolate fondue that had a bit more substance to it, that was thicker and would cling better to foods that were dipped into it…yes, I turned to marshmallows.
We'll be serving this fun and delicious chocolate marshmallow fondue tomorrow, when our daughters host a little Valentine's Day party. There will be plenty of bright fresh fruit to dip, plus homemade marshmallows and bites of almond pound cake. And the girls will be getting crafty, too, as they make their own salt dough valentine ornaments. I'm forecasting lots of fun and laughter and happy tummies!
(And I just learned something wonderful about this fondue last night, when I was digging through the fridge before bed… Once the fondue is cold…oh my! It's like a bowl of thick rich truffles. Just grab a spoon and scoop up a bite. Instant truffle. Please don't tell my family my little secret. Shhhhhh…)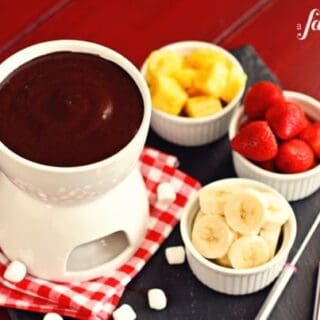 Chocolate Marshmallow Fondue
This Chocolate Marshmallow Fondue is a great treat.
Ingredients
12 oz. semi sweet chocolate chips (I prefer Guittard brand)
3/4 c. heavy cream
2 c. mini marshmallows
1 tsp. pure vanilla extract
Instructions
In a medium pan over medium-low heat, melt chocolate and cream together, stirring very regularly, until smooth. Take care to not let it scorch, and turn heat down if it gets too hot. Add marshmallows, and stir until melted and smooth. Stir in vanilla.
Transfer to fondue pot and enjoy with fresh strawberries, pineapple, and bananas, or whatever fruit strikes your fancy. Marshmallows (especially homemade marshmallows!) and bites of pound cake are wonderful, too.
Notes
From a farmgirl's dabbles.
Nutrition Information:
Yield: 8
Serving Size: 1
Amount Per Serving:
Calories: 321
Total Fat: 21g
Saturated Fat: 13g
Trans Fat: 0g
Unsaturated Fat: 7g
Cholesterol: 25mg
Sodium: 21mg
Carbohydrates: 38g
Fiber: 3g
Sugar: 31g
Protein: 3g
Nutrition information is automatically calculated by Nutritionix. I am not a nutritionist and cannot guarantee accuracy. If your health depends on nutrition information, please calculate again with your own favorite calculator.