Cheesy Turkey Taco Cups with Zesty Lime Cream (for ATHENS site)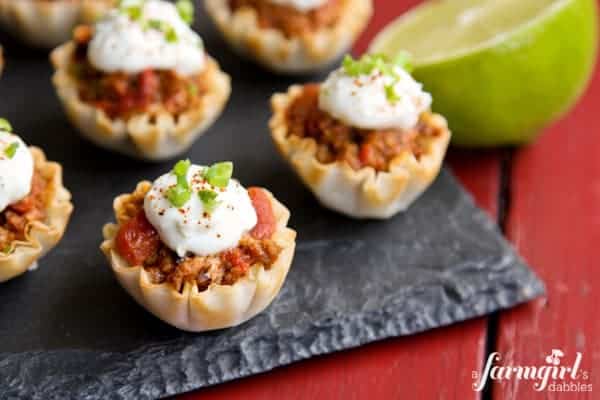 Putting new twists on old favorite recipes is something of a hobby for me. It makes sense, don't you think? You take a dish that has held your taste buds captive since Mom made it when you were a kid, and give it a whirl, to enjoy an updated version in a shiny new package.
That's exactly how these Cheesy Turkey Taco Cups with Zesty Lime Cream came to be. When I was looking for game day appetizer ideas, my eyes fell upon a taco dip recipe, originally from Mom's recipe box. So I gave it a whirl. And this rendition of an old family favorite, I have to admit, gives the original a run for the money.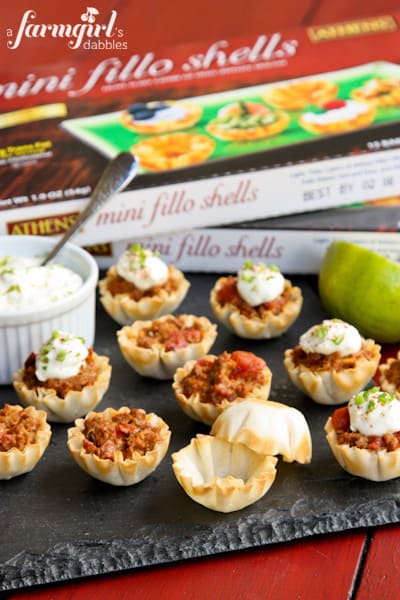 The Athens Mini Fillo Shells make a perfect sized vehicle for small bites. They come already baked and carefully packaged, ready for your imagination to fill them up. I love how crispy and flaky they are, and almost delicate, yet completely sturdy. The mini fillo shells are so easy to work with, and make these turkey taco cups extra fun and delicious!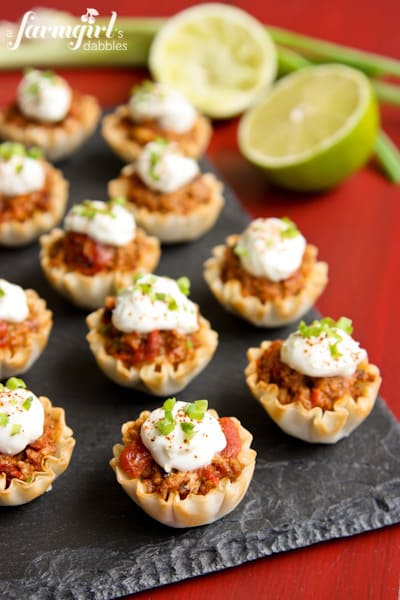 A friend recently pointed out to me how many "mini" recipes I have on my site. Well, yes, I guess that's true. I've realized for a long time how much I'm drawn to mini appetizers and desserts. For me, it's all about variety. When portions are small, I'm able to try more dishes, more flavors, more yum!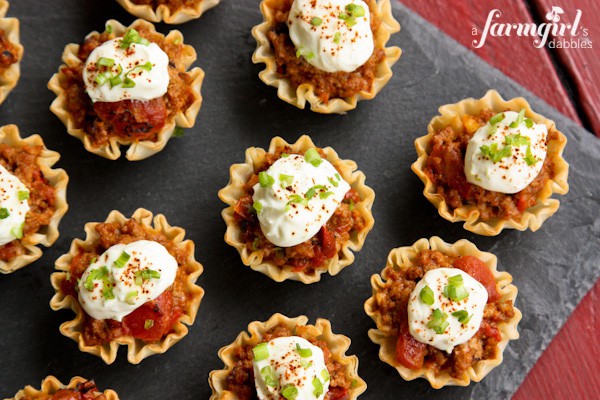 My family happily embraced this new version of tacos for game watching and our regularly occurring "Turkey Taco Night". Intrigued first by the cuteness and always awesome smell of tacos, they were also quickly smitten with the flavors and textures of this new dish. Crispy, cheesy, a little bit spicy, creamy, and zesty…these turkey taco cups have everything going for them!
Intro
Cheesy Turkey Taco Cups with Zesty Lime Cream
YIELD: 45 mini taco cups
PREP TIME: 35 minutes
COOK TIME: 15 minutes
for the cheesy turkey taco filling:
1 lb. lean ground turkey
3 large garlic cloves, minced
1 15-oz. can diced fire roasted tomatoes (do not drain)
2 tsp. cumin
1 tsp. chili powder
1/2 tsp. onion powder
1/2 tsp. kosher salt
1/4 tsp. black pepper
1/8 tsp. ground chipotle
1/8 tsp. smoked paprika
2 tsp. Frank's Redhot sauce
1 c. shredded medium cheddar cheese
for the zesty lime cream:
4 oz. cream cheese, at room temperature
1/4 c. sour cream
zest of 1 large lime
2 T. freshly squeezed lime juice
for assembly and garnish:
45 Athens Mini Fillo Shells (3 boxes)
chili powder
minced fresh green onion, green parts only from 1 onion
preparation:
In a large skillet over medium-high heat, brown turkey and garlic until turkey is cooked and no longer pink, breaking up any large pieces of turkey. Drain any fat. Stir in tomatoes, cumin, chili powder, onion powder, salt, black pepper, chipotle, paprika, and hot sauce. Simmer uncovered for 5 minutes. Stir in cheese until cheese is completely melted. Remove pan from heat.
In a small bowl, cream together cream cheese and sour cream. Add lime zest and juice, and stir to incorporate. Set aside.
To assemble, place one rounded teaspoon turkey taco mixture into each Athens Mini Fillo Shell, gently pressing it into the cups. Place a dollop of prepared lime cream on the top, about a half teaspoonful per taco cup. Add a pinch of chili powder and a sprinkle of green onion to the lime cream. Serve immediately.
These appetizers are best served warm.
It's easy to partially prepare this appetizer a few hours ahead of time, too. Fill the Athens Mini Fillo Shells with turkey taco mixture and set them on a baking pan. Cover and refrigerate. Prepare the zesty lime cream and mince the green onion garnish, and refrigerate in two separate containers. Prior to serving, set pan of filled fillo shells under broiler for 2 to 3 minutes to thoroughly warm turkey taco mixture. Remove filled fillo shells to serving platter and add a dollop of lime cream to the top of each cup. Add a pinch of chili powder and a sprinkle of minced green onion to the lime cream. Serve immediately.