Celebrate Spring with Simply Cranberry
This post may contain Amazon or other affiliate links. As an Amazon Associate I earn from qualifying purchases.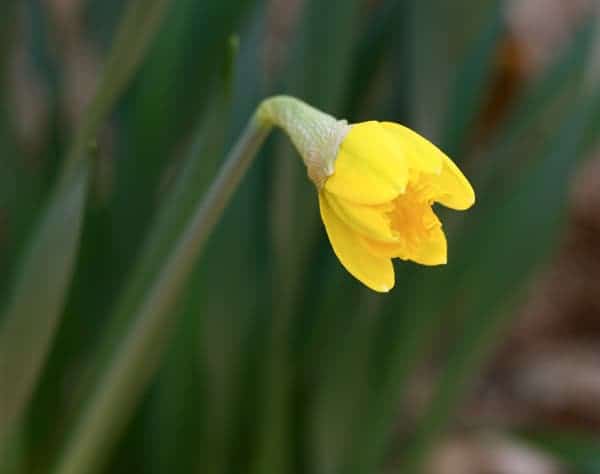 My craving for cranberry juice peaks as the daffodils start poking through the snow each spring.
Its refreshing tartness was my beverage of choice after both of our girls were born in the early springtime, and I can't help seeking it out this time of year. Sometimes I mix it with lemon-lime soda for a bubbly spritzer. But mostly I drink it straight-up, in all its bright puckery goodness.
When I was asked by Simply Orange Juice Company to host a little gathering featuring the new Simply Cranberry Cocktail, I was all over it…
Because, first of all, I am a huge fan of the Simply Orange® brand. Their pulp-free orange juice with added calcium and vitamin D is a regular at our house. And you'll often find their limeade or one of their lemonades in the refrigerator throughout the summer. I'll admit that I'm drawn to the simple clear carafes they're packaged in, but most of all, I just love their bright not-from-concentrate taste. Simply Cranberry Cocktail is made in a similar fashion, blended with not-from-concentrate cranberry juice and no added preservatives.
And, second of all, I wanted to have some fun! My mind started buzzin' with fresh ways I could celebrate spring with Simply Cranberry Cocktail!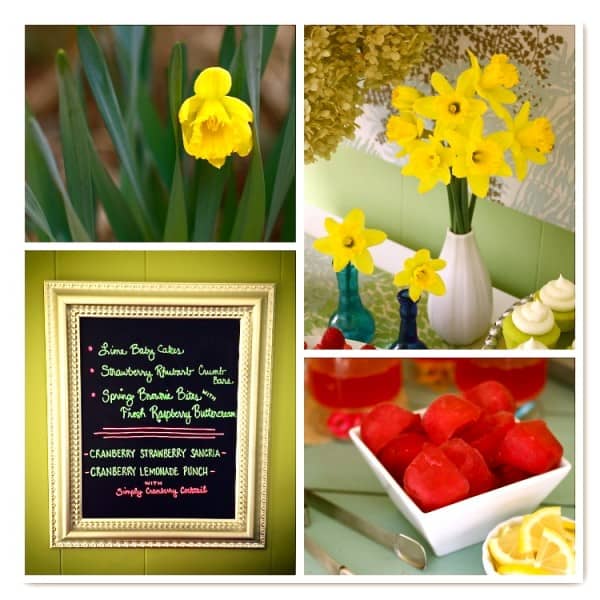 Preparing for the gathering…
My parents and my husband's parents were staying with us, in town to watch our oldest daughter perform in a 70's variety show. So we threw a little pre-show party, attended by our out-of-town family and a couple of my bestest girlfriends and served up some small spring desserts and Simply Cranberry Cocktail.
Flowers are always welcome in my home, especially when I entertain. If at all possible, I will always cut something from our yard or garden before buying flowers at the store. It's just who I am. I like the more casual feel it lends, plus this approach always guarantees a centerpiece that's appropriately in season. I was so happy that our daffodils were blooming in full force, because the rest of our yard was definitely still in winter sleep mode!
I put together a menu consisting of refreshing drinks showcasing Simply Cranberry Cocktail, along with a few of my favorite spring sweets. I selected desserts that were small in size (because I love it when I can try a little bit of everything!) and could be eaten without a fork. I wanted the feel to be casual, and the bevvies and sweets to be beautiful and bursting with the brightness of spring.
The Menu:
* Lime Baby Cakes
* Strawberry Rhubarb Crumb Bars
* Spring Brownie Bites with Fresh Raspberry Buttercream
* Cranberry Strawberry Sangria
* Cranberry Lemonade Punch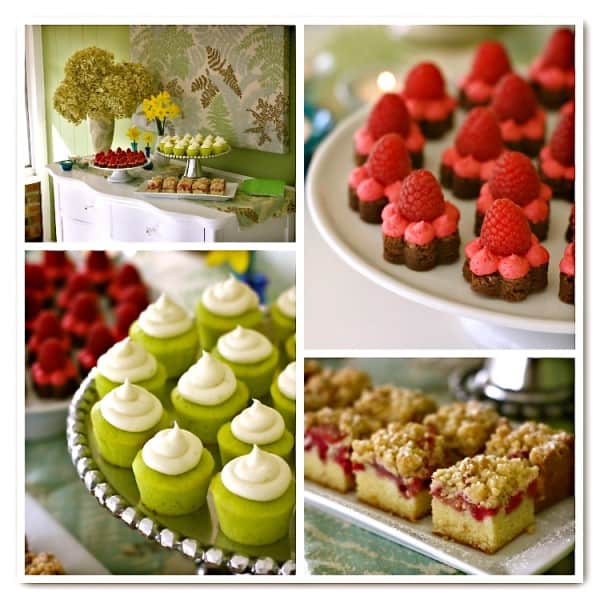 (A great tip for keeping drinks cold: The day prior to serving these drinks, pour Simply Cranberry Cocktail into ice cube trays and freeze. You'll have a beautiful way to keep your beverages cold without diluting them!)
We have a 3-season porch that begs us to gather in it as soon as the snow disappears. It provided the perfect spot to serve up some spring. I love the bright flavors and colors of these Lime Baby Cakes (one of my mom's favorite desserts ever!), Fudgy Spring Brownie Bites with Fresh Raspberry Buttercream (I HAD to serve some chocolate!), and Strawberry Rhubarb Crumb Bars (What speaks spring more than strawberries and rhubarb?!).
Wouldn't these desserts make for a beautiful spring bridal or baby shower?!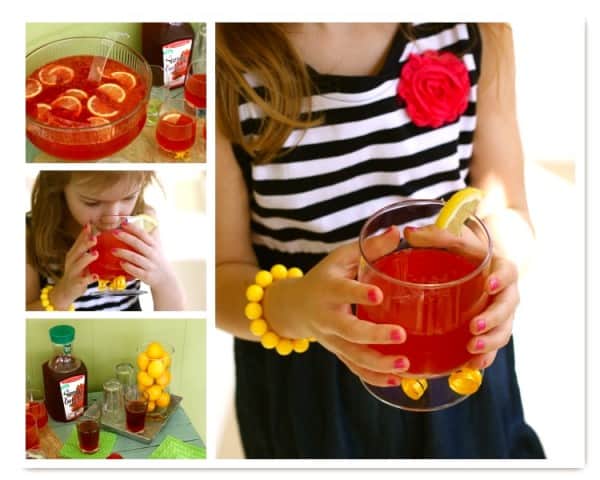 The Simply CranberryCocktail, with its perfect blend of sweetness and tartness, was offered in its own carafe, for those who wanted to enjoy some cranberry cocktail straight-up or in a spritzer. I also served Cranberry Lemonade Punch, with a base of Simply Cranberry Cocktail and my favorite homemade lemonade, in a punch bowl swimming with pretty lemon slices. Some orange soda and ginger ale provided lighthearted bubbles, and it quickly brought smiles to all who tasted it.
(See the yellow curling ribbon at the base of the glass? It's my favorite way to keep everyone's drinks straight when I host a party. I simply curl up pieces of different colored ribbons and wind them around the bases of the glasses a couple times. These colorful drink charms are not only fun, they're also inexpensive!)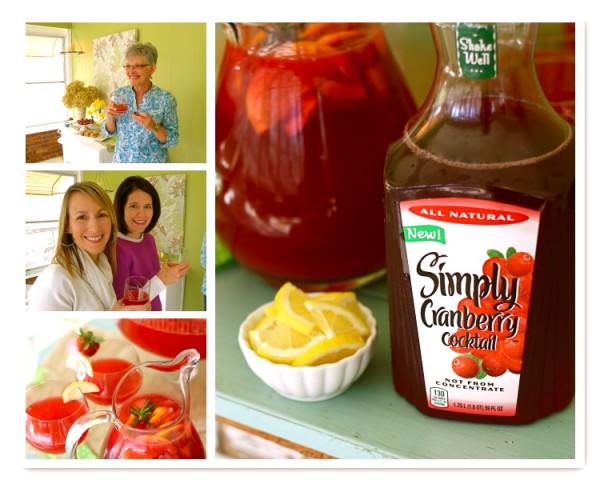 I also served Cranberry Strawberry Sangria, which tastes much like a lightened up strawberry margarita, with the tartness of cranberry sweetened by fresh strawberries. Adding a few sprigs of fresh rosemary to the pitcher is a beautiful and tasty trick I gleaned from Molly McNeil, who mixed up the most incredible sangria last summer for a MN Food Bloggers party. I cannot wait to pick fresh sweet strawberries at our local u-pick this summer and make another batch of this sangria!
(If you're not a margarita fan, simply swap out the tequila for some rum or vodka.)
Disclosure: Thank you to the folks behind Simply Cranberry Cocktail for providing me with Simply Cranberry Cocktail to serve my guests. I have been compensated for this post by BlogHer, but as always, all text, opinions, and photos are my own. For more information on Simply Cranberry Cocktail, please visit their website and facebook.
"Simply Cranberry™" is a trademark of Simply Orange Juice Company.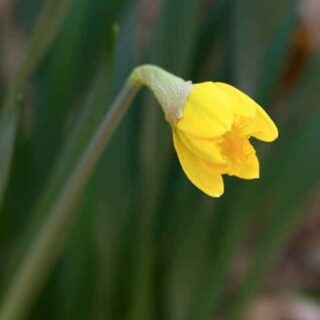 Cranberry Lemonade Punch and/or Cranberry Strawberry Sangria
Yield: Almost 3 qts of punch, and about 2-1/2 qts. (10 c.) of sangria
Prep Time: 15 minutes
Cook Time: 5 minutes
Total Time: 20 minutes
Cranberry Lemonade Punch and Cranberry Strawberry Sangria are refreshing spring drink/cocktail recipes that your family will adore. Cranberry juice is so versatile, and it blends perfectly with other fruity flavors!
Ingredients
Cranberry Lemonade Punch:
2 c. water
1 c. sugar
1 T. grated lemon peel
1 c. fresh lemon juice
32 oz. (4 c.) Simply Cranberry Cocktail, chilled
12 oz. (1 can or 1-1/2 c.) orange soda, chilled
32 oz. (4 c.) ginger ale, chilled
1 lemon, thinly sliced
Cranberry Strawberry Sangria:
48 oz. (6 c.) Simply Cranberry Cocktail, chilled
1 bottle (750 mls) fruity rose' wine, chilled
3 oz. orange liqueur
2 oz. tequila blanco (or substitute rum or vodka)
1 pint fresh strawberries, divided
1 lemon, divided
1 orange, divided
3 sprigs fresh rosemary
2 T. sugar
Instructions
Cranberry Lemonade Punch
First make a lemonade syrup. In a medium saucepan, bring the water and sugar to a boil. Reduce heat and simmer, stirring occasionally, until the sugar dissolves. Add the lemon peel and lemon juice, stir, and remove from the heat. Let cool completely. If desired, strain the mixture. I like all the little lemon tidbits in my drink, so I do not strain it. Thoroughly chill the lemonade syrup.
In a punch bowl or other large serving container, combine the Simply Cranberry Cocktail with the chilled lemonade syrup. Add the orange soda and ginger ale. Give it a stir and add the lemon slices right before serving.
Note: To keep this drink cold, I like to make cranberry juice ice cubes a day or two before serving this punch. Just pour Simply Cranberry Cocktail into ice cube trays and freeze. Be sure to give them at least 24 hours to freeze completely. Add the frozen cranberry cubes to the punch bowl or to individual glasses to keep drinks cold without diluting them.
Cranberry Strawberry Sangria
In a very large bowl, preferably with a spout, stir together the Simply Cranberry Cocktail, rose', orange liqueur, and tequila. Puree half of the strawberries. Then juice half the lemon and stir that juice into the strawberries.
Add the pureed strawberries to the cranberry juice mixture. Then juice half the orange and add that juice, too. Thinly slice the remaining half lemon and orange and add the slices to the cranberry juice mixture along with the sprigs of rosemary. Gently smoosh the rosemary along the side of the bowl with the back side of a spoon for just a bit, to draw out its earthy flavor.
Slice the remaining strawberries, sprinkle the sugar over them, and set aside (cover and refrigerate if you're not serving the sangria for awhile). Pour the sangria into a serving container(s) and chill completely. Add the sugared strawberries to the sangria right before serving.
Notes
from a farmgirl's dabbles
Nutrition Information:
Yield: 24
Serving Size: 1
Amount Per Serving:
Calories: 544
Total Fat: 1g
Saturated Fat: 0g
Trans Fat: 0g
Unsaturated Fat: 0g
Cholesterol: 0mg
Sodium: 34mg
Carbohydrates: 97g
Fiber: 14g
Sugar: 49g
Protein: 4g
Nutrition information is automatically calculated by Nutritionix. I am not a nutritionist and cannot guarantee accuracy. If your health depends on nutrition information, please calculate again with your own favorite calculator.
We participate in the Amazon Services LLC Associates Program, an affiliate advertising program designed to provide a means for us to earn fees by linking to Amazon.com and affiliated sites. See our
disclosure policy
for more info.