Brûléed Banana Split with Brownies and Magic Shell
This post may contain Amazon or other affiliate links. As an Amazon Associate I earn from qualifying purchases.
Make the most incredible ice cream sundae ever with this recipe for Brûléed Banana Split with Brownies and Magic Shell!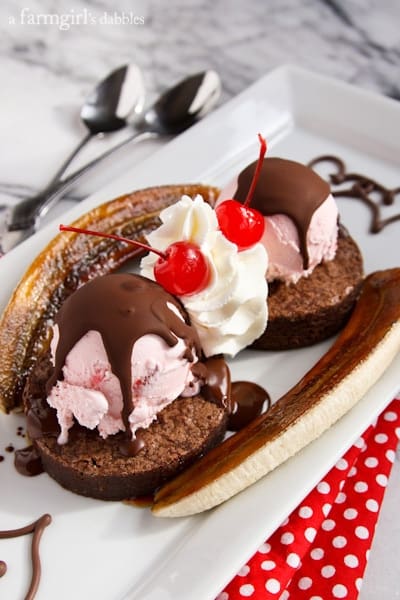 As I was pushing a cart through the freezer section of Target, thinking out loud the items I would need for this recipe, our oldest daughter scrunched up her face. "Coffee ice cream? Really, Mom? That's so gross." I told her that homemade peanut butter ice cream was another choice I had in mind for a banana split. Her face relaxed and she replied, "Well that's alot better." Then a smile formed on her lips and her eyes brightened. "I think you should use strawberry ice cream. Please, Mom?!" I considered her suggestion for about half a second and told her what a brilliant idea I thought that was. Hatti soon had a carton of frozen strawberry ice cream in the cart. We were set!
Brûléed Banana Split with Brownies and Magic Shell, you just have to try this!
[rss-cut]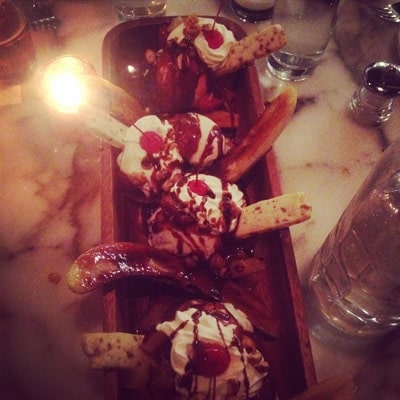 I always love a good banana split. And the most amazing one I ever had was at Butcher & the Boar, a family-sized portion served in a beautiful long wooden bowl. The sundae was so big, I think it could have fed two families, in fact. Along with the ice creams, whipped cream, and cherries, there were gorgeously braised pineapple chunks and glazed strawberries. And bacon. Yes, bacon! Candied bacon and crunchy little bacon pastry cookies were in there, too.
But what I loved the most, and couldn't stop thinking about? The brûléed bananas that were poked perpendicular and willy-nilly down the edges of the banana split bowl. The bananas were perfectly ripened and sweet, with a hard caramelized shell that cracked like the break-through of a crème brûlée's top. I was in love.
(To read more about that amazing dinner, click here.)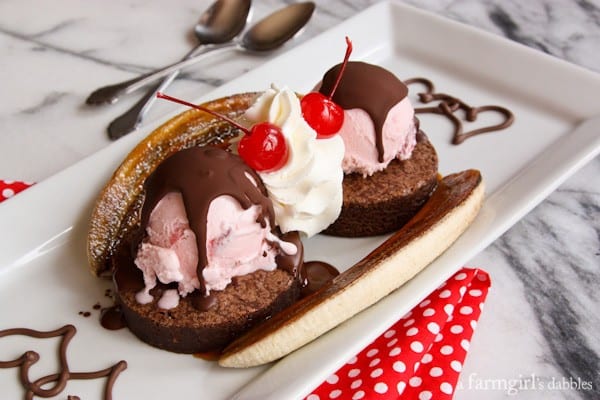 When my family sees the kitchen torch on the counter, they know they're in for a treat, usually in the form of crème brûlée. My almond vanilla bean recipe is their favorite.
But this time it was all about bananas and creating a sundae full of amazing textures and wonderful sweet flavors. I just knew it was going to be amazing.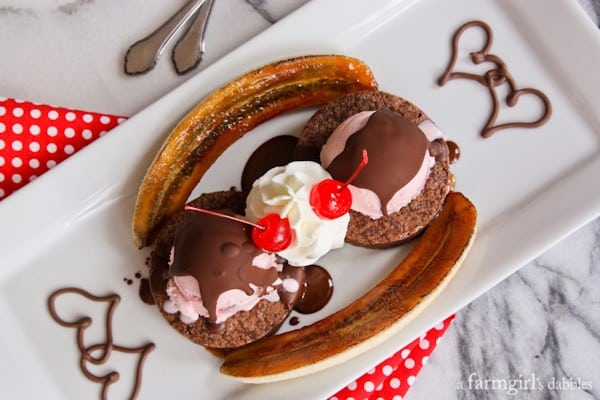 I was happy to find out how easy it is to brûlée bananas. A cinch, really, as long as you have a torch. The bananas turn out perfectly, with a thin, crackly-crisp caramelized shell. They are so fun to crack with a spoon!
The ice cream sundae's foundation is built on the brûléed banana slices and a pair of fudgy brownie circles, courtesy of my mom's best brownie recipe ever. Add to them, a couple big scoops of strawberry ice cream (Thank you, Hatti!), with homemade chocolate Magic Shell (Ohhhhh, how I love that chocolately, crackly stuff!!) poured over them. As if the dish didn't already have everything going for it, a swirl of sweetened whipped cream and cherries top it all off.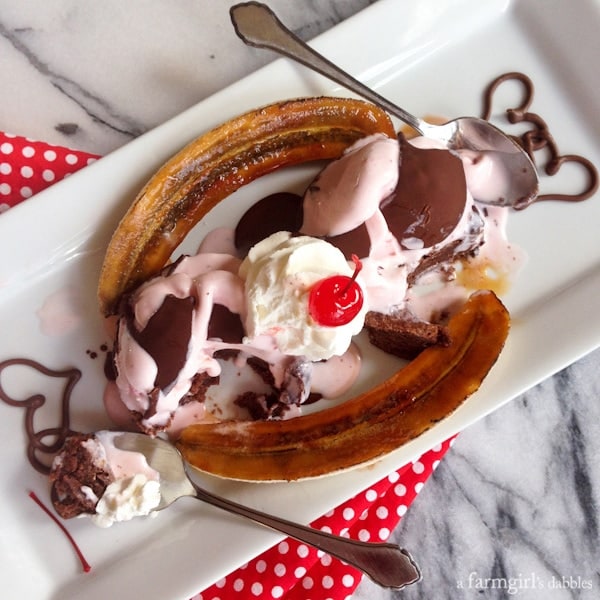 This brûléed banana split is a fun and delicious treat, and would be welcome any time of year. But how fun would this be to serve your honey, or your kids, or some girlfriends…for Valentine's Day?! I say, let those special people in your life know just how much they mean to you. Indulge them a little. Make them one incredible brûléed banana split!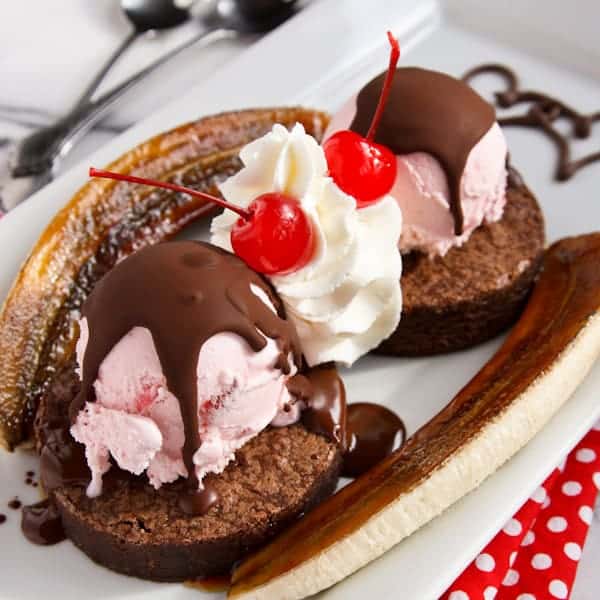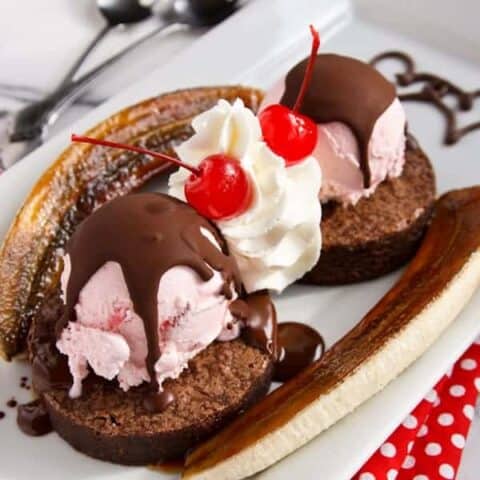 Brûléed Banana Split with Brownies and Magic Shell
Yield: 1 banana split
Prep Time: 15 minutes
Cook Time: 35 minutes
Total Time: 50 minutes
Make the most incredible ice cream sundae ever with this recipe for Brûléed Banana Split with Brownies and Magic Shell!
Ingredients
for the brownies:
2 c. sugar
1 c. unsalted butter, melted and cooled just a bit
4 large eggs
1.5 c. all-purpose flour
10 T. unsweetened baking cocoa
1 tsp. kosher salt
2 tsp. pure vanilla extract
for the brûléed banana:
1 medium/large banana, peeled and sliced in half lengthwise
3 tsp. sugar
also needed:
strawberry ice cream
homemade chocolate Magic shell, warmed, or use a bottle from the store
freshly whipped and sweetened heavy cream
maraschino cherries
Instructions
* Note: The banana split shown in the photos is large enough for 2 people, the perfect dessert to share! But the recipe for the brownies and homemade Magic Shell will definitely allow for more sundaes than one. It will all depend on how large your circle cutters are, or if you decide to just cut the brownie into squares instead. Just adapt the recipe to your needs.
for the brownies:
Preheat oven to 350° F. Fold a long piece of heavy foil into a 13" wide strip and fit it inside a 9" x 13" metal baking pan, leaving foil overhang on the 2 long sides. Spray the foil lightly with nonstick spray. Set pan aside.
In a large mixing bowl, stir together sugar, butter, and eggs. In a separate medium bowl, whisk together flour, cocoa, and salt. Add the dry ingredients to the wet and mix until incorporated. Stir in the vanilla. Pour into your prepared pan and spread evenly. Bake for 20 minutes. Then turn the heat off, leaving the pan in the oven for another 15 minutes. Remove pan to a rack to cool completely, then place pan in refrigerator for two hours. Chilling the brownies will make them easier to work with when cutting them, and will make the cuts cleaner looking, but is not a required step.
Run a knife around the inside edge of the brownie pan. Use the overhanging foil as an aid and gently lift the brownies from the pan. Press circle cutter (I used the third largest circle from this set, about 3" in diameter) firmly into the chilled brownie. Use a thin metal spatula to lift the cutter filled with brownie from the foil. Gently press the brownie out of the cutter. Repeat to cut one more circle. If you don't have a circle cutter, just cut large square shapes.
for the brûléed banana:
Important tip: Wait to brûlée the banana until you are ready to add the ice cream to your banana splits. This will ensure a crackingly crisp sugar layer on your banana.
Place banana halves, cut sides up, on a metal baking sheet. Sprinkle each cut side with an even coating of sugar. It will seem excessive, but you want the banana to look almost white. I used about 3 teaspoons of sugar total, to coat the two sides of one medium/large banana.
Hold a kitchen torch (I use this one) about 3" above the banana, torching until sugar melts and begins to bubble, turning the sugar to a dark caramel color. Be careful to not burn the sugar.
to assemble the brûléed banana split with brownies and magic shell:
Place brownie circles in the middle of a large plate. Brûlée the banana and arrange on the plate. Add a large scoop of strawberry ice cream to the top of each brownie circle and drizzle each scoop with Magic Shell topping.
Finish with fresh whipped cream and a couple cherries, and serve with two spoons. Enjoy!
Notes
From a farmgirl's dabbles, with brûléed banana split inspiration from a crazy wonderful meal at Butcher & the Boar – read about that meal here!
We participate in the Amazon Services LLC Associates Program, an affiliate advertising program designed to provide a means for us to earn fees by linking to Amazon.com and affiliated sites. See our
disclosure policy
for more info.