Brownies with Mocha Buttercream
You know how much I love my brownies.
I have a couple super good recipes that I tend to always fall back on…the brownies I grew up on, a recipe from Mom that's moist and chocolatey and casual…and then a brownie that's a bit more grown-up, all dark and dense, with a hint of coffee flavor. But when I was craving a buttery rich slab of mocha frosting over brownies, I knew I wanted to try a new-to-me brownies recipe.
Since our girls recently became enamored with Nigella, her cookbook has been on and off the bookshelf here. And her brownies particularly caught my eye…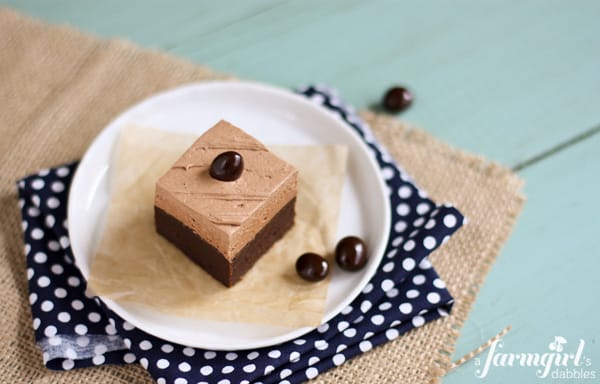 These Brownies with Mocha Buttercream are everything I was looking for. The brownie base from Nigella is very different from the recipes I call my favorites, with an almost silky texture. It's dark and dense and gooey, and stands just a bit taller than the regular brownie. I topped it off with a fantastic mocha flavored buttercream that's been on my to-do list, which makes the brownies both fun and decadent. With a fancy little chocolate covered coffee bean, these squares are completely irresistible. It was fun to see my sister fall for these, and we put a nice little dent into this pan.
Do you like chocolate covered coffee beans as much as I do? For all you silly people who don't, just pass yours to me, please!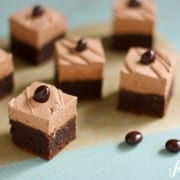 Brownies with Mocha Buttercream
Yield: 24 brownies
Cook Time:25 minutes
Ingredients:
for the brownies:
1-2/3 c. unsalted butter, at room temperature
13 oz. bittersweet chocolate
6 large eggs
1 T. pure vanilla extract
1-2/3 c. sugar
1-1/2 c. all-purpose flour
1 tsp. salt
for the mocha buttercream:
4 oz. bittersweet chocolate
1 T. espresso powder
1 c. unsalted butter, at room temperature
3 c. powdered sugar
1/4 c. heavy cream
1 tsp. pure vanilla extract
1/4 tsp. cinnamon
chocolate covered espresso beans
Directions:
for the brownies:
Preheat oven to 350°. Fold a long piece of heavy foil into a 13″ wide strip and fit it inside a 9″ x 13″ metal baking pan, leaving foil overhang on the 2 long sides. Spray the foil lightly with cooking spray. Set aside.
Over medium-low heat, melt butter and chocolate together in a large heavy pan. In a medium bowl, beat the eggs with the vanilla and sugar. Measure the flour into another bowl and add the salt.
When the chocolate mixture has melted, let it cool a bit before beating in the eggs and sugar, and then the flour. Beat to combine smoothly and then scrape out of the saucepan into the lined pan. Bake for about 25 minutes. When it's ready, the top should look just a bit dried, leaving the middle still dark and dense and gooey. Take care to not overbake, which will result in a dry brownie. Remember that the brownies will continue to cook a bit as they cool. Cool completely.
for the mocha buttercream:
In a small bowl, gently melt the chocolate in the microwave. Take care to not let it scorch. Add espresso powder and whisk briskly for 1 minute. Let cool.
In a stand mixer fitted with a paddle, beat the butter until creamy. At low speed, beat in the powdered sugar. Increase the speed to high and beat until fluffy, scraping down the side of the bowl, about 2 minutes longer. At low speed, beat in the cream, vanilla, and cinnamon, then gradually beat in the melted (cooled) chocolate. Scrape down the side of the bowl and the paddle, increase the speed to medium-high, and beat until light, 3 minutes longer. Using a wooden spoon, vigorously beat the buttercream for 30 seconds to deflate any air bubbles. Then spread buttercream evenly over the cooled brownie.
to assemble the brownies with mocha buttercream:
Cut brownies right in the pan. Or…to achieve nice clean cuts, gently lift the brownies out of the pan, using the foil as handles. Cut off the outer edge for really clean cuts, leaving about an 8" x 12" rectangle of brownie remaining. Then cut into 2" x 2" pieces, wiping the knife clean after each cut. Press a chocolate covered espresso bean into the butterceam, at the center of each cut brownie.
These brownies keep well refrigerated, and could easily be prepared the day before serving. Take brownies out of refrigerator 20 to 30 minutes prior to serving, to let the buttercream soften a bit.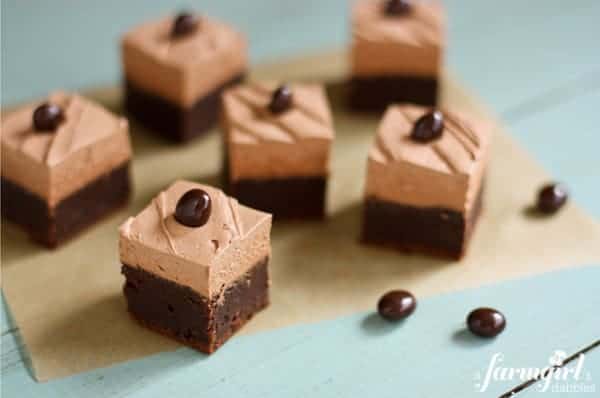 We participate in the Amazon Services LLC Associates Program, an affiliate advertising program designed to provide a means for us to earn fees by linking to Amazon.com and affiliated sites. See our disclosure policy for more info.