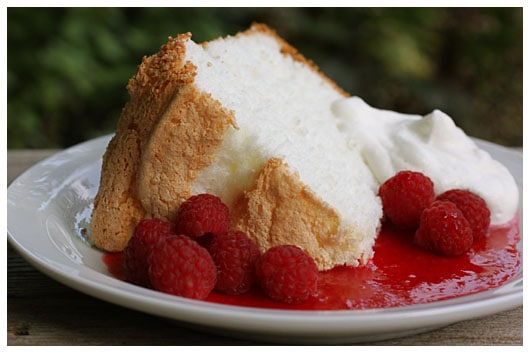 While I was baking this angel food cake, memories steadily flowed in and out of my head. They were almost surreal, playing with my mind and making me wonder if I was in the past or present. The preparation, the delicious smell and flavor of almond, the banter with my own daughter in the kitchen…I was flooded with flashbacks of being in the kitchen with Mom, baking this cake.
I can picture the harvest gold countertops, the squarish beige stand mixer in the corner, gold Tupperware measuring cups, and tarnished metal measuring spoons. The cake sits cooling, overturned atop a large green glass bottle of soda. And the aroma throughout the house is heavenly.
When I made this angel food cake a few days ago, it was my first time flying solo (not with Mom). I plucked my Betty Crocker cookbook off the shelf, turned on some tunes, and got to work separating eggs. I thoroughly enjoyed the whole process. From whipping the meringue, to gently folding the batter, to watching the almond scented cake cooling upside down, it was all so good.
Some people might argue that making this cake is a waste of time and energy. And if truth be told, I've picked up my share of inexpensive angel food cakes from the grocery store bakery department. But I was treated to so many good memories with making this, I know it will not be the last time it gets baked in this house.
Both of our girls absolutely loved this cake. Tessa, who can easily walk away from a baked sweet, actually sat and ate a whole piece (multiple times!). And it was the perfect end to a summer lunch on the deck with girlfriends. Flavorful and light, served with citrusy Summer Berry Sauce and freshly whipped cream, it was eagerly devoured.
Do you have angel food cake memories?


Do they involve those colorful sprinkles mixed throughout?
Do you bake something in your own kitchen
that brings back delicious memories from long ago?
I would love to hear from you!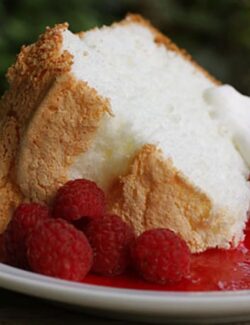 Angel Food Cake with Summer Berry Sauce
Yield: 16 servings
Cook Time:30 minutes
Ingredients:
for the angel food cake:
1-1/2 c. powdered sugar
1 c. cake flour
1-1/2 c. egg whites (from about 11 or 12 large eggs)
1-1/2 tsp. cream of tartar
1 c. granulated sugar
2 tsp. pure vanilla extract
1/2 tsp. almond extract
1/4 tsp. salt
for the summer berry sauce:
2 c. fresh raspberries, strawberries, blueberries or blackberries – stems removed, rinsed, and drained
1/4 to 1/3 c. superfine sugar (adjust according to sweetness of your berries)
1/4 c. freshly squeezed orange juice
1 tsp. orange zest
Directions:
for the angel food cake:
Move oven rack to lowest position. Heat oven to 375°.
Mix powdered sugar and flour. Beat egg whites and cream of tartar in medium bowl on medium speed until foamy. Make sure your bowl and beaters are clean and dry, as even a bit of grease or egg yolk will prevent egg whites from beating properly. Beat in granulated sugar on high speed, 2 tablespoons at a time, adding vanilla, almond extract and salt with the last addition of sugar. Continue beating until stiff and glossy. Do not underbeat. Now you have meringue!
Sprinkle sugar-flour mixture, 1/4 cup at a time, over meringue, gently folding in just until sugar-flour mixture disappears. Overfolding can break down the egg whites and result in a compact cake. Push batter into ungreased tube pan, 10 x 4 inches. Cut gently through batter with a butter knife to even out.
Bake 30 to 35 minutes or until cracks in cake feel dry and top springs back when touched lightly. Immediately turn pan upside down onto a bottle neck or metal funnel. (A cake that pulls away and/or falls out of the pan is underbaked.)
Let hang about 2 hours or until cake is completely cool. Gently slide knife around the cake's edge and remove cake from pan.
for the summer berry sauce:
Place berries, sugar, orange juice and zest in blender; puree until smooth. If using a berry with seeds, pass through a fine mesh strainer. I used raspberries and only strained about 2/3 of the sauce, as I actually like some seeds in it. Refrigerate, covered, up to one week.
Serve over angel food cake, pound cake or ice cream. Or stir into lemonade, lemon lime carbonated beverage or sparkling wine.
For a variation when making this with raspberries, try adding a tablespoon of Framboise (raspberry liqueur) to the finished sauce. Just that little bit helps to intensify the raspberry flavor.
*Superfine sugar is also known as baker's sugar. It is very finely granulated and found in the grocery store baking aisle. Because it dissolves almost instantly, it is perfect for sweetening cold liquids. I keep a box on hand for summer lemonades and teas. It can be substituted cup for cup for regular sugar.